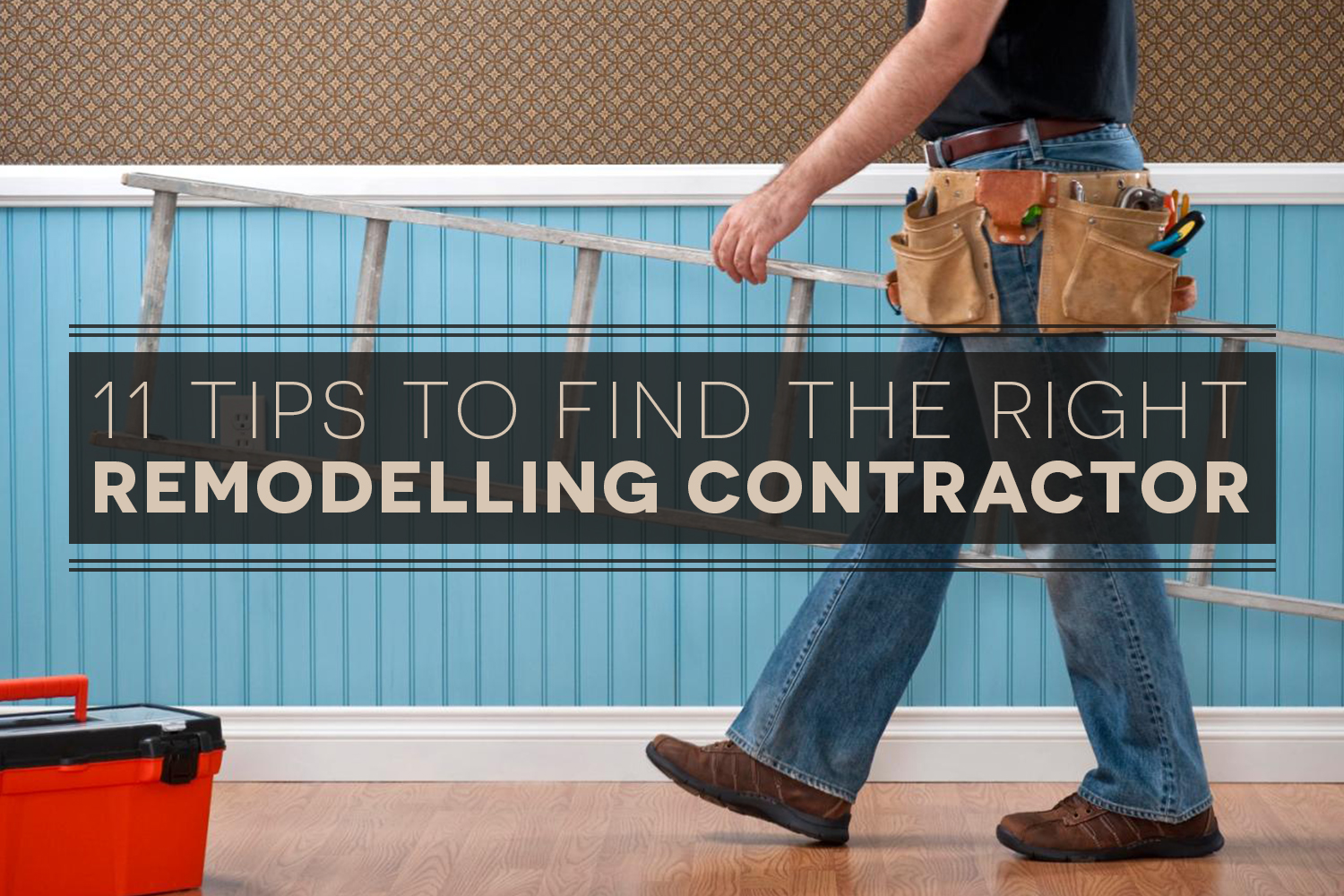 One of the most important things to a successful home renovation is the remodeling contractors you select. The important question that you must answer is, how to make the right choice?
Hiring a remodeling contractor is nearly always a better option that going it alone.  Inconveniences, low quality of work, and legal problems are just some of the factors that make this a bad solution.
If you are planning an expansion or renovation, this article presents some useful tips that will guide you in hiring the right remodeling contractor for your project.
How to Find the Best Remodeling Contractor
#1. Set your goals
First things first. In remodeling projects, you have to know what you want to achieve. Have a clear vision of the look that you're aiming for, the amenities you want added, and other important modifications that you want done. This makes it easier for you to communicate your plans that the contractor will execute.
#2. Ask for referrals
A friend or relative who has successfully completed a remodelling project can provide good referrals. Ask for tips on how they found their contractor, or better yet ask them to refer you to a reliable professional who can complete your remodelling task according to your preferred budget and time.
#3. Do background checks
In hiring a remodeling contractor, establish the credentials of the person that you are eyeing to hire. Check for licenses and insurance coverage. Secure their license and policy numbers and see to it that they are current. Be sure to check reviews on sites like Houzz and Yelp as well.
#4. Choose a specialist
Always go for an experienced specialist to handle your project.  You don't want your project to be where they learn the tricks of the trade.  Even if it costs a bit more, it is worth it.  Trust us.
#5. Look for a licensed local contractor
One of the easiest ways to get the right contractor is to find remodelling or interior design professionals in your area who are reputable and have been in business for a long time.  One of the biggest values adds in hiring a designer, is that you can utilize their network of trusted contractors.
#6. Set an interview
Set a time to interview a remodeling contractor. The initial interaction between you can give tell-tale signs based on how they communicate throughout the project. Some of the signs to watch out for include impatience, rushing, and rude remarks. These are characteristics of people who are difficult to work with and once they surface, it's time to move on to the next candidate.
#7. Set a meeting
Before getting any work started, definitely meet your contractors in person. This will allow you to evaluate the candidate and personally judge if someone looks personable and reliable enough to give you the peace of mind you need while the project is in progress. These meetups are crucial in establishing a good working relationship.
#8. Look at their previous work
One of the best ways to see the quality of someone's work is to ask for before and after pictures of their previous projects. Take it a step further and call their past customers to see what they have to say.   Some of the points that you need to establish include:
Quality of work

Efficiency / Adherence to Deadlines

Personal Demeanor  

Integrity

Quality of Crew
#9. Keep track of bids and other details
Keeping a spreadsheet that has all of the pertinent information is a definite must.  Remodeling projects are very tricky, and there are a lot of moving parts.  Keep a multi-tabbed spreadsheet that outlines the various aspects of each contractors' bids, along with the other components of the remodel
#10. Get everything in writing
To make sure that your expectations are met, make it a habit to put all of the project details in writing.  Even if you feel good about the contractor up front, knowing that everything is written down and agreed upon will give you peace of mind.
Some of the things that you'll want to get in writing include:
Project start date

Date of project completion

Information about building permits and fees

Description of products and services that will be provided

Terms of payment

Subcontractor details

Consequences of default for both parties
#11. Set your expectations
There are important guidelines that a remodeling contractor must know, especially when it comes to matters that involve working in your home, and the building that you live in.  One thing is for sure – effective communication is key.  Make sure rules and expectations are clearly identified before the first task is checked off.  Examples of the points that must be discussed are areas of restrictions, time when work is most appropriate to start and end, or days when work may not be permitted.
Home remodelling is not an easy task and certainly, the smartest way to handle it is by choosing the right contractors to do the job. With the above mentioned tips, you can be assured of having a good working relationship with a remodeling contractor who can execute your plans.
Regularly visit our blog to learn more tips and updates about interior design and home remodeling tasks.
Need help on your remodeling project? Contact Lugbill Designs for assistance.
http://blog.lugbilldesigns.com/wp-content/uploads/2017/03/11-Tips-to-Find-the-Right-Remodeling-Contractor.jpg
1000
1500
Justin
http://blog.lugbilldesigns.com/wp-content/uploads/2018/08/logo.png
Justin
2017-03-10 04:12:40
2019-03-13 04:20:17
11 Tips to Find the Right Remodeling Contractor