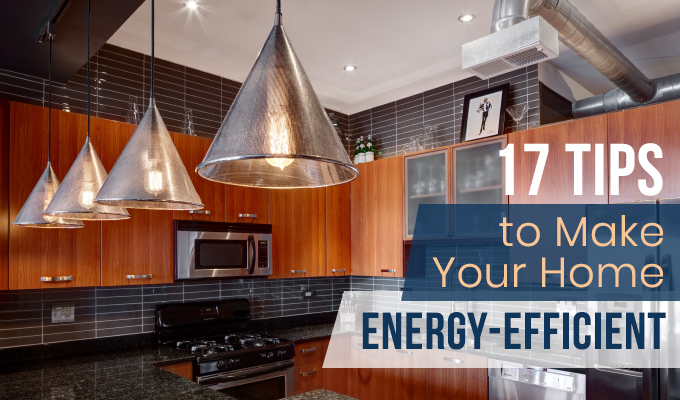 This month's electrical bill is painful for you to look at, just as you've expected. You've been using up a lot of energy for a while, especially with temperatures rising year after year. It's lovely to have a well designed home. It's even more wonderful to have a home that is both beautiful and energy-efficient. You can spend less on heating and cooling bills while remaining comfortable, and you can cut down on your carbon footprint, too. To help you get started, here are 17 steps to help you save energy.
17 Tips for a More Energy-Efficient Home
1. Change Your Most-Used Light Bulbs to LEDs. They might cost more at first, but they last much longer and use up less electrical power than their incandescent counterparts. You'll save yourself the effort of having to purchase replacement lights as well. For outdoor lights, use CFLs instead of incandescent lamps.
2. Change Your Least-Used Light Bulbs, Too. Will you need a 100-watt bulb in a room that's used just once a year? Downgrade such less-used lights to 60-watt or even 40-watt bulbs to save energy.
3. Use Cold Water for Laundry. This eliminates the need for a water heater. If you really need to use hot water, try to find a heater that runs on solar power.
4. Baking? Don't Peek! The temperature drops 25° F whenever you peek. Your oven will have to work harder to bring the temperature back up.
5. When Possible, Unplug or Power Down. Your mobile phone only takes a few hours to charge, and your computer and printer don't have to be left on all day, either.
6. Wash Dishes and Clothes at Night. Power grids are most strained during 4PM and 6PM during peak usage hours, from mid-afternoon to early in the evening. Do your washing a bit later, and you can keep the house cooler and avoid emergencies as well.
7. Switch Out Single-Pane Windows. Either replace them with more energy-efficient windows or add solar shades or tinting film to them.
8. Turn Off the Oven Early. Do this a few minutes before reaching the prescribed cooking time. Don't worry, your food will continue cooking from its own heat.
9. Use Natural Light When Possible. For windowless rooms, you can use skylights. You may no longer need to turn on any lights during daytime.
10. Seal and Insulate Properly. Cracks and gaps can lessen the efficiency of your heating and cooling, raising energy costs by 45 percent. Avoid this by sealing gaps and cracks in rooms and around windows and doors. Also, check how your home insulation levels measure up to local codes.
11. Maintain Clean Filters. Your home systems have to do more work if their filters are dirty. Clean or replace all filters at home once a month (or every three weeks if you have pets or a dusty environment). Use a vacuum with a cleaning extension to suck up dirt, or gently wash the filter with warm water.
12. Spot the Energy Star. This sticker indicates that EPA has confirmed the product's energy efficiency. You can find the small blue or black sticker on over 40 product categories, from refrigerators and washing machines to LED lightbulbs.
13. Use Your Shades Well. Help your heating and cooling systems out by knowing when to close or open your shades and blinds. Close your shades during warmer months for cooler indoor temperatures; open them during cooler months to let sunlight through.
14. Landscape. Deciduous trees act like shades and blinds if they sit on the south and west sides of your house. Their leaves provide shade in the summer but fall off so that the sun can come through in the winter.
15. Install Ceiling Fans. A single fan uses roughly as much energy as a 100-watt light bulb, but it can help you cut down even more on cooling and heating bills. Set your fan to spin counterclockwise in summer–you'll find that you can comfortably set the thermostat 4°F higher. Switch the blades to spin clockwise in winter to help circulate warm air.
16. Don't Overuse the Thermostat. Try to not lower your thermostat so much in the summer or raise it so much in the winter. If your indoor temperature is closer to outdoor temperatures, your systems will have lighter work to do. Also, don't adjust past the desired temperature–your home will heat or cool at the same speed.
17. Paint! Brighten your room with lighter paint colors, which reflect more light. You can then switch the light bulb for a lower-wattage equivalent.
You might not notice the impact immediately, as some of these changes seem minor. However, just as a leaky faucet leads to a bigger water bill, the result of these actions builds up over time. Make efforts to go by these 17 tips, and you'll save more energy than you thought you would.
Visit our blog regularly for tips on improving your home.
http://blog.lugbilldesigns.com/wp-content/uploads/2019/02/17-Tips-to-Make-Your-Home-Energy-Efficient-Featured-Image.jpg
400
680
Justin
http://blog.lugbilldesigns.com/wp-content/uploads/2018/08/logo.png
Justin
2019-02-21 03:24:51
2019-03-13 06:51:51
17 Tips to Make Your Home Energy-Efficient