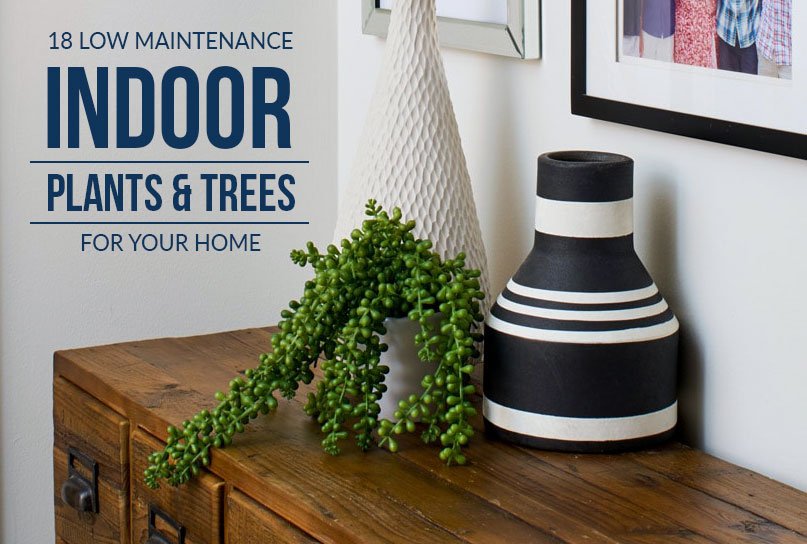 Are you looking for functional home decorations? Search no further. The best home decoration that can provide you with great benefits could be the plants or trees that are just waiting to find a space inside your home.
Indoor plants not only brighten up and beautify spaces, research already proved the significant role of plants in reducing stress levels, clearing air toxins, enhancing concentration, boosting mood, and lowering the risk for illnesses. With well-placed indoor plants, you can create an aesthetically pleasing interior design, plus a host of benefits!
Want to know what plants can be used for your home? Read on to know your options from the list of low maintenance indoor plants and trees that we have collated for you.
1. Aloe Vera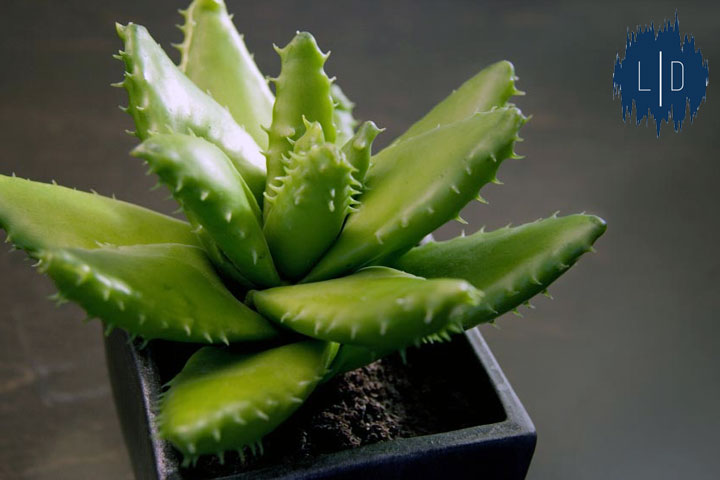 Aloe grows easily in a pot and can thrive on your desk or bedside table with only minimal care. It is popular for its many uses including providing a soothing gel for cuts and burns.
Proper Care: Keep the plant where it can get indirect light. It only requires occasional watering for about every week or two and can live for a long time without water.
2. Grape Ivy
Grape ivy is a vine with tendrils that readily cling to a surface or trellis. Its shiny, deep green leaves resemble those of grapes, only much smaller.
Proper Care: Allow the soil of grape ivy to dry slightly between waterings. It's best to set up a framework for the plant to climb on before it becomes too large.
3. Hoya
Other Names: Porcelain Flower, Wax Plant
Hoya or wax plant has waxy foliage and beautiful flowers that are often powerfully fragrant. It is a versatile interior accent that can be climbing or trailing to 4 feet or more.
Proper Care: Hoya requires low watering and can thrive under medium to bright light. Allow the surface to dry between waterings.
4. Bromeliad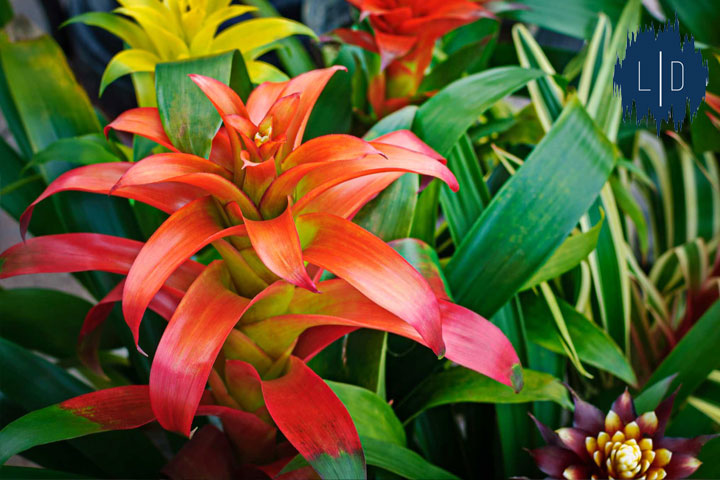 Bromeliad easily adapts to regular home conditions and lasts a long time. It is a beautiful foliage plant that adds an exotic touch to your home with its strappy leaves that come in a variety of colors.
Proper Care: Bromeliad prefers shallow pots with non-soil organic items such as orchid mix (usually a blend of bark and sphagnum moss). It requires bright light and occasional watering.
5. Inch Plant
Other Name: Wandering Jew
Inch plant is a flowering houseplant that is also called wandering Jew or purple heart. It has stunning trailing vines with zebra patterned foliage and can grow in a pot or hanging basket.
Proper Care: Inch plant can grow in dim light, however, the beautiful markings on the foliage will fade. Keep it watered but allow the top surface of its soil to dry out between waterings.
6. Jade Plant
Other Names: Friendship Tree, Lucky Tree, Money Tree, Dollar Plant
Jade is a low-maintenance succulent houseplant that has thick, oval leaves with thick stalks and often produces small pink or white flowers.
Proper Care: Jade plant prefers bright light and ordinary room temperatures. It doesn't require a lot of water so it only needs soil that is somewhat dry.
7. Calathea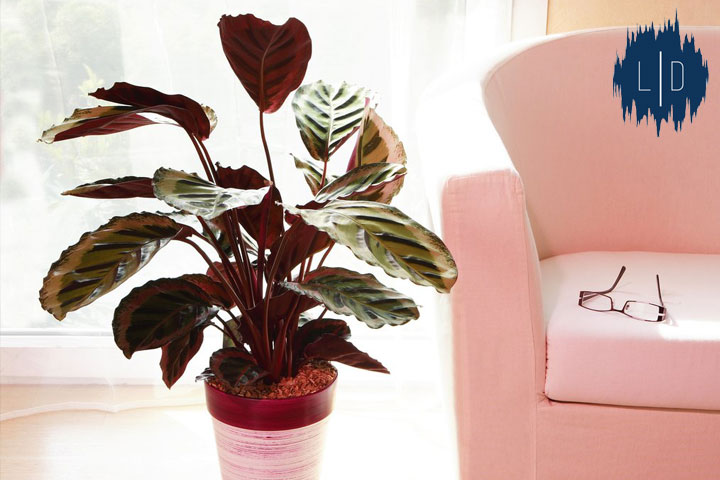 Other Names: Peacock Plant, Zebra Plant, Rattlesnake Plant
Calathea often called as peacock plant is prized for its attractively mottled leaves. Its foliage that comes in a variety of purple, green pink or red, makes a handsome addition in your home.
Proper Care: For the best foliage, keep calathea moist but not drenched and avoid bright lighting. It can be grown outdoors in warm, frost-free climates.
8. Kalanchoe
Other Names: Flaming Katy, Christmas kalanchoe, Florist kalanchoe, Madagascar Widow's-thrill
Kalanchoe is a tropical succulent water-retaining plant that grows colorful, bell-shaped flowers. It requires very little care that it even welcomes dry climates and temperature swings.
Proper Care: Water Kalanchoe only when the top inch of the soil is already dry or about once a week.
9. Norfolk Island Pine
Other Name: A. Excelsa
Norfolk Island Pine makes a great houseplant that usually grows to 10 feet indoors. Its soft texture creates a cozy feeling to any room and makes a great Christmas tree for decorating during the holidays.
Proper Care: This pine loves ample light and humidity. In low light, its lower branches may turn brown and fall off. On the other hand, if the air is too dry, it can be infested with spider mites.
10. Dieffenbachia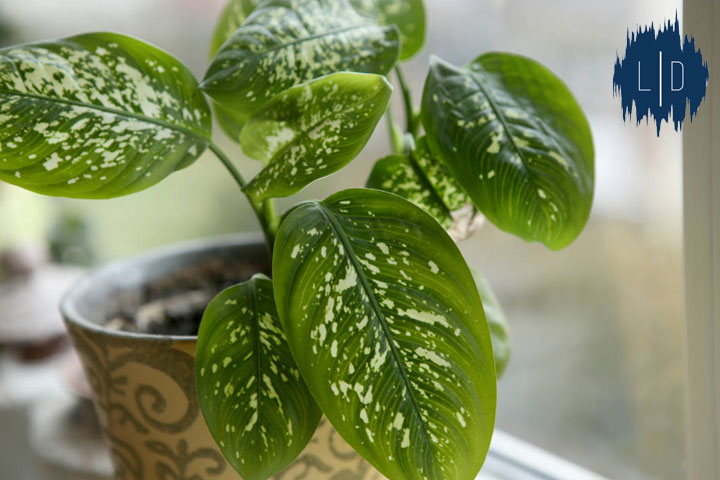 Other Name: Dumbcane
Dieffenbachia provides a tropical-looking accent to home décor with its leaves that can grow up to a foot long. It grows well in shade, which makes it ideal for a house that doesn't get direct sunlight.
Proper Care: Keep its soil evenly moist and well drained. It thrives in normal room temperature with medium or low lighting conditions.
11. Peace Lily
Other Name: Spath
Peace lily looks elegant with its graceful curving white blooms and dark leaves. Its ability to grow easily and filter toxins from the air makes it a valuable indoor plant.
Proper Care: Peace lily favors low humidity, low light, and moist soil. It can thrive even in rooms with few windows like the bathroom.
12. Rubber Plant
Other names: Rubber Bush, Rubber Tree
Rubber plant gives a major pop of greenery in a room, with its dark leaves having an attractive shine to them. It can measure over 100 feet tall, but regular pruning can keep it as a shrub.
Proper Care: Rubber plant thrives in medium to bright lighting condition. Allow the surface of its soil to dry out before watering.
13. English Ivy
Other Names: Ivy, European Ivy
English ivy is an evergreen perennial that makes a wonderful trailing plant, climbing plant and indoor topiary. Aside from its elegant long trails, it is also known for removing mold spores from your indoor air.
Proper Care: Like most ivies, English ivy likes moist, fertilized soil and cool room temperature conditions.
Note: Keeping an ivy may be dangerous as all its part are poisonous if eaten or chewed by pets or children.
14. Snake Plant
Other names: Viper's Bowstring Hemp, Snake Plant, Mother-in-law's Tongue, Saint George's Sword
Snake plant also goes by the name mother-in-law's tongue with leaves that are typically tall, stiff and vertical. It is extremely drought-resistant that it can go for a month without water.
Proper Care: Snake plant grows well in any lighting conditions. It requires little air and watering that it's better to allow the soil to dry before watering again.
15. Umbrella Tree
Other name: Octopus Tree
Umbrella tree is a tropical tree with long oval-shaped leaves that grow on a delicate stem. It becomes a low-maintenance tree when grown indoors that's why it is a common sight in both homes and offices.
Proper Care: Keep umbrella tree on a bright spot of your space where it receives indirect sun. Avoid excessive watering.
16. Fiddle Leaf Fig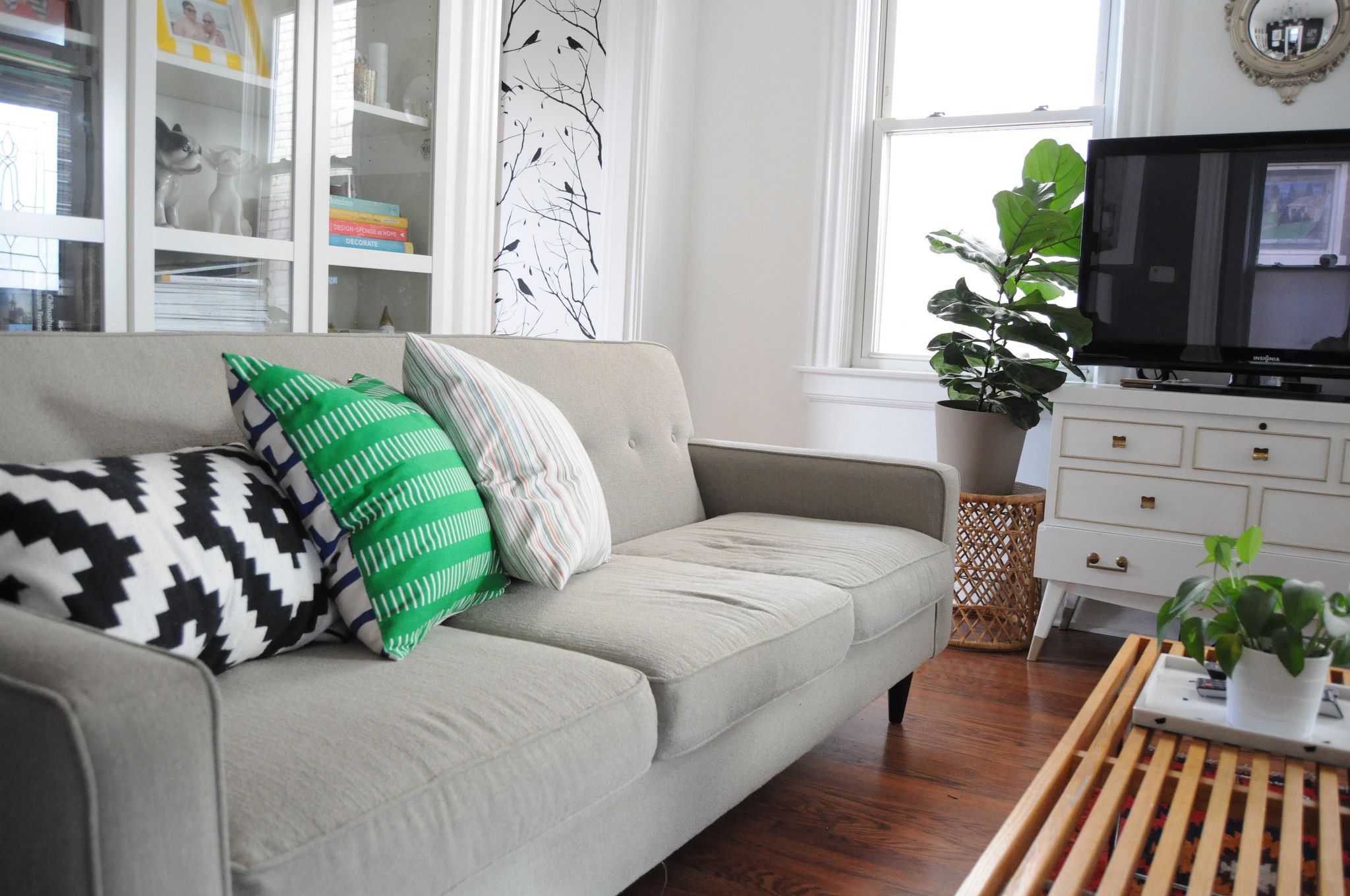 Image Source: Flickr by Emily May
Fiddle leaf fig is a classy looking indoor tree with a large leathery foliage and height that creates a statement in a space. It can grow too tall but you can always prune its stems back to the desired height.
Proper Care: Keep the fig tree in bright, indirect light. It only needs water when the top inch of soil is already dry.
17. Weeping Fig
Other name: Benjamin Fig or Ficus Tree
Weeping fig is a popular indoor tree that produces quantities of shiny green leaves on delicate drooping branches. It is often sold in stores braided to form one spectacular trunk and can grow up to 15 feet tall indoors.
Proper Care: Weeping fig, prefers bright indirect light. It has the tendency to drop leaves when moved to a different location but will recover through time.
18. ZZ Plant
Other Name: Eternity Plant
ZZ plant earned the name 'eternity plant' because it is nearly indestructible. It has green, shiny foliage with thick fleshy leafstalks that are so durable it can survive drought, low light, and even low humidity.
Proper Care: ZZ plant thrives in almost any lighting condition and doesn't require much watering that you can allow the soil to dry between waterings.
Warning: This plant is poisonous if eaten or chewed by children or pets.
Did you find this article helpful? Follow our blog for more interesting interior design tips!
http://blog.lugbilldesigns.com/wp-content/uploads/2018/05/18-Low-Maintenance-Indoor-Plants-_-Trees-for-Your-Home.jpg
544
807
Justin
http://blog.lugbilldesigns.com/wp-content/uploads/2018/08/logo.png
Justin
2018-05-08 10:19:45
2019-03-13 07:26:35
18 Low Maintenance Indoor Plants & Trees for Your Home