…get the scoop on design trends to watch in 2016
From time to time, every home needs a refresh.  The start of a new year is a great time to add some style, personality, and functionality into your home.  Here are some trends that will help you do just that in the coming year.
Top Interior Design Ideas that Will Transform Your Living Space
Set 2016 to be the year for your home to be admired, talked about, and most importantly provide the comfort and luxury you deserve by making sure that its interior design is beautiful, functional, and reflects your unique traits. Whether you prefer contemporary style or if you are the type who would rather go for avant-garde interior designs,  here are some of the top trends.
#1. Use the Right Elements
Color
2016 is the year of dramatic colors that allow you to make bold statements into your space.  While you don't want to overwhelm your space with a lot of color, color can be used in small quantities, to add an extra "pop" to a space. Think accent walls, nooks, and other like-spaces.  Also be sure to have the various colors in the house flow from one room to the next,  to achieve fluid movement from one room to another. Also remember that color doesn't just have to be via paint colors.  Decor and appliances also provide an opportunity to make a statement.
Patterns
Geometric patterns can be used to create a harmonious fashion in your home. Using materials with hard textures like cement and wood, as well as metallic and metals, can play key roles in forming design patterns with a dynamic look.
Texture
Texture is one of our favorite ways to add personality and dynamism to residential home designs.  Wallpaper, once something only your grandma used, is making a big comeback.  Several vendors are creating modern wallpapers that utilize texture to make a big impact.  Some examples of texture for furniture and decor include faux fur, suede and brushed velvet which can be used together to add relaxing silhouettes that will beautify spaces.
Varying texture is a great way to add a sense of warmth, colour and emotional interest that will establish an atmosphere of relaxation and comfort.
#2. Go for Eco & Sustainable Solutions
It has never been more important to live intentionally, and use eco-friendly, sustainable products.  Repurpose, reinvent, reuse and recycle what you can.   You can often create breathtaking spaces by simply finding new uses for the old things you own. Another great way to increase the "earthy" feel of your space, is to bring outdoor elements inside.  Plants are a great example of this.
#3. Don't Forget High Traffic Areas
The high traffic areas of your home are some of the lowest hanging fruit when it comes to residential interior design and remodeling. Rooms like the living and kitchen room of your home should be given a lot of attention, as they are the areas people most congregate in.  If you are going to splurge, the kitchen, bathroom, and living room are good areas to do it in.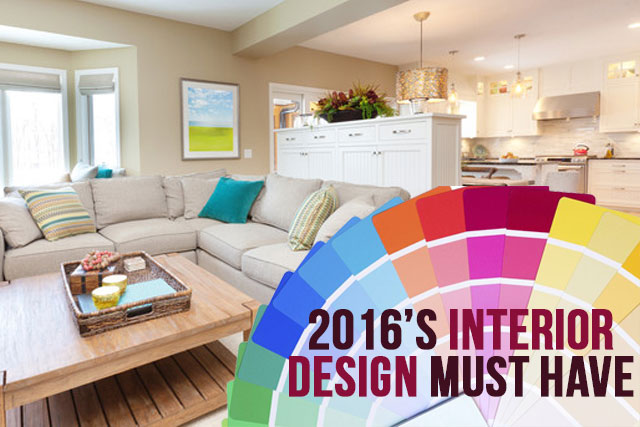 2016's Interior Design Suggestions
While you focus on creating the most beautiful look out of your home, you should be smart enough to know what to keep and what to ditch. While you shouldn't feel the need to redo something that still works in the space, below are a few suggestions on how to spruce up your space in 2016
Change out your hardware

Furniture that plays off the other elements in the room
Wall mirrors, decorations , and centrepieces
Undermount LED lighting
Textured/patterned wallpapers
Built-In benches for a kitchen nook
Geometric patterns (wallpaper, tile, and beyond)
Tribal / Ethnic Prints
Reclaimed Wood
Canisters for baking ingredients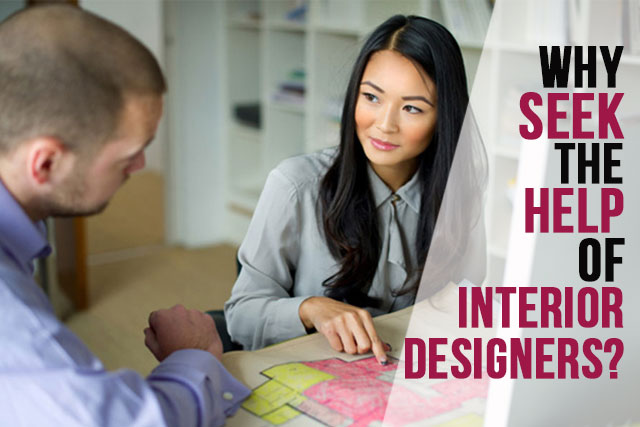 Why Seek the Help of Interior Designers
Still not sure whether you would benefit from the help of an interior designer?  Regardless of your plans, it makes sense to have a professional to bounce your ideas off of.  Even if you are on a budget, purchasing a few hours of consulting time with a designer, can take your space to the next level, in that it will help ensure that all of your ideas are cohesive, and will work well together, in the specific space.  Hiring an interior designer is no longer something that only the upper echelon can afford.  In fact, using a designer often saves you money.  The truth is that a good designer will save you time, money, and headaches. Here are some of the top reasons to seek out professional help when designing and remodeling.
1. You'll Spend Your Budget Where it Most Counts
Ever heard of the saying "Don't be penny wise and dollar foolish"?. Hiring a professional interior designer could be the best decision that you will make to decorate your home.  Often, it doesn't make sense to get the best of the best for every item in your home.  Designers can help you decide what elements will make the most impact, and what things can be purchased on a budget.  This is often something that an untrained person has a hard time deciphering.
2. You'll Save Time & Money
Design and remodeling projects are extremely complex.  There are countless moving pieces that depend upon eachother.  If you do not have the training (or time), things can often slip through the cracks.  Unfortunately, this often creates additional expenses that could be avoided.  Yes, you'll pay a designer for their time, but in turn, they will ensure that everything runs smoothly, and your project remains on-budget and on-schedule.
3. Find the Best Contractors
Hiring the right person to lay your new flooring, build your custom cabinets, install shower tile, and switch out light fixtures, can be daunting.   In the "pay to play" market we live in, where any contractor can give off the appearance of success and high customer satisfaction, it is even more important to have an advocate on your side to help you navigate the selection process.   Designers often have worked with the same contractors for years, and as a result, can offer suggestions on the best people for the job.  This is invaluable.
4. Save on Product (and find hidden gems)
An experienced interior designer has relationships with hundreds of vendors that the average person off the street would not have access to.  If you're interested in having a unique space, this is invaluable.  Plus, a designer will often share discounts with their clients, meaning any fees charged, are often made up on product-cost savings.
So, in conclusion, if you are considering a re-design or remodel of your space, using a designer can dramatically improve the results you achieve, all while saving you money, time, and headaches.
Was this article helpful? Did we miss a topic that you think we should publish? Got some interior design ideas to share? Let us know your thoughts by leaving a comment below!
http://blog.lugbilldesigns.com/wp-content/uploads/2016/04/Lugbill-1-Final.jpg
427
640
Justin
http://blog.lugbilldesigns.com/wp-content/uploads/2018/08/logo.png
Justin
2016-04-11 07:08:41
2017-07-11 02:51:41
Interior Design Ideas to Watch in 2016