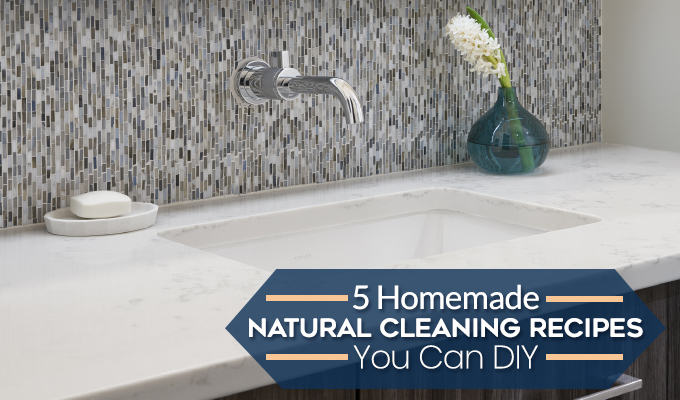 It might have taken you months in decorating your home and choosing the perfect furniture. However, the aesthetic you were aiming for can easily be thrown off by an unsightly stain or a strange odor. Though store-bought cleaners can do the trick, they are usually expensive and hard to find as well.
So how can you keep your home clean and presentable without hurting your wallet?
Here are five homemade natural cleaning recipes that you can put together in the comfort of your own kitchen, gathered from respected bloggers who are also concerned with keeping households clean.
1. Scented All-Purpose Cleaner
This fragrant cleaner can be used to get rid of carpet stains and freshen laundry, among other things. The lemon rind lends some extra cleaning power to this recipe as well.
Instructions: Mix one part water, one part white vinegar, lemon rind, and a sprig of rosemary. Pour the mixture into a spray bottle and shake. Let the cleaner sit for a week for its ingredients to infuse.
Read the full article from Good Housekeeping here.
2. Brass Cleaner
Have you found some brass accents or furniture that would be perfect for your living room if only they hadn't lost their sheen? Apartment Therapy presents a solution for you, "using only two natural ingredients you probably already have on hand!"
Instructions: Mix half a lemon's worth of juice and a teaspoon of baking soda until a paste is formed. The paste can be rubbed onto brass with a soft cloth and then washed off.
3. Wood Polishing Spray
Say goodbye to spending on can after can of store-bought wood polish. You can also add your favorite essential oil to the mix for a personal touch!
Instructions: Combine ¾ cup olive oil, ¼ cup white vinegar, and (optional) 30 drops of essential oil. Pour the mixture into a spray bottle and shake vigorously. To use, shake the mixture well, spray it onto wood surfaces, and polish with a clean cloth.
Recipe taken from Keeper of the Home.
4. Mirror and Glass Cleaner
You'll occasionally look into a mirror to check your hair but end up counting toothpaste smudges instead. Here's a quick recipe for a cleaning solution for mirror and glass, which you can also customize with essential oils.
Instructions: Mix ¼ cup white vinegar, ¼ cup isopropyl alcohol, one tablespoon of cornstarch, 2 cups of water, and 8-10 drops of your favorite essential oil. Once you've poured the mixture into a spray bottle, shake it well. To use, spray directly onto glass and then wipe off.
5. Fridge Cleaner
How many times have you held your breath while opening your fridge? Although they're meant to keep food fresh, fridges frequently end up housing strange smells thanks to forgotten leftovers. Fortunately, Hello Glow has a non-toxic cleaning solution that can be used to deep clean a refrigerator.
Instructions: Pour 1 cup vinegar into a spray bottle, add 2 teaspoons of dish soap and some orange essential oil, and then add warm water until the bottle is almost full. Shake well before each use.
It turns out that you don't have to spend so much just to enjoy a house that's both stylish and clean. Most of the homemade cleaning ingredients used in these 5 recipes can be found in your own kitchen!
Want to find out other ways to keep your home looking fresh and fashionable? Check out our blog for more tips and advice!
http://blog.lugbilldesigns.com/wp-content/uploads/2019/01/5-Homemade-Natural-Cleaning-Recipes-You-Can-DIY-Featured-Image.jpg
400
680
Justin
http://blog.lugbilldesigns.com/wp-content/uploads/2018/08/logo.png
Justin
2019-01-22 01:31:12
2019-03-13 07:24:18
5 Homemade Natural Cleaning Recipes You Can DIY