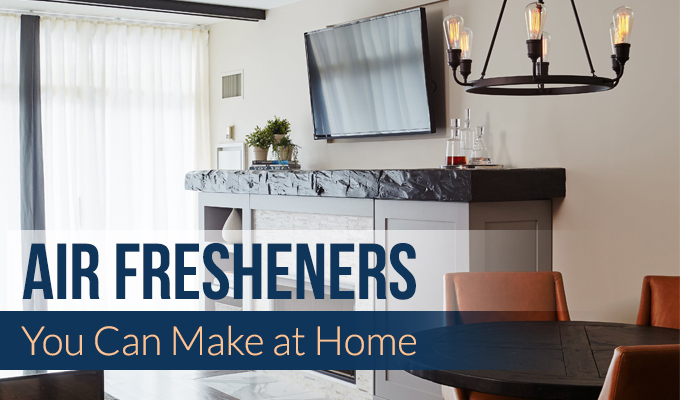 Wouldn't it be lovely to come home at the end of a long day and breathe in a light, calming fragrance? An air freshener can give your house a comforting scent in an instant. You can easily pick up a commercial freshener at a nearby store, but a homemade recipe grants the additional security of having all natural and non-toxic ingredients. Several DIY air fresheners are easy on the wallet, too! If you're thinking of making your own air freshener at home, here are 10 recipes for you to try out.
10 All-Natural DIY Air Fresheners
1. Scented Wood Blocks
They're easy to make, they're reusable, and they're an ornament on their own if you arrange them in a glass bowl. What more can you ask for?
Instructions:
Coat several small wood blocks in the scented oil or perfume of your choice. You may do this with paint brushes, a spray bottle, or a closed container where you can shake the blocks in more oil.

Leave the blocks overnight to absorb everything, and then set them out.

Simply repeat the above steps if the fragrance begins to fade.
2. Baking Soda Air Freshener
Here's one quick solution to those unpleasant smells in your bathroom. The baking soda in this DIY air freshener absorbs any odd scents while the essential oil gives off a constant light fragrance. Simply shake the mixture if you need the scent to be a bit stronger.
Instructions:
Combine ½ cup baking soda and 15-20 drops of your favorite essential oil.

Pour the mixture into a glass jar and cover it with a piece of cloth or paper.

You can embellish the jar with a ribbon matching your bathroom decor.
3. Floral Potpourri
The sight of a glass jar filled with dried petals might seem outdated. However, there's a reason potpourri remains a common sight in offices and homes: it's actually effective at making ambient air smell fresh. You can also put together your own jar of potpourri easily.
Instructions:
Fill a container with dried flower petals. Put a few drops of essential oil.

Close the container and let the petals sit in the oil for a few weeks. This allows the petals to soak up the oil.

Transfer the petals to a bowl or jar and arrange them. You may further customize your potpourri with extra oils or scented ingredients.
4. Lemon-Rosemary Simmering Potpourri
It's one thing to have a house filled with the savory smell of dinner, but it's something else to have that smell last until the next morning. Get rid of overstaying cooking odors with some stovetop potpourri. This DIY air freshener gives off a scent that reaches from the kitchen to the corners of your home!
Instructions:
Fill a small stock pot with water until it is about ⅔ full.

Add a sliced lemon, some sprigs of rosemary, and ½ teaspoon of vanilla extract.

Allow the mixture to simmer throughout the day.

Change the mixture every 2 days if you want to maintain the scent for longer.
5. Orange Candles
A scented candle can set you back around $20. Meanwhile, a pound of oranges generally costs less than $2. With some careful carving, you can turn a few extra oranges into bright, round candles of your own!
Instructions:
Cut an orange in half.

Run a knife around the edges of the orange to loosen the fruit, and then scrape the fruit out with a fork. Take care to leave the inside stem intact–this white piece in the middle of the orange will be your wick.

Fill the orange with oil until it's ¾ full (any kind of oil will do). Leave it to sit for about 45 minutes so that the stem can absorb the oil.

Try lighting the candle. Hold a flame to the stem for 2-3 minutes until the stem turns brown or black. You'll need a candle lighter for this, as a match or a cigarette lighter flickers out too quickly. Once the wick has turned black, let it rest for a moment.

Relight the stem. This may also take a few seconds, and there might be some crackling sounds before the candle begins to burn steadily.
6. Cinnamon Stick Candles
Ever wanted to fill the whole house with the warm, spicy smell of cinnamon? You'll adore these cinnamon stick candles, which are as beautiful as they are easy to make. Try handing them out as gifts to friends and family.
Instructions:
Take a pillar candle at least 3 inches in diameter. Measure its height and cut around 20 sticks of cinnamon to size.

Use a hot glue gun to attach the sticks vertically to the side of the candle. Make sure that the sticks lie snugly beside each other.

Tie some twine or ribbon around the candle. Not only does it complete the candle's look, but this will keep the cinnamon sticks in place even as the candle and the hot glue melt away.
7. Long-Lasting Gel Air Freshener
You might not be all right with the thought of having an open flame in the house, especially if there are children or pets around. A DIY gel air freshener is a great alternative to scented candles. One 8-oz jar of this freshener can last you up to a month!
Instructions:
In a heatproof jar, combine around 30 drops of fragrance and a few drops of food coloring.

Boil 1 cup of water and mix in 4 packages of unflavored gelatin. Keep stirring to prevent the gelatin from clumping up.

Add a cup of cold water and a tablespoon of salt. Continue stirring.

Pour the gelatin into the jars and mix it with the fragrance and food coloring.

Let the freshener set overnight.

Decorate the jars as you wish! If the jar has a lid, punch a few holes in it before screwing it on. This will help the freshener last longer.
8. Reed Diffusers
Another flame-free DIY air freshener, reed diffusers make for a quick, simple project and an eye-catching decoration. Plus, you can also use them over and over as long as you have scented oil in stock.
Instructions:
Fill a small vase or jar with essential oil, and then fill it to the brim with baby oil.

Place bamboo skewers or rattan reeds in the vase. You can decorate the sticks beforehand with washi tape, tiny flags, or paper flowers.

Tie a ribbon around the vase as a final detail.
9. Lemon and Basil-Scented Spray
Worried that commercial air freshening sprays might contain harmful chemicals? You can easily whip up your own non-toxic alternative!
Instructions:
Pour ½ cup of water into a water and bring it to a boil.

Add 4 tablespoons of dried basil and allow it to steep for a few minutes.

Line a funnel with coffee filter paper and place it in the opening of a clean spray bottle. Pour the basil mixture into the funnel.

Remove the filter and then add ¾ cup of boiling water, 1 tablespoon of vodka, and 5 drops of lemon essential oil to the mixture.

Cap and shake the spray bottle.
10. Orange-Clove Pomander Balls
The fragrant orange-clove pomander ball has been making homes and closets fragrant since medieval times. Hang them up to spread their spiced scent or drive pests away from pantries and other storage spaces. These DIY air fresheners are also a wonderful craft project for kids!
Instructions:
Poke the pointed ends of whole cloves into the rind of a fresh orange. You can arrange the cloves to form designs and patterns on the pomander.

If you want to hang the pomander, simply thread some ribbon underneath the skin and tie the ribbon in a loop.

For a richer aroma, you can roll the pomander balls around in other spices such as cinnamon, nutmeg, and cardamom.
Say goodbye to stale and unpleasant odors! Bring luxurious scents into your home with these 10 DIY air fresheners, and you'll feel relaxed from the moment you walk through the front door.
For an even more comfortable atmosphere, try keeping a few pots of low-maintenance plants around the house as well.
Did you find this article interesting? Visit our blog regularly for more tips on home improvement and interior design.
http://blog.lugbilldesigns.com/wp-content/uploads/2018/11/Air-Fresheners-You-Can-Make-at-Home-Featured-Image.jpg
400
680
Justin
http://blog.lugbilldesigns.com/wp-content/uploads/2018/08/logo.png
Justin
2018-11-21 06:58:19
2019-03-13 07:25:13
Air Fresheners You Can Make at Home