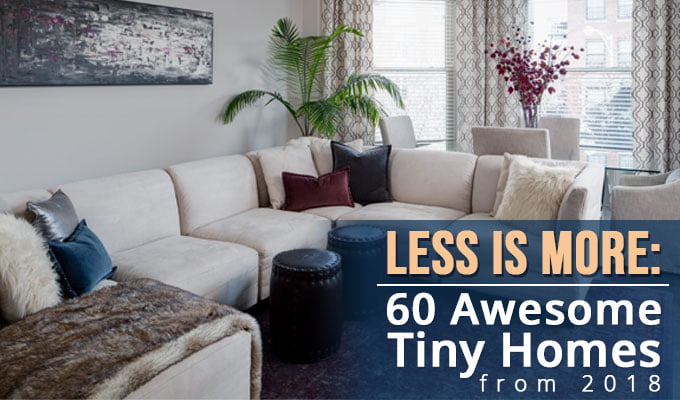 Can you imagine surviving on just a few hundred square feet of living space? It may seem far-fetched, since you'll need to squeeze a kitchen, a bathroom, a bedroom, and a living room into whatever space you have. Surprisingly, there are people who handle this with style in tiny houses. 
Demand for tiny houses is on the rise for several reasons, in fact. These compact little homes often demand less resources, making them efficient and environmentally friendly. Some of them can even be towed across the country!
Curious about tiny houses yet? Take a look at these 60 houses, all coming in at 650 square feet at most. You'll be surprised at how diverse and luxurious these homes can be despite their limited space!
60 Awesome Tiny Houses That Are Worth a Peek
Trailers
There's a certain convenience in being able to tow your home across the country with you. Check out these tiny houses on wheels!
1. Webster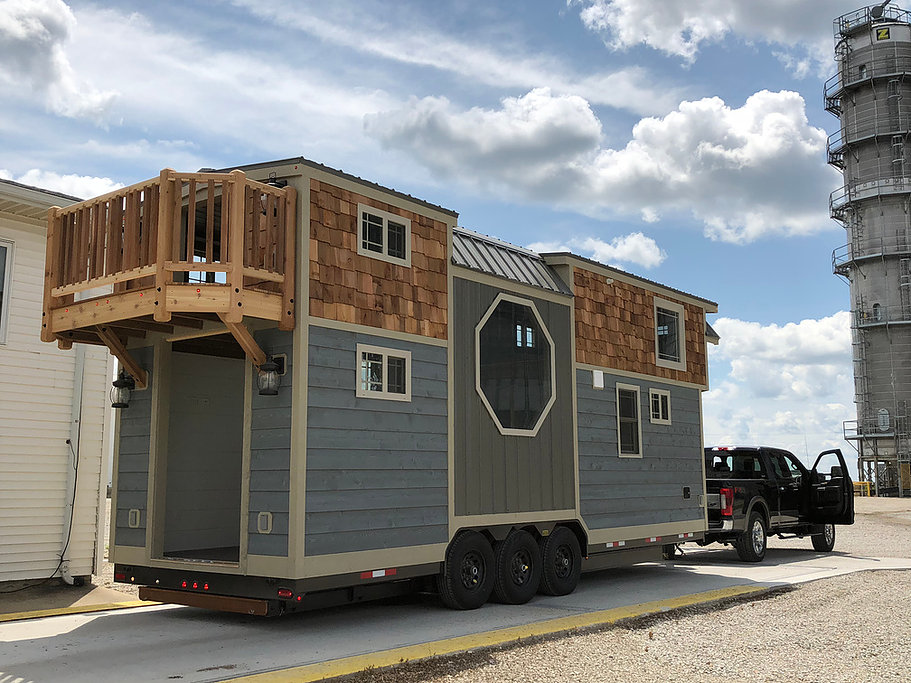 Image sources: Pin Oak Tiny Homes, Journal-Republican
One of the Webster's most striking features is its 5' octagonal window. The staircases to the lofts also happen to frame the window, which fills the house with natural light. Hard to believe that before the Webster, builder Scott Heffley had never put together a tiny house before!
Take a seat on the roll-out porch or cedar balcony, and you might forget that the Webster comes in at just 386 square feet.
2. DeeDee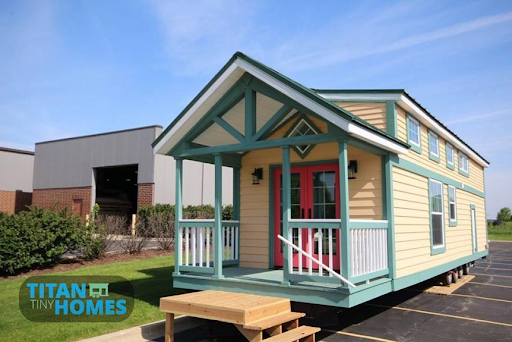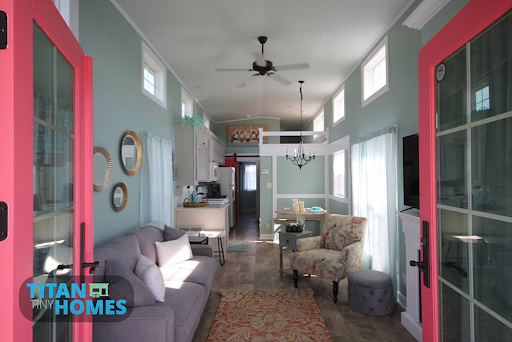 Image source: Tiny Living
The pastel-colored DeeDee may look small from the outside, but it uses its 400 square feet of interior space very well. It squeezes in a sofa set, a full-sized kitchen with marble counters, a bathroom with a fiberglass tub, and a queen-sized bed. The little front porch is a delightful touch, too!
Want the exact romantic look and feel from the pictures? Bantam Built (formerly Titan Tiny Homes) offers DeeDee tiny houses fully furnished!
3. Coastal Craftsman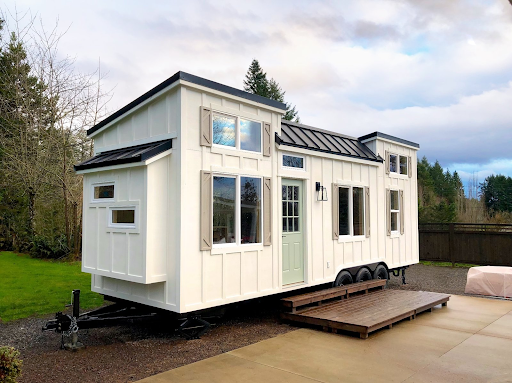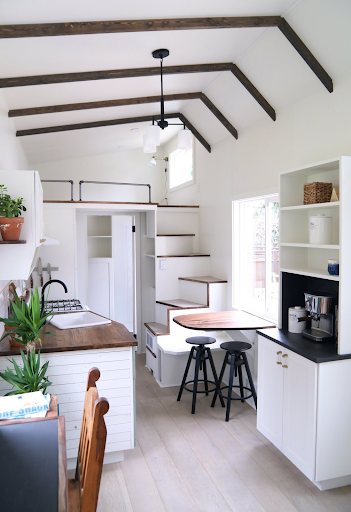 Image source: Dwell
A white interior with dark wooden accents and shiplap detailing echoes the basic design elements of a sailboat. The loft's railings might also remind you of a boat's deck! 
Other materials used for this stylish tiny house include reclaimed wood and concrete. For example, the little dining table in the Coastal Craftsman is made of salvaged walnut.
4. Escher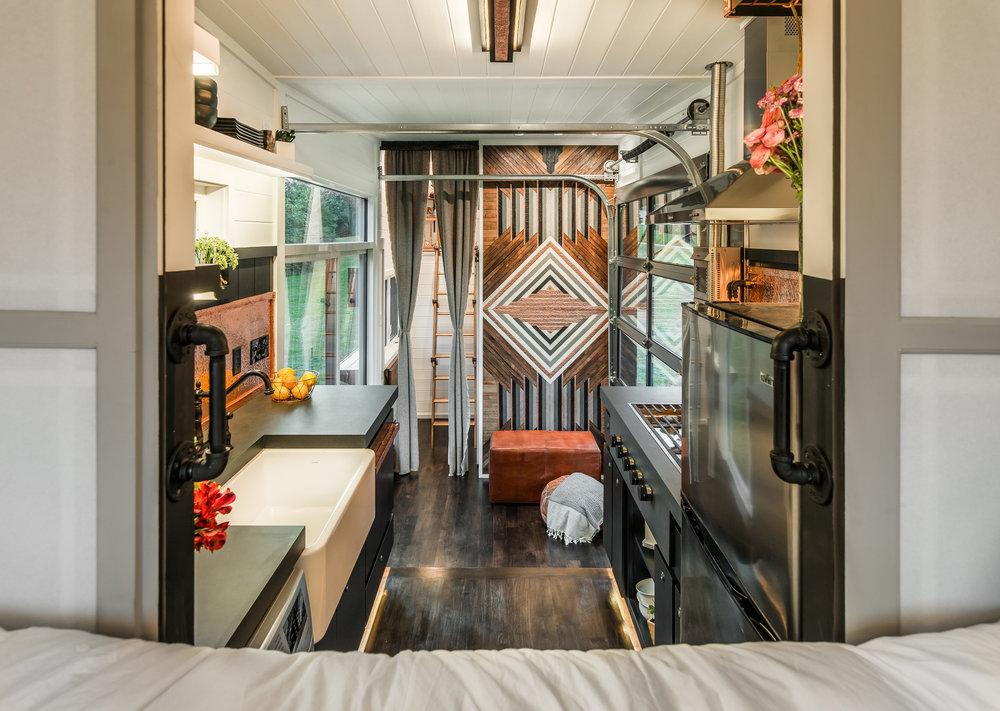 Image source: New Frontier Tiny Homes
The Escher is perfectly sized for a family of 3. One end of the gooseneck trailer can fit a king-sized bed. This tiny house also boasts of a luxurious bathroom, a smaller loft where a baby could play, and loads of storage space. Pull out the stairs to the kitchen and bedroom to reveal a foldable dining table.
Huge glass windows on both sides of the Escher allow natural light to pour into this tiny home. One of these windows can slide up if you want to bring the outdoors inside! 
5. Cornelia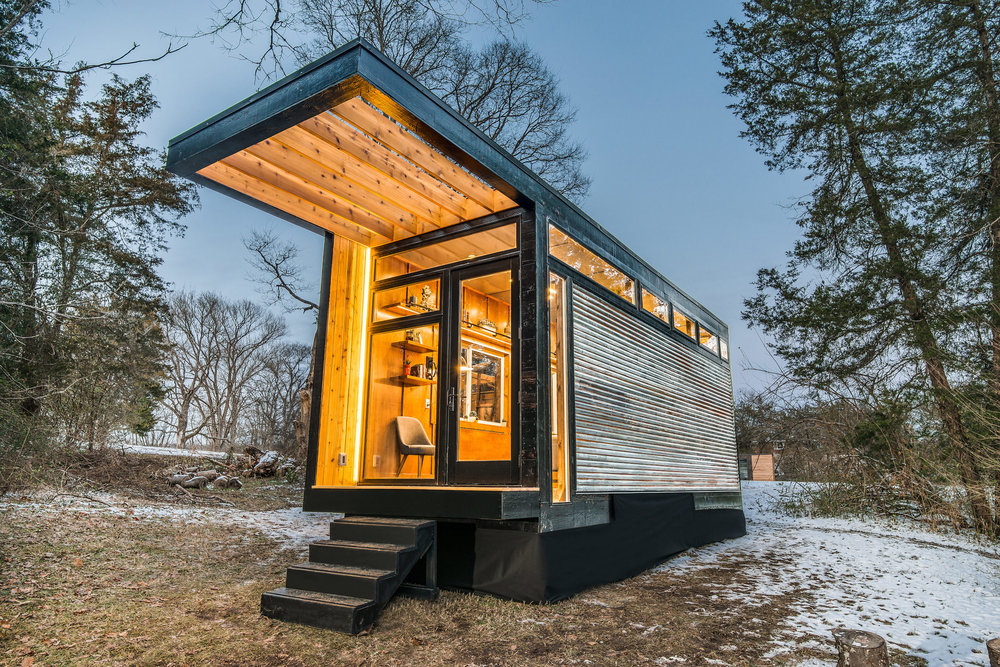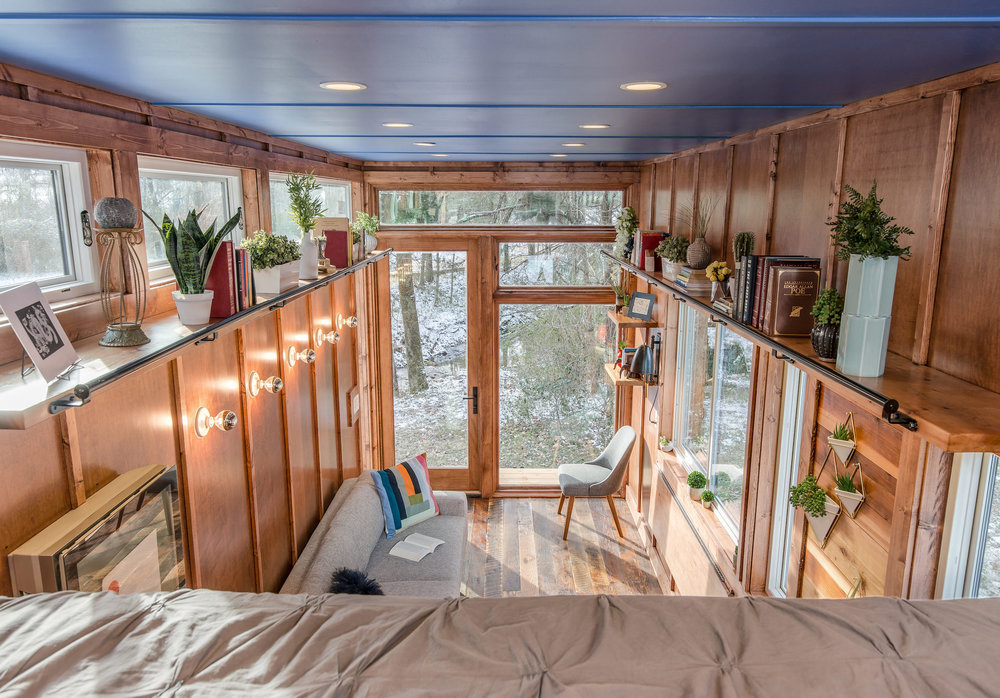 Image source: New Frontier Tiny Homes
This tiny house was originally designed for children's author Cornelia Funke. Strategically placed windows flood the house with natural light while providing necessary privacy. One of these windows is placed in front of the writing desk, too!
The floor of the Cornelia is made of mixed wood, while its siding is made of maple.
6. Nugget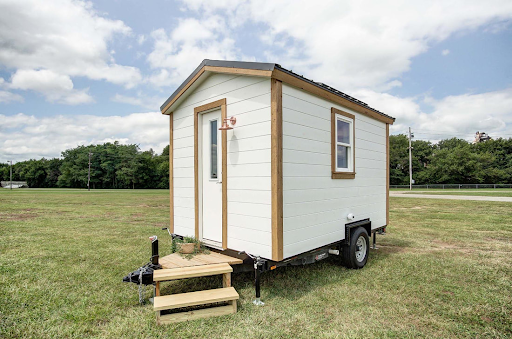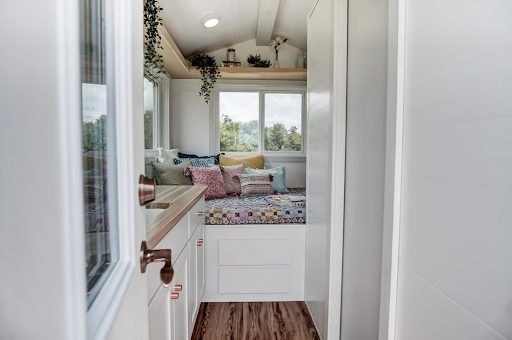 Image source: Modern Tiny Living
The Nugget is small enough to be classified as a micro house. However, it packs all the features of any other top-notch RV home, including insulation and complete off-grid capability. There's even room for a mini-fridge! Who knew that 102 square feet could be so comfortable?
7. Vantage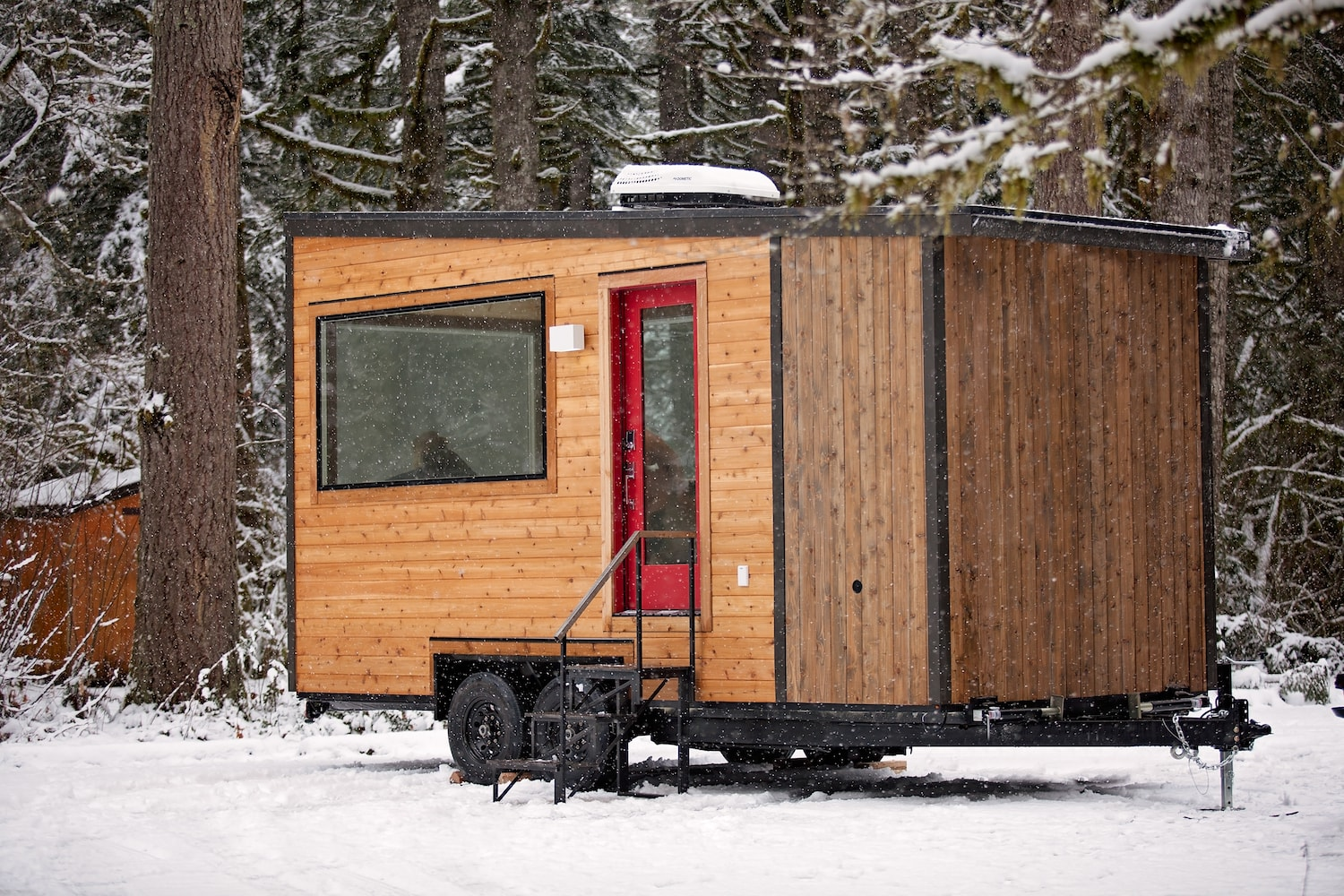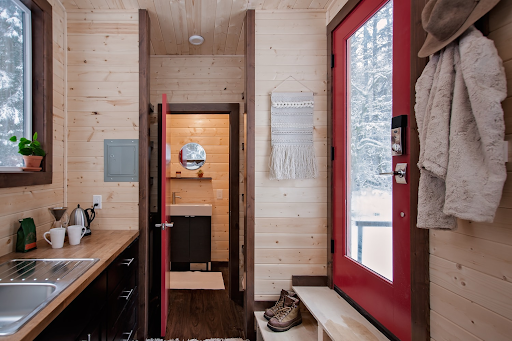 Image source: Tiny Heirloom
You'd honestly expect a tiny house named the Vantage to provide great views all around. And it does! Three large glass windows surround the queen-sized bed on one end of this tiny house. There are more windows by the kitchen counter and on the bright red front door. Enjoy taking in the scenery around you whether you go for the 24', 20', or 16' version of the Vantage.
8. Craftsman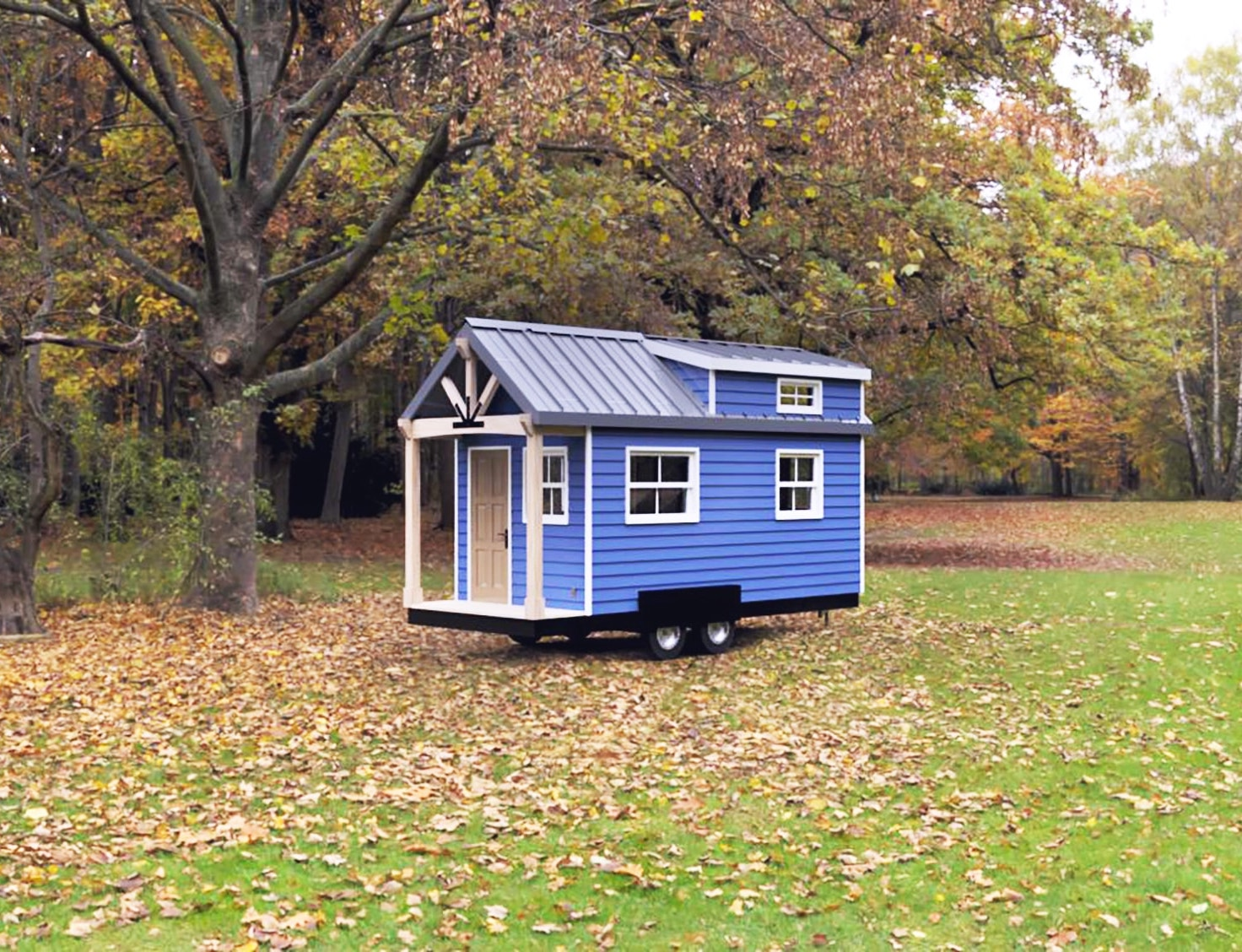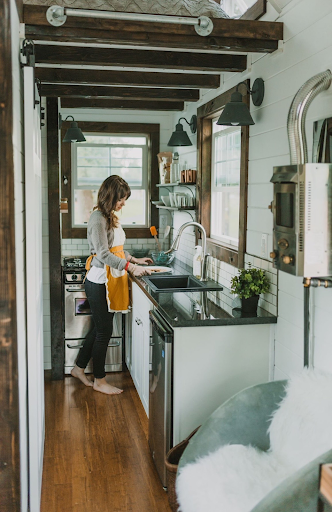 Image source: Tiny Heirloom
Not to be confused with the Coastal Craftsman, although this little house is just as charming. The Craftsman is cozy yet classy thanks to a white interior with beautiful wood accents. It has just enough space for a kitchen with an oven, as well as a closet housing a washing machine. 
You can opt for an additional storage loft across the king-sized bedroom loft. The front door has a small porch by default, however. Choose between 24' and 28' versions of the Craftsman.
9. Degsy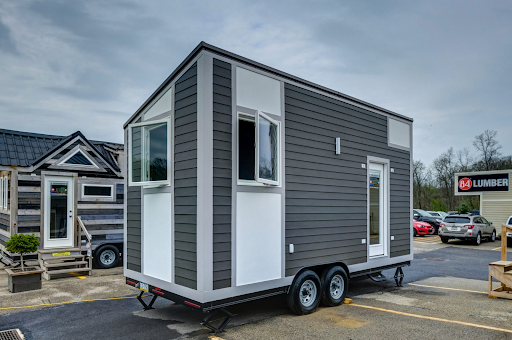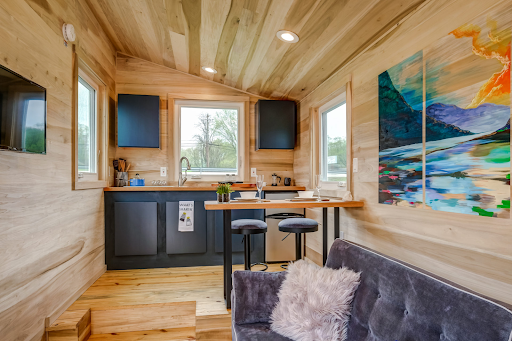 Image source: Tiny Living by 84 Lumber
It's just 160 square feet in size, but the Degsy makes room for necessities and a touch of luxury. A high ceiling keeps the tiny house from feeling stuffy. Meanwhile, a counter and a pair of bar stools form a compact and casual dining space. A lovely wooden interior adds both texture and warmth.
10. Bluestem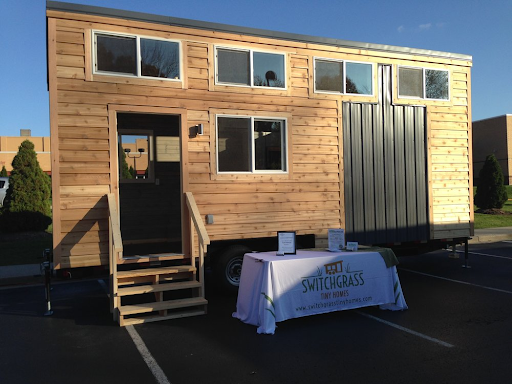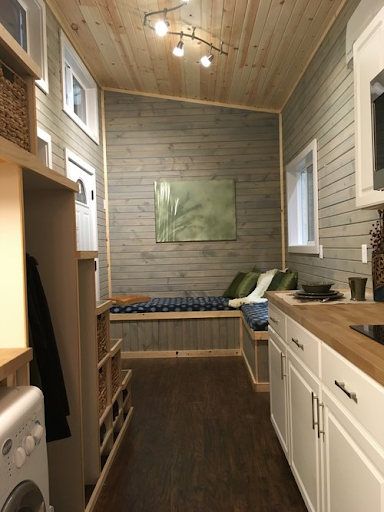 Image source: Switchgrass Tiny Homes
Decorated in earthy tones, the 24' Bluestem gives off a welcoming rustic vibe. A lovely kitchen, a combination washer and dryer, a full-sized bathroom, and a king-sized sleeping loft all fit into the Bluestem's 260 square feet of space. The staircase leading to the loft doubles as storage, too.
11. Draper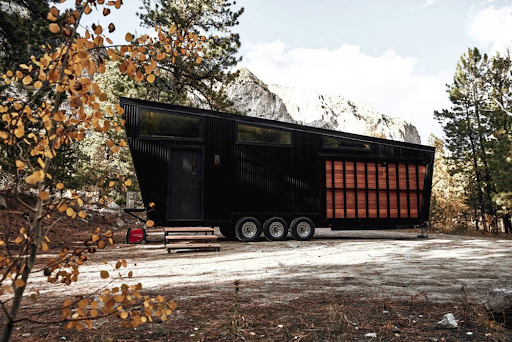 Image source: New Atlas
Don't let the dark exterior of the 30' Draper fool you! Behind the black corrugated metal siding is a cozy little house decked out in whitewashed pine. A full kitchen with an oven and a range hood takes up most of the interior. The U-shaped sofa nearby can convert into a 2nd bed, while the first bedroom is accessible via ladder.
The Draper's porch can be lowered by winch, revealing a sliding door. This porch happens to be adjacent to the kitchen–perfect for little dinner parties!
12. La Tête dans les Étoiles
Image source: New Atlas
This tiny house by French builder Optinid is beautiful enough at first glance. Its clean wooden finish treads the line between classic and modern. Climb into the loft bedroom, however, and you have the option of sliding the roof open! After all, "la tête dans les etoiles" translates to "head in the stars" in English.
Other stellar features include off-the-grid capabilities, such as a solar power array on the roof.
13. Denali XL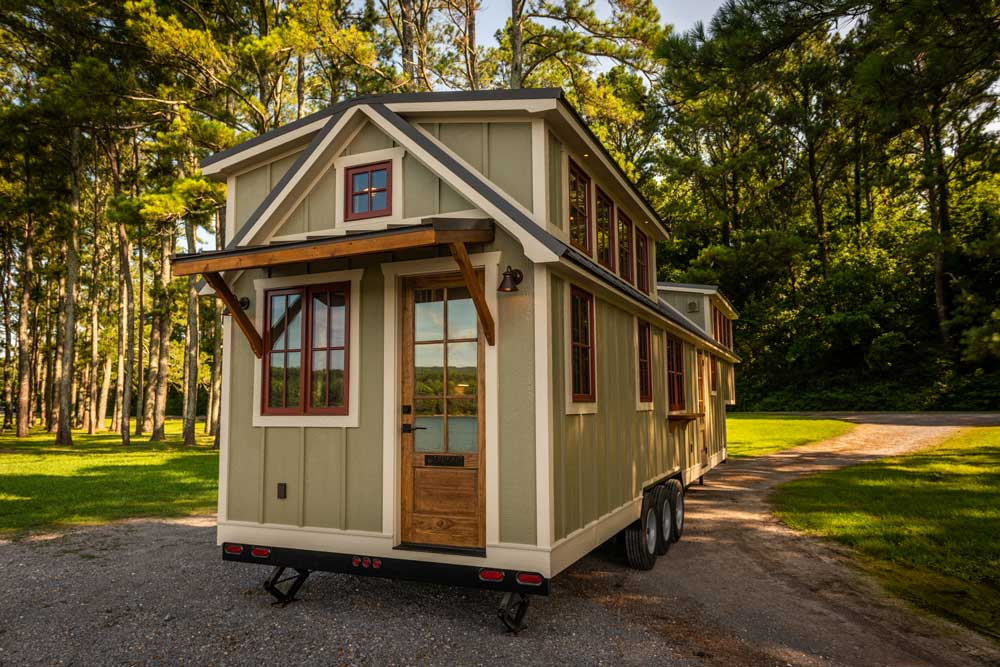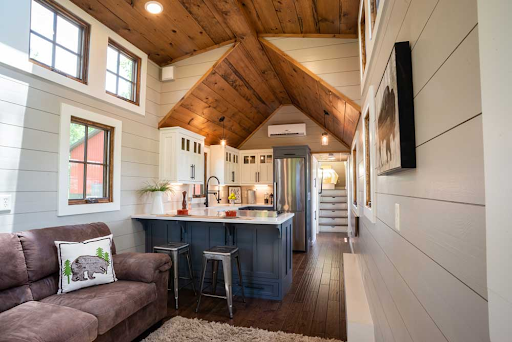 Image source: Timbercraft Tiny Homes
Timbercraft prides itself on its lineup of luxury tiny homes. Just take a look at the Denali XL! With a cottage aesthetic, shiplap walls, and a bedroom with enough headroom to stand in, this tiny house is as comfortable as it is beautiful. 
14. Chalet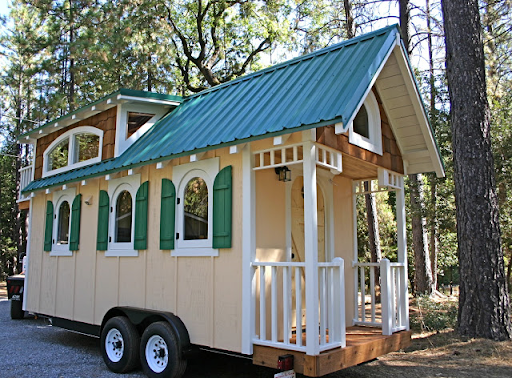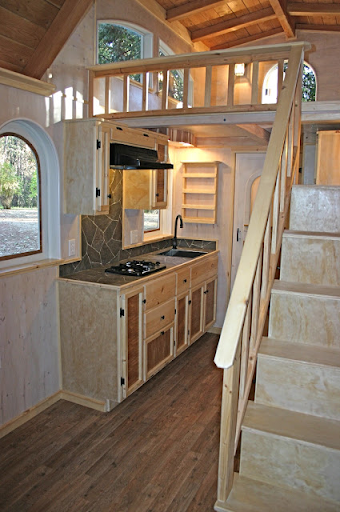 Image source: Molecule Tiny Homes
Both the inside and outside of the 20' long Chalet are easy on the eyes. This colorful cabin is built with a lovely little porch and lots of windows for admiring the outdoors. Take the stairs to the loft bedroom, and you'll find a small door that opens into a second-floor balcony! 
15. Ébène
Image source: Minimaliste Tiny Houses
For a tiny house, the Ébène is wonderfully spacious with two bedrooms and 360 square feet to move around in. Its living room can comfortably be converted into a dining area for 6. A large window opposite this area helps keep the room bright and airy. Finally, a hydronic heating floor keeps occupants warm without sacrificing too much budget.
16. The True STUDIO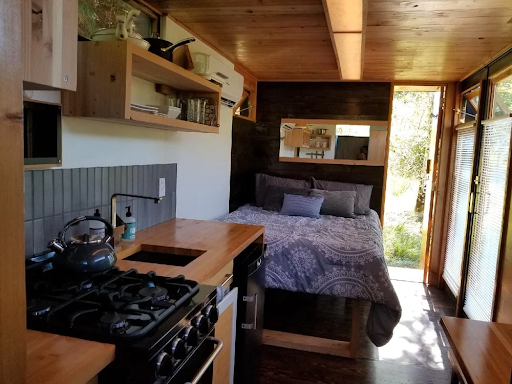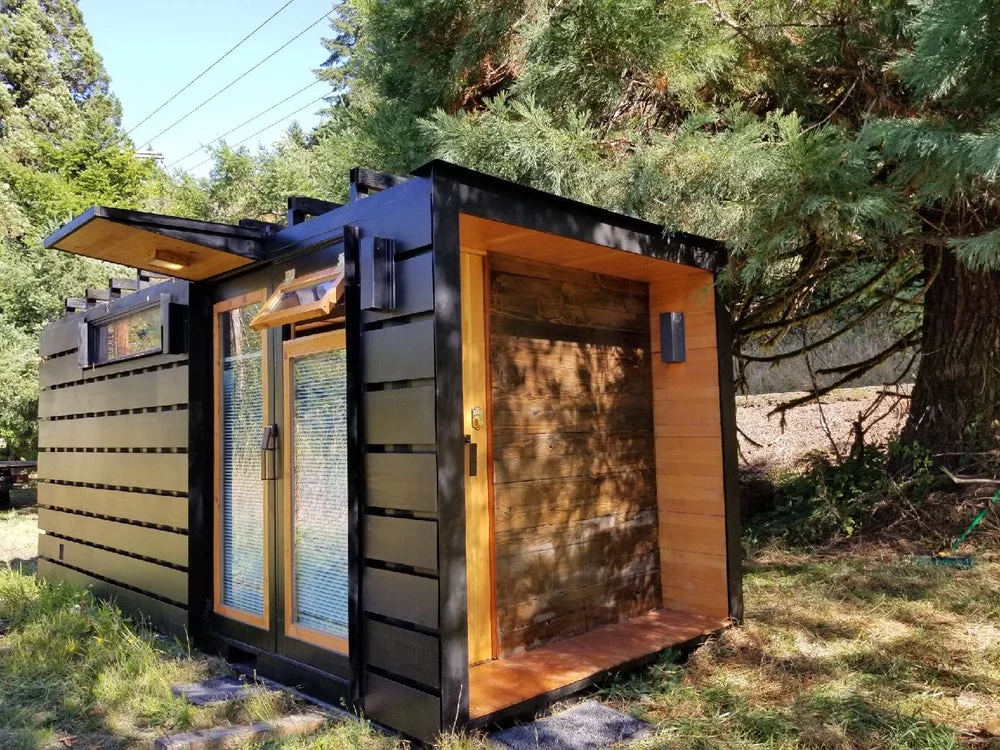 Image source: New Atlas
The True STUDIO incorporates both style and sustainability into 160 square feet of living space. Modern Dwellings in Oregon offers fully furnished tiny houses with all the modern comforts you need, from a mini-fridge to USB outlets. This tiny house can also be outfitted with off-the-grid technology, like TESLA powerwall systems, as well as an upper deck.
17. Northwest Mountaineer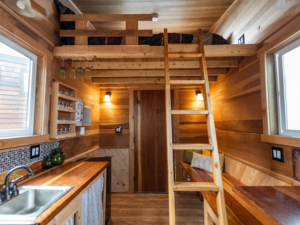 Image source: Tiny SMART House
The Northwest Mountaineer is mostly built from reclaimed materials for a rustic feeling. The redwood interior, for example, used to be part of a governor's mansion. In addition, its bathroom is fitted with a jacuzzi and a cedar sauna!
18. Ascot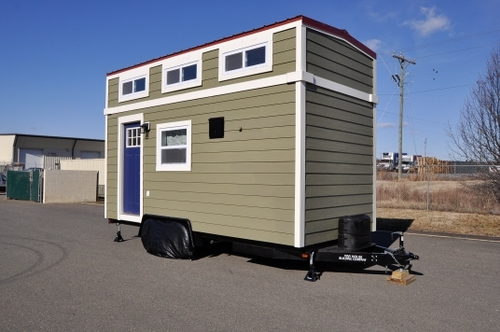 Image source: Tiny House Building Company
The Ascot fits so much functionality into a tiny house measuring just 18' long! It cleverly tucks its refrigerator, microwave, and washing machine into the staircase to the bedroom loft. Also, instead of handrails, it uses sleek grab bars to keep with the rest of its minimalistic decor.

19. Sportsman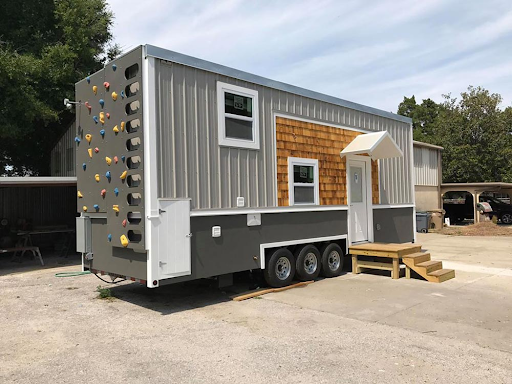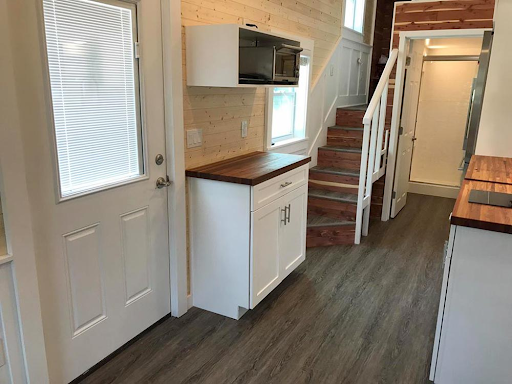 Image source: Tiny Living
This 28' tiny house brings together the comforts of modern living and the coziness of a tiny home. However, its standout feature is a rock climbing wall! An outdoor shower and outdoor locker make this house a perfect fit for the sporty homeowner.
20. Port-a-Bach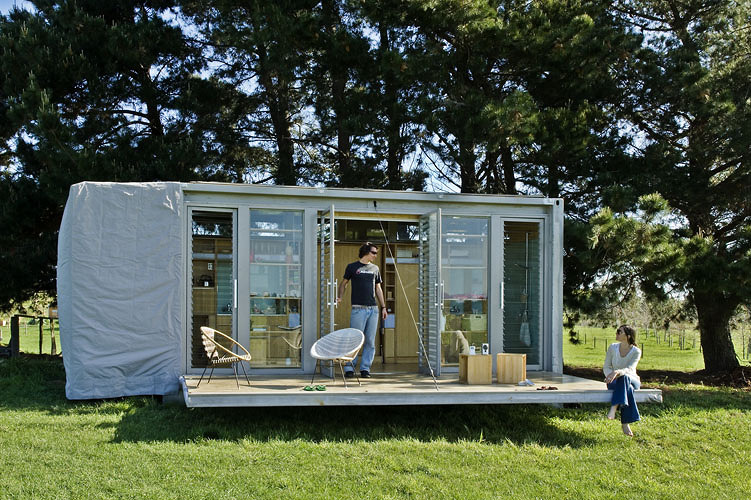 Image source: Atelierworkshop
You'll always be able to get your daily dose of fresh air in a tiny house like the Port-a-Bach. One of its walls opens into a porch and reveals sliding glass doors. At the same time, one end of the tiny house can be unfolded into an open-air double-deck sleeping space. The Port-a-Back also has screen systems which you can use to divide the living space into rooms or shelter the deck area.
21. Funky East Austin Rental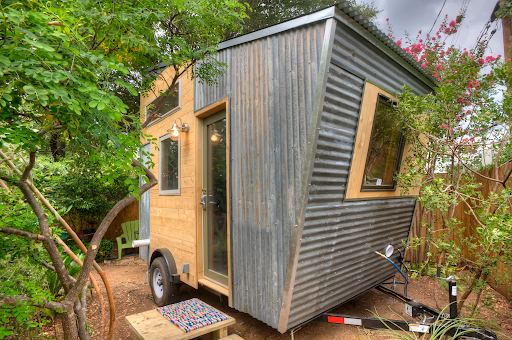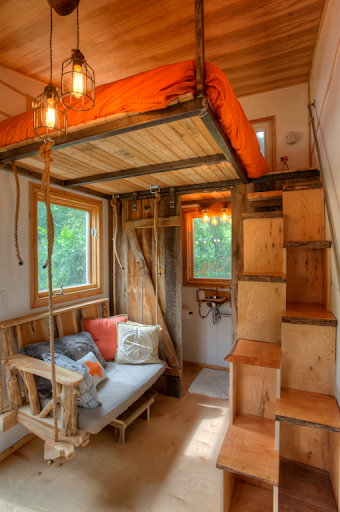 Image source: Rocky Mountain Tiny Houses
The wood-and-metal exterior of this tiny home is a preview of the interior's steampunk charm! Walk inside and you'll see pipe fittings used as rails, a slidable barnwood wall, live edge woodwork, and a hanging couch. Can you believe that this house is just 12 feet long?
22. Dewdrop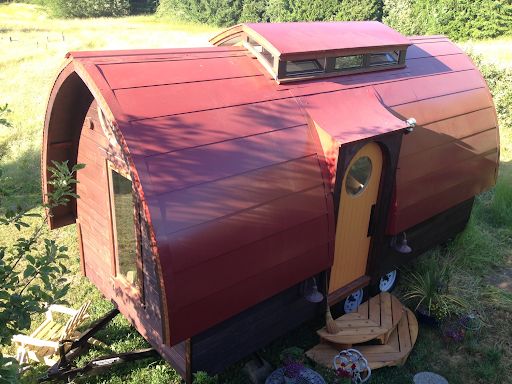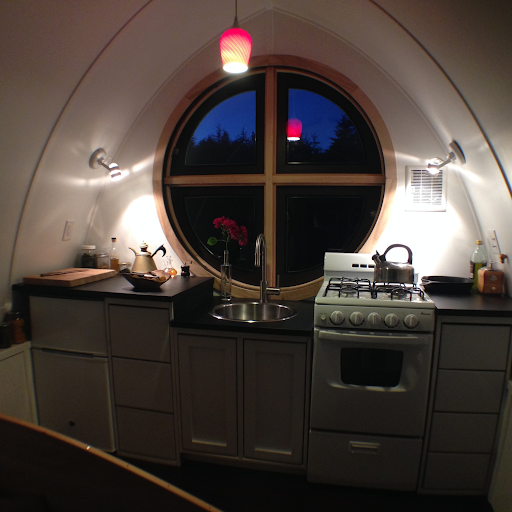 Image source: Zyl Vardos
The 18' Dewdrop is a fine example of the high-quality craftsmanship at Zyl Vardos. Some of its features are a sofa that unfolds into a queen size bed, a round metal bathtub, and a giant Zyl Moon window that faces the kitchen. Its whimsical construction serves a double purpose, making the tiny house weatherproof in spite of wet and warm climates.
23. Big Whimsy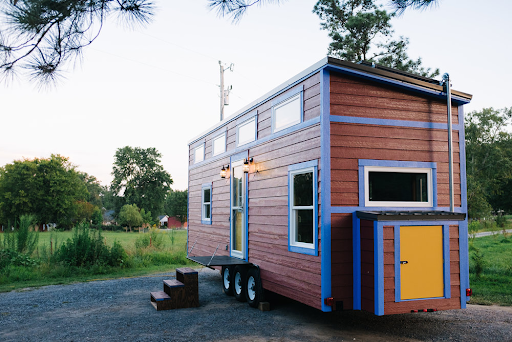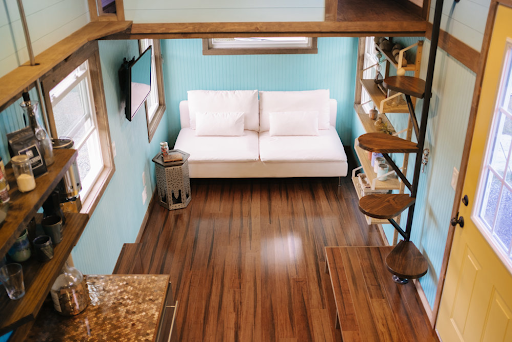 Image source: Wind River Tiny Homes
Just how fancy can this adorably named tiny house be? At first glance, you'll notice the Big Whimsy's custom lily pad spiral stairs and penny countertop. It also has two lofts, an outdoor shower, and a Bose sound-surround system among other things. The Big Whimsy is also built with a cat walk between lofts for the pleasure of feline residents.
24. Monocle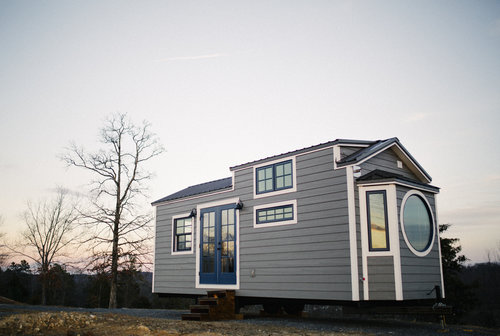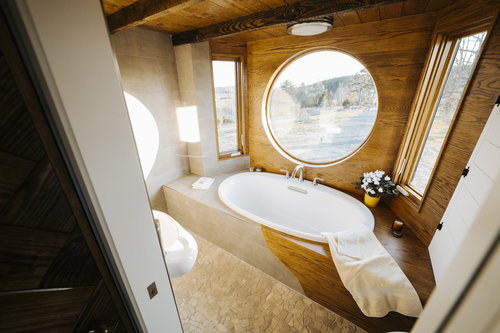 Image source: Wind River Tiny Homes
For a tiny house measuring 24' in length, the Monocle is both roomy and luxurious. A predominantly white interior grants an airy aesthetic and the illusion of space. Accents such as brass handles and wooden furniture add texture and warmth. 
This tiny home gets its name from the giant round window that faces the luxurious bathroom. How about watching clouds float by while lounging in the Monocle's sizable bath tub?
25. Urban Payette with Elevator Bed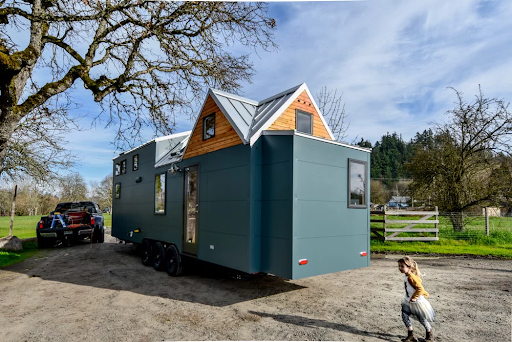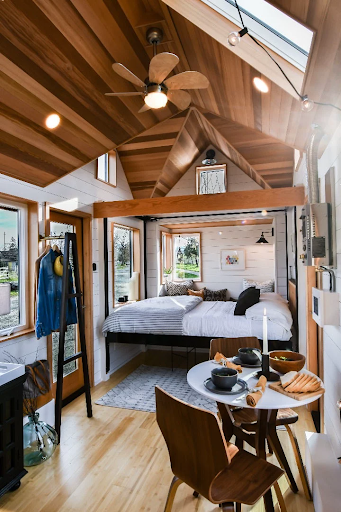 Image source: New Atlas
Regular versions of the Urban Payette by TruForm Tiny already have enough room for two loft bedrooms. However, you can opt for a second bed that can be raised or lowered with an elevator! It can also be hand-cranked in case of a power failure. Once the second bed is raised, you can unfold a desk underneath.
26. Gypsy Mermaid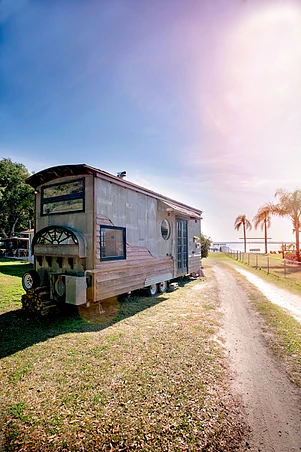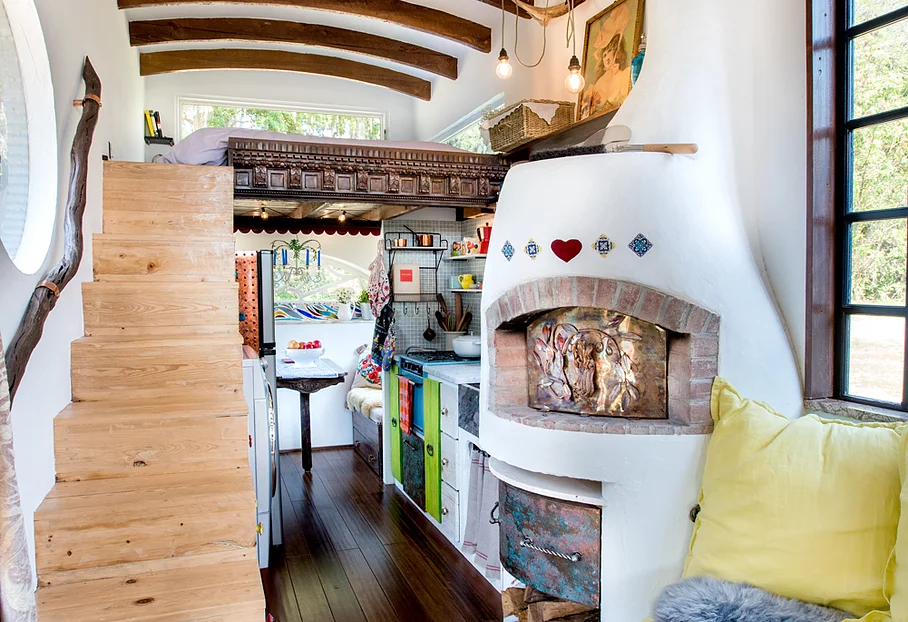 Image source: Gypsy Mermaid
The exterior of the Gypsy Mermaid immediately gives off bohemian vibes. The interior is a work of art in itself, however! Check out the detailed trim on the loft and the stylish oven that seems to have come straight out of Europe. 
The Gypsy Mermaid site has pictures of the entire construction process. As it turns out, every part of this tiny house was a labor of love.
27. Honey on the Rock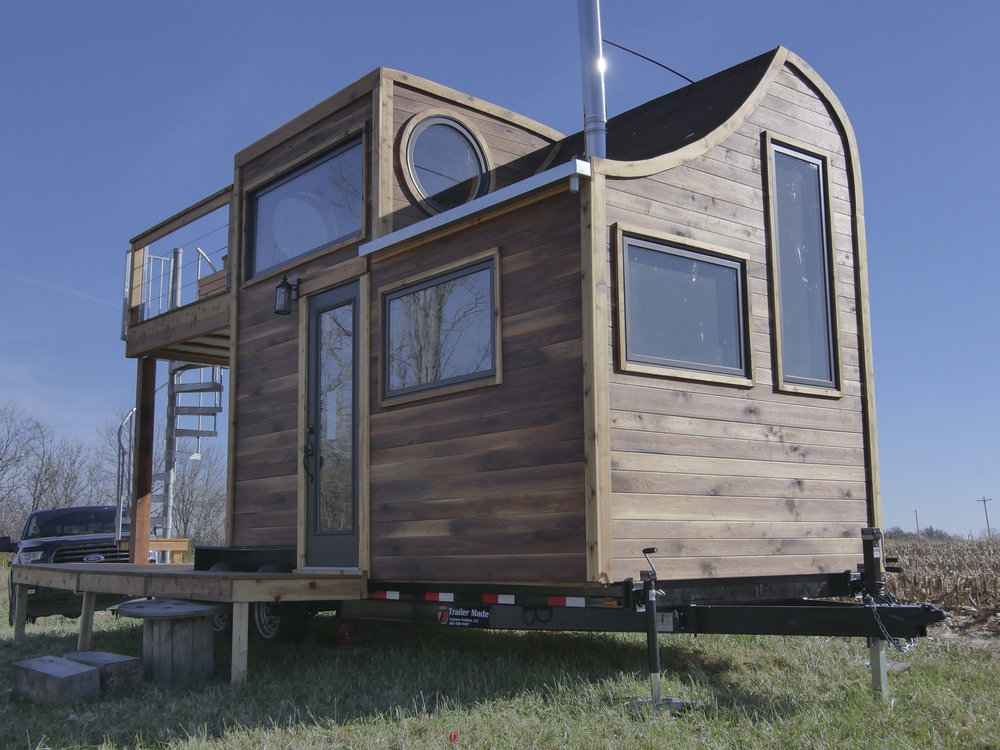 Image source: Carpenter Owl
The intriguing Honey on the Rock was built around an antique whiskey still. There's an exciting variety of shapes throughout this tiny house, from the concave roof to the porthole windows in the bedroom loft. Other details include copper plumbing and hand cut wood fixtures. The whole house is enclosed in a walnut exterior with cedar trim.
Take the spiral staircase to the upper deck to access a soaker tub! You can also crawl through a secret door from the bedroom straight to the tub. This door is hidden behind a large sketch of the Honey on the Rock.
28. Pequod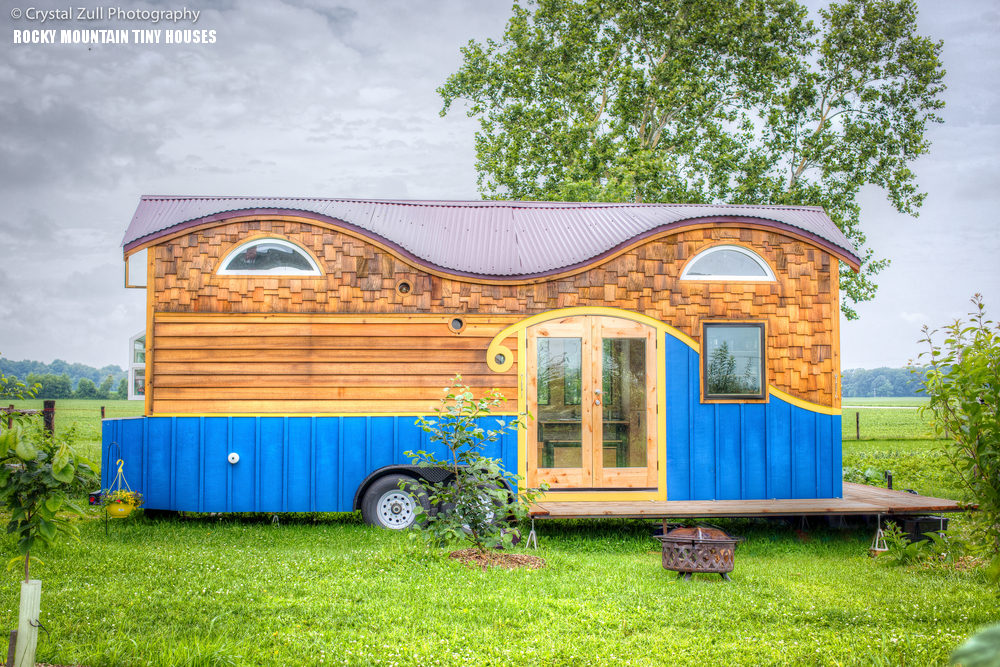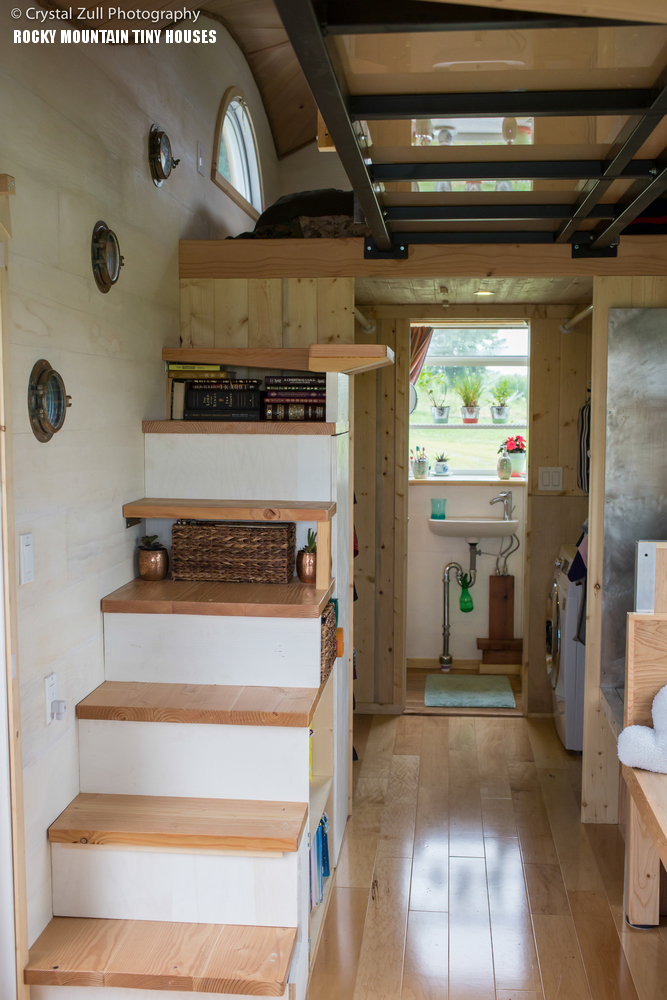 Image source: Rocky Mountain Tiny Houses
Named after the boat in Moby Dick, the 26' Pequod is one of Rocky Mountain Tiny Houses' most ambitious creations so far. The wavy shape of the ceiling both maximizes headroom in the lofts and minimizes ceiling height in other areas. A plexiglass walkway connects the Pequod's two lofted bedrooms.
29. Our Little Secret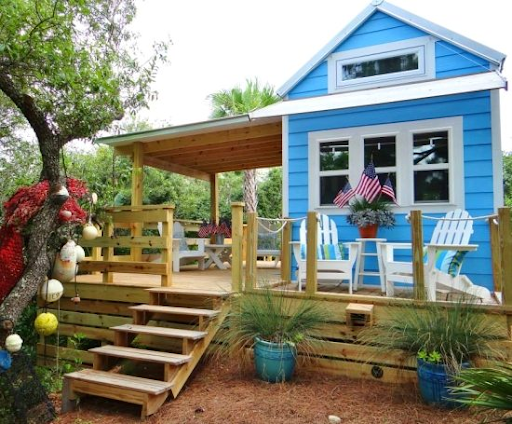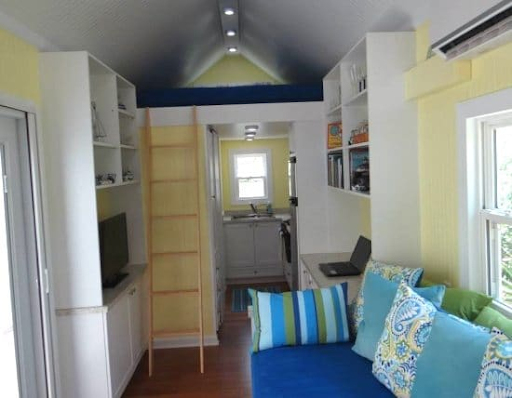 Image source: Beach Bliss Living
A wide wooden porch hides the wheels of this cozy, beach-themed tiny home on St. George's Island in Florida. Its kitchen has enough room to fit a fridge, a microwave, and an oven. A pair of quiet generators feed electricity to the house's appliances, while solar panels power the lights and electrical sockets. 
"Our Little Secret" used to have a small porch that fit just two chairs. The porch has since been expanded, making it hard to believe that this the house is built on a trailer!
30. Cozy California Retreat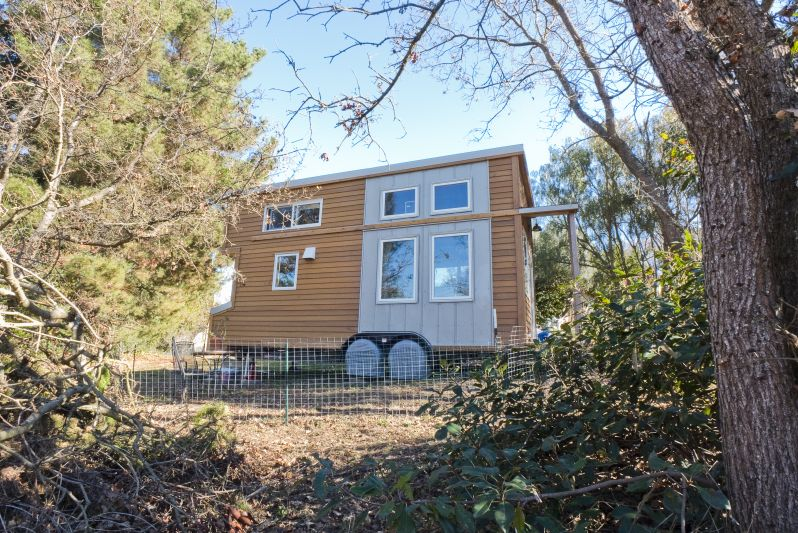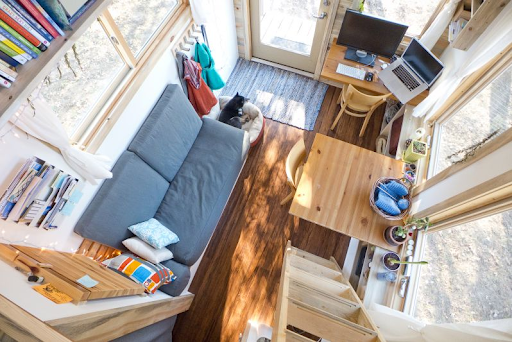 Image source: The Tiny Project
This 20' house has an all-glass front door and a host of windows to let in natural light.  Its living room also doubles as workspace featuring three desks, one of which can be folded up. This custom-built house also has a three-foot back porch. 
Owner and builder Alek Lisefski is now selling construction plans to whoever would like to try building this cozy tiny home for themselves. Doesn't it look like a worthwhile project?
31. The House Bus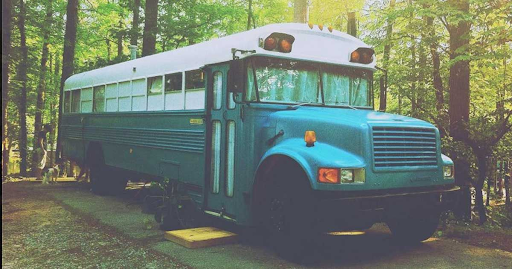 Image source: Tiny Home Tour
Julie and Andrew Puckett have transformed this 1900 Blue Bird school bus into a 240-square-foot home. A fully-furnished kitchen faces a luxurious couch, which doubles as a handy storage trunk. The ceiling of the bus is lined with long shelves filled with books and other belongings. 
The House Bus also features custom furniture. For one, the cupboards were all custom built by Julie's father!
Treehouses
A tiny house perched on a tree can bring out any homeowner's inner child. There aren't any laws stating that treehouses are only for kids, after all.
32. The Listons' Luxury Treehouse
Image source: The Telegraph
This tiny treehouse can be mistaken for a playground fixture thanks to the slide. However, a peek inside reveals cozy living space for a family of four and their pet dog! 
Steve and Jennale Liston's treehouse in Illinois is made of repurposed and reclaimed materials. Aside from the adorable slide, other features include a sweeping Pella window, a shotgun shell case-turned-nightstand, and a 100-year-old door with a glass handle.
33. A Treehouse in Brooklyn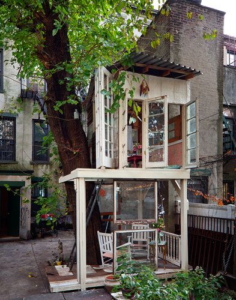 Image source: Pinterest
Alexandra Meyn's treehouse in Brooklyn is just 48 square feet in size. It also cost just $400 to build! However, it gives off a well-worn New Orleans aesthetic, with a combination of refined and bohemian aesthetics. This little treehouse has also been strong enough to withstand blizzards and a tornado!
34. Sunset Beach Treehouse Bungalow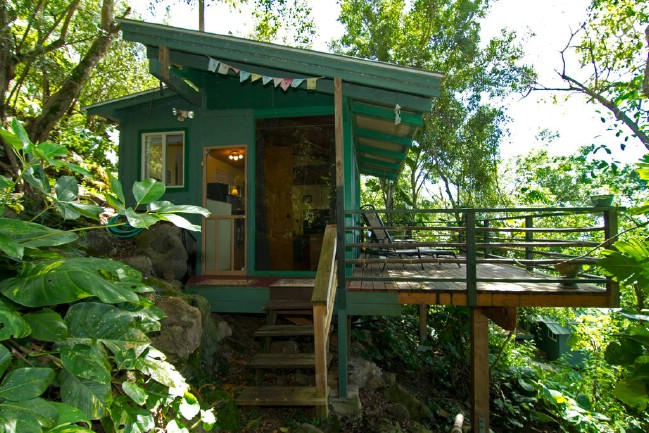 Image source: iTinyHouses.com
Surrounded by lava rocks and tropical foliage, the Sunset Beach Treehouse Bungalow sits at the end of a 100-step stone path. Three people can comfortably stay in this 250-square-foot treehouse, which includes a full-sized bed, a kitchenette, and a bathroom.
35. Enchanted Garden Treehouse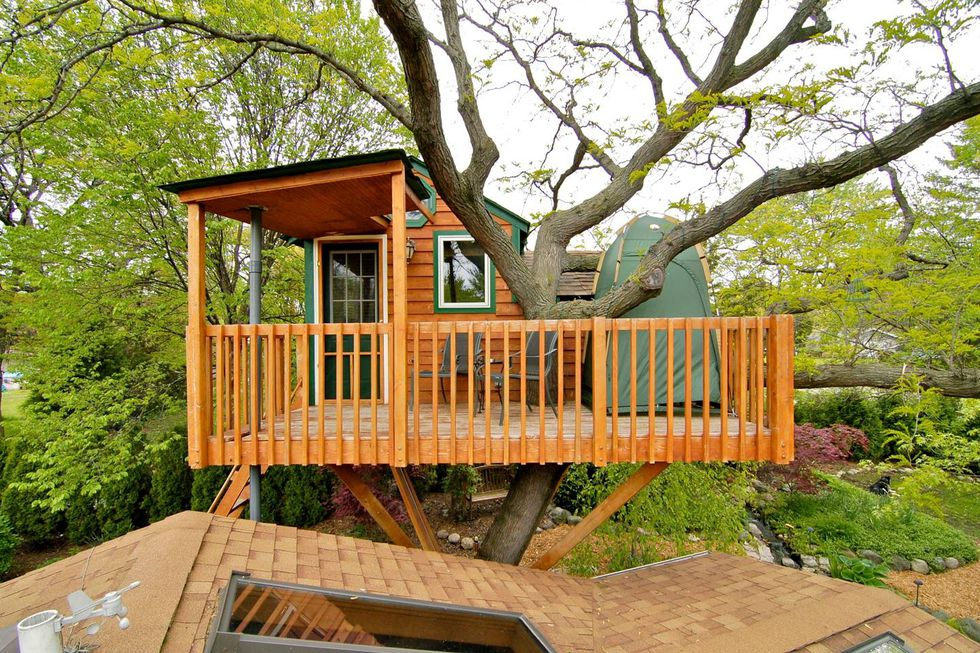 Image source: House Beautiful
Dan Alexander's 196-square-foot treehouse looks like it belongs in the middle of the woods. You'll be surprised to know that it's located less than half an hour away from downtown Chicago! In fact, it's often rented out on Airbnb whenever the builder and his family aren't using it. 
This tiny house overlooks a garden with a waterfall and a koi pond. In addition, it comes with a fireplace, a private deck, and air conditioning for a comfortable stay.
36. Raven Loft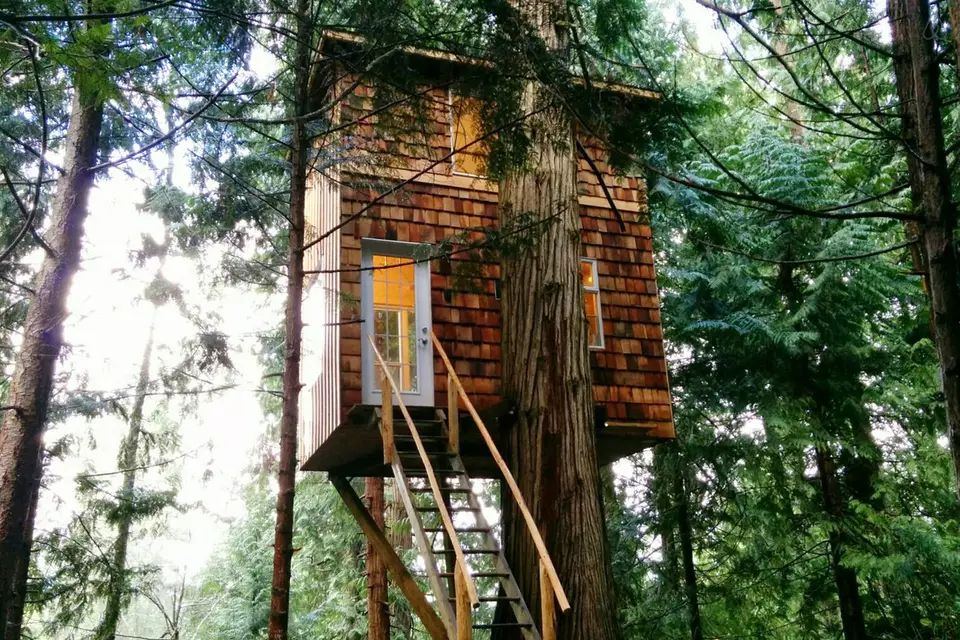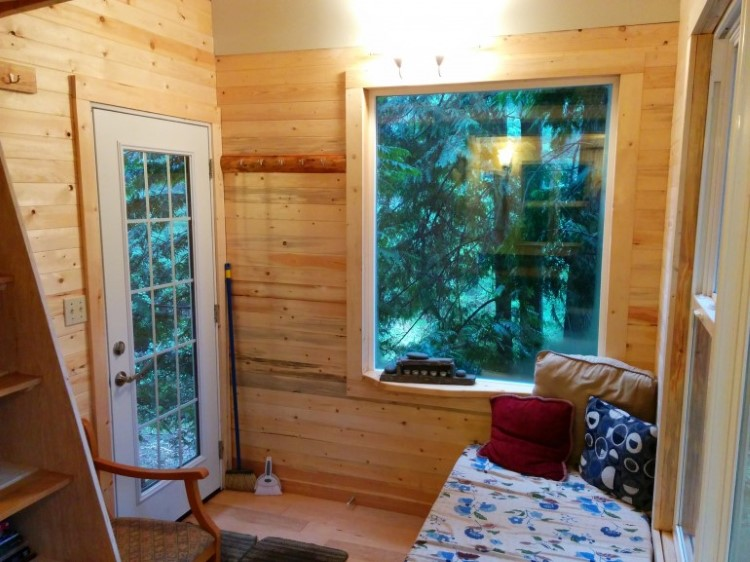 Image source: The Spruce
The 165-square-foot Raven Loft sits 16 feet off the ground, resting in a western red cedar tree. A staircase leads up to the front door and the main living space, where you can find a daybed, a kitchenette, a mini-fridge, and a composting toilet. Another set of stairs inside the house leads up to a second floor with a large bed and a higher window! 
This tiny house also sets a good example when it comes to minimizing footprints. Aside from its toilet and its induction cook plate, the house is built from reclaimed or second-hand materials.
37. Forest House 02
Image source: D12 Design
This tiny house by Vietnamese builder D12 Design rests on two stilts to avoid disturbing existing flora and fauna. It also features an L shaped layout for a spacious look. A net surrounds a nearby tree and connects the two sections of the house, although there aren't any details on whether the net is safe to walk on! Even without access to the net, the Forest House 02 is still very roomy, with 484 square feet at your disposal.
38. The Crib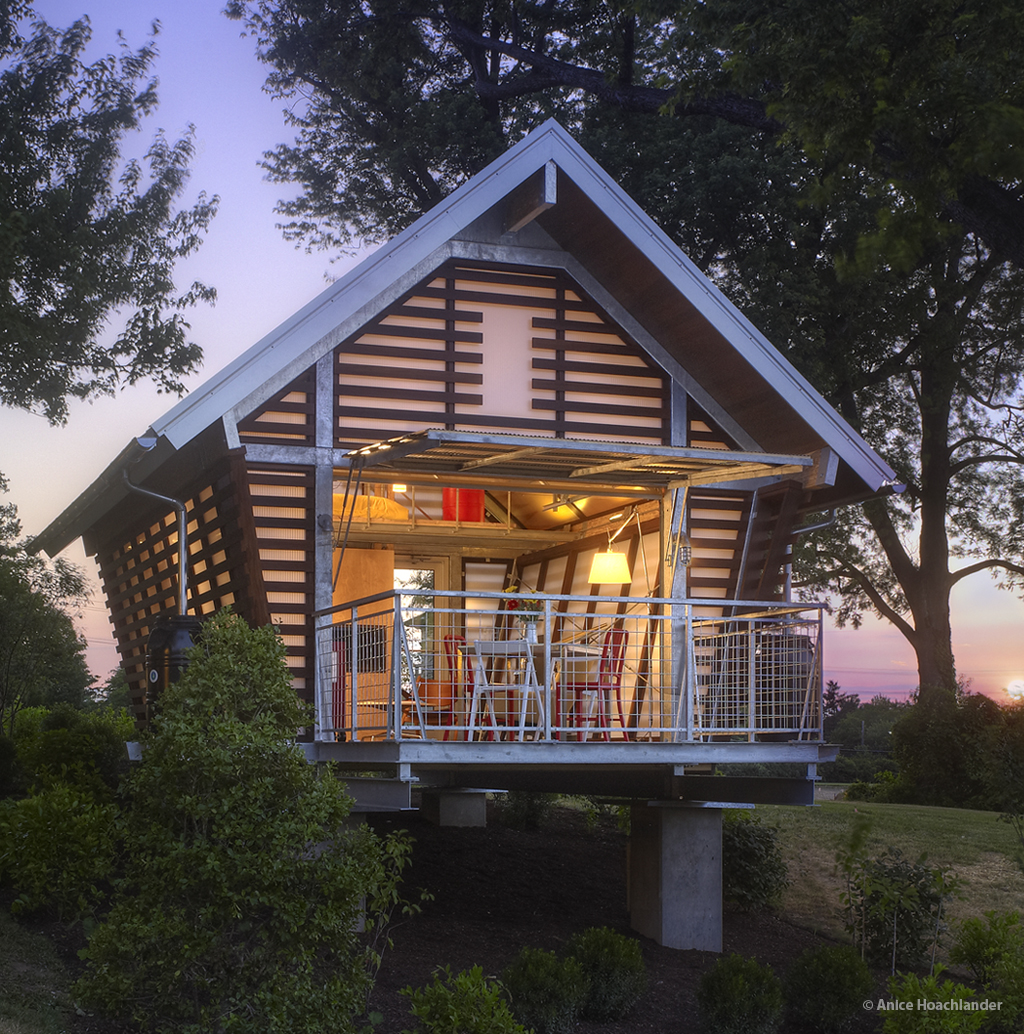 Image source: Broadhurst Architects
This chic tiny house takes after traditional corn cribs, from the slanted walls to the stilts underneath. It includes a sleeping loft, a bathroom, a living room, and a kitchen with an expandable wall. Unlike other tiny houses, the Crib can be taken down and relocated instead of transported in one piece! Once it reaches its new location, it's just a matter of setting up this 250-square-foot structure all over again.
Houseboats and Floating Cottages
Imagine waking up on a floating paradise every single day, or gazing out at the water while sipping your morning coffee. Live in a tiny houseboat like the ones below, and this can become your reality!
39. Harbor Cottages' Tiny Houseboat
Image source: Harbor Cottage Houseboats
This little houseboat comes in at just 400 square feet, but it brings aboard all the comforts of home. Its main floor is so spacious that it can fit a kitchen island and have lots of room to spare. There's also a spacious downstairs stateroom. Plus, the roofdeck has a slide, a diving board, and a hot tub for enjoying lazy afternoons along the river!
40. Le Koroc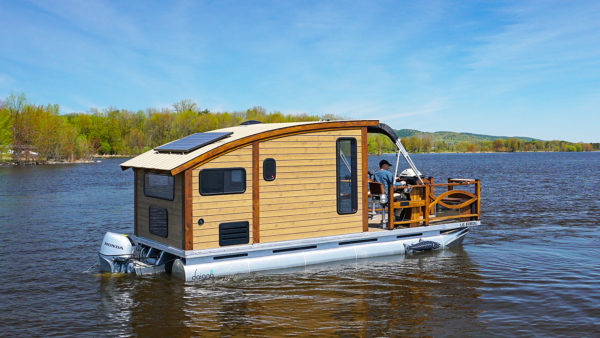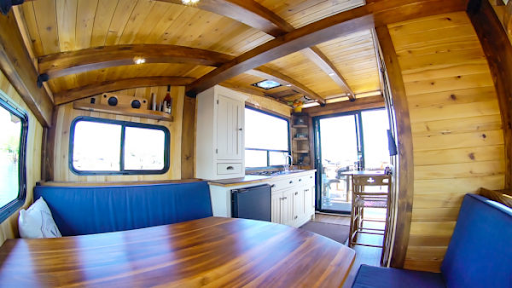 Image source: Tiny House Talk
Le Koroc by Canada-based Daigno is a sight to behold with its aluminum pontoons and rot-resistant cedar construction. Inside, you can sit down comfortably for meals before converting the dinette into a bed at night. Le Koroc also features a full bathroom in the little room adjacent to the kitchen.
It's also possible to live off the grid on this tiny house! A solar panel on the roof is perfectly capable of running the mini-fridge in the kitchen. You can even install a greywater filter for even more eco-friendliness.
41. Sacramento River Floating Cottage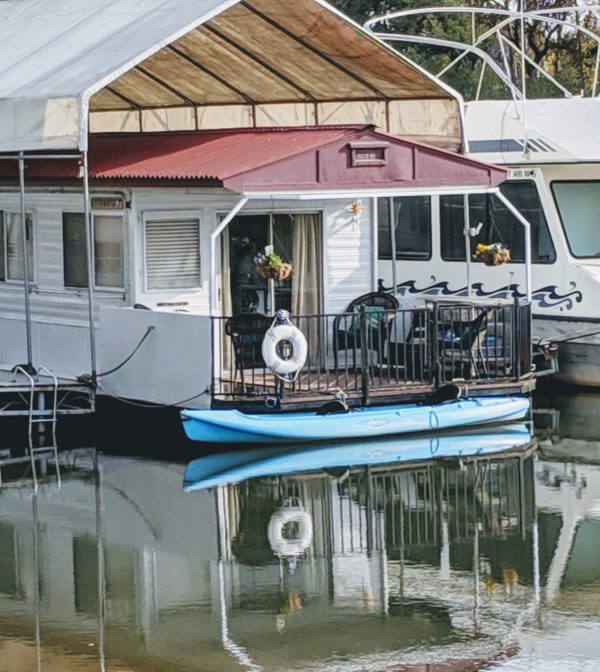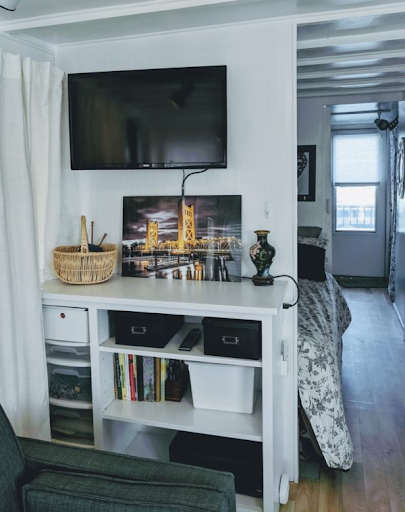 Image source: Tiny House Talk
The Sacramento River Floating Cottage isn't built for travel, but it still combines comfortable home living with lakeside calmness. Come aboard and you can easily forget that you're really inside a floating cottage. Some amenities include a kitchen with a microwave and a mini-fridge, as well as ample storage for musical instruments (since one of the owners is in a band).
42. No1 Houseboat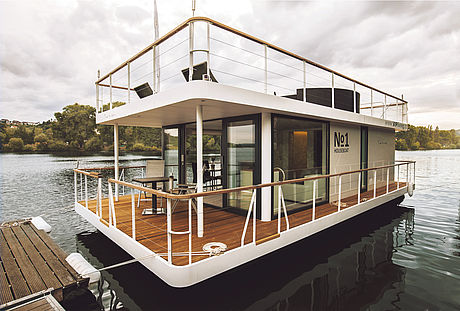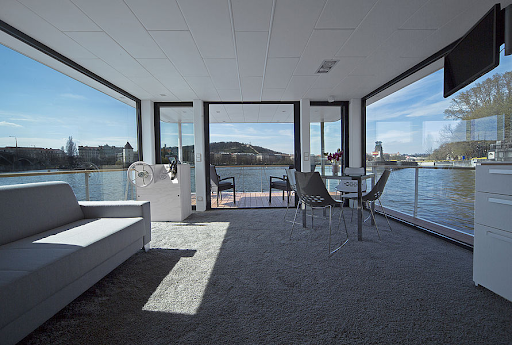 Image source: No1 Houseboat
Built in the Czech Republic, the No1 Houseboat offers sweeping sea views that make it worthy of its ambitious name. Not only does it have glass windows all around its main floor, but it also has a spacious roof deck! You can even peek at the sea from the bedroom without compromising your privacy. There are 40-foot and 47-foot-long versions of the No1 Houseboat.
43. The Shantyboat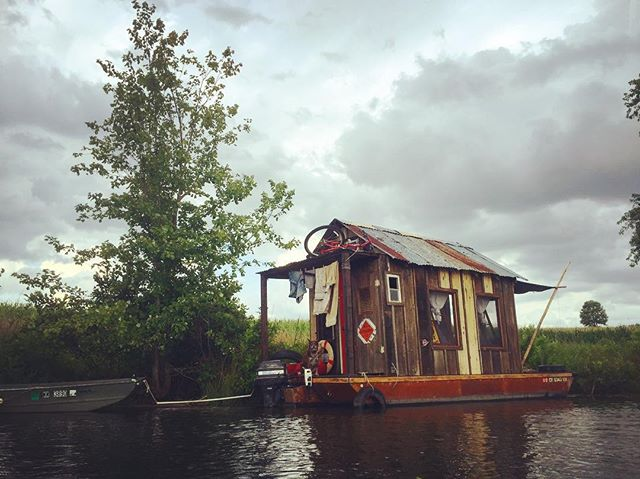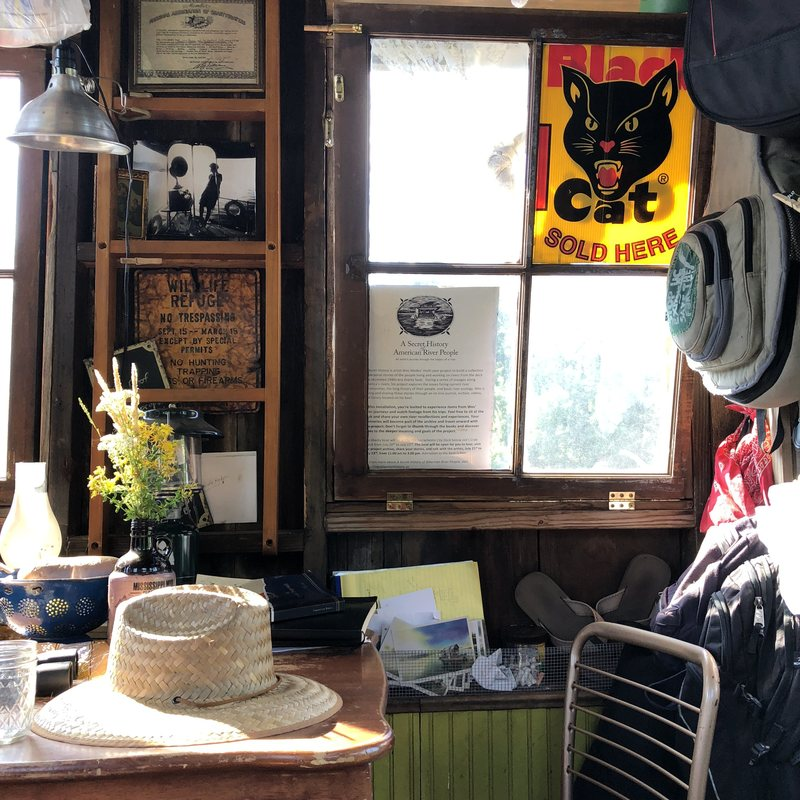 Image sources: A Secret History of American River People and Atlas Obscura
This is the very shantyboat piloted by Wes Modes, the brains behind A Secret History of American River People. Like traditional shantyboats, Modes' shantyboat is made of salvaged and scavenged materials. However, it manages to house a stovetop, a few plants, and a bookcase secured with bungee cord, apart from the essentials.
44. The Exbury Egg

Image source: Spud Group, Exbury Egg Tour
It's not everyday that you'll spot a giant wooden egg floating on the water! The Exbury Egg is designed to rise and fall with the tide. This tiny house was built to be completely self-sufficient to preserve the wildlife around it. There's no electricity on board, in fact. According to artist Stephen Turner, a former resident of the Exbury Egg, he'd simply go to bed at sundown. Talk about a technology purge!
45. Chateau Bathtub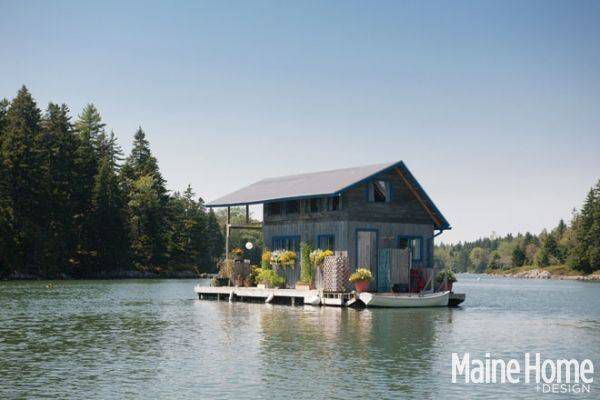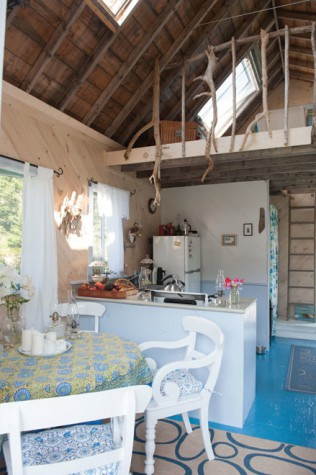 Image source: Maine Home and Design
The Chateau Bathtub was originally meant to be for rent, but owners Foy and Louisa Brown decided they wanted it for themselves. This tiny house is built of pine shiplap atop a custom-made pontoon. Its lightly finished interior is a nice neutral canvas for white furniture and blue accents. Come nightfall, the couple relies on oil lamps and solar lights to move about.
Stationary Houses
A tiny house in a fixed location can be both a perfect residences and a modern work of art. Should you ever live in a house like the ones below, expect a lot of visits from curious guests!
46. Wedge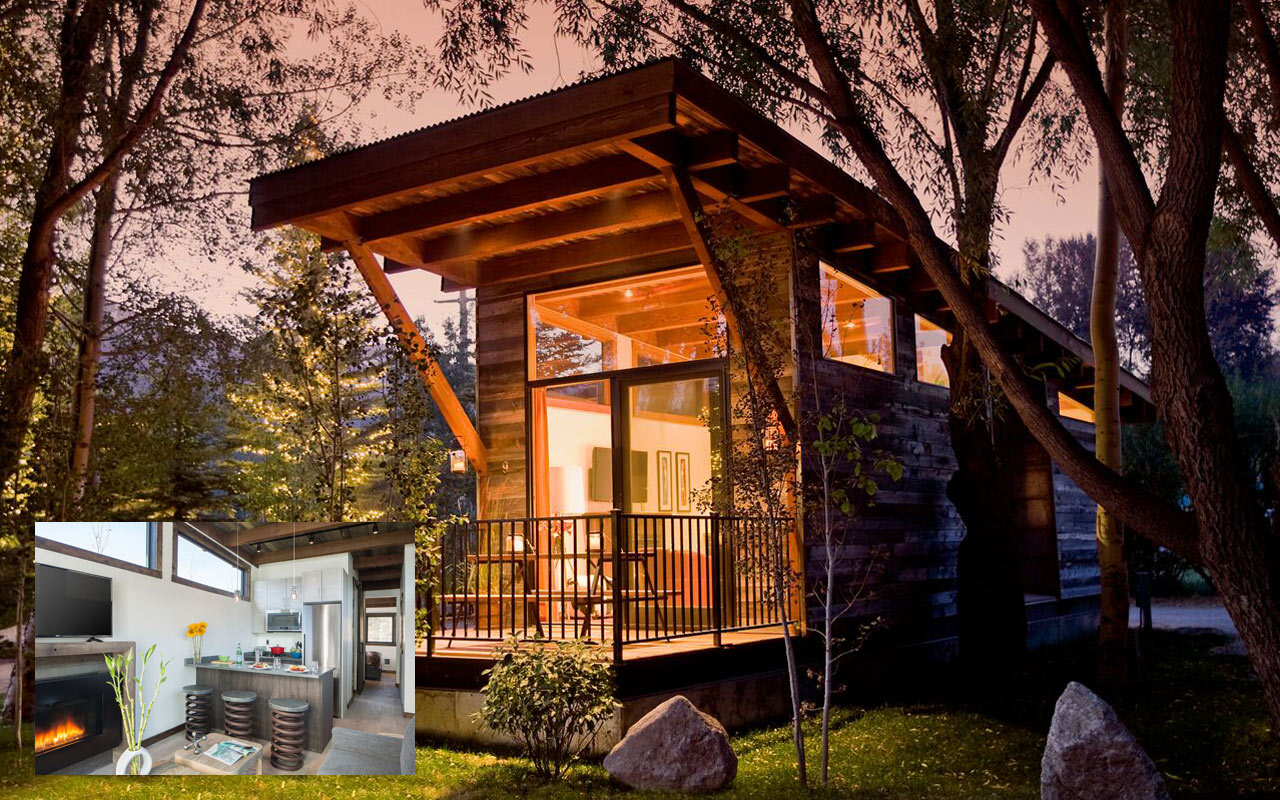 Image source: Wheelhaus
The Wedge gets its name from its sloping roof, balanced by the tapering windows underneath. These same windows and roof keep the interior airy, even if the whole building comes in at just 400 square feet. Solid surface countertops, soft close doors, top-class cabinetry, and a frameless glass shower lend the Wedge a touch of luxury.
47. Independent Kasita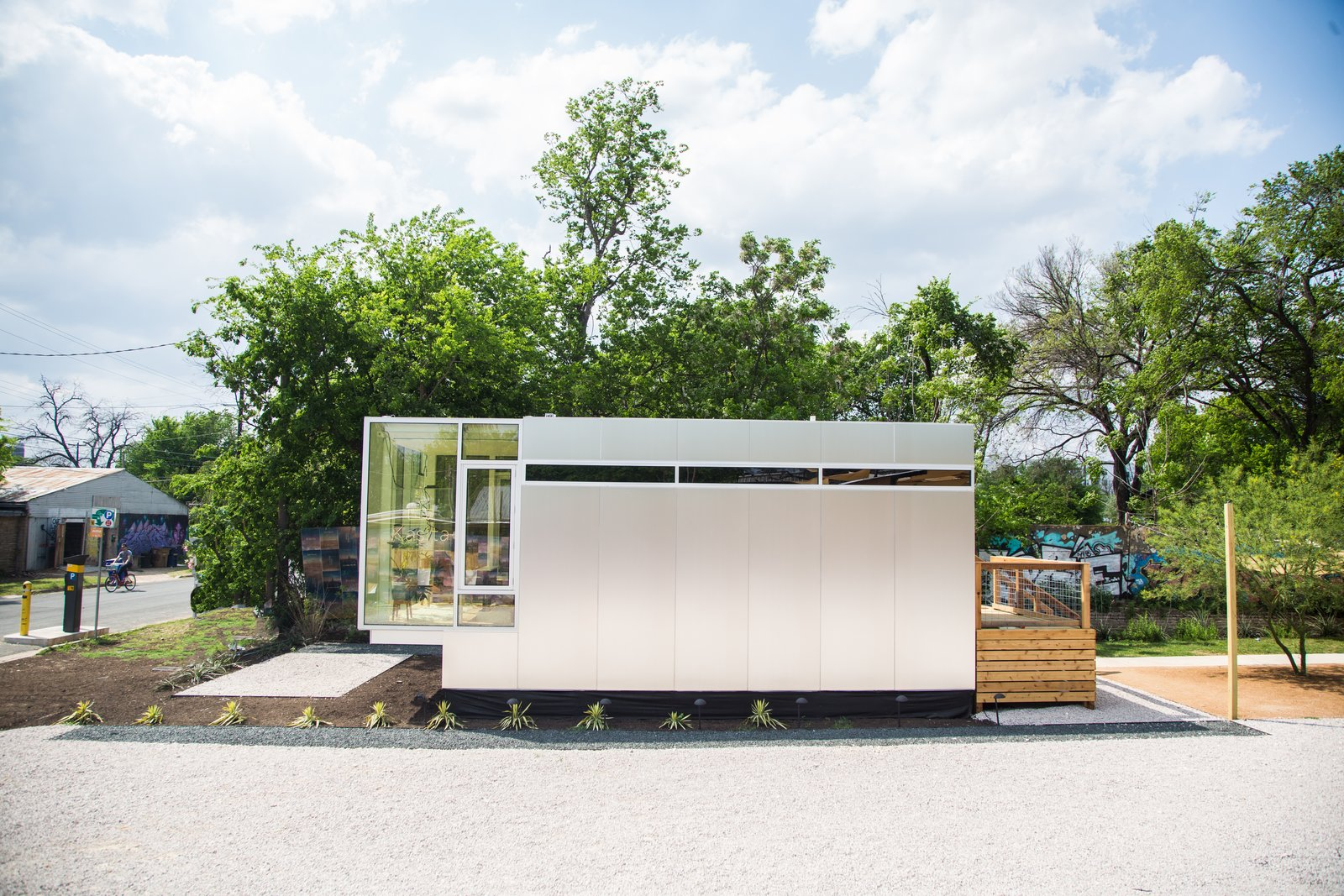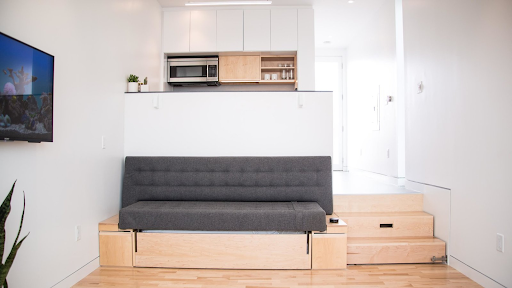 Image source: Dwell
It's tiny, it's smart, and it's stackable! The standalone Kasita comes with home automation and storage in almost every nook of the house, keeping it clutter-free. It also has a built-in system to control lighting, temperature, shade, and even sound. A 10-foot glass cube on one end of the Kasita keeps the house filled with natural light. 
48. Odds and Ends' Tiny House
Image source: The Southern Illinoisan
The beauty of each tiny house built by Harley Jones lies in its familiarity. Sure, the main room with a hardwood floor serves as a kitchen, a living room, and a bedroom all at once. Aside from that, it looks like somewhere you could easily drop your bags and settle down. Classic wooden cabinetry and pale-colored walls add to the timeless warmth.
49. Repurposed Garage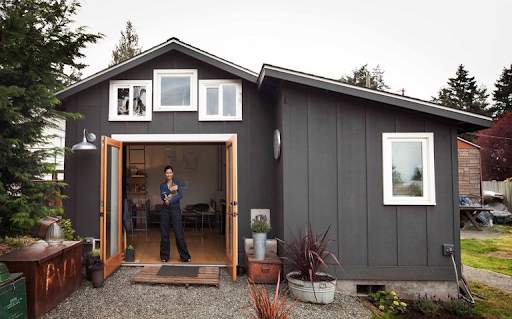 Image source: Country Living
Michelle de la Vega decided to be her own contractor when she transformed her garage into a fully furnished 250-square-foot home. She sourced her building materials from industrial salvage yards to keep costs down. A lot of the furniture in her tiny house is repurposed, too! Some amenities in this garage-turned-house include a sleeping loft, a bathroom, and a wood-burning stove.
50. Ufogel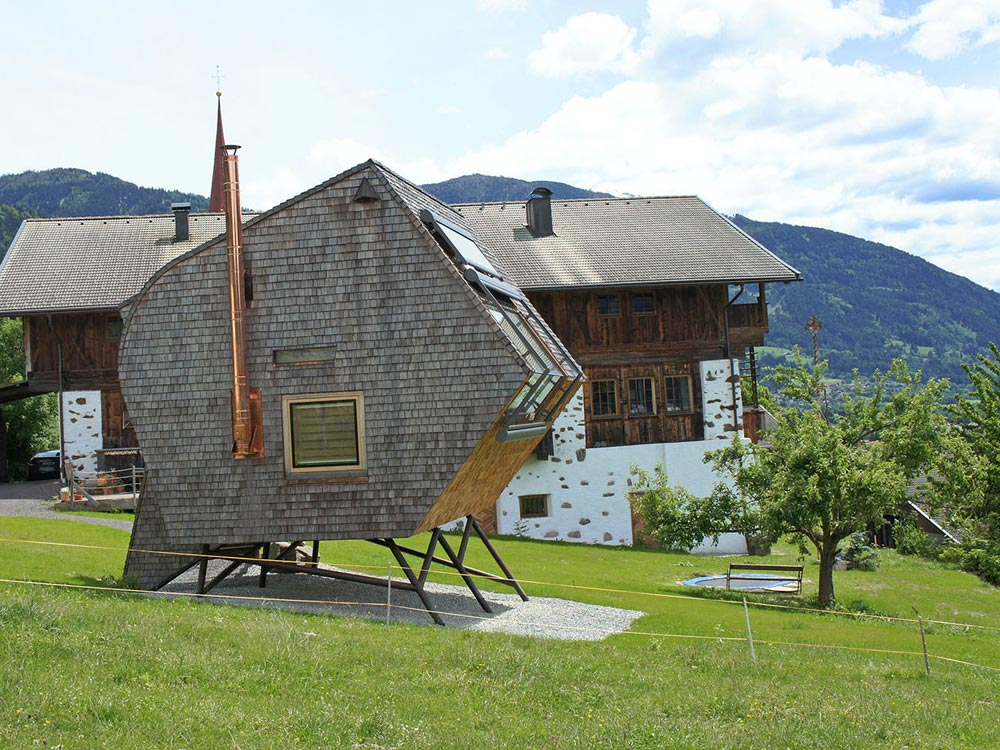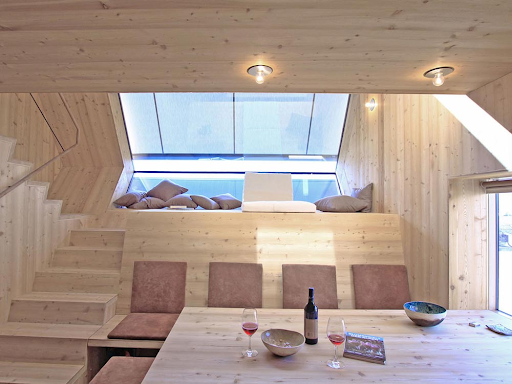 Image source: Tiny Living
The Austrian Ufogel certainly stands out with its intriguing pentagonal shape. Step inside and you'll be pleased to see how roomy this tiny house is! There's a cantilevered table for eight, a spacious bedroom with a separate area for kids, and a nook with panoramic countryside views. Natural light pours in through the Ufogel's numerous windows.
51. Custom Tiny House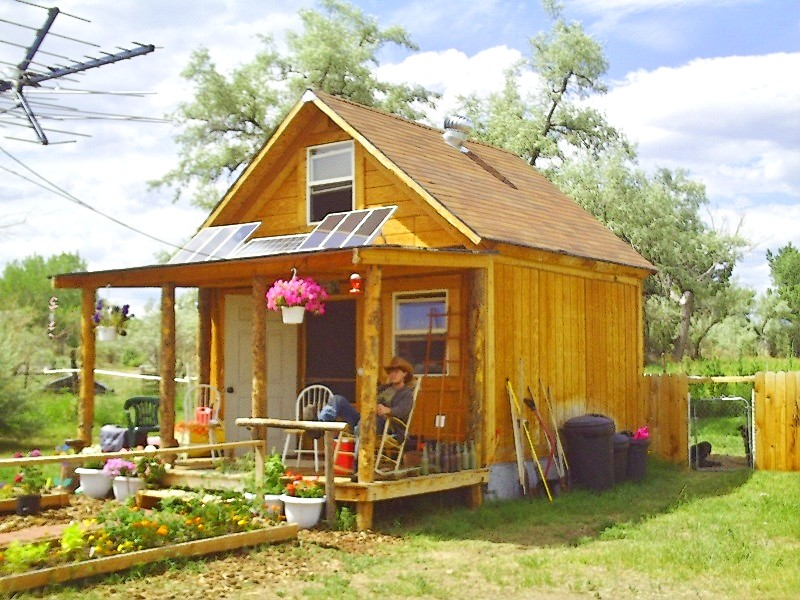 Image source: Simple Solar Homesteading
This tiny house comfortably fits a kitchen, a bathroom, a dining area, and a living area into a 14' x 14' space! There's enough room for an office and a bedroom on the second floor, too. 
On top of that, this little cabin is a fine example of off-the-grid living! For one, it harnesses solar power and wind power so that you can use kitchen appliances, pump water, and charge gadgets. Full insulation also means it can be used year round.
52. A45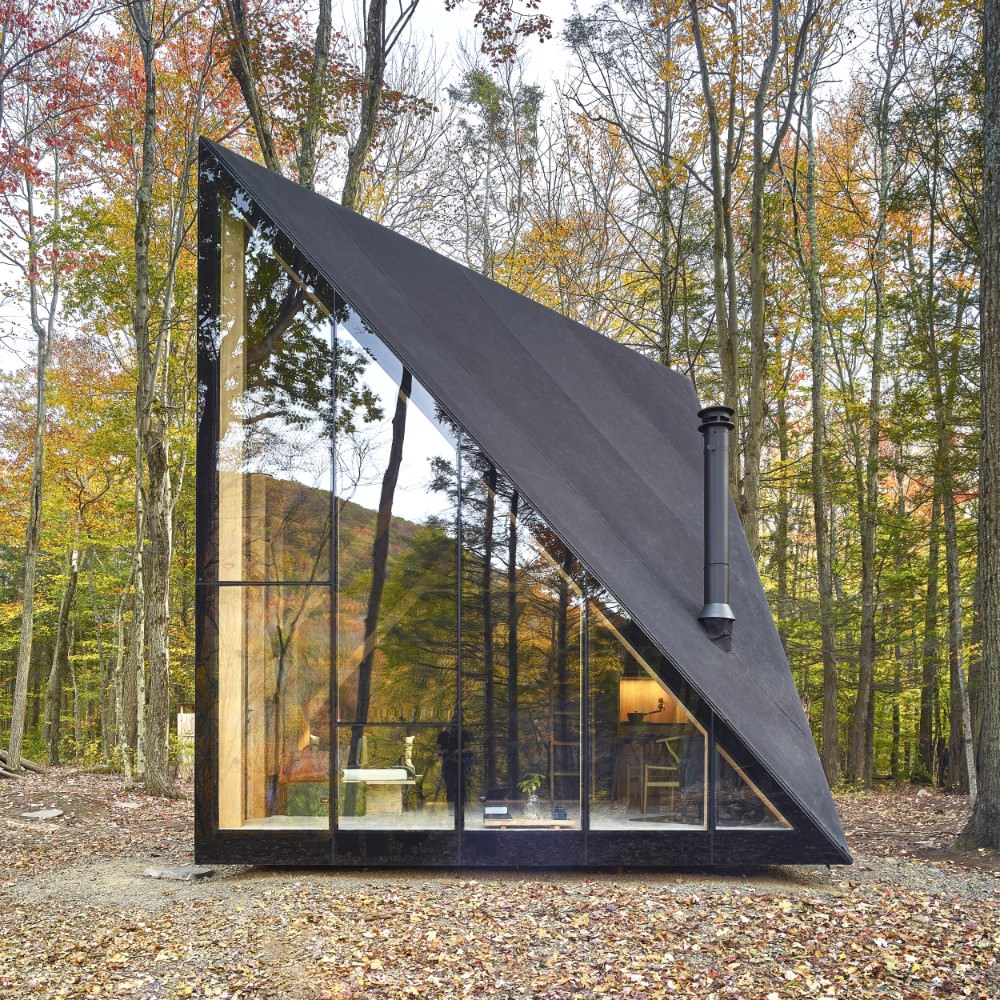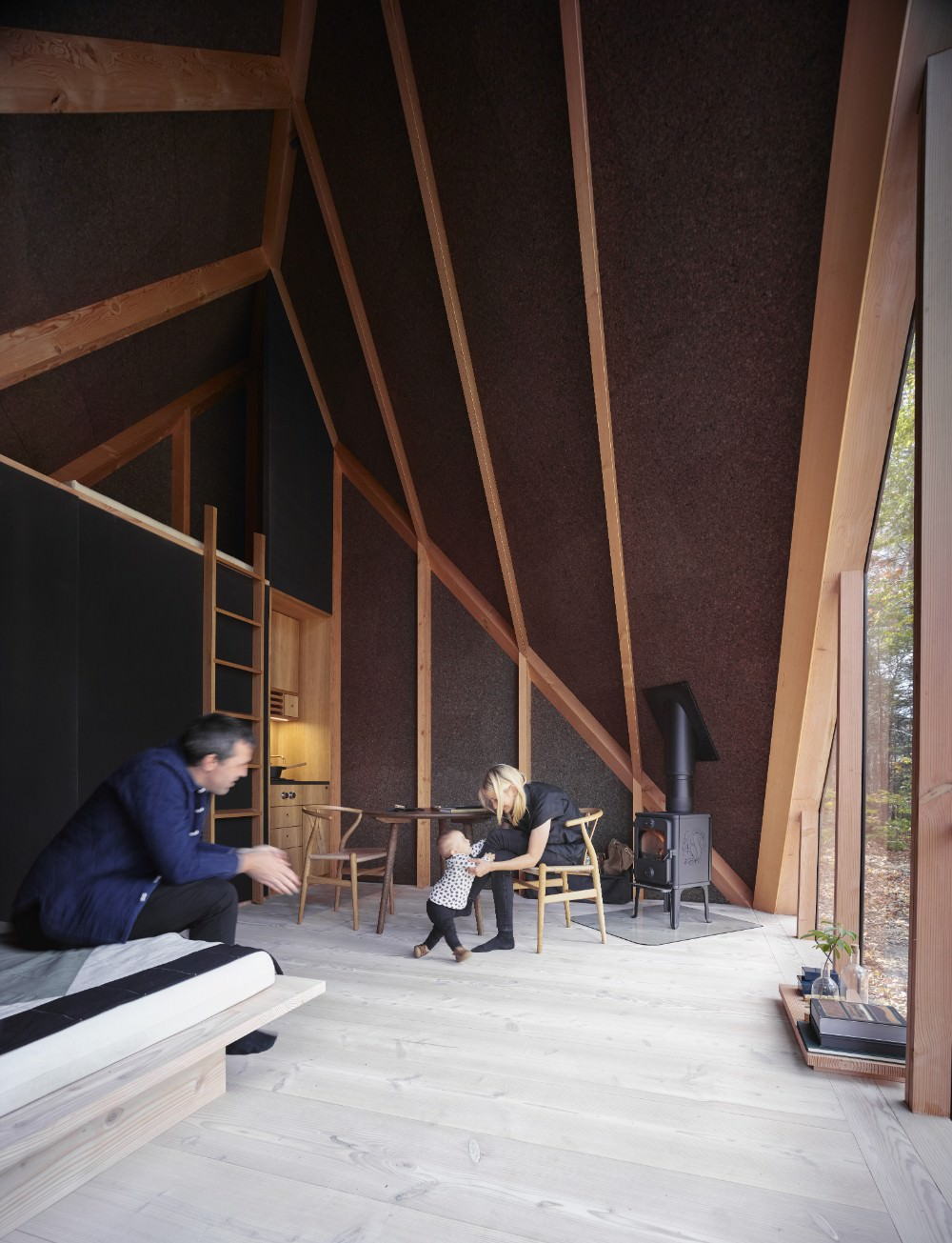 Image source: Home Stratosphere
A quick look at the A45 and you can guess that it was named after the slope of its roof. This very slope allows this tiny house to reach 13' in height! The A45 features a sleek interior revolving around the feeling of hygge. There's also a kitchenette, a wood-burning fireplace, and a triangular floor-to-ceiling window for natural lighting.
53. Zen Tiny House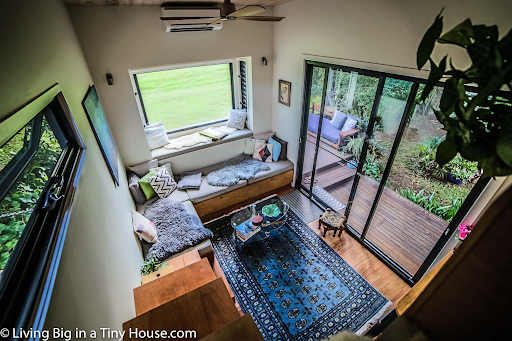 Image source: Living Big in a Tiny House
This Zen-inspired tiny house blends Scandinavian and Japanese architecture. Residents walk through a Scandinavian sky blue door, which matches the carpet and the upholstery in the living room. A Zen garden in the bed loft provides privacy and calm. In addition, the high ceiling of this 23' house prevents residents from feeling cramped up or stuffy.
54. Brick House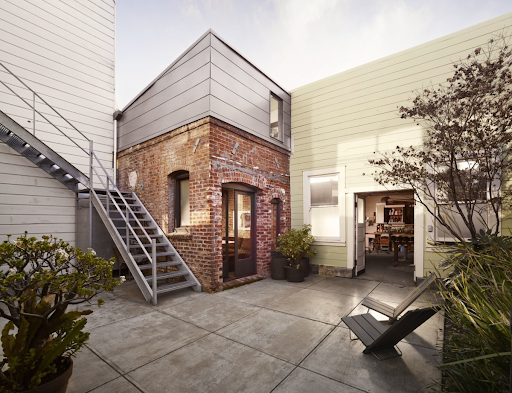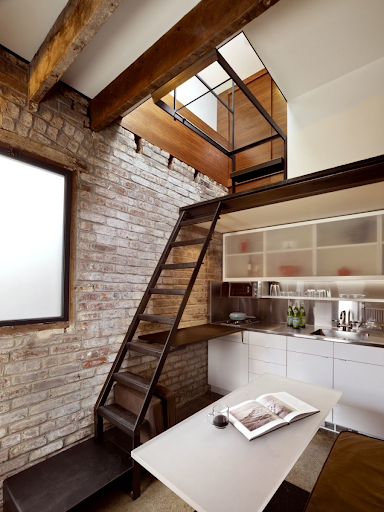 Image source: Christia Azevedo
This 93-square-foot tiny home has a kitchen and a living room on the first floor, with a loft bedroom overhead. The combination of white paint and faded brick keeps the interior warm yet modern. Can you imagine that this 93-square-foot house used to be a simple laundry room?
55. The Shepherds Hut Retreat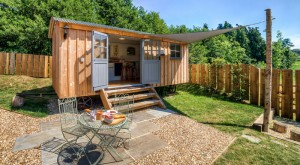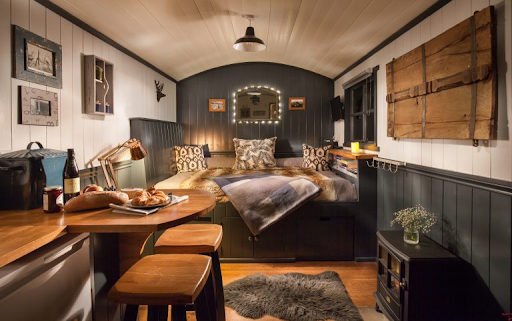 Image source: The Shepherds Hut Retreat
Each tiny house in the Shepherds Hut Retreat contains a fully functioning kitchen, a bathroom, and a cozy bed. The huts also overlook a nearby pond, which you can gaze upon from the comfort of a private deck. A fire pit keeps occupants comfortable on chilly nights. 
56. Mushroom Cabin Dome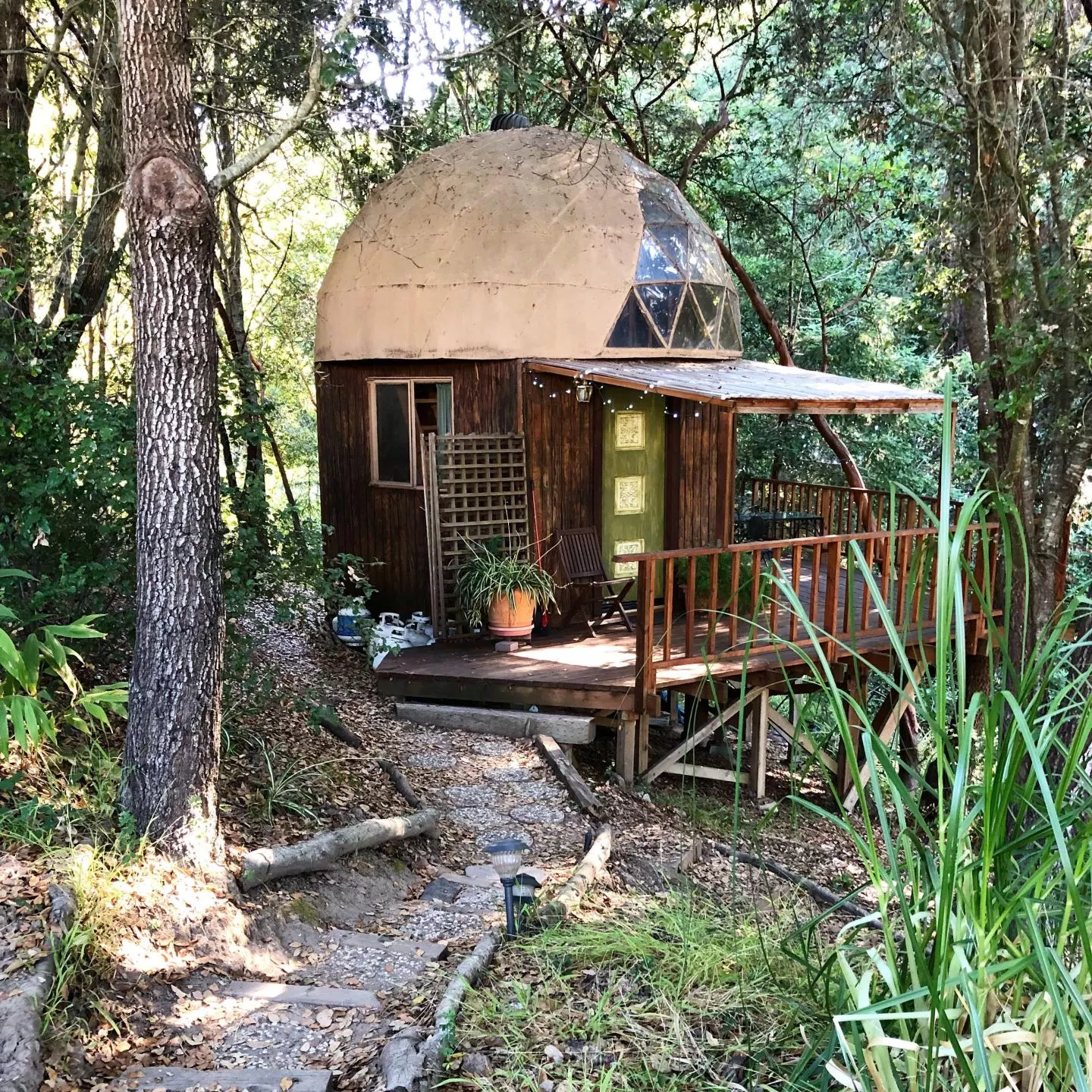 Image source: Thoughtfully Unraveled
The main floor of this uniquely-shaped tiny house has enough space for a living room, a kitchen and a bathroom. Climb into the loft bedroom and you can stare out a partial window for a view of the nearby redwoods. You might also catch sight of the hummingbirds that often visit the nearby garden.
Think you'll crave for modern comfort during your stay at the Mushroom Dome Cabin? You'll be able to find an LCD screen, a DVD player, a fridge, and a whole array of kitchen supplies for you to use.
57. The Shack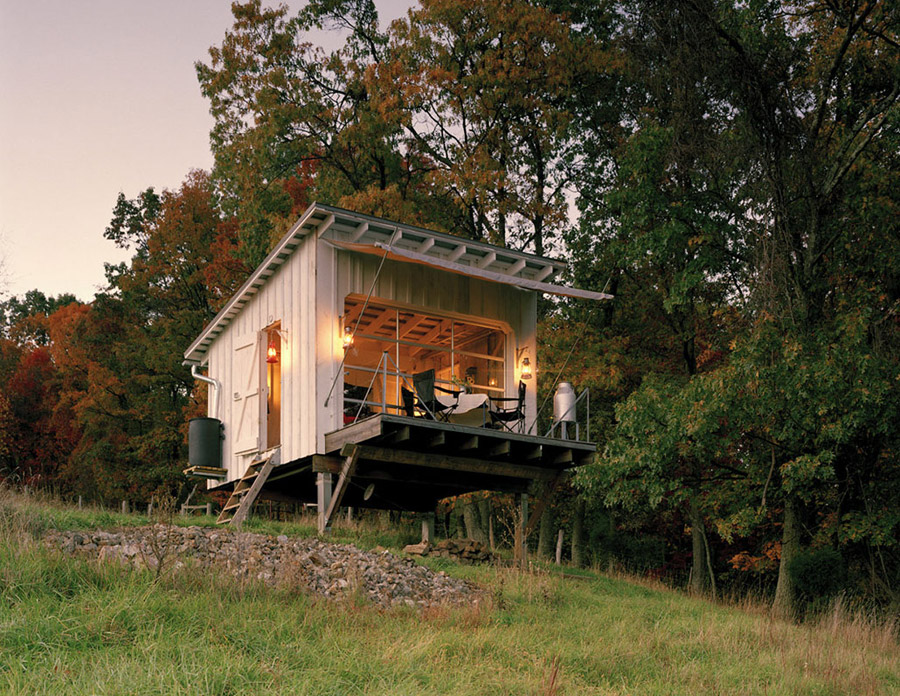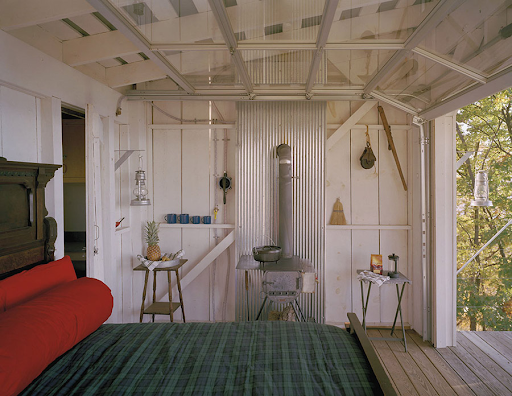 Image source: Tiny House Swoon
Go green and live off the grid with a tiny house like the Shack. Its white walls compliment both the minimal decorations inside and the lush forest just next door. The Shack doesn't use electricity, so you'll be getting heat from a heat stove and collecting rainwater for your showers. This tiny house also sits on stilts to discourage any unwanted animal visitors.
58. The Painted Lady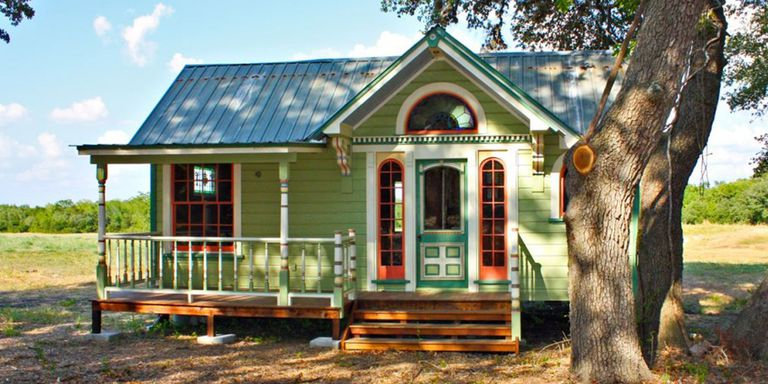 Image source: Country Living
The Victorian-style Painted Lady is a lovely sight against the Texan landscape. Its bright exterior features six colors that seem to match the earth, grass, and sky. Inside, you'll find a kitchen, a living room, a classic Murphy bed, and a bathroom featuring a river rock floor. Amazingly, this beautiful tiny house is almost completely made of salvaged material, from the beams to the windows to the studs!
59. Chicon House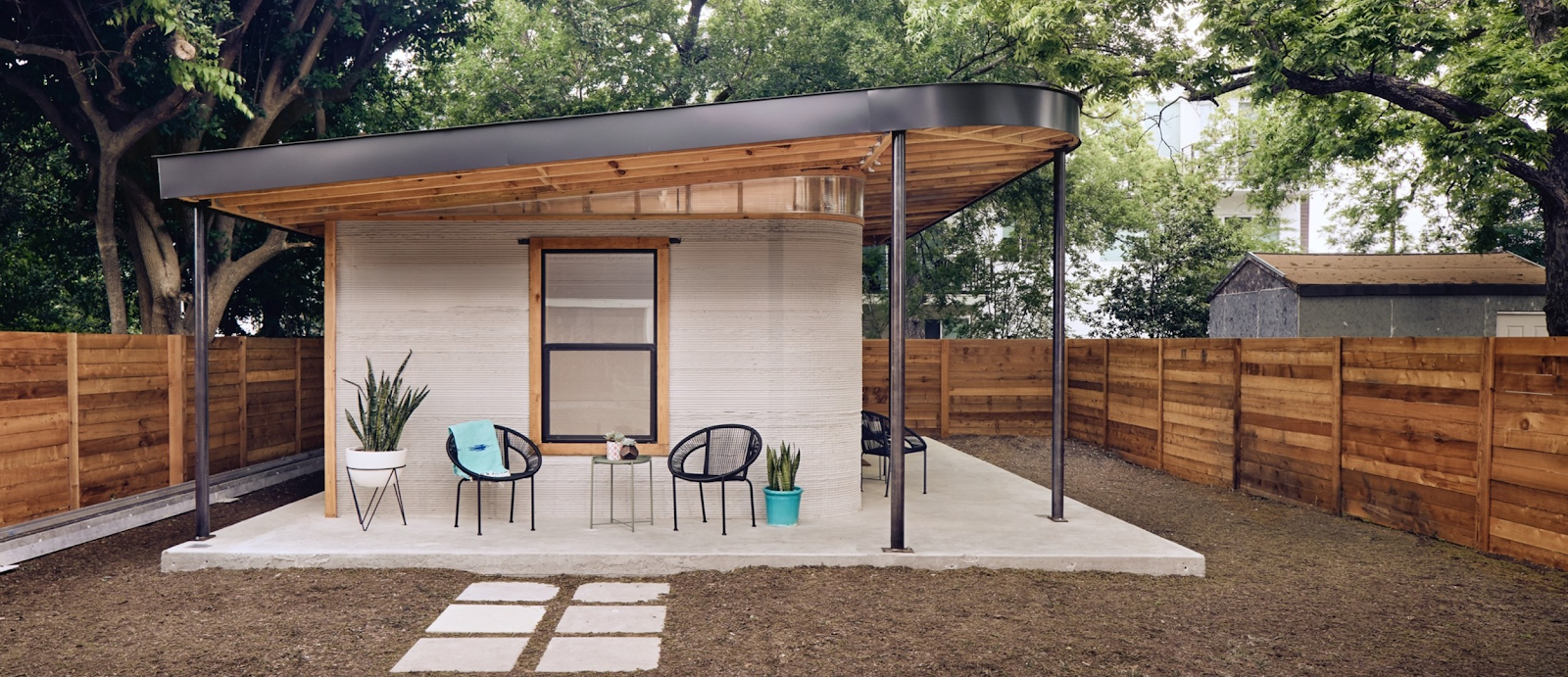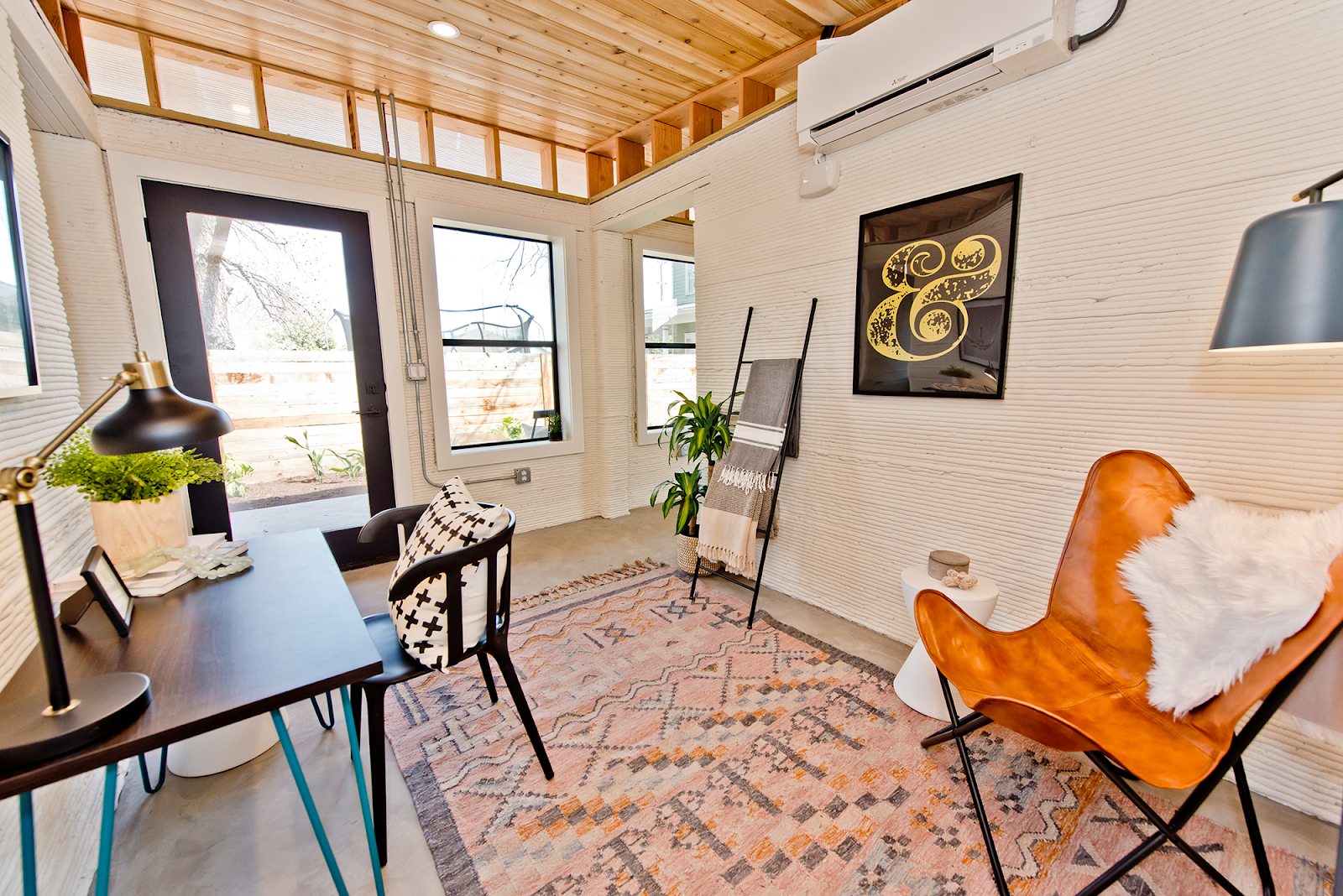 Image source: ICON
While most other tiny houses take months or years to put together, the Chicon House was 3D-printed in a matter of weeks! Because its concrete walls were printed in layers, the inside and outside of this tiny house feature an evenly ridged texture. Windows around the house and right under the ceiling provide the Chicon House with natural light.
The Chicon House serves as a proof of concept for convenient yet sturdy housing for disaster-prone areas. Its 3D printer, the Vulcan, is built to operate in remote areas where potable water and technical assistance are at a premium.
60. Ecocapsule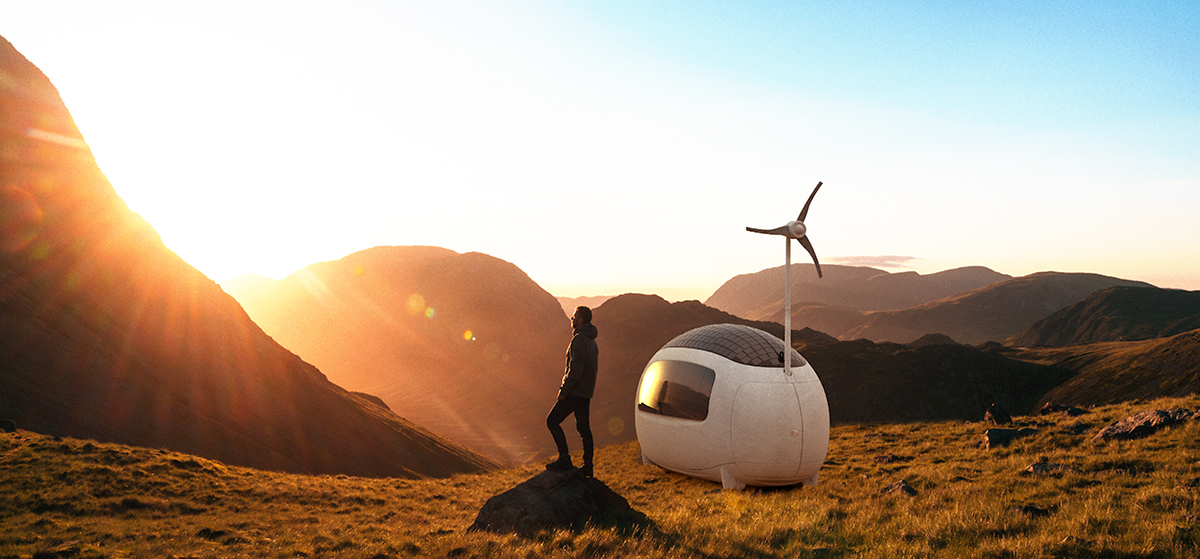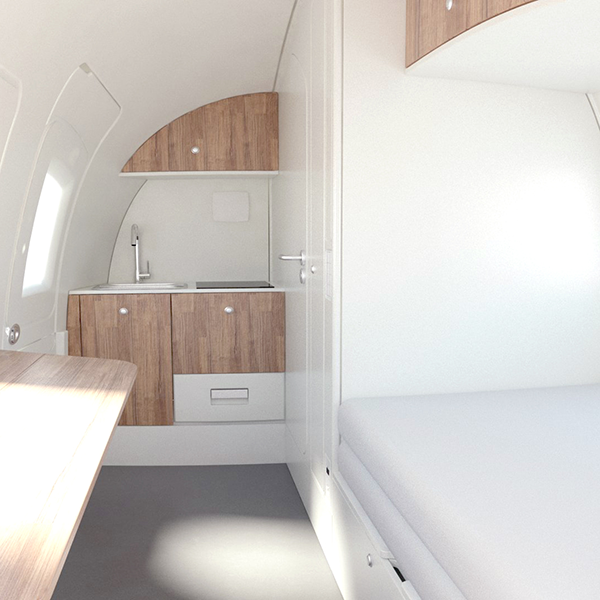 Image source: Ecocapsule
With off-the-grid capabilities and a sleek, modern design, the Ecocapsule might as well be the tiny house of the future. Solar cells and wind turbine provide the house with electricity, while rain collection systems take care of water demands. The shape of the 120-square-foot Ecocapsule also helps occupants keep warm no matter where the house itself is located. It's also big enough for two people to live comfortably!
ALSO READ: 7 Trends for Sustainable Living in 2019
These 60 houses prove that a tiny house can be as comfortable and luxurious as a fully furnished mansion. It's just a matter of maximizing resources you have, with eco-friendliness as a huge plus. Small-scale living also takes interior designs to new levels, thanks to the added challenge of limited space. No wonder these tiny houses are becoming popular!
Liked this post? Visit our blog regularly for articles about sustainable living and space-saving tips.
http://blog.lugbilldesigns.com/wp-content/uploads/2019/08/Less-is-More-Awesome-Tiny-Homes-from-2018-revised-1.jpg
400
680
Justin
http://blog.lugbilldesigns.com/wp-content/uploads/2018/08/logo.png
Justin
2019-07-11 10:11:31
2019-08-26 00:45:09
Less is More: 60 Awesome Tiny Houses You'll Want to Live In