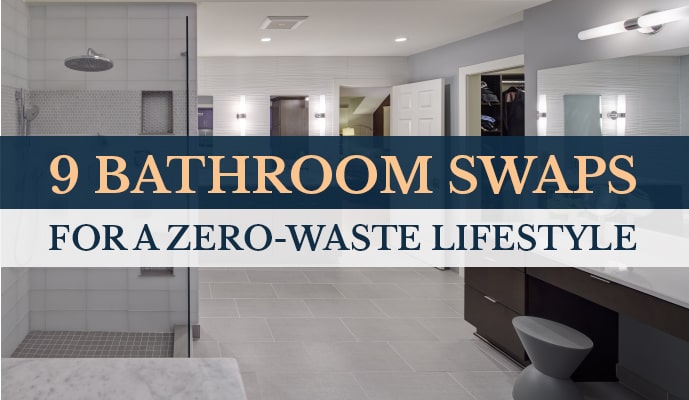 You might have been taking steps towards an eco-friendly and sustainable bathroom, where you can relax and pamper yourself without any guilt. However, one surprising obstacle to this goal can be your current choice of bathroom products! Not everyone is aware of how wasteful commercial toothbrushes, traditional lotion, and even toilet paper can be.
Your sustainable bathroom needs zero-waste products to match. To help you get started, here are 9 zero-waste bathroom swaps definitely worth considering.
9 Zero-Waste Bathroom Swaps for a Sustainable Lifestyle
1. Bamboo/Aluminum Toothbrush
Substitute For: Commercial toothbrushes with synthetic bristles and plastic handles
An estimated 850,000,000 toothbrushes end up in landfills in the United States every year. Sounds like a lot of plastic, doesn't it? You can take steps toward a zero-waste lifestyle without sacrificing your oral health by going for bamboo or aluminum toothbrushes.
Bamboo toothbrushes

biodegrade after disposal. Be sure to determine whether the bristles on your bamboo toothbrush are biodegradable as well, however. Some bamboo toothbrushes have nylon bristles which need to be removed before the handle is disposed of or composted.

Meanwhile,

aluminum toothbrushes

can last you a lifetime. For one,

Goodwell's aluminum toothbrushes

have replaceable composite bamboo heads and bristles made of binchotan charcoal.
2. Toothy Tabs
Substitute For: Traditional toothpaste in disposable tubes
Toothy tabs are incredibly easy to use, as well as great for travelling. Just pop one in your mouth, chew, and brush away. The crushed tablet will foams up and serve as the paste.
Understandably, toothy tabs may not be for everyone. Fortunately, there are other zero-waste alternatives, such as tooth powder or natural toothpaste in recyclable containers.
3. Water Flosser
Substitute For: Traditional dental floss made with plastic
A water flosser simply shoots a stream of water to remove food bits and plaque from between the teeth. Some people may find water flossers easier to use than traditional floss!
Still like flossing the old-fashioned way? Don't worry, you can find natural silk floss in recyclable jars made either of glass or stainless steel.
4. Stainless Steel Safety Razor
Substitute For: Plastic razors
Did you know that around 2 billion disposable razors get thrown away each year? It doesn't help that these disposable razors are also difficult to recycle. The next time you need a razor, try out a safety razor with replaceable and recyclable(!) blades. Aside from producing zero waste, safety razors yield better, cleaner shaves.
5. Bidet
Substitute For: Commercial toilet paper, which is often made of virgin pulp and wrapped in plastic
It might not be easy for everyone to switch out their toilet paper with a spray of water. However, aside from being a great step towards a zero-waste lifestyle, bidets can make your bathroom trips much more sanitary. No need to wipe here!
Want to keep some toilet paper around for family members or house guests? Aim for toilet paper that is
made from recycled material,

produced without chlorine or bleach processing, and

wrapped in paper or biodegradable material instead of plastic.
6. Organic Cloth Pads
Substitute For: Disposable pads made with plastic, as well as tampons which may contain chemicals
The average woman may use more than 10,000 disposable menstrual products in her lifetime. A single reusable cloth pad can perfectly replace such products, only needing replacement every five years or so.
Another zero-waste substitute for commercial pads and tampons is the silicone menstrual cup.
7. Homemade Deodorant
Substitute For: Traditional deodorant
You may be concerned about what goes into commercial deodorant, or how it usually comes in a disposable plastic container. Why not switch to a homemade alternative without any harmful substances? Check out the deodorant recipe below!
Instructions:
Combine 3 tbsp baking soda with 5 tbsp arrowroot powder or non-GMO cornstarch.

Mix in 6 tbsp shea butter with your fingers or a fork. You should end up with a mixture that resembles crumbly dough.

Optional: Add 30-60 drops of essential oil.

Whip the dough with a hand mixer.

Transfer your fresh new deodorant to a clean glass jar.
Recipe originally posted on Mommypotamus.
8. Homemade Lotion
Substitute For: Traditional lotion
Not only does commercial lotion come in plastic containers, but it often contains chemicals you wouldn't want on your skin, too. Fortunately, you can easily whip up your own zero-waste homemade lotion made of coconut oil!
Instructions:
Whisk coconut oil with a fork until it becomes frothy.

Add 3-6 drops of your favorite essential oil for every 1 oz of coconut oil.

Stir and place in a glass jar.
Recipe taken from Note to Trash.
9. Soap Bars/Shampoo Bars
Substitute For: Commercial body wash and shampoo, which come in disposable containers and may contain harmful chemicals
These bars come with minimal disposable packaging, last longer than their bottled counterparts, and run no risk of spilling all over your travel kit. Plus, they wash just as well as body wash and shampoo respectively!
Do your best to find brands that either get rid of packaging completely or use eco-friendly packaging material. For example, Lush bars have zero packaging while Bestowed Essentials products use either compostable or recyclable packaging.
ALSO READ: 15 Space Saving Bathroom Design Ideas
Have you tried any of these 9 zero-waste bathroom swaps yet? It may take some time to get used to each swap, but you'll thank yourself in the long run. Enjoy having a stylish bathroom that is both elegant and environmentally friendly!
Visit our blog for more tips on zero-waste lifestyles and interior design.
http://blog.lugbilldesigns.com/wp-content/uploads/2019/06/x-Bathroom-Swaps-for-a-Zero-Waste-Lifestyle.jpg
400
689
Justin
http://blog.lugbilldesigns.com/wp-content/uploads/2018/08/logo.png
Justin
2019-06-05 02:51:44
2019-06-05 02:51:44
9 Bathroom Swaps for a Zero-Waste Lifestyle