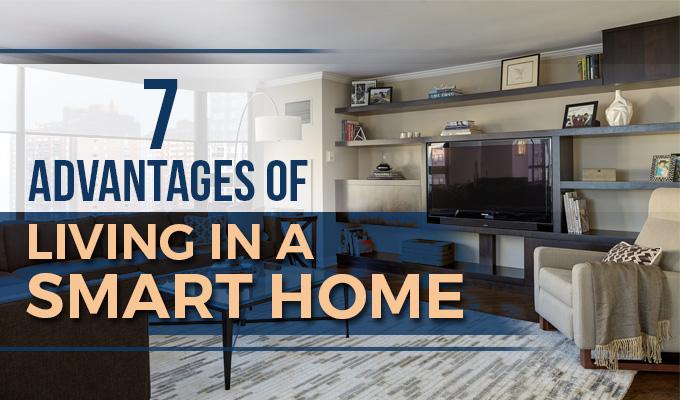 You might have watched video tours of smart homes or read about them in magazines, but have you imagined living in a smart home yourself? 
The idea might seem like it's out of your league at first, since smart lifestyle technology isn't exactly cheap. However, the benefits can greatly outweigh the upfront costs in the long run! From savings to security to peace of mind, here are 7 advantages that'll make you want to start the switch to a smarter home.
7 Benefits of Living in a Smart Home
1. Convenience
Imagine waking up and being able to start the coffee pot all the way from your cozy bedroom. Or programming a bathtub faucet to shut itself off right before the tub overflows. Then at the end of your day, it can be a real treat to relax in a pre-cooled living room thanks to smart technology. This level of convenience alone is one of the biggest reasons that people go for smart homes in the first place. 
2. Accessibility and Programmable Assistance
The functionality of a smart home is especially promising for families who have either young children or aging parents. You can program the cooling systems to achieve the right temperature for Mom and Pop, set the stove to turn off if a forgetful chef wanders off, or remotely lock doors to rooms which are off-limits to the kids. Some smart homes can even notify the hospital should someone take a fall! 
3. Flexibility
Concerned that the smart home you're about to purchase now could become obsolete tomorrow? No worries! Smart homes are designed for seamless integration with more advanced appliances. This lets you make necessary upgrades or add new devices to expand your smart home's range of functions.
4. Resource Efficiency
You might be surprised by how much energy, water, and time you can save with a smart home. Control heating and cooling systems with precision, program lights to dim at sundown, or have the shower turn on only when you're already in the stall. When there are guests around, your oven can cook meals to perfection to prevent wastage, and your home entertainment systems can help you find all the right songs with ease. 
5. Upgraded Security
A smart home can give you fine-tuned control over motion detectors and surveillance cameras throughout the property. You can quietly keep an eye on guests who enter and leave the house, or get instant alerts on suspicious activity to protect your loved ones. It's even possible for you to lock doors and arm your smart home's security systems in critical situations. And again, you can do this whether you're inside the house or on the other side of the world!
DID YOU KNOW? In an incident in New Mexico, a smart home speaker dialed 911 after detecting certain statements during a domestic dispute. The obedient speaker may have prevented a woman and her child from being shot to death.
6. Smart Household Management
Did you know that your smart home can give you an interesting picture of how your family goes about a normal day? Get a peek at your family's TV viewing habits, the kinds of meals you prepare the most, and the amount of electricity and water you use up on a daily basis. You can then adjust your lifestyle according to this data for a lifestyle that's both comfortable and eco-conscious.
7. Peace of Mind
You're probably all too familiar with the stress of doors left unlocked, appliances and faucets left running, meals that wound up overcooked, or children who keep popping in and out of your line of sight. It's also easy to get a headache from unexplainably high utility bills. But you won't have to worry about any of that with a smart home! You can breathe a sigh of relief with all the control you need at your fingertips.
ALSO READ: 17 Tips to Make Your Home Energy-Efficient
Wouldn't you want your family to enjoy these 7 advantages? It's a good thing that it's never too late to transition into a smarter home. You can simply invest in smart home appliances one by one, matching your new purchases with eco-friendly lifestyle changes along the way!
Visit our blog regularly for more articles about stylish interiors and smart, sustainable living. 
http://blog.lugbilldesigns.com/wp-content/uploads/2019/08/x-Advantages-of-Living-in-a-Smart-Home-Featured-Image.jpg
400
680
Justin
http://blog.lugbilldesigns.com/wp-content/uploads/2018/08/logo.png
Justin
2019-08-08 01:50:02
2019-08-26 00:36:33
7 Advantages of Living in a Smart Home