Window Treatments that are Better Alternative to Curtains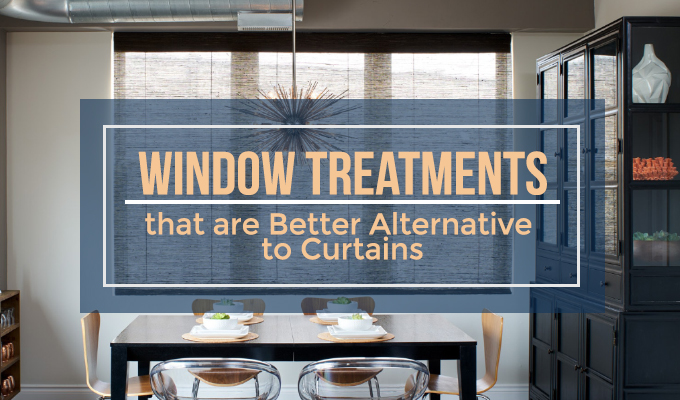 When you think of window treatments, curtains are probably the first things that come to your mind. But, while they remain the most straightforward option, they're not necessarily the only choice to dress your windows.
If you're looking for better alternatives to traditional curtains, this article lists some other options you need to consider. But, to refresh you, we also define the very reason why you need window treatments in the first place.
How Window Treatments Impact Your Home
Window treatments might be the only thing you need to transform your space. They set the mood and tone of a room, and the absence of them can make the space appear bare and naked.
Further, window treatments not only help manipulate the light that goes into your home, they also add privacy, while also aid with the cooling and insulating of a space. Now, no matter the purpose you want the treatment to serve – with the many options available – you're sure to find one that fits your needs:
8 Window Treatment Options
1. Drapes
Although many use the terms curtains and drapes interchangeably, they're actually two different things. But, the key difference is that drapes are typically pleated, heavy, lined and floor-length while curtains, on the other hand, are mostly lightweight, unlined and can differ in length. It is these characteristics that make drapes a more formal option.
2. Shades
Shades are a window treatment option made of continuous fabric that rolls up and down using pulley mechanism. They are often manufactured from light, colored and porous materials that filter and soften the light, instead of completely blocking it. They come in a wide range of shades, colors and materials such as polyester, cotton and linen.
3. Blinds
Instead of fabric like that of shades, blinds have slats or vanes. They are usually made of sturdier materials like wood, aluminum, composite materials or leather, and can come in different lengths, widths and orientation. Because they can be tailored according to one's preferences, they nearly work well with any interior design.
4. Awnings
Awnings are the additional covering installed on the outside wall, often above the window and in a slanted position. Because of this structure, they offer great sun protection capabilities, without obstructing air circulation. These days, there are retractable awnings available, giving you more stylish options to update your windows.
5. Decorative Screens
A modern take on traditional curtains, decorative screens are great for shading, privacy and ventilation. They are often made from metal or wood, with intricate details engraved using laser-cutting technology. Because of its bold structure, this option allows for sunlight to filter through and cast beautiful shadows on its adjacent surfaces.
6. Shutters
Shutters offer a country-chic look to any interior design that is also functional and efficient. In fact, they're sturdier than many other options which explains their higher price tag. But, given that you can expect them to last up to 20 years, shutters can actually be a great long-term window treatment that ensures sun-filtering and noise-blocking options.
7. Adhesive Film
When applied to window panes, adhesive films add texture to the interior, while reducing the sunlight that penetrates into your home. They are available in a range of tinted colors as well as patterns and textures so you can find one that complements your home décor. They can also be a cheaper alternative to stained or frosted glasses while providing the same benefits.
8. Vertical Garden
Finally, vertical gardens are a great multi-functional window treatment that works more favorably for those with limited horizontal space – condo owners and apartment renters, for example. Aside from allowing light to filter into the room, plants also add a touch of life and color as well as offer many health benefits for the family. Here are some low-maintenance indoor plants you can start with.
True, there is a wealth of options out there. But, given that window treatments are an investment, you should take time to see the options yourself as no amount of research will inform you how exactly they will look in your home.
Did you find this article informative? Let us know by commenting below!
http://blog.lugbilldesigns.com/wp-content/uploads/2019/01/10-Window-Treatments-that-are-Better-Alternative-to-Curtains.jpg
400
680
Justin
http://blog.lugbilldesigns.com/wp-content/uploads/2018/08/logo.png
Justin
2019-01-15 01:32:57
2019-03-13 02:59:05
Window Treatments that are Better Alternative to Curtains