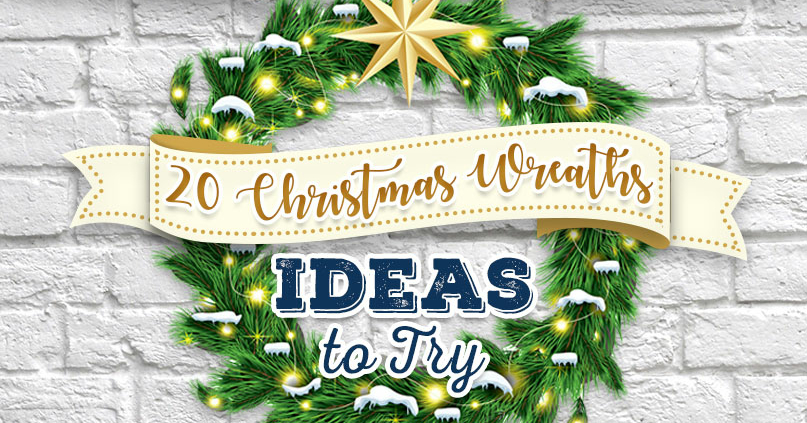 The wreath has been viewed as a symbol of power and pride among Romans. To the Greeks, it signifies success and victory. It later became a representation of Christ's suffering and triumph over death. 
Throughout the years, these cultures have transformed wreaths into Christmas decorations, which only becomes more grand and elaborate as the seasons pass.
Today, wreaths are often made with fir. But, if you're looking to give this traditional décor a modern twist, Lugbill Designs, a Chicago-based interior design firm, has sourced the Internet to provide you with 20 Christmas wreath ideas you can try.

20 Must-Try Christmas Wreath Ideas
1. Burlap Wreath
A big roll of burlap, strip of ribbon, a wire wreath frame and some ornaments are all it takes to recreate this Christmas wreath. It has a rustic cabin look that adds a warm feel to your home.
2. Washi Tape Wreath
This Christmas wreath puts your washi tape collection to good use. Whether you hang it above your fireplace or on your front door, it's sure to greet your guests an artsy Merry Christmas!
3. Christmas Balls Wreath
A load of vintage glass baubles make a beautiful wreath. This is a simple and cheap holiday project that adds a wow factor to your Christmas décor.
4. Chalkboard Christmas Wreath
A piece of chalkboard affixed behind a wreath frame can add charm to an otherwise simple Christmas wreath. Don't forget the holiday message and a bow for a finishing touch!
5. Hula Hoop Wreath
This elegant wreath is not as expensive as it looks. Your guests will never even guess these are merely a set of cheap hoops disguised as two larger-than-life copper rings (unless you tell them of course).
6. Christmas Tree Wreath
A creative take on the traditional décor, this Christmas tree-shaped wreath is made of small cedar wreaths laid out together to resemble a fir tree. A series of sticks cut to the same length serves as the trunk.
7. Pinecone Wreath
Disguise shapely pinecones as snow-covered holiday décors with a spray of matte white paint! This is a great idea for a winter wonderland Christmas theme.
8. Frosted Twigs Wreath
A coat of matte spray can mimic a thick layer of snow, covering a bunch of twigs, pinecones and acorns. The resulting wreath is worthy to be a Christmas winter theme essential. 
9. Metallic Wreath
This striking wreath is actually a store-bought magnolia leaf coated with metallic spray paint and embellished with white-painted twigs.
10. Coffee Filter Wreath
This bold yet simple wreath is easy to make,not to mention it will cost you as little as $5! It even makes a great post-Christmas décor thanks to its vintage appeal.
11. Natural Elements Wreath
A gorgeous holiday wreath made of nature's seasonal bounty – pinecones, pods, berries and nuts – has a beautiful texture that will earn second looks from your guests.
12. Ribbon Wreath
This vibrant holiday wreath is made of a set of wired ribbons in different Christmas-themed patterns. It's a good way to make use of the excess ribbons from last year!
13. Woodland Winter Wreath
The secret to this wreath is to have a lot of felt flowers. It's easy to DIY, and the result will make a great display for your woodland winter theme!
14. Fruit Wreath
This wreath is an abundant collection of crisp greens and colorful produce. You can make it from either faux fruits or real ones, depending on your preference.
15. Christmas Greetings Wreath
An ordinary treat gets a bold twist with a cutout greeting. Hang this by your door and you've got a literal Christmas statement!
16. Driftwood Wreath
This wreath can breathe new life into driftwood collection. Assemble a good number of wood pieces on a wreath form and hang with a red wide ribbon.
17. Laurel Wreath
A laurel wreath entwined with fresh rosemary branches lends a stimulating and refreshing scent to your home. It's also a simple yet elegant display for Christmas.
18. Cork Wreath
This one's for the wine lovers! A wreathe made of upcycled old corks adds a pop to your dining room when hanged to your liquor cabinet. Alternate it with red jingle bells to blend with your Christmas décor.   
19. Poinsettia Wreath
The bright red bracts of these poinsettias are crafted out of felt cloth and made to resemble the real deal. Each flower is then attached to a ring form to create an elegant wreath that will last for years.
20. Socks Wreath
If you think socks are only meant to be hung on Christmas bags so Santa Claus can fill it with toys, then this red and gray wreath will prove you wrong. It's actually made of upcycled work socks and finished off with a wooden cutout Merry Christmas sign.
Do you have your Christmas wreath ready? Share your design with us in the comments!  
Never miss the latest interior design tips and updates. Check out our blog regularly!
http://blog.lugbilldesigns.com/wp-content/uploads/2019/11/20-Christmas-Wreath-Ideas-To-Try-Featured-Image.jpg
544
807
Justin
http://blog.lugbilldesigns.com/wp-content/uploads/2018/08/logo.png
Justin
2019-11-20 09:58:39
2019-11-20 09:58:39
20 Christmas Wreath Ideas to Try