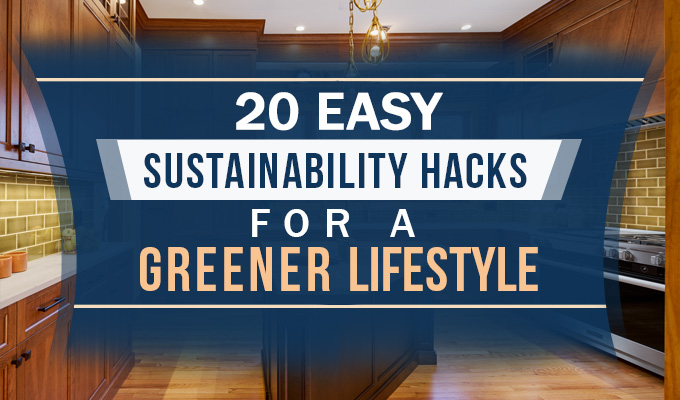 You'd like to switch to a green and sustainable lifestyle, but you're not ready for huge changes like switching out all your appliances or giving up meat completely. No worries! You can always start with small swaps as a build-up towards bigger leaps. Plus, countless people before you have already come up with little "hacks" to make their lives a bit greener.
Ready to take your first steps towards greener living? Here are 20 easy sustainability hacks for you to try out!
20 Sustainability Hacks for Greener Living
1. Use Homemade Cleaning Recipes
Lemons, vinegar, and baking soda are just some of the homemade cleaning ingredients you probably have in a pantry somewhere. So if you'd like to save money and avoid certain chemicals, just put together your own sustainable cleaning solution in the comfort of your kitchen! 
ALSO READ: 5 Homemade Natural Cleaning Recipes You Can DIY
2. Dedicate a Tote Bag to Unused Clothes
You probably have a handful of clothes that you've either outgrown or barely ever use. Stuff these into a tote bag, then write a certain date by which you'll donate all the clothes in that bag. Once the date passes, bring the clothes to a local thrift store or charity. You'll contribute to sustainable fashion and free up your closet at the same time!
TIP: Resist the urge to open the bag. Otherwise, you might find yourself putting the clothes back into your closet, telling yourself you'll use them again someday.
3. Charge Your Phone in Airplane Mode
It may be called "airplane mode," but it's perfectly fine to use it on the ground. In fact, a phone in airplane mode will charge much faster than usual, saving you time and energy! Just remember that you won't be able to receive calls or messages in this mode.
4. Reuse, Full Stop
Reducing waste is one important part of sustainability, so you'll have to find ways to reuse whatever you can. You might just be surprised by all the little things you can reuse for a more sustainable home!
Water. The same water you've used for cooking or washing your hands can be reused one more time on your houseplants. This also goes for the "warm-up" water from your shower.
Cardboard Boxes.

Cereal boxes and shoeboxes can easily get a second life as gift boxes! Just turn them inside out and tape them back together.

Toilet Paper Rolls.

From

wall art

to cable organizers to closet dividers to ornaments, the humble toilet paper roll can be reused in countless ways. 

Bread Clips.

Have a broken flip-flop, with one of its holes torn open and unable to hold the thong? Push the thong back through the hole and slip a bread clip around it! You can also use bread clips to label the mess of cables behind your PCs or television sets.
5. Set Up a Backyard Garden
Have an empty patch of land in your backyard? Turn it into a little garden, and you'll have a sustainable pastime that can help cut down on grocery spending in the long run. Someday, you can even put together a salad made of vegetables picked from your backyard!
Short on space? No worries. You can always squeeze in a window herb garden.
6. Use a Wet Cloth to Chill Drinks Faster
Wrap your drinks in a wet cloth and then stick them into the freezer. Your drinks will quickly become cold, saving you precious time and energy.
7. Bake Cupcakes in Ice Cream Cones
Need to prepare cupcakes? Instead of buying paper liners, bake them in kiddie ice-cream cones. Add ice cream or whipped cream on top to complete the look!
8. Say Goodbye to Bottled Water
Invest in a nice refillable water bottle, and top it off before you leave the house. You'll never have to buy another piece of environmentally damaging plastic ever again, and you can save money at the same time!
TIP: It helps to know the locations of nearby water fountains where you can refill your bottle for free.
9. Cut Down on Your Meat Consumption
Beef and lamb production gives off huge amounts of the greenhouse gas methane. So, eating less meat can shrink your eco-footprint as well. It's just that giving up meat completely might not be easy for everyone! You can always take baby steps like committing to Meatless Mondays or trying out tofu, seitan, and other sustainable meat substitutes.
10. Put Together a Small Compost Bin
Wondering what you can do about all the eggshells, tea leaves, coffee grounds, and fruit or vegetable peels that you often toss? Take a plastic container, poke a few holes in its sides, and then fill it with kitchen waste. You'll eventually have a plastic container filled with compost, which you can use to feed your backyard garden!
NOTE: It's not advisable to include meat, fat, oil, dairy products, or grease in the compost bin. They will still biodegrade, but they'll give off an odor that can attract pests.
ALSO READ: 12 Steps to Avoid Food Wastage at Home
11. Try Your Hand at Preserving Food
Fermenting and drying are easy ways to improve the shelf life (and flavor) of certain food. You can make pickled daikon radish, salted lemons, or even kimchi to spice up your menu while staying sustainable.
12. Air Dry Your Laundry
Leave it to the sun to dry your clothes, and you can give your dryer a break and save hundreds of dollars on electricity. Also, if you line-dry indoors in winter, your laundry can double as a humidifier!
13. Mind Your Water Usage in the Bathroom
You might be accustomed to 20-minute showers, but experts say you really just need 5 to 10 minutes. The faster your showers, the less water you'll use! Also, make it a point to turn the tap off while brushing. You can save up to 6 liters of water per minute this way.
14. Recycle Old Papers into Gift Wrap
Instead of buying another roll of gift wrap, take a page out of your old newspapers and magazines. The fun thing about this is that you can pick out pages that fit the recipient's personality (e.g. using Sunday comics to wrap a gift for a witty friend). Plus, there's no denying the charm of handicrafts!
15. Go Paperless
Save the trees! Ask your providers to send you bills, catalogues, and bank statements through email. As a bonus, you'll never have to see another stress-inducing pile of envelopes at your front door ever again.
16. Take a Reusable Tote on Shopping Trips
Help cut down on plastic bag usage by taking your own shopping bag with you. This can either be a tote or a sturdy plastic bag from a previous purchase. Who knows, your favorite grocery store might offer rewards for sustainable shoppers like you!
17. Shift to Thrifty Shopping
Want to update your wardrobe or spruce up your living spaces? Head to the thrift shop and go for gently used clothes and decor instead of brand-new purchases. You can save a lot of money and help cut down on landfill waste in one go. 
18. Buy Produce in Season
For one, fruits and vegetables taste better when they're in season. You can also cut down on grocery costs if you go for whatever nature has placed on the menu. At the same time, you'll be able to find these crops easily at a farmers' market near you. Local produce doesn't use up as much fuel since it's transported over shorter distances, automatically making it more sustainable overall!
19. Fix Whatever Can Be Fixed
The world's current throwaway culture might seem convenient, but it's also incredibly wasteful. If you've broken something, take the sustainable route and try to have it fixed first. And if it's beyond repair, dispose of it responsibly and put some extra thought into how you'll replace it.
20. Borrow Books Instead of Buying Them
This sustainability hack doubles as a way for bookworms to save a surprising amount of money. Instead of buying new books, check if any nearby libraries have that same title on their shelves. You can also look for train stations, hotels, and cafes that offer book swap services.
Feel free to take this list of 20 sustainability hacks and use it as a checklist! With every item you tick off, you can pat yourself on the back for taking one more step towards a greener lifestyle.
Found this article useful? Visit our blog regularly for more tips on sustainable and eco-friendly living.
http://blog.lugbilldesigns.com/wp-content/uploads/2019/08/20-Easy-Sustainability-Hacks-for-a-Greener-Lifestyle-Featured-Image.jpg
400
680
Justin
http://blog.lugbilldesigns.com/wp-content/uploads/2018/08/logo.png
Justin
2019-08-16 02:33:01
2019-08-26 00:35:10
20 Easy Sustainability Hacks for a Greener Lifestyle