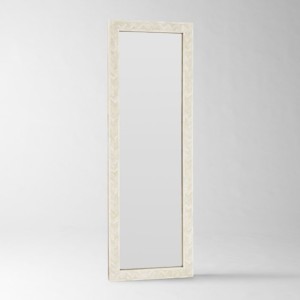 Let's be real, if you're a woman you absolutely need a floor length mirror! And why not get an amazing one that can be a focal point in your room? Here are some of my favorite floor length mirrors of the moment…
West Elm Parsons Bone Inlay Floor Mirror
This Gray Herringbone mirror from West Elm is a great way to add some fun to any room. It's very eye catching and will definitely define your space!
This Z Gallerie mirror is ultra special: It is a cast of reclaimed oak beams originally used as railroad tracks in the Philippines!
If you're as in love with mirrored objects as I am, then these mirrors will add that extra umph you're looking for!