To anyone getting ready to sell their home, the idea of staging can be an intimidating thought that conjures ideas about feng shui or concepts of interior design. But this need not be a complicated task, and when done correctly staging the home can help give it a much-needed advantage in a difficult marketplace.
The idea of staging is to clean and arrange the home in a way that makes it most attractive to buyers. While there are countless websites or books that can help with this topic, at its heart it is simple—turning the home into a blank slate of sorts, a place potential buyers can imagine their own details. The first step is to take a thorough examination of the home, looking in every room and try to see it as a buyer would. If it helps, bring in a friend or family member to give you a fresh perspective, someone who wouldn't be afraid to make difficult suggestions to you.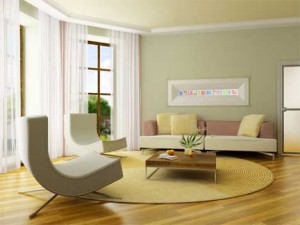 When it comes time to start the staging, address the basics first. The house needs to be clean and free of clutter. Potential buyers want to be able to imagine themselves living in the home, but if all they see are the dirty dishes in the sink and piles of laundry, they might not even finish the visit. Eliminating the mess also makes the house seem larger, more open.
Once you have cleaned, it is time to get rid of all the clutter as well. For those who have lived in a home for a long time, this can mean addressing years or even decades of accumulated things that are no longer used and this alone can be stressful. So keep it simple and don't try to get rid of everything at once. Take a room-by-room look at clothing or boxes, and use the general rule that de-clutter experts suggest—if you haven't used it or worn it in the past year, get rid of it. Separate things into piles for the garbage, for donation and the last for a garage sale. Don't think you can just throw everything into a box and shove it in a closet, because potential buyers will want to see what kind of storage space your house has as well. If you have a spare room or other space that is being used as a storage space for all this clutter, move it out and give the room a new purpose like a sitting room or library for your extra books. If it helps keep you motivated, think of the move ahead and how much easier it would be without having to move all the junk you don't use anyway.
Now that it's time to stage the house, keep in mind that you want it as a blank slate for the buyer to fill in with details. Remove bulk furniture, big pictures and the other things that might be taking up space. If you have unused space, try to fill it creatively with plants or bookshelves—if you can use something from another, more cluttered room, that's an even bigger bonus. Some people think that placing all the furniture against the wall will showcase the size of a room, but staging experts say that placing them together in small groupings makes the space seem friendlier to users. Finally, be sure everything is clean, freshly vacuumed and neatly arranged.
Try to keep the rooms simple as well. If your choices of paint color are too bold or personalized, change to a neutral paint. Take a careful look at lighting as well, replacing light bulbs with tints that seem most attractive or adding new blinds that let in more natural light.
Megan Gates is an active blogger who provides written work to the blogosphere pertaining to Nassau Rental Properties, Hamptons Real Estate, home improvement and the latest architecture, design and fashion. Follow her on twitter @MEGatesDesign.
http://blog.lugbilldesigns.com/wp-content/uploads/2018/08/logo.png
0
0
megan
http://blog.lugbilldesigns.com/wp-content/uploads/2018/08/logo.png
megan
2011-10-12 16:35:54
2019-03-13 03:03:54
Home Staging 101: Resources, Tips, & Tricks