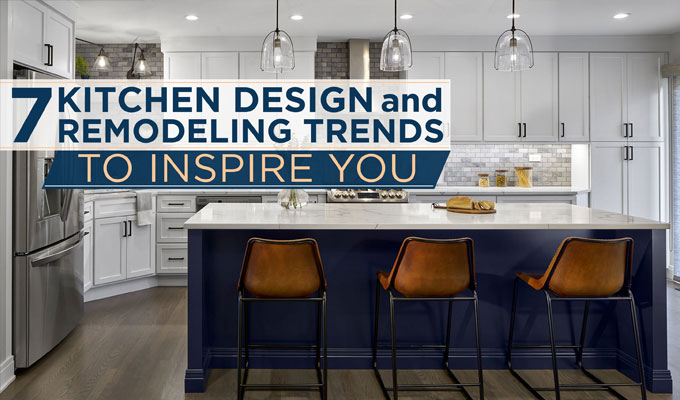 Whether you just want to refresh your kitchen or you are getting your home ready to rent or sell, investing in some kitchen upgrades is always a good idea. Most people spend a huge amount of time in their kitchens so it makes sense to make this place in your home warm, inviting, and styled to mix aesthetics and functionality. 
Want to know how you can update your kitchen without having to do a full kitchen renovation? Check out the trends below.
1. Switch to Custom Cabinets
There is nothing like custom cabinetry to make your kitchen more functional and more stylish. Custom cabinets are built to fit the space you have in the kitchen. It will completely improve the functionality of your kitchen, as well as the look of the space. 
You can choose gorgeous natural wood or use on-trend reclaimed wood to create one of a kind cabinets that match your kitchen. Colored custom cabinets are also very trendy right now. They are a great way to add personality to an otherwise bland all white kitchen.
2. Update All Hardware and Light Fixtures
The small details in your kitchen really make a difference in the look and style of the space. Upgrade those old drawer pulls and cabinet handles with modern metallics. You can also add bright pops of color for a very easy and affordable way to update the look of your kitchen. 
New light fixtures can take your kitchen from old and sad to bright and modern. Go bold with a unique modern metal light fixture or go for some glam with a light and reflective chandelier if you want your kitchen to have some real personality.
3. Add a Kitchen Island
Kitchen islands can double the amount of functional space in your kitchen. They also are the best way to turn your kitchen into the primary gathering spot in your home. Having a custom island built is the ideal way to make the best use of space you have in your kitchen. 
If you don't want to invest in a custom island, a pre-built island can have almost the same dramatic impact. Add some comfortable chairs or stools to invite people to sit down and chat or as a space for the kids to sit and do homework while you're cooking.
4. Choose The Right Flooring
The days of the all linoleum kitchen are long gone. Thanks to the durability and beauty of modern materials, you can have a kitchen flooring that is built to absorb a lot of traffic and is also stain and wear resistant. 
New updated tile floors are easy to clean and will give your kitchen a modern look. Distressed hardwood floors will transform your kitchen into a rustic farmhouse style kitchen that is so trendy right now. Not only is it beautiful, it is also inviting and comfortable.
5. Add a Unique Pantry Door
Prettying up the pantry is another way to add some style to your kitchen without reducing the functionality you need. Glass inset doors are a classic choice. Or you can choose recycled sliding barnwood doors if you prefer the rustic look.
6. Use Under Cabinet Lighting
Under cabinet lighting is an easy upgrade that homeowners love. If you've never had under cabinet lighting you will be amazed at how much style and function it gives your kitchen.
It can cut your energy bills because you won't have to use the main kitchen lights as often. If you have kids or pets or if you have to get up early in the morning, under cabinet lighting makes it safer and easier to get some water at night or make that all important coffee in the morning.
7. Upgrade Your Countertops
The countertops are the largest surface area in the kitchen so upgrading those will have a huge impact on the look of your kitchen. Durable countertops that are easy to maintain are countertops that modern homeowners want. 
Quartz countertops will give you a durable option that's easy to customize. Quartz and granite offer a huge range of colors available, including ones that mimic the natural veining of marble, so they add style but are also very affordable and durable. Choose from classic white, blacks or gray countertops, or go bold with red or a marbled look.
Simple updates in your kitchen can turn the kitchen that you have into a trendy gathering spot. Best of all, you can do that without costing a fortune or requiring long renovation. For best results, contact Lugbill Designs for all your interior design and remodeling needs.
Did you find this article useful? For more design inspirations for your home, visit our blog regularly.
http://blog.lugbilldesigns.com/wp-content/uploads/2019/09/7-Kitchen-Design-and-Remodeling-Trends.jpg
400
680
Justin
http://blog.lugbilldesigns.com/wp-content/uploads/2018/08/logo.png
Justin
2019-09-09 05:02:56
2019-09-09 05:37:46
7 Kitchen Design and Remodeling Trends to Inspire You