The term "Man Cave" has chiseled its way into home design over the past decade with a vengeance, although the idea has always been a part of the traditional American home. Dad's room, the study, the den, or in some cases, the garage have all been in essence a man cave. It is simply someplace for men to get away from the wears of the world, providing the same relaxing experience others might find in a trip to a day spa. So what makes a man cave a man cave?
It is important to keep in mind the best Man Cave designs are extensions of the men for who they are designed. Here are a few "must haves" when it comes to designing the perfect Man Cave.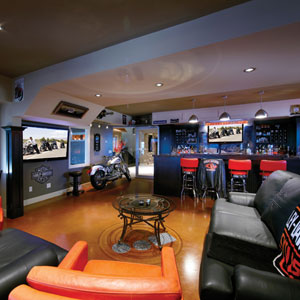 1. John Belushi
Love him or hate him, nothing beats framing the classic black and white photo of John Belushi in "Animal House" wearing his "College" sweatshirt in all of its glory. Putting it in a fancy frame lets people know, "I'm much more mature, but still appreciate the simple things in life like a good toga party and thinking the Germans bombed Pearl Harbor"
2. A Bar
Bars are getting expensive and drinking and driving is not worth the risk, so instead of having the man go to the bar, bring the bar to the man. Whether it is just a quick cocktail after work to put the day behind him, or setting up rounds for his friends when the big game is on, having access to his own bar will ensure the Man Cave is well on its way to Man Cave glory.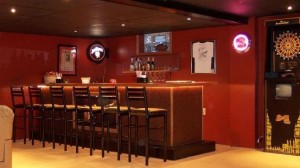 3. Patio Access
Many times this gets overlooked, but for those men who enjoy a good cigar or a pipe to unwind, being able to transition from their Man Cave to their Man Patio makes any Man Cave that much cooler. In addition, wives will appreciate keeping the smoke outside the home instead of it wafting throughout the house.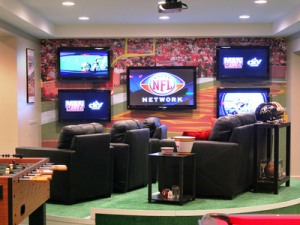 4. "Turn it up…"
If Lynyrd Skynyrd sang it, there has to be some validity to it. Bring a home stereo into the Man Cave that can provide the ease of the Rat Pack to relax a man over a glass of bourbon, as well as crank up some old school Guns 'N' Roses when the need to rock out hits. Having a solid system to crank tunes definitely elevates a Man Cave's status.
5. Make it Your Own
Whatever else trips the man's trigger, make sure it is in there. Plaster the place with his favorite sports team memorabilia, pictures of his heroes or favorite games. Remember, even Superman and Batman have their own Man Caves, and whereas re-making the Fortress of Solitude might prove a bit costly, building his own version of it does not have to be.
                                                                                         Good Luck!
Megan Gates is an active blogger who provides written work to the blogosphere pertaining to New York Luxury Real Estate, Long Island and Nassau Rentals, home improvement and the latest architecture, design and fashion. Follow her on twitter @MEGatesDesign.
http://blog.lugbilldesigns.com/wp-content/uploads/2018/08/logo.png
0
0
megan
http://blog.lugbilldesigns.com/wp-content/uploads/2018/08/logo.png
megan
2011-09-21 14:31:40
2019-03-13 03:04:03
"Man Cave" Interior Design