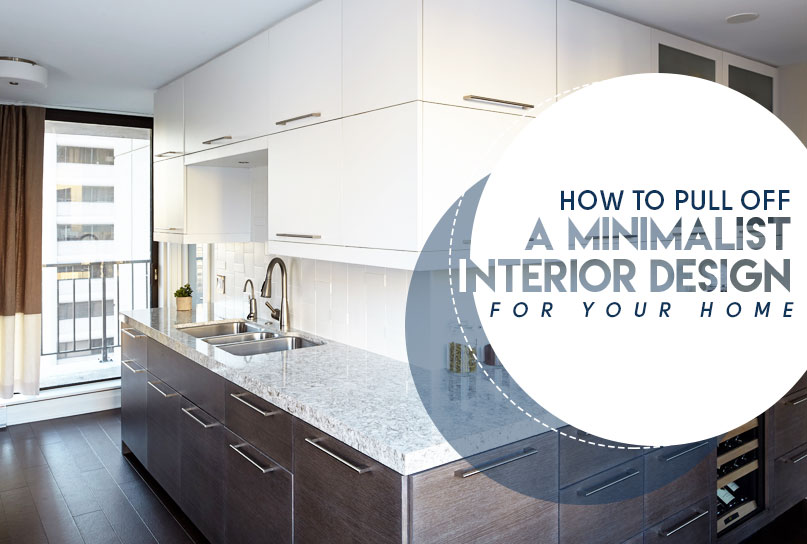 Dreaming of a minimalist interior design for your home without stripping off its character?
In this article, you will be guided on how to pull off a minimalist interior design that will make your home look calm, refreshing, and absolutely beautiful.
What is a Minimalist Interior Design?
This is a decorating style that practices restraint while allowing space, lighting, and objects to come into play. For a minimalist interior design, you are actually limiting your options to your bare essentials to achieve a bold, sophisticated, and highly remarkable transformation in your space.
8 Tips to Achieve a Minimalist Interior Design
1. Maintain a Restrained Color Palette
Use colors from the same color family while using neutrals such as white, light grey and pastels to create combinations that won't go out of place.
2. Add Texture
A minimalist home is not just about maintaining a clean color palette. You also have to maintain a smooth and slick look that is far from boring. How to do that? By adding textures that can effectively break a monotonous look.
What You'll Need?
Find linens, wools, and textiles that you can use to accessorize your space and make your home look more inviting.
3. Use Simple Lines and Shapes
One feature of a minimalist interior design is clean lines and curves. Furniture with ornate detailing is to be avoided. Instead, choose accents with designs that allow the eyes to move with ease.
4. Add Decorations and Accents
Some people may think that you can't use decorative elements to achieve a minimalist look for your home, but the truth is you can! One thing to keep in mind is to ensure that decorative elements are merely used as accents and not to overwhelm your space.
TIP:
Identify one focal point instead of a group of small ones that will only cause a distraction. If you are designing centerpieces, go for smaller collections from the same family to maintain a solid look.
5. Create Empty Spaces
Empty space is an essential element in a minimalist interior design. Remember, space can define the look as it interacts with the objects in your room. It also plays a role in keeping visual balance and amplifying the existence of the furniture you put in your home.
6. Make Room for Arts and Plants
Adding life to your space can be done through arts and plants. These elements add personality and allow you to make a statement while maintaining a simple and quiet look that is typical of a minimalist interior design.
Interesting Fact:
Plants work well with any color scheme. It blends well with any theme without necessarily competing with other colors.
7. Declutter
Getting rid of the clutter in your home is a step to becoming a minimalist. Stick to your essentials and get rid of the things that you no longer need. Along with that is the need to rearrange. Change your displays and go for well-chosen elements that work well with your theme.
8. Let the Light In
You'll realize how bare windows work for a minimalist interior design once you see how it adds beauty and character to your decors. It would be best to leave the windows bare to allow the light to enter your space. If you can't compromise your privacy for added light, you can opt for thin curtains, blinds or laser cut privacy screens that can also provide distinct styling.
There are ways to make a minimalist interior design work for your home. With the above-mentioned tips, you're on your way to achieving a clean, modern and sophisticated space that you'd love coming home to.
Need help with interior design? Seek the help of expert our Chicago interior designer, Erica Lugbill.
.
http://blog.lugbilldesigns.com/wp-content/uploads/2018/05/How-to-Pull-Off-a-Minimalist-Interior-Design-Featured-Image.jpg
544
807
Justin
http://blog.lugbilldesigns.com/wp-content/uploads/2018/08/logo.png
Justin
2018-05-10 07:33:18
2019-03-13 07:26:58
How to Pull Off a Minimalist Interior Design for Your Home