After years of working off camera for HGTV, I finally had the opportunity to be on camera, as the designer for an episode of HGTV's House Hunters Renovation (season 7 episode 6).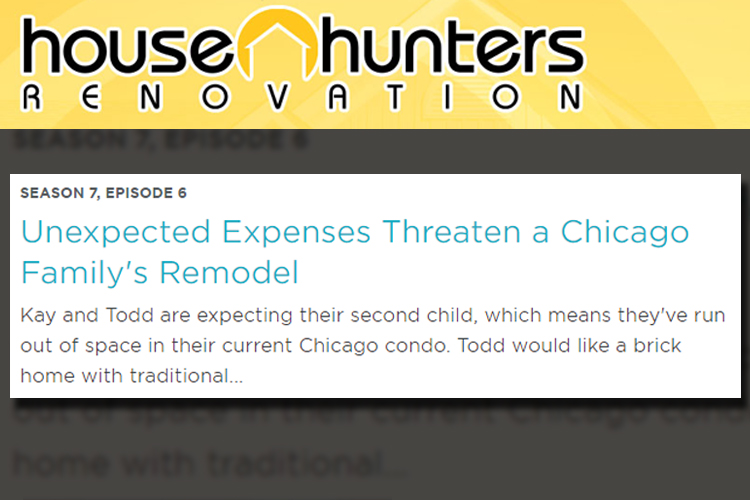 Being the off-camera designer for a variety of shows on HGTV, DIY Network, and Bravo over the past 5 years, being the main designer on HGTV was a perfect natural progression in my career.
People have been asking a ton of questions, so I thought I would get my thoughts out on "paper".
⇒ How were the homeowners?
I LOVED Todd and Kay. They were so fun to work with and had great energy. I loved combining their styles and pushing them out of their design comfort zone (triangle island, anyone?!). If they'd called me to help with their house, I would have worked with them in a heartbeat. Working with them as part of the episode was fantastic as well. I feel lucky to have shared this experience with them!
⇒ How was filming?
I was full of nervous excitement on day 1 of filming, but the nerves quickly wore off. I am not sure if it was just getting comfortable, or the fact that I was more worried about the sweat dripping down my face from carrying all of those heavy samples up and down those front stairs for so many takes! I was so glad to see that I didn't look like I just completed a 5 mile run in that first scene. Filming days were very long, exhausting, but a ton of fun for the most part. Many of you know that I have an intense love for food- so ordering lunch with the crew was one of my highlights. The huge bin of snacks they brought to the set each day didn't hurt either. 🙂
⇒ Were you happy with the episode?
Overall I was thrilled with the episode! I love the end result of the kitchen and the dining space. I feel like we were able to really pull together that original awkward layout, and creative a functional and beautiful space.
⇒ Who did your wardrobe?
Me! I took advantage of the circumstances, and treated myself to a large shopping spree at Zara (much to my husband's dismay). I also used several pieces from my existing closet.
⇒ How was the design process?
The design process was different from my normal process. Typically my process is very interactive, with my clients having a say in the initial design concepts. For the episode though, I designed everything in the space, then presented it to Todd and Kay. The first-run of the presentation was on camera, so I was quite nervous, as I had no idea what their reaction would be. In the end, they loved what I had come up with.
⇒ Did you actually like the granite Todd and Kay chose?
Yes! I loved it, the movement was incredible. The granite we ended up using was beyond our original budget, so it wasn't initially considered. In the end though, we found a way to make it work. Because stone is such a large ticket item when remodeling your kitchen, it is one of those items that I feel should really resonate with the client. I couldn't be happier with our final selection.
⇒ So… what's next?
Your guess is as good as mine! I love the TV industry and hope to be involved more in the future. At this time though, nothing is in the works. That said, we have had an incredibly busy start to 2016.
So, there you have it. I am extremely thankful for this opportunity, and for all of the love and support from family, friends, and clients. The whole experience was wonderful, and I hope to do it again soon.
♥ Xoxo ♥

http://blog.lugbilldesigns.com/wp-content/uploads/2018/08/logo.png
0
0
Erica
http://blog.lugbilldesigns.com/wp-content/uploads/2018/08/logo.png
Erica
2016-07-17 16:05:08
2017-07-11 03:08:32
My House Hunters Renovation Experience