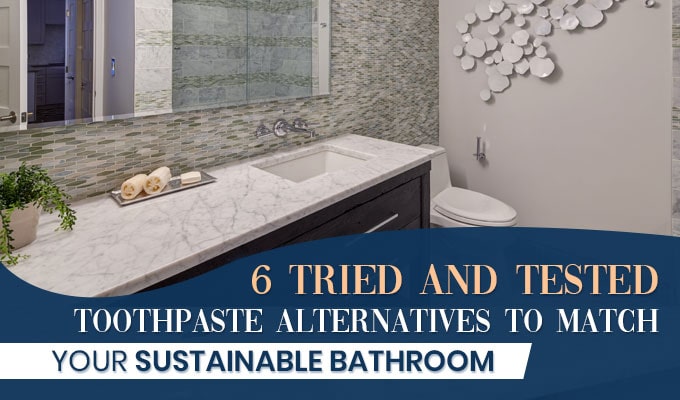 You might be using homemade cleaning solutions as part of a sustainable lifestyle, but have you considered making your own natural toothpaste? With more people realizing that store-bought products often contains harmful substances or comes in disposable packaging, natural toothpaste is now on the rise.
Whip up your own toothpaste, and you can have control over what goes into the recipe. Some of the ingredients may even come from your own kitchen. It helps that these organic recipes can be stored in reusable jars, which are more sustainable than disposable tubes used for commercial toothpaste.
If you want to achieve a truly modern bathroom and an eco-friendly lifestyle, you can give homemade toothpaste a try. To start you off, here are 6 natural and organic toothpaste recipes to choose from.
6 Natural and Organic Toothpaste Recipes to Try
1. Baking Soda and Coconut Oil Toothpaste
This natural toothpaste recipe combines the cleansing power of baking soda and the antibacterial benefits of coconut oil. Its sweet and minty taste comes from organic ingredients, too.
Ingredients:
2 tbsp softened coconut oil

2 tbsp baking soda

1/8 tsp stevia

10 drops peppermint essential oil
Instructions:
Simply mix all ingredients together and store them in a reusable container.
To use, you may dip your brush into the toothpaste or scoop it out with a popsicle stick.
Recipe from The Pistachio Project.
2. Vegan Toothpaste with Vegetable Glycerin
Concerned about animal glycerin in store-bought toothpaste? Here's a natural toothpaste recipe that specifically uses vegetable glycerin for guilt-free pearly whites.
Ingredients:
2 tsp vegetable glycerin

4 tbsp baking soda

1/2 tsp guar gum

8 tbsp water

5 drops peppermint, clove, or citrus essential oil (pure)
Instructions:
Combine all ingredients except for the oil in a pot.

Cook on low heat for five minutes or until the mixture becomes a paste. Stir frequently.

Let the paste cool, and then add your choice of essential oil.

Store the toothpaste in a sterile jar at room temperature.
Recipe borrowed from Mother Nature Network.
3. Natural Toothpaste with Bentonite Clay
Say hello to bentonite clay, which polishes the teeth and helps remineralize it while destroying bacteria all in one go. This recipe mixes bentonite clay with real sea salt, among others, for more scrubbing action and antibacterial power.
Ingredients:
4 tbsp coconut oil

4 tbsp bentonite clay

2-3 tbsp filtered water

1/2 tsp real sea salt

10-15 drops peppermint, cinnamon, or spearmint essential oil

A few drops of liquid stevia (optional)
Instructions:
In a small bowl, combine coconut oil, clay, and salt. Add one tablespoon of water first.

Cream the ingredients together with the back of a spoon. Add more water to adjust the consistency, as well as some stevia to taste.

Add in your choice of essential oil and then mix until the toothpaste is well combined. Keep the toothpaste in an airtight container.
Originally posted on Thank Your Body.
4. Natural Whitening Toothpaste with Hydrogen Peroxide
Hydrogen peroxide is a classic tooth-whitening ingredient. Coconut oil and essential oils cover its faint, unsavory taste, though you can add a few drops of stevia for a sweeter flavor.
Ingredients:
6 tsp baking soda

1/4 tsp hydrogen peroxide

2 tbsp coconut oil (liquid form, warmer than 76

°F

or 24

°C

)

10 drops peppermint, clove, or citrus essential oil (pure)
Instructions:
Put the baking soda in a bowl, and then add the other ingredients. Mix until it forms a paste.

Add baking soda if the mixture is too runny, or coconut oil if it's too thick.

Store in an opaque container, which keeps the hydrogen peroxide from decomposing.
NOTE: As much as you may want whiter teeth, you'll have to choose a different recipe if you have dental fillings. Hydrogen peroxide can cause your fillings to leach mercury.
Recipe also taken from Mother Nature Network.
5. Remineralizing Toothpaste for Fighting and Healing Cavities
Your teeth can stay cavity-free or heal from tooth decay faster with the help of a remineralizing recipe. Check out this toothpaste recipe which includes the trace minerals that your teeth need.
Instructions:
6 tbsp virgin coconut oil

1 tbsp baking soda

5 tbsp calcium carbonate

1-2 tbsp bentonite clay

20-30 drops peppermint essential oil

5-10 drops lemon essential oil

30 drops trace minerals

Filtered water
Instructions:
Simply mix all the ingredients together and store it in a glass jar afterwards. If your toothpaste is too hard or thick at first, just mix in some filtered water.
Originally posted on The Healthy Home Economist.
6. Three-Ingredient Natural Toothpaste
You might have noticed xylitol among the ingredients of several brands of toothpaste. And no wonder–it fights cavities, helps remineralize teeth, and acts as a sweetener all at once! Just try to look for xylitol which is non-GMO and sourced from birch trees instead of corn cobs.
Ingredients:
2 tbsp coconut oil

1 tbsp xylitol

5-10 drops peppermint essential oil
Instructions:
Slightly warm up the coconut oil.

Put all ingredients into a jar or bowl. Mix until they're fully combined.

Store the toothpaste in a small jar.
Recipe taken from Scratch Mommy.
NOTE: Sharing your homemade toothpaste with the rest of the family? You might want to have one toothpaste scoop or jar per member to prevent contamination. Also, do your best to keep water out of the toothpaste jar, or else the water may become a breeding ground for bacteria.
These 6 tried and tested natural toothpaste recipes can give you clean and healthy teeth while doing away with disposable containers or harmful ingredients. Try switching to natural toothpaste in your bathroom, and you can be a step closer to a zero-waste lifestyle!
Liked this article? Visit our blog regularly for more posts about interior design and sustainable living.
http://blog.lugbilldesigns.com/wp-content/uploads/2019/08/x-Tried-and-Tested-Toothpaste-Alternatives-to-Match-Your-Sustainable-Bathroom-1.jpg
400
680
Justin
http://blog.lugbilldesigns.com/wp-content/uploads/2018/08/logo.png
Justin
2019-06-17 00:39:17
2019-08-26 00:39:42
6 Tried and Tested Natural Toothpaste Recipes for a Sustainable Bathroom