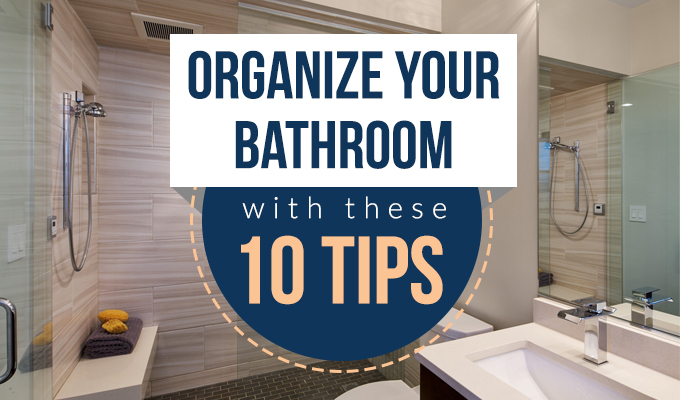 Bathrooms are meant to be comfortable places where you can relax and pamper yourself. However, the aesthetic of even the most stylish bathroom can be thrown off by crowded drawers and cabinets full of expired medicine and old shampoo. These rooms have a tendency to become cluttered, too, especially if you find yourself coming home with new towels or beauty products fairly frequently. If you often wish that your bathroom were more organized, here's a list of 10 tips that you might find helpful.
10 Tips to Declutter Your Bathroom
1. Purge Your Supplies
Time to throw your bathroom cabinets and drawers open! Keep only what you'll still be able to use. Toss expired medicine, old potpourri, and bulky packaging. Take the opportunity to wipe the cabinet down, saying goodbye to clumps of dust and strands of hair.
Arrange daily essentials such as soap and toothbrushes on the counter. You may be surprised at how much room will be left.
2. Put a Lazy Susan in the Closet
It can be dizzying to open a cabinet and behold a small crowd of shampoos and creams. Instead of lining up these products, place them on a small lazy Susan instead. To reach a particular item, all you have to do is spin the tray around. You'll be able to get what you need without knocking over everything else.
3. Divide Up Your Drawer Space
Do you ever feel that your drawers can fit more than they currently do? You may be right. Fit your drawers with semi-fixed dividers, which you can adjust to hold different products and maximize space. If you're on a tighter budget, you can also buy several plastic mini-bins for a similar result. You might be left with small bits of wasted space, but you'll still know just where to find what you need when you're in a hurry.
Does your bathroom dresser include too many deep drawers? Don't just toss in razors and compacts until they pile up. With vertical dividers, you can use this drawer to store smaller items standing up.
4. Install a Slide-Out Tray
You might have unpleasant memories of having to crouch in front of a base cabinet whenever you needed the plunger or glass cleaner. A slide-out tray in the cabinet will make it much easier for you to reach these items without groping around. The tray will also be handy for storing rags or a first-aid kit.
5. Use the Wall Space Near Your Shower
If you're about to buy a new shower head, try to look for one that comes with built-in shelves. Otherwise, you can purchase a hanging organizer. Put shampoos and soaps here instead of balancing them on the windowsill or the end of the tub.
6. Collect Your Kids' Bath Toys
It's nice to treat your kids to bubble baths, but it's not so nice to have foam alphabet letters and slippery rubber ducks littered around the bathroom. Take an extra laundry lingerie bag, put bath toys inside, and hang it from a suction cup hook for the toys to dry.
7. Keep Everything in Sight
Have you ever found yourself running late because you misplaced your cream or medication in your bathroom cabinet? Or have you bought a new lip balm, only to find that your old one was hiding in the corner of your dresser the whole time? You'll probably find clear containers handy. Buy yourself some acrylic, plastic, and glass holders so that you can quickly find what you need. Install risers on cabinet shelves to store more smaller items and keep them visible at a glance.
8. Hang Items Inside Cabinet Doors
Yes, you can get a bit more storage space by utilizing the insides of your cabinet doors. Just stick on a magnetic knife strip and a couple of adhesive acrylic holders. Clips, bobby pins, and metal nail tools can go on the knife strip while nail polish and makeup can sit in the acrylic containers.
9. Hide Your Trash
Another good way to use the inside of a cabinet door: attach a trash can. This way, you free up floor space while keeping bathroom garbage hidden. Try mounting the lid on one of the cabinet's interior walls. Whenever you open the cabinet door, the trash can will open together with it.
10. Buy Yourself Some Baskets
For each wicker basket you purchase, you can store a few more extra bath supplies. A set of baskets can keep cabinets tidy or hide items you'd rather keep out of sight. Customize them with labels made from paper tags and string. In the case that you buy too many baskets for your bathroom cabinet, you can mount a pair above your toilet and use them as shelves for rolled up towels or fresh changes of toilet paper.
Research has repeatedly shown that clutter can actually affect our state of mind–that is, the mess in your bathroom can actually make you uneasy. Now, taking a warm shower only to be stressed out by all the clutter doesn't sound very appealing, does it? Stay organized by following these 10 tips, and you can feel refreshed in body and mind whenever you walk out of your bathroom.
If you're looking for more ways to upgrade your bathroom, you might also want to read up on 15 space-saving bathroom ideas.
Was this article helpful? Visit our blog for more advice on home improvement and interior design.
http://blog.lugbilldesigns.com/wp-content/uploads/2019/03/Organize-Your-Bathroom-with-These-10-Tips-Featured-Image.jpg
400
680
Justin
http://blog.lugbilldesigns.com/wp-content/uploads/2018/08/logo.png
Justin
2019-03-21 00:57:21
2019-03-21 00:59:50
Organize Your Bathroom with these 10 Tips