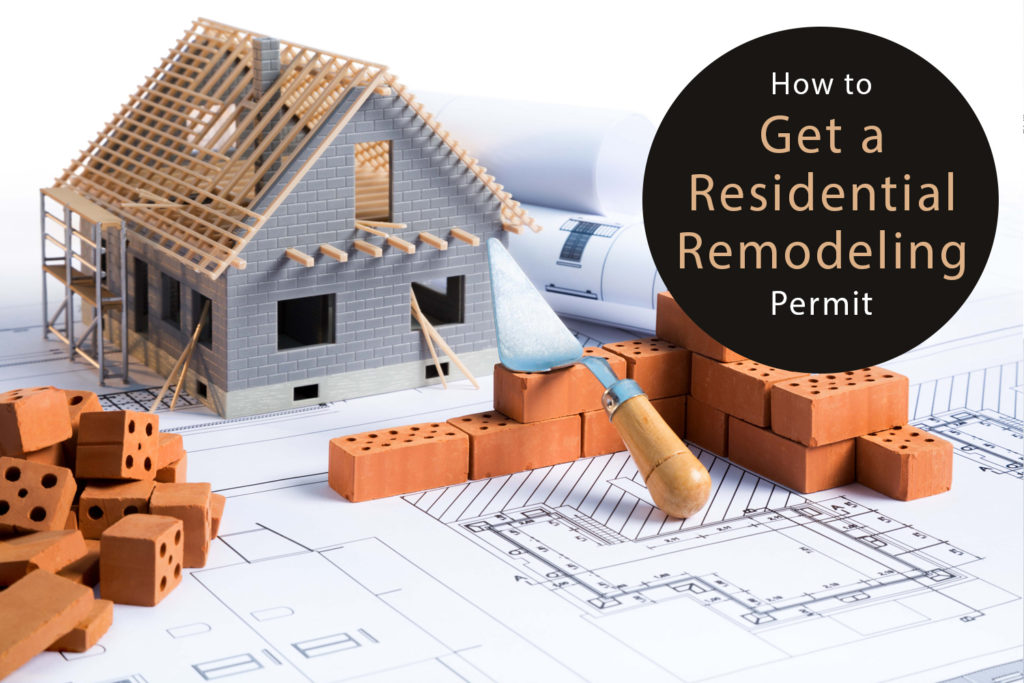 In part two of this article series "Guide to Getting Permits in Chicago", we talked about why you may need to pull a permit for a residential remodel.  In this article, you will learn more about the necessary paperwork you have to prepare, how each process of securing a permit works, the cost of building permit fee, and the penalties for failure to obtain one or having an expired permit.
Step by Step Process: How To Get a Building Permit
After identifying what type of permit you need, you're ready to go through to ordeal of obtaining it. Here are some of the options:
Easy Permit Process Program
How it works:
Fill out the application form. You can then submit this together with additional documentation (requires PIN no.) in one of the City Hall offices.
Be sure that the owner of the house duly signed the Easy Permit application form.
Also provide a copy of contract signed by the owner and the contractor together with a signed letter of intent for general contractors and/or plumbing contractors, as it may be applicable.
In this process, no appointment is required and and usually you may get the permit the same day you applied
A detailed flowchart containing the instructions for every step of the process is found here.
Standard Plan Review
How it works:
The application is submitted through E-Plan.
Only the architects, structural engineers and expediters are allowed to apply for a Standard Plan Review.
A detailed flowchart of the instructions to take when applying for plan review is found here.
Homeowners Assistance Program
This program is for owner-occupants of single-family homes who will personally apply for a building permit that requires plan and drawings (not subject to Easy Permit Process Program).
The permit registration may be done by your contractor but a representative of the City may still want to speak to you about your project. Make sure to always follow up with them and ensure that they actually got it before starting any construction process. Oftentimes, it is best if you arrange for your designer or contractor to pull permits, as they better understand the city's timeline for approval and the requirements for the permit process and which project really needs a permit.
Residential Remodeling Permit Requirements
Here are the list of general and specific requirements you (depending on the scope of your home improvement project) need to accomplish for a successful application of Residential Remodeling Permit:
Easy Permit Process Program
Here is the required information that may be applicable for your residential remodelling project:
EPP Application including
Cook County PIN #
Electrical Application
Signed contract between owner & contractor
Original Letters of Intent from contractors
Proof of building ownership
Certificate of Responsibility for owner occupied residential bldgs.
Certificate of primary residence for owner occupied residential buildings
Photographs of areas of work
Plat of survey
List of required contractors
Notarized letters from owner and contractors for contractor changes
Note: *Also see this list on the flowchart, link provided above.
Homeowner's Assistance Program
As this kind of application may include plans and drawings, it has a long list of requirements
General Requirements:
Building Permit Application
Plans
Project address printed on each sheet
Excavation certificate (for projects that include new or reworked foundations)
Plat of Survey
Certification of Primary Residence (certifies that the
Notarized Certification of Responsibility (only when The homeowner intends to act as the general contractor/subcontractor)
Aldermanic Acknowledgement Letter
Photographs of proposed area of work
Zoning Items Required:
Driveway Application (only if the project include alteration or addition of new driveway)
Zoning Approval for projects with drawings and plans
Energy Conservation Code Items Required
Energy Conservation Code Worksheet
Landmarks Commission Items Required
Landmarks Review (If the house is a landmark or is located in a landmark district
Architectural Items Required
Site Plan
Architectural Floor Plans
Wall Sections (provide a full wall section showing the elevation of all floor levels and the foundation wall for alteration and additions)
Building Elevations
Code Notes
Light and Vent Schedule
Structural Items Required
Plumbing Items Required
Plumbing Fixtures (Plumbing fixtures on floor plans)
Plumbing Riser Diagrams
Plumbing Fixture Schedule (Specific details of all new fixtures)
Ventilation Items Required
Complete HVAC Plans
Ventilation Equipment Schedule
Electrical Items Required
Electrical Permit Application
Electrical Plans
For further information about the requirements , you can refer to this checklist. Always remember that if all of this is overwhelming, you can hire a contractor or an expeditor to do this for you.
Calculate The Cost of A Permit
The cost of securing a building permit from the Chicago City government is dependent on the type of construction project, the type of building and occupancy of the house, and the scope of project.
As of December 11, 2016, the building permit fees were increased. For ease of checking how much the permit fee may cost, a cost of permit calculator is available in City of Chicago website.
Important note:
To avoid penalties, start your construction within six months after the issuance of permit. If the construction did not start within the period, you should apply for a reinstatement of permit to carry on the construction. Note that this application is subject to approval by a City Hall Building Department supervisor.
Here are the details on the applicable fees:
After 6 months up to 12 months, 25% of the original fee is charged to extend the permit.
After 12 months and less than 3 years, 50% of the original fee is charged to extend the permit.
After 3 years and less than 5 years, 75% of the original fee is charged to extend the permit.
After 5 years, 100% of the original fee is charged to extend the permit.
(source)
What Happens if You Fail to Get a Residential Remodeling Permit
Failing to get a residential remodeling permit might subject you to certain circumstances such as:
The City issuing a stop work order on your project;
If there is a loan to finance the project, lender may decide to end the contract
A prospective buyer, who has the right to ask about the obtained permits, backing out of a deal
While we made this guide to assist in the permit process, please realize that you should always review the updated requirements, as these can change frequently. You can check for updates from the Chicago City hall website.
http://blog.lugbilldesigns.com/wp-content/uploads/2018/08/logo.png
0
0
Justin
http://blog.lugbilldesigns.com/wp-content/uploads/2018/08/logo.png
Justin
2016-10-18 10:06:34
2017-07-11 03:28:48
[PART 3] Guide To Getting Permits In Chicago: Residential Remodeling