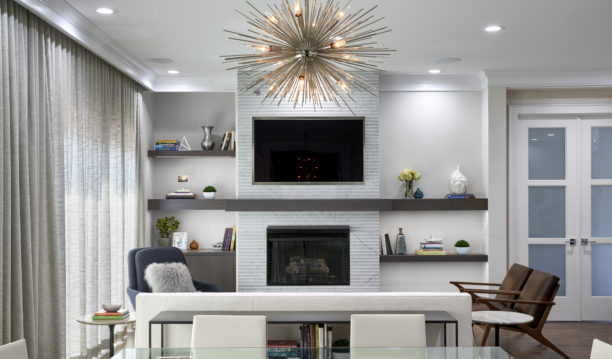 When you first decide that your home is in need of a total makeover, you often have a vision in mind for what you want it to look like. The trick is to find an interior designer that can help make that vision come true. But just like any other project, seeing your makeover through from beginning to end will take a lot of communication. To make sure you and your interior designer are on the same page, consider the following four questions.
What Can You Do With My Budget?
Before you get started, it's important to know what your interior designer can do with your budget. This helps give context to the scope of your project. Of course, if at any point during the process you'd like to raise your budget, you're more than welcome to do that too. Sometimes, a slow design process works better for clients, as it can help to see what additions you might want to make to a room as the project is unraveling. In the meantime, you can grow your budget by using helpful apps that let you save without thinking. Doing so will give you the flexibility to provide your designer with much more creative freedom.
How Long Would a Project Like This Take?
As the question implies, this will depend on what you're looking to do and how quickly you're looking to go about it. Do you just want to add a few finishing touches? Then the process shouldn't take a few months. Do you want to completely overhaul a room (or several)? Then this process will require more time. Asking your designer this question will give you an idea of what timeframe you can expect and help make sure you're not rushing any design decisions. 
What Style Do You Specialize In?
If you've decided to contact an interior designer, then chances are you went online and liked what you saw. If you haven't looked yet, check out a portfolio of past work and see if it aligns with your vision of what you'd like to do. If you have some ideas of your own, or if you saw something online or in a magazine that caught your fancy, let your designer know what your vision is and see how they can help you achieve it.
Do You Have Any Testimonials?
Pictures are one thing, but actually hearing from past clients is a great way to learn about their experience with the designer and what you can expect during your own. Lots of good reviews are a good sign, but you might also want to consider the review itself, what type of remodel they had done, and who they worked with. You can typically find testimonials on your interior designer's website, but you might even find reviews on social media channels to be useful as well!
http://blog.lugbilldesigns.com/wp-content/uploads/2019/08/living-big24-e1566553144170.jpg
359
612
Justin
http://blog.lugbilldesigns.com/wp-content/uploads/2018/08/logo.png
Justin
2019-08-23 00:47:56
2019-08-26 00:36:20
4 Questions to Ask Your Interior Designer