Introduction: Designing Your Kitchen
Planning a renovation is tricky. This is especially true for kitchen renovations where every small detail could make or break the general outcome of the task.
Kitchen redesign should not merely be an afterthought as it opens you up  to, quite possibly, the most important changes you could make to your respective homes. For one, redesigning your kitchen will allow better use of the space you have. Second of all, it will influence a better flow of work and establish better kitchen habits. There are also simple problems that can be dealt with through kitchen renovation and these include misuse of the vital aspects of the kitchen such as ventilation and working spaces.
However, you have to understand that as much as household spaces such as the kitchen call for our personal touch, it is important to consider getting the aid of professional interior designers. Not only are they knowledgeable enough to provide us with essential dos and don'ts but also, they are more exposed to the specifications a kitchen redesign would call for.
Creating the appropriate layout for the space will be vital, which makes hiring a professional interior designer more important to help you organize and make the most appropriate use of your space. Aside from the design aspects of the renovation, there are also technical factors that need to be considered in order to fully maximize the potential of the space. These technicalities should be handled professionally to avoid unnecessary damages and added spending.
There are certain rules on kitchen redesign that can only be handled well by a professional. Likewise, you can also find loads of resources that will inspire you to redesign your kitchen. To encourage you further, this article compiles some of the best kitchen layouts and design ideas that you can also use for your home with the help of a professional interior designer!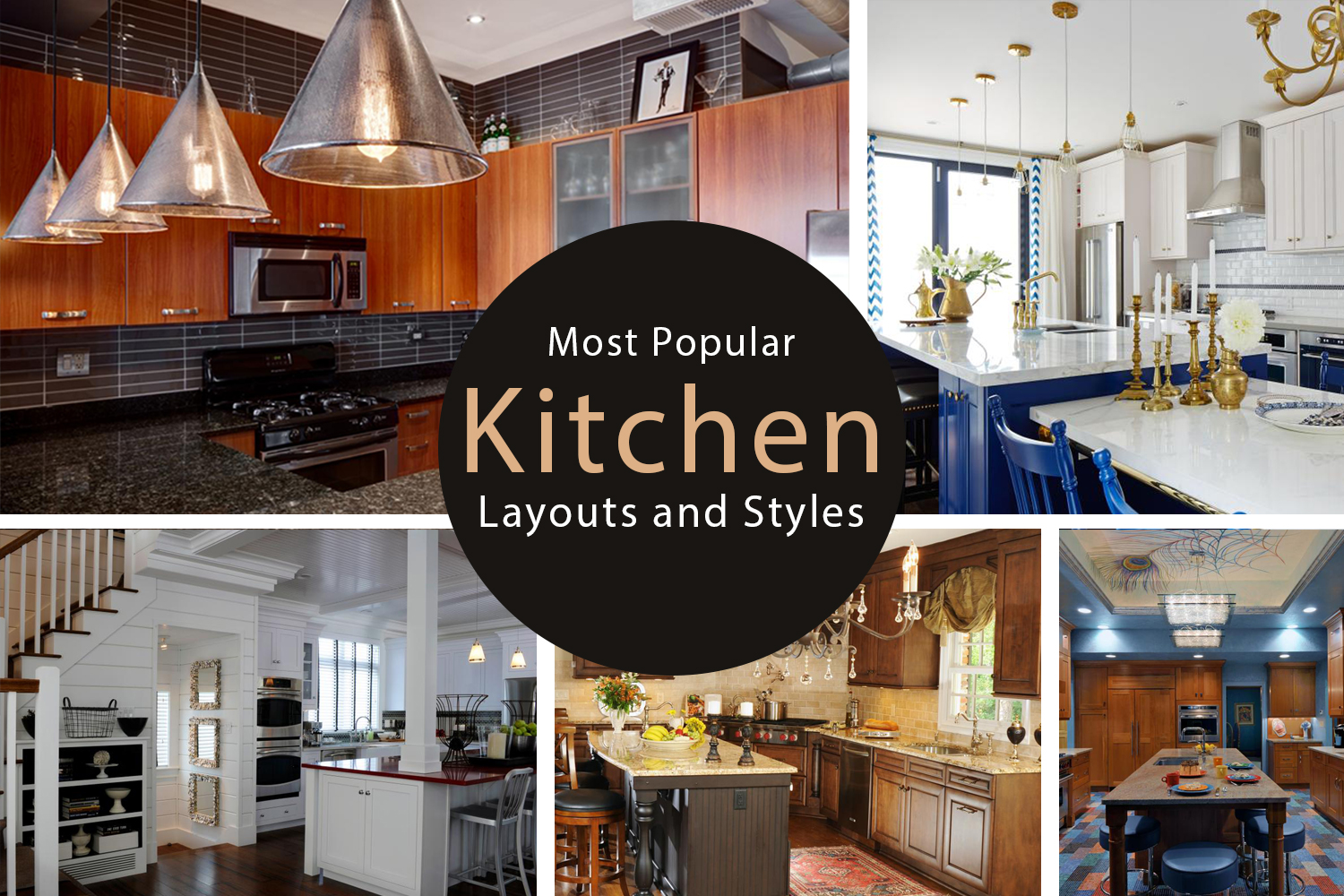 Most Popular Kitchen Layouts and Styles
Back in the day, kitchens are secluded and hidden behind closed doors, serving only one purpose. But given the advancement in design architecture, today's kitchens not only serve as venue to feed your gastronomic feast but can also be a setting to entertain guest or even spend quality time with the family. For the millennials and tech-savvy, a kitchen serves as a media centre to shoot their cooking blogs or other kitchen-related form of entertainment.
Popularly-designed fixtures, storage areas and countertops are now dominating kitchens all over the world to meet consumers growing demands for a breathtaking kitchen. From traditional to contemporary, mediterranean to Paris chic, there are a vast amount of kitchen design to choose from that will best work for you and your personal style.
Are you starting a kitchen project from scratch or redoing your entire kitchen?  Here are 10 Kitchen Design ideas to help you get started.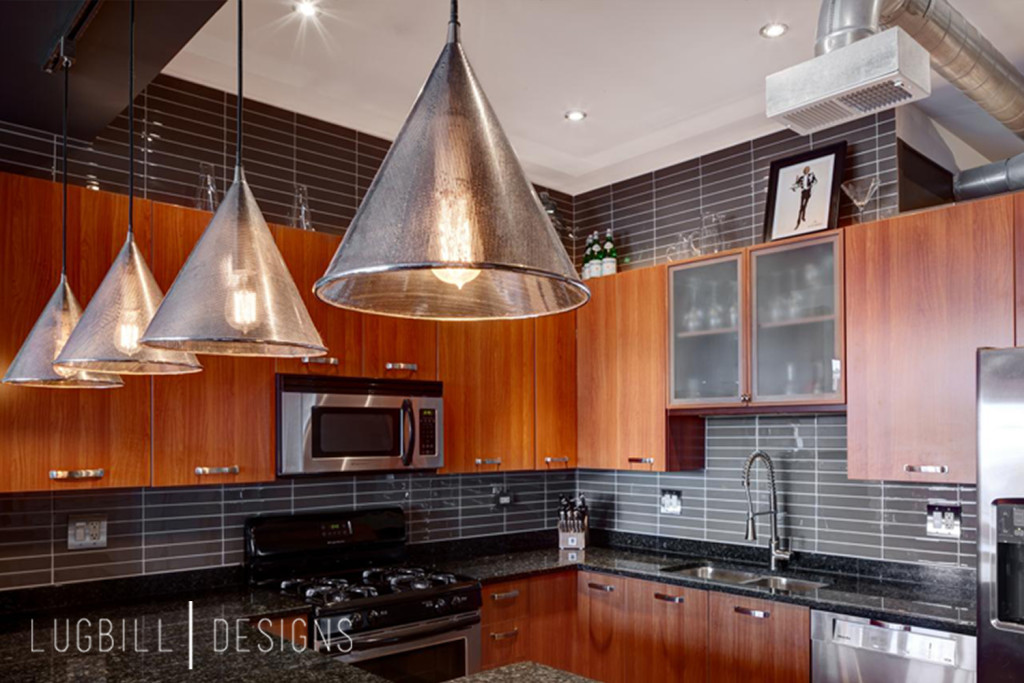 #1. Modern Kitchens
Sleek aesthetic, sophisticated finishing, and technology incorporation are what defines a modern kitchen. Most kitchens following this design flow consist of frameless cabinets, flat-panel door style, c-channel hardware, untreated concrete, rift-cut wood and marble floorings, use of horizontal lines, and less of ornamentation and design pattern for a clean and clutter-free workspace. Cap off your modern kitchen design with accents such as bar stools, lightings,  tables and chairs, plants, cooking books and the likes for an eclectic kitchen design.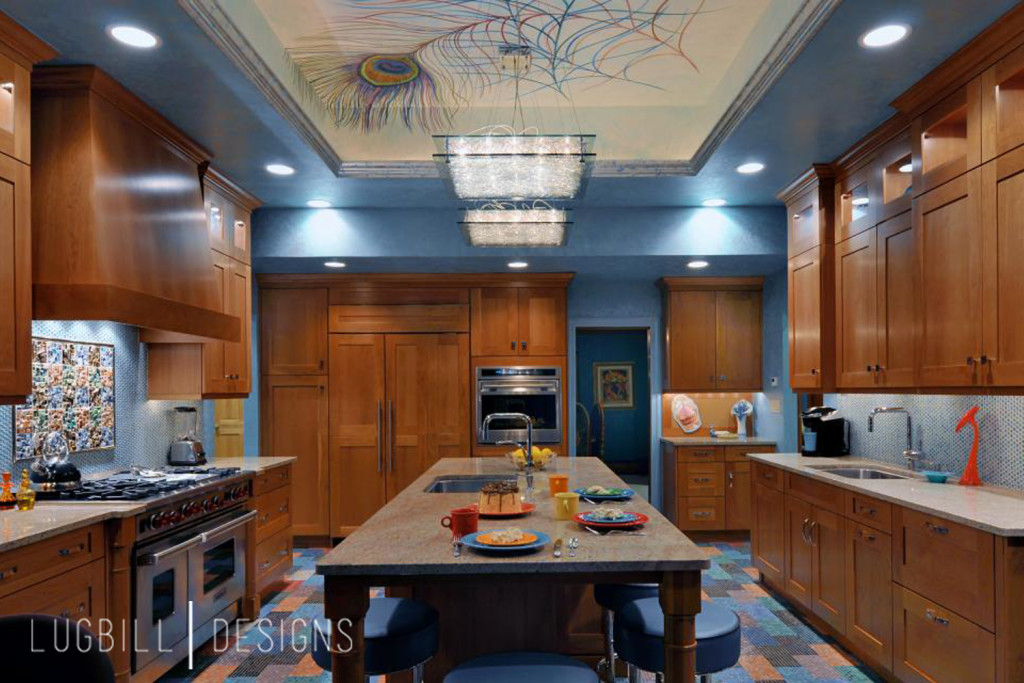 #2. Traditional Kitchens
Traditional kitchens are delineated with its details and embellishments giving kitchens a timeless, artisanal look. It uses intricate moldings, antique finishes, multiple layers of design patterns, raised panel doors and extravagant chandeliers. Unlike in modern kitchens, traditional kitchens has multiple cabinets for different storage purposes that often have different designs option such as hutch-style cabinets, paneled glass doors, furniture-style cabinets, raised and tall cabinets. Moreover, traditional kitchens uses luxury materials such as marbles, granites, mahogany finishes, and blocks which is especially evident in countertops.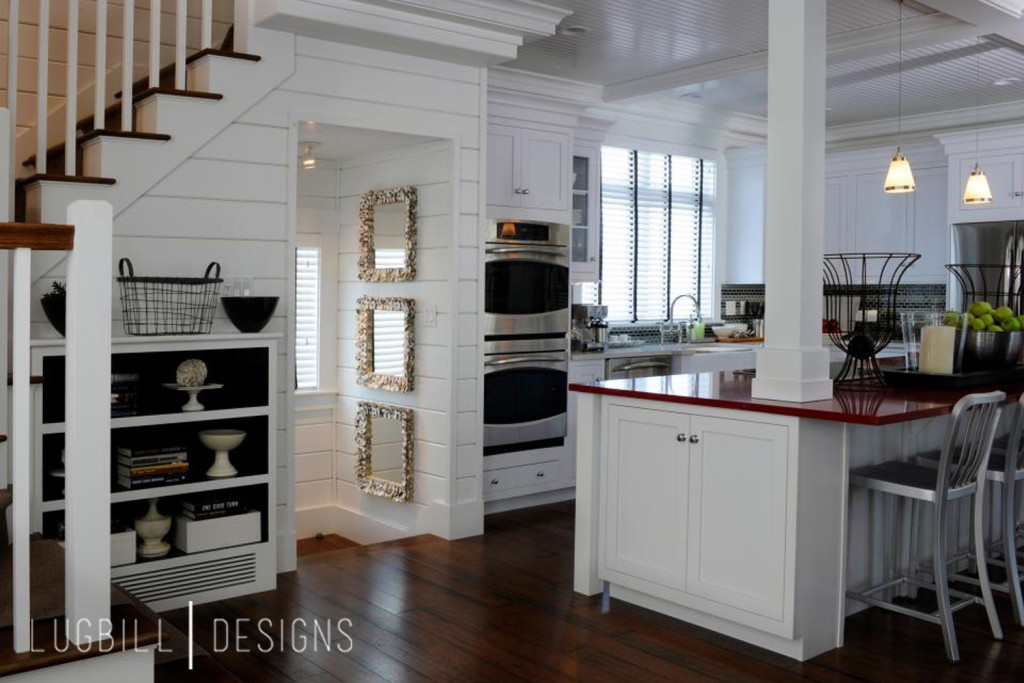 #3. Cottage Kitchens
Ideal for people who yearns for a more simple, cozy-looking kitchen that doesn't require over-the-top kitchen furnishings. It follows practicality and function over form and aesthetic. Soft colors are the appropriate choice for cottage kitchens such as white and ethereal colors. Similarly, the cabinets in cottage kitchen are open like the ones on modern kitchens but it serves more of a utilitarian purpose rather than for display. Beadboards and country-inspired sinks are also common in cottage kitchens as well as vintage-looking lightings.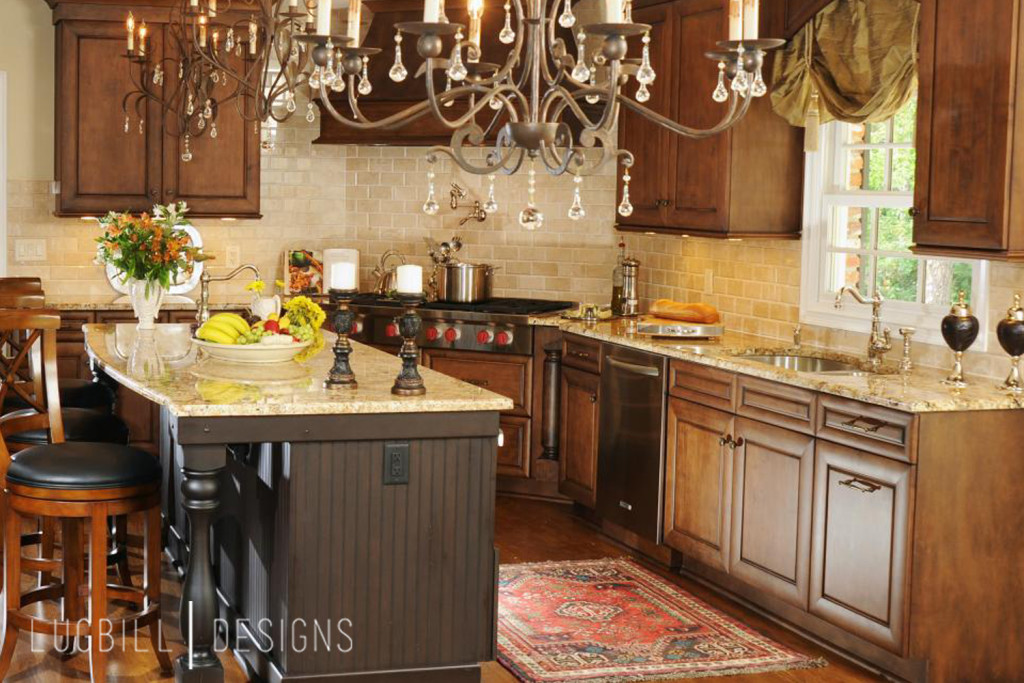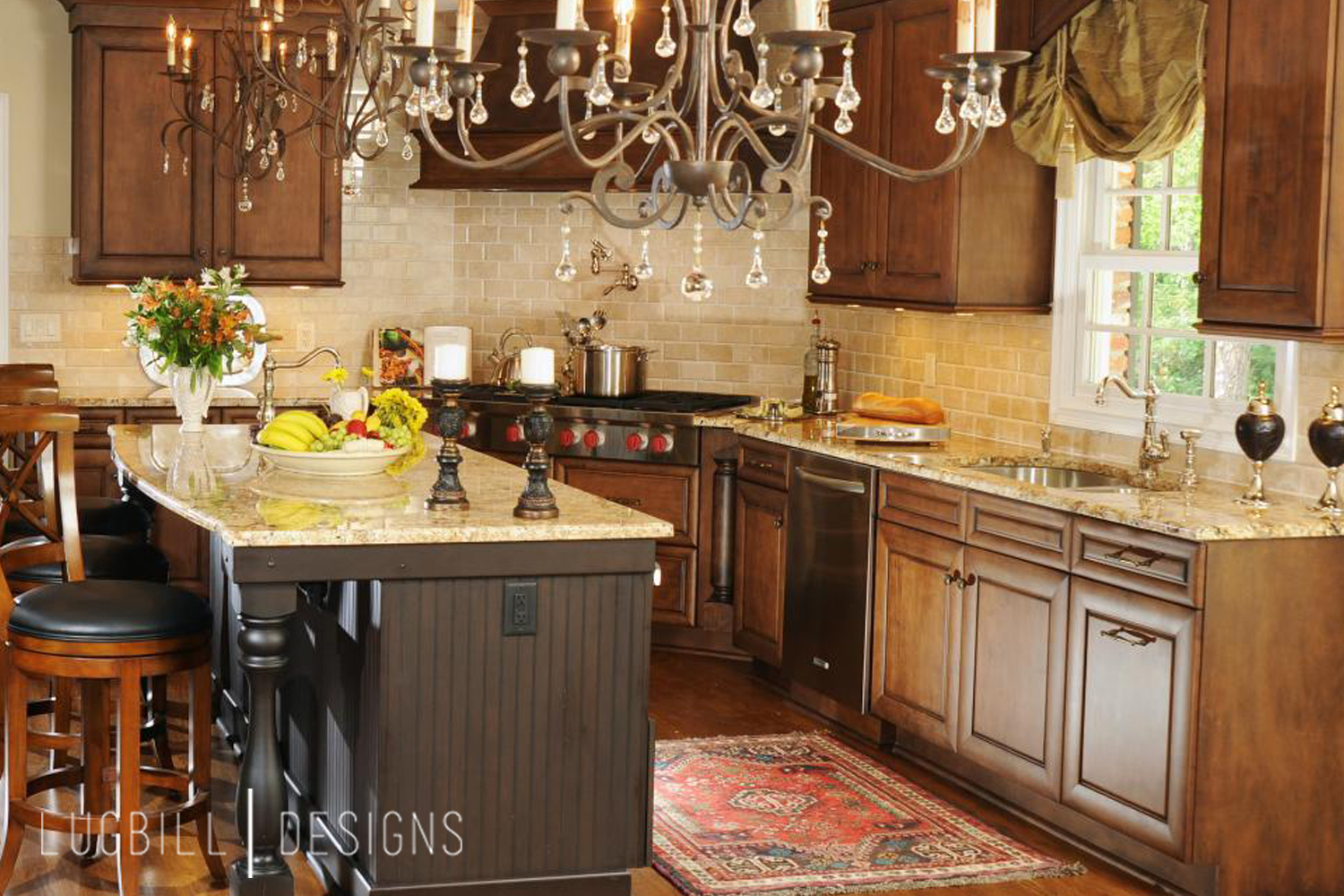 #4. Mediterranean-style Kitchens.
Reminiscent of a house in Tuscany or a Spanish villa, mediterranean-style kitchens boast of a rustic concept yet refined and romantic ambiance. Earth-tones, eroded textures, brass finishing, warm palette, flared hoods, hardwood cabinets and tiles, beamed ceilings, and medieval accents are some of the features of a Mediterranean-style kitchen. In some kitchens of this design, pops of bold colors are added that reflects the white-sand beaches and environment of the Mediterranean.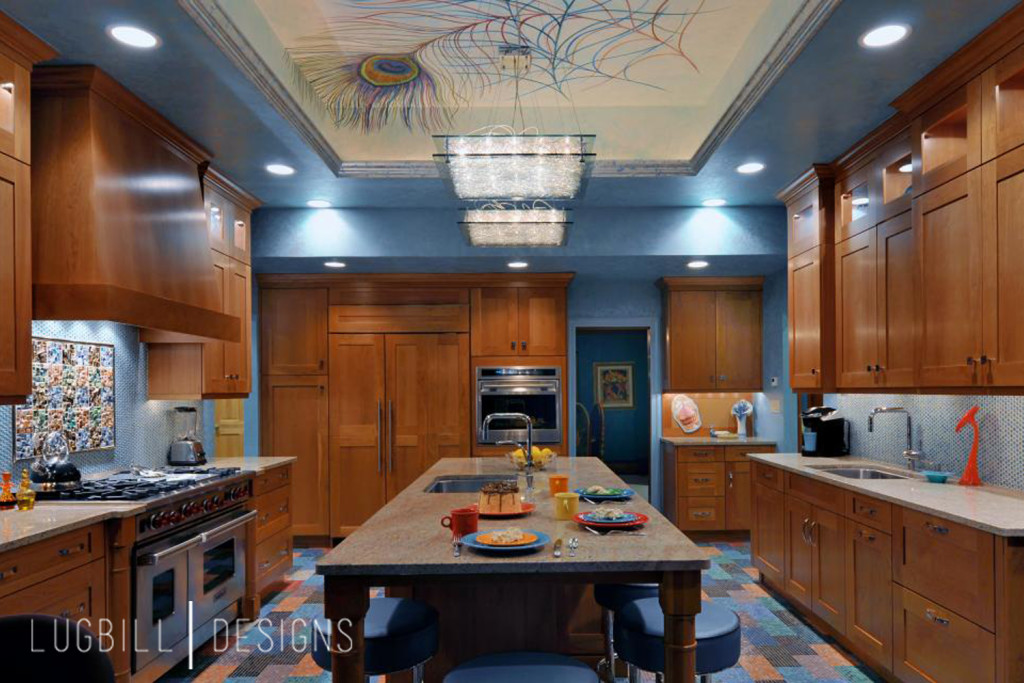 #5. Transitional Kitchens
If you are a person who sticks with traditional yet want to embrace a piece of modern design, transitional kitchen is the perfect for you. This design offers flexibility as it balances the ornate and warmth vibe of traditional design and the sleek and simple aesthetic of modern kitchen. The countertop uses versatile materials such as marble and granite that can fit one's modern or traditional desire. Cabinetry in transitional kitchens on the other hand have a streamlined look but still uses classic wood material. Following the modern design aesthetic, transitional kitchen is designed with less accents, cleaner patterns and display, and monochromatic and neutral colors for a warm, welcoming effect. Pops of color and graphics are also added for a traditional feel but shouldn't be excessive to keep the harmony between the two concepts.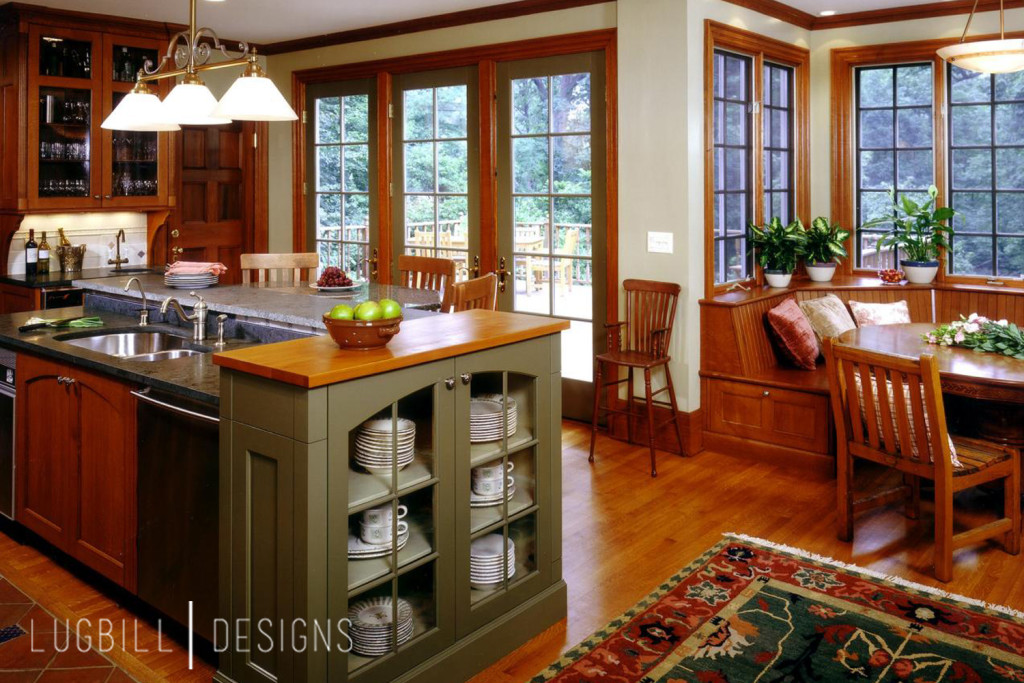 #6. Craftsman Kitchens
Anything but functional is the best way to describe a craftsman kitchen. The design of this kitchen takes you back to the 20th century with each furnishing resonates the elegance and refinement of the Victorian era. Indigenous wood such as oak, maple, and pain  material is the main fixture of craftsman kitchen, complemented with warm palettes in fixtures and hardwares. But apart from wood, tiles are also a main staple of craftsman kitchens, which is visible in countertops, backsplashes, and islands. For Cabinetry, they are either frameless or has a flat-panel door with glass panes and has less decorative stance. Additionally, the lighting is usually in a form of chandelier, sconces, or pendants with strong geometric lines for a subtle modern touch.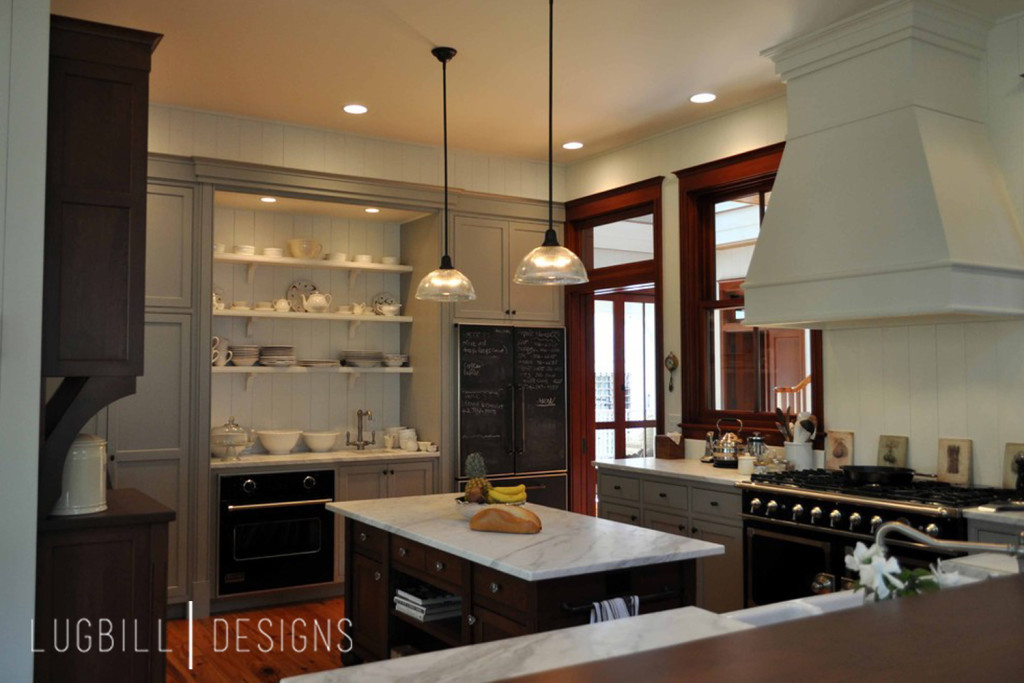 #7. Paris bistro Kitchens
Take a piece of Paris in your kitchen by following this design architecture. This kitchen design emanates the rich dining culture of brasseries and cafes that the city has to offer. Add a sense of Parisian style in your kitchen by using low-hung lightings or table lamps, rattan and cane chairs, and striped or black & white fabrics to design your kitchen. Paris bistro kitchen has checkerboard or geometric-shaped tiles to add a visual appeal. Appliance in this kind of kitchen often has continental touch like brasserie-style dishware as well as countertops that are often made in zinc for a bonafide Paris bistro feel. Top it off with a traditional chalkboard used to regularly announce the soup and charcuterie.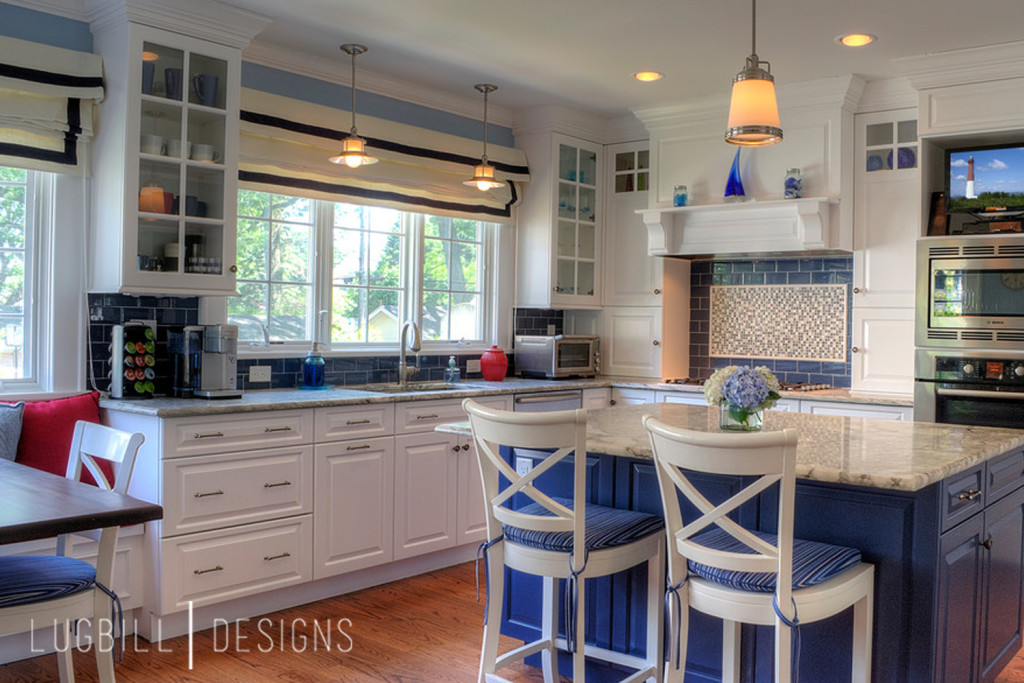 #8. Coastal Kitchens
Having a coastal kitchen is like living in a beach resort everyday. From light colors in soft hues to fabrics and patterns that is highly nostalgic of white-sand beach and crystal clear waters are what makes up a coastal kitchen. The predominant material in a coastal kitchen is hardwood and are often raw especially for wood materials such as oak, maple, cherry, and mahogany. The windows on the other hand are also significantly larger to welcome the warm sunlight as you cook or do the dishes. For decorative accents, they are mostly sea-themed which includes driftwood, seashells, artwork, tiled murals, and sand. Likewise, lighting are strategically placed in key areas where kitchen work is mostly done like the sink, countertop, and stove.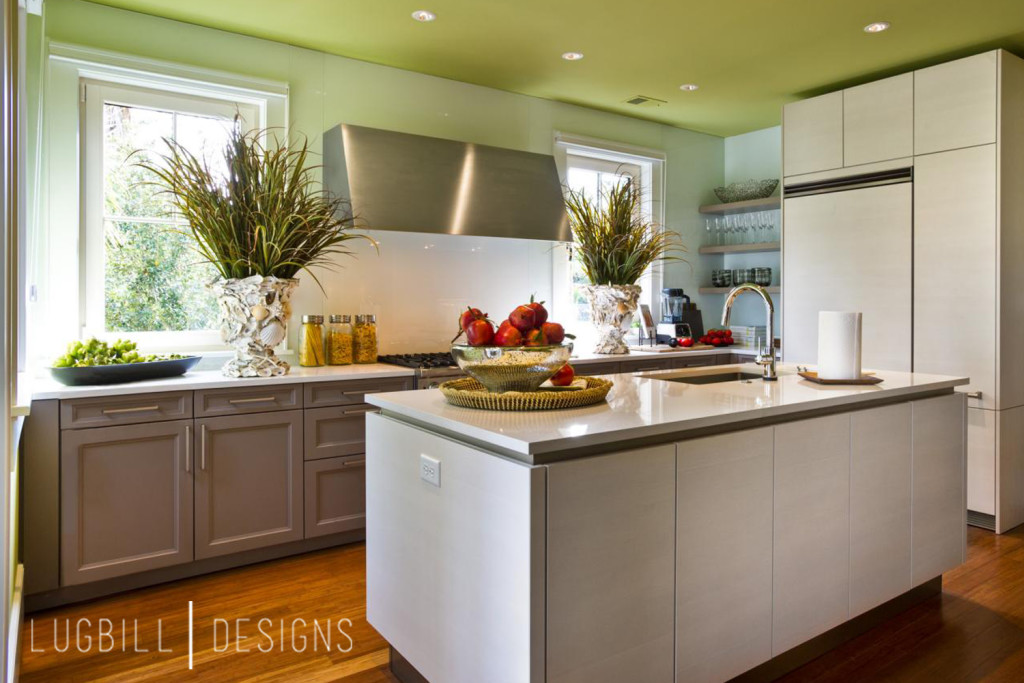 #9. Rustic Kitchens
Rustic  kitchens exudes an open and inviting vibe through industrial furnitures, stone and brick tiles, masonry walls, wood floorings and of course a fireplace. Farm tables and steel appliances mixed with wooden and oak countertops resonates an authentic country farmhouse.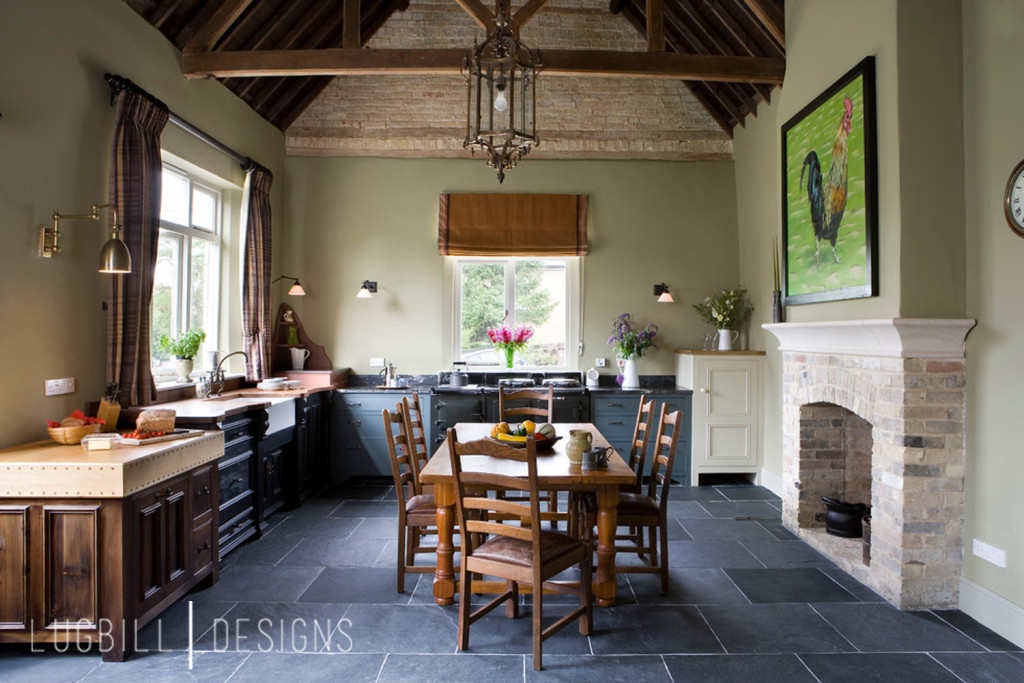 #10. Country Farmhouse Kitchen
Have a countryside vacation within the comforts of your kitchen with this design concept. Country Farmhouse design are composed of natural elements and are designed to make its guests comfortable regardless of what filthiness them may bring in. Just like in the country, every furniture is made of quality hardwood with pine, maple, cherry, and oak as the most trivial choice. But the focal point of this design is the farmhouse sink.  It is relatively deep to cater a large amount of dishes at the same time. Although it may be a classic choice, it is still stylish because of the porcelain or stainless steel material the sink is ordinarily made out of. Accessories used to ornate a country farmhouse kitchen include plaid and toilet pattern, canning jars, wooden handles, and farm equipment to add an authentic flavor to the kitchen.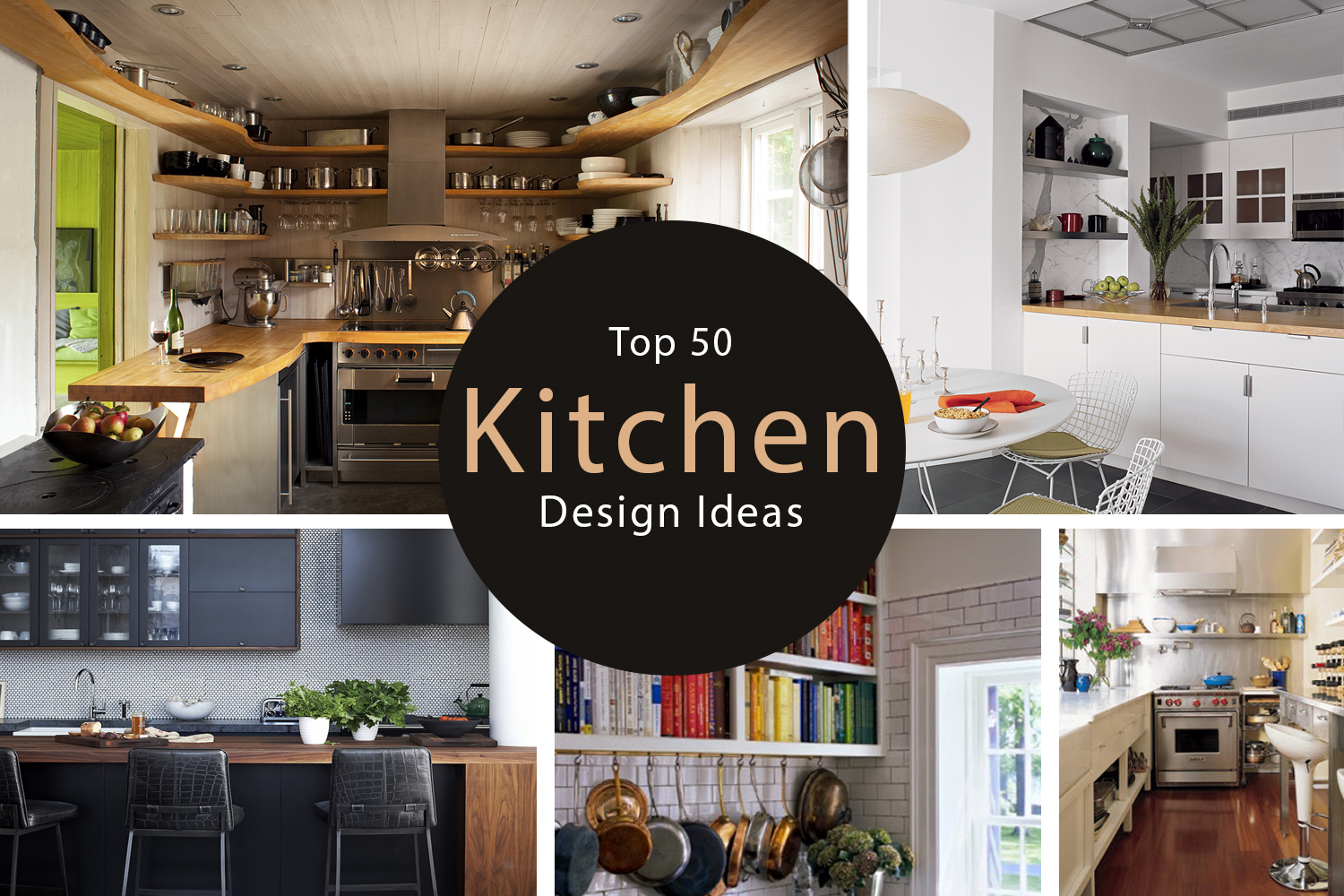 Top 50 Kitchen Design Ideas
Are you running out of ideas for a kitchen design? In search of professional advice to create a kitchen that is trendy and functional?
This section presents a collection of some of the best kitchen design ideas from other top interior design companies that you can use as inspirations. Recreate the designs in your home or add a personal touch to make your space as elegant and eye-catching as the ones featured below.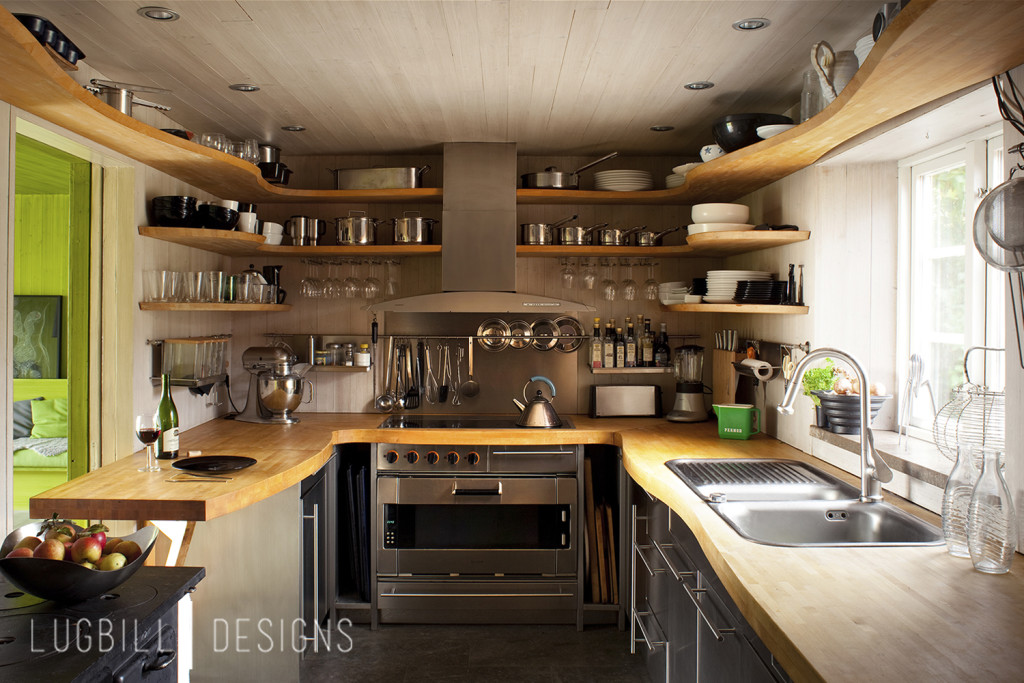 #1. Form and Function
Shelves are the easiest way to locate and access all your kitchenware. Plus, wooden shelves are the perfect mix to stainless appliances.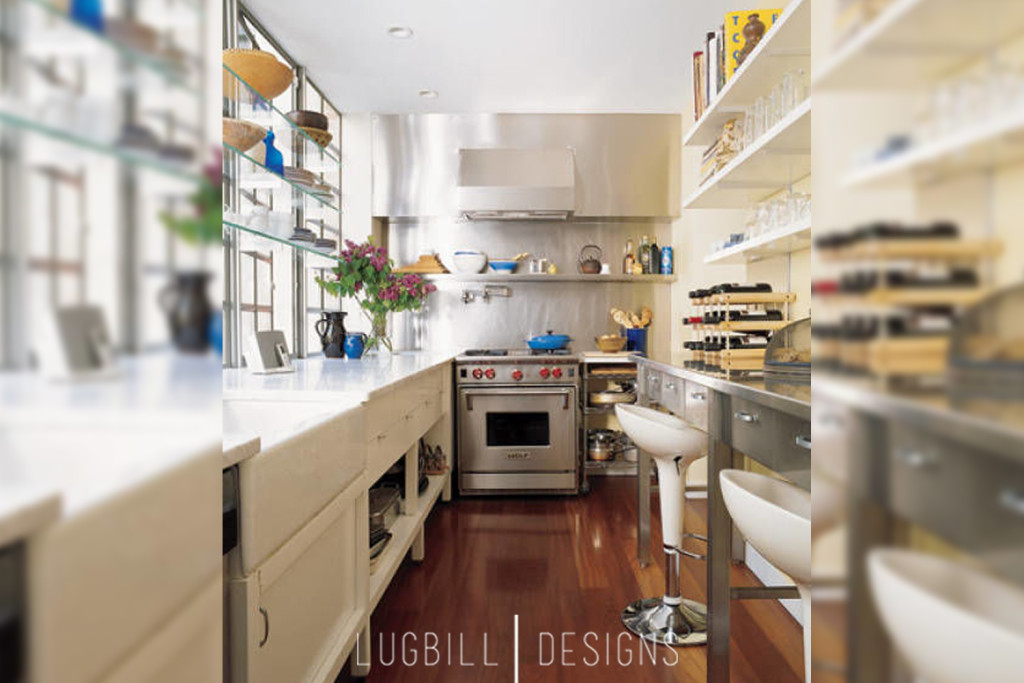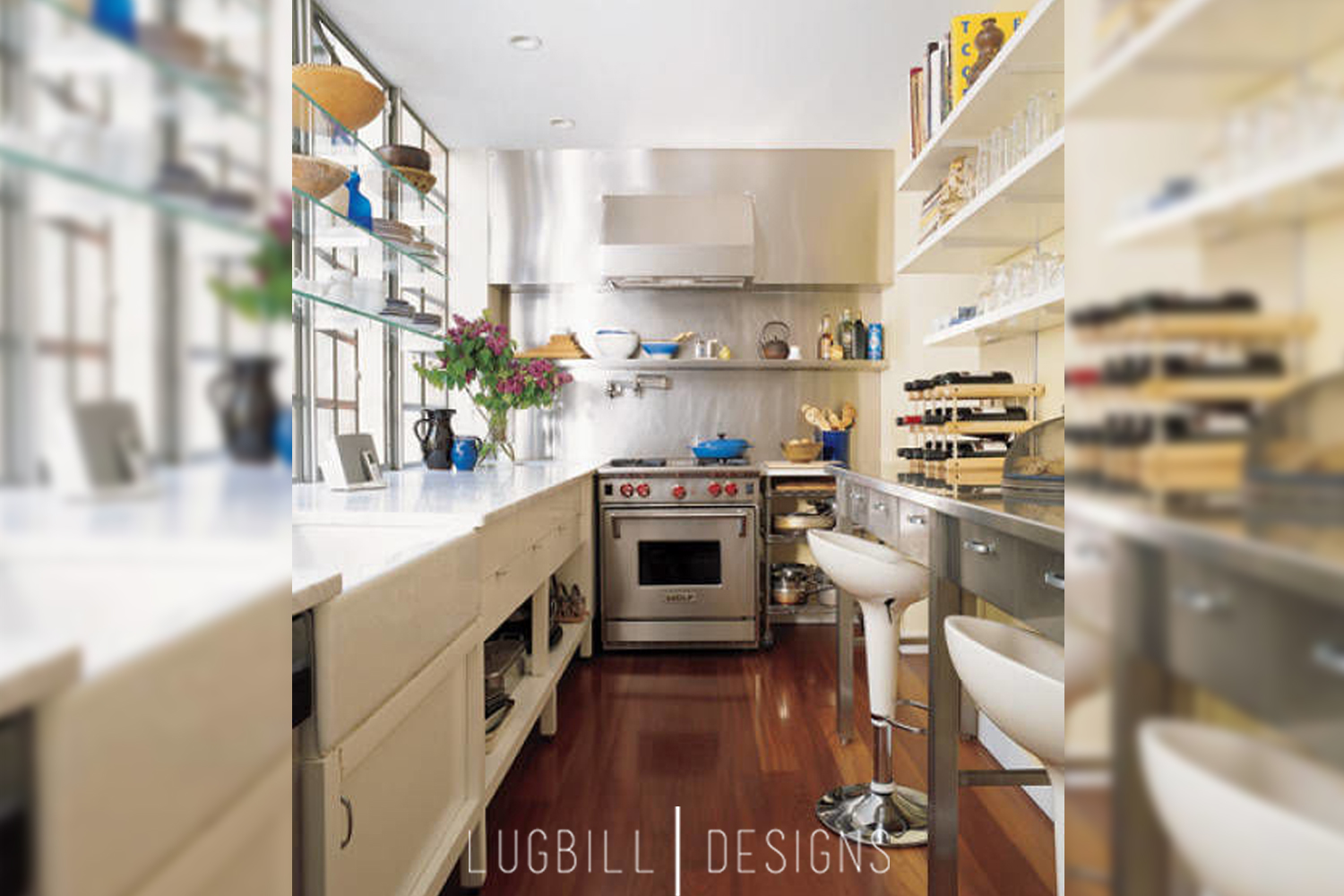 #2. New York-Style
Small spaces can still accommodate an amazing kitchen. Keep all shelves and cabinetries on the side to have easier access to all your appliance. You can also use silver counters just like they do in New York restaurants.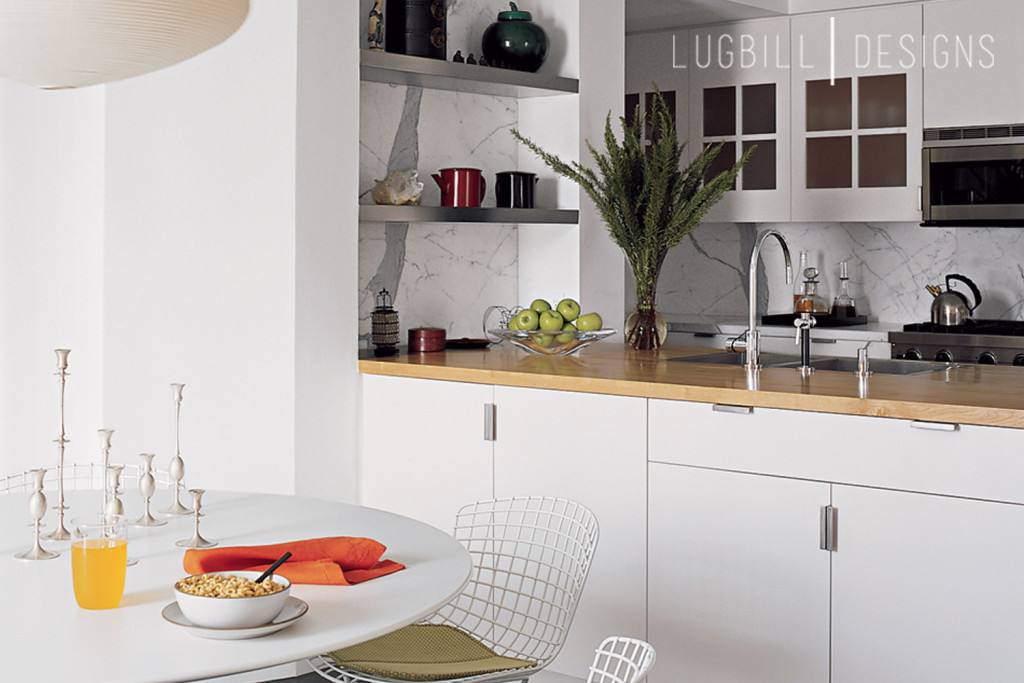 #3. Fresh from the oven
Place your dining area near your kitchen to save space and be able to accommodate and interact with your guests as you prepare the food.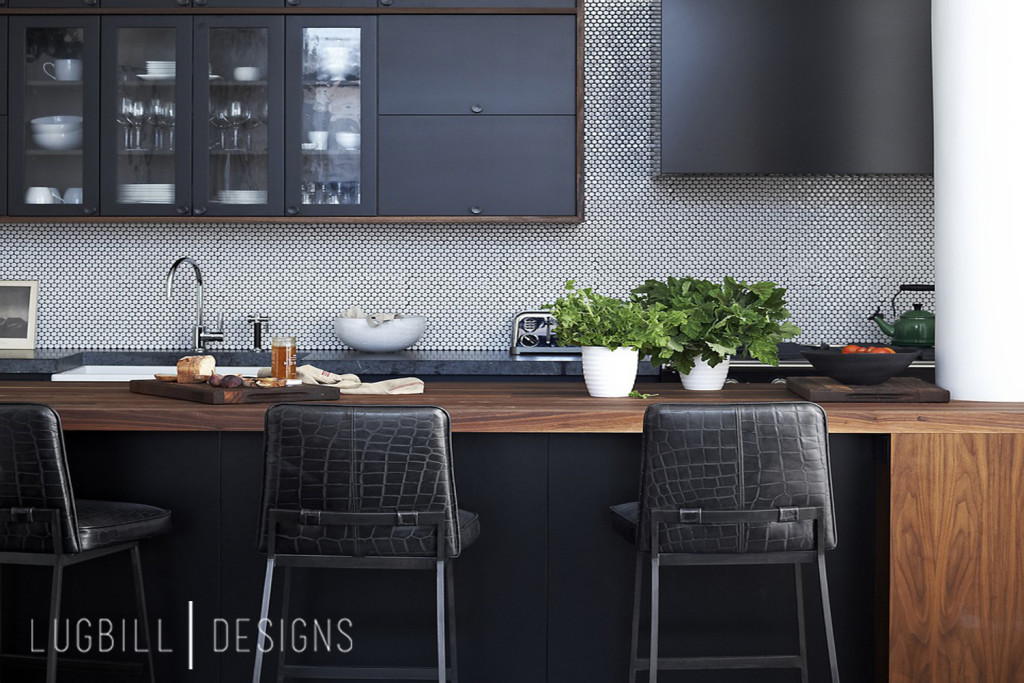 #4. Dark and Sexy
Black is unusual for a kitchen, but the color has dominated modern interior design. Keep it sexy yet classy by mixing black with different colors, patterns, materials, and texture.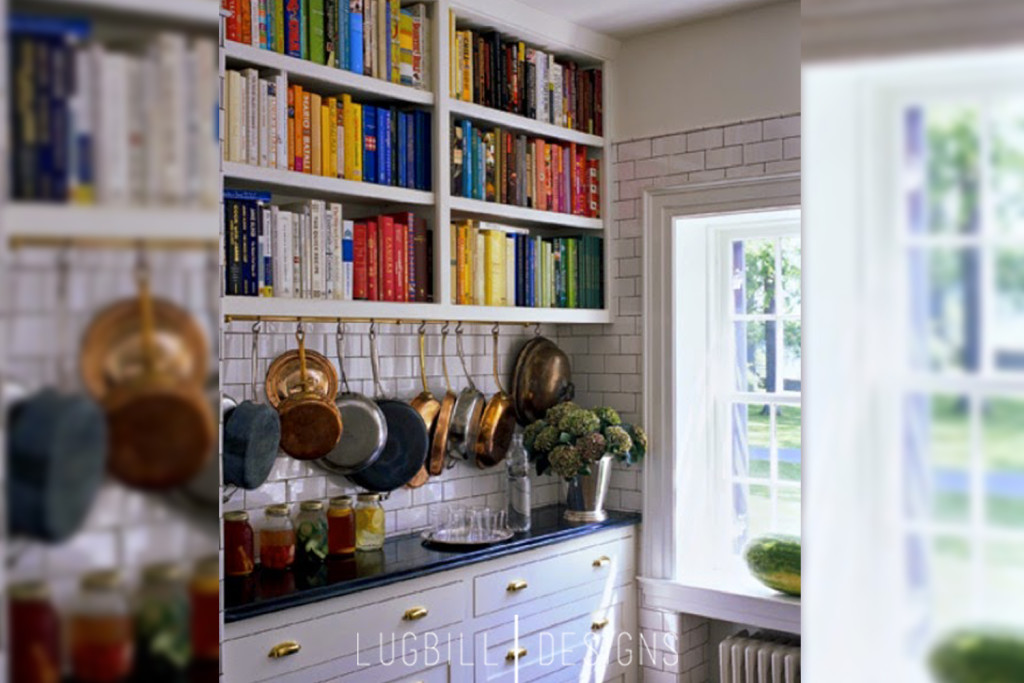 #5. Book While You Cook
Turn your kitchen into a library by stacking up your all your cookbooks. Who said only pans and other kitchenwares can be displayed?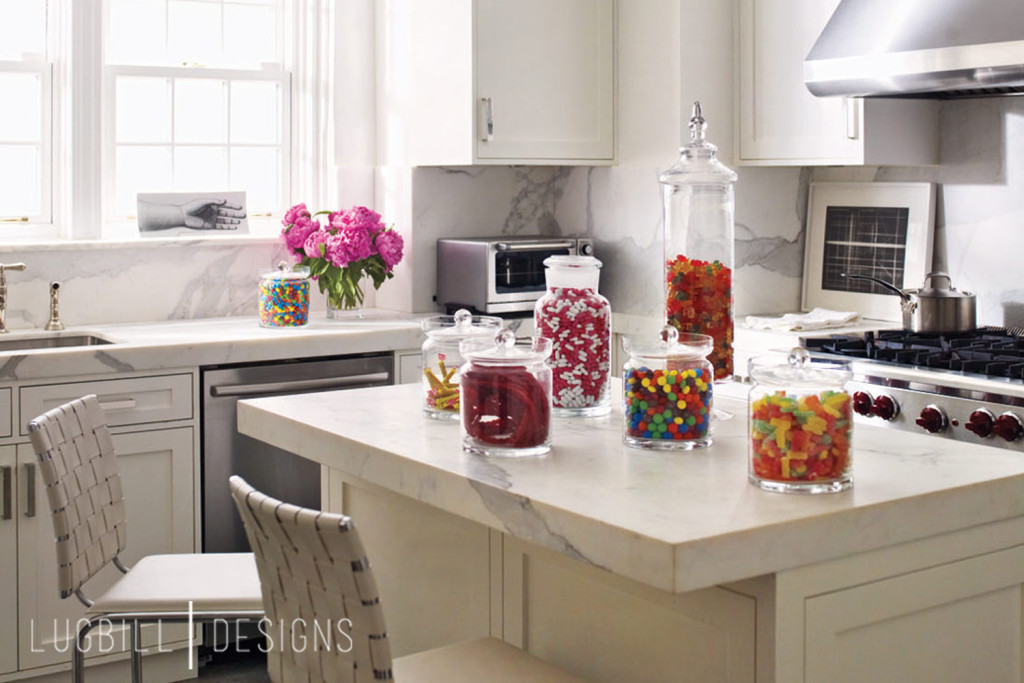 #6. Neutrals
Keep it plain and simple by using neutrals like beige, cream and ecru with a hint of color through deconstructed flowers and ornaments.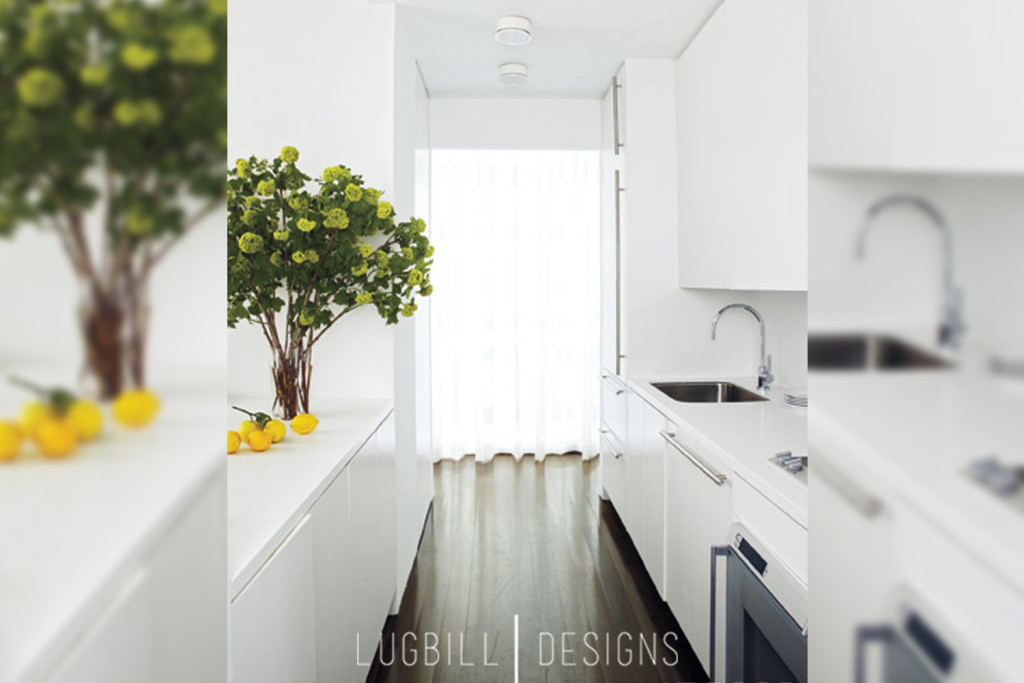 #7. Bright White
Compliment your white kitchen by adding a window that directly welcomes the sunlight. Add colors through fresh plants and display  for visual appeal.
#8. Stoneage
Live like a Greeks by using stones and brick walls to decorate and accentuate your kitchen. Untreated wood for countertops and displayed pottery also gives off a vibe of a Taverna.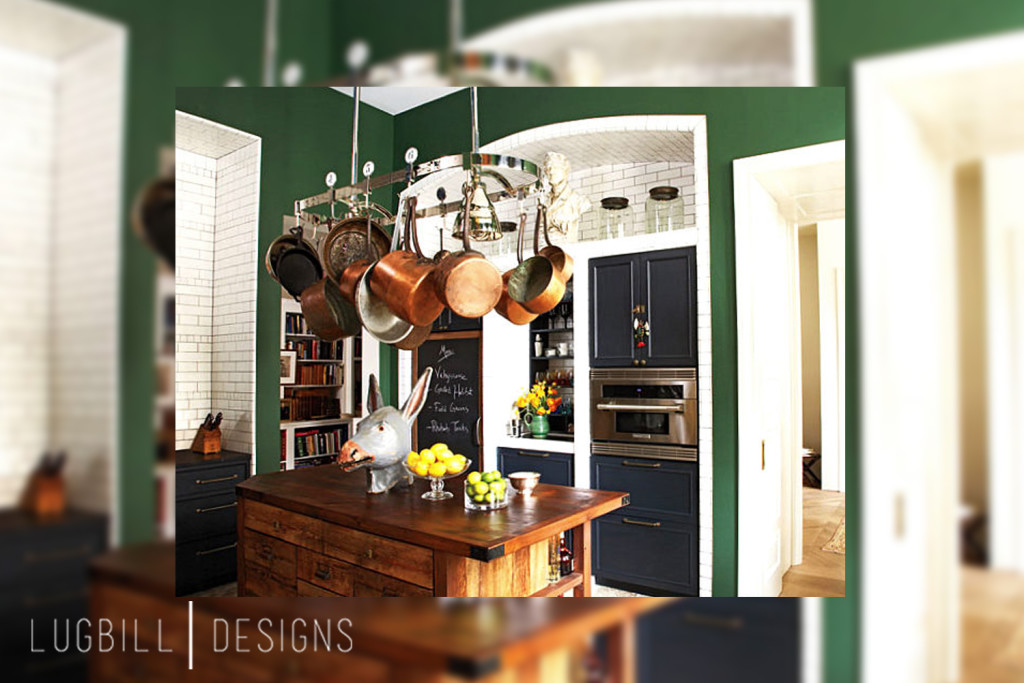 #9. Hanging Pots
Emanate a traditional French kitchen by displaying your pottery and kitchenware by hanging them above the kitchen counter or island.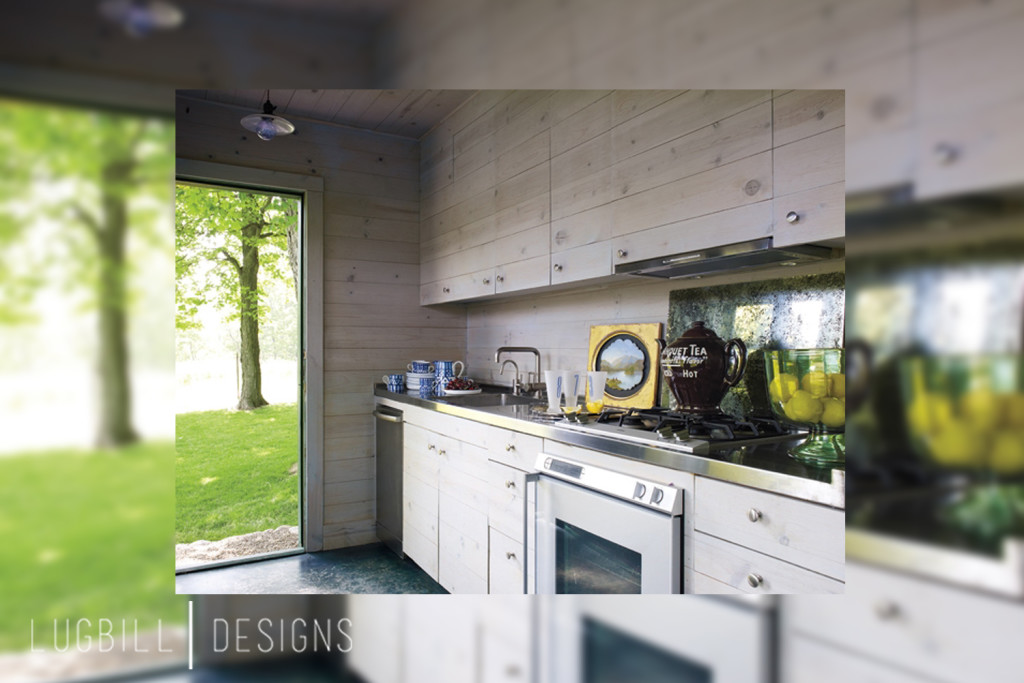 #10. Natural Looking
Embrace the beauty of the wilderness by using monochromatic and nude colors that resonates the simplicity of nature.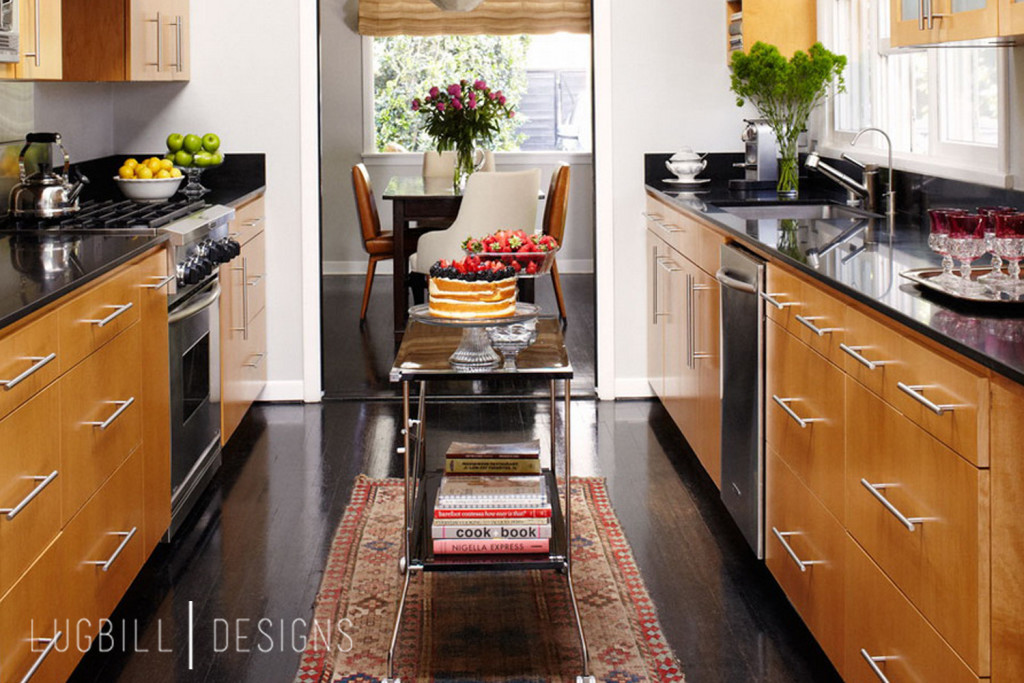 #11. Utilization of  Space
Spacious kitchen does not mean you need a large area. Just learn how to maximize your space by storing kitchen equipment that fit together!  Small space? No problem.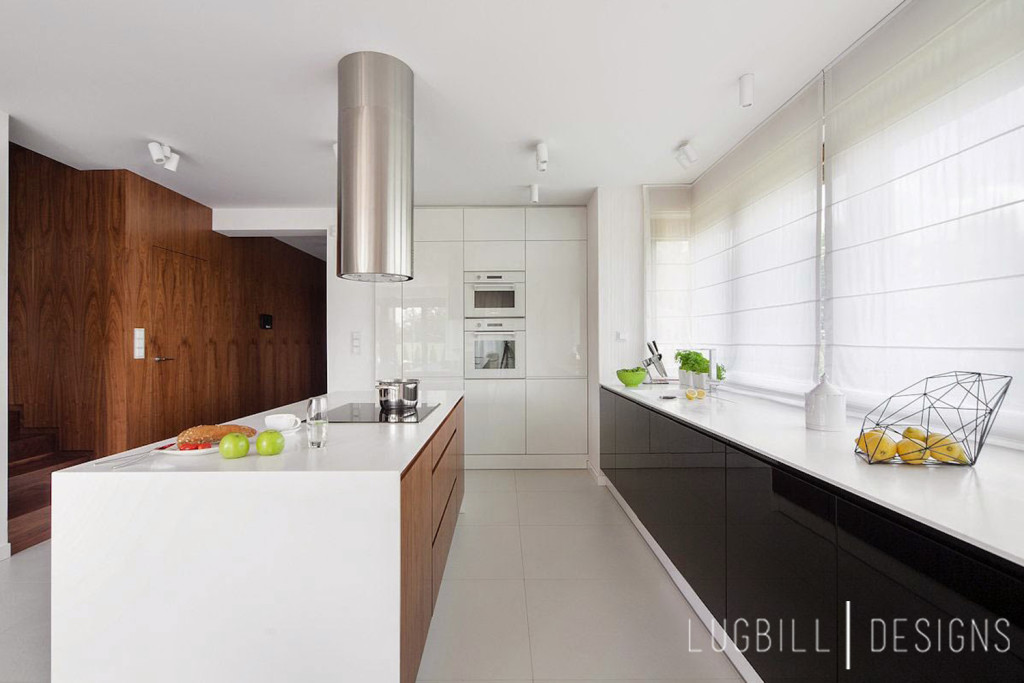 #12. Less is More
Warmer tones, heavy equipment and cluttered working area would all make your kitchen look crowded. Use simpler tones and more efficient equipment. The simpler, the better.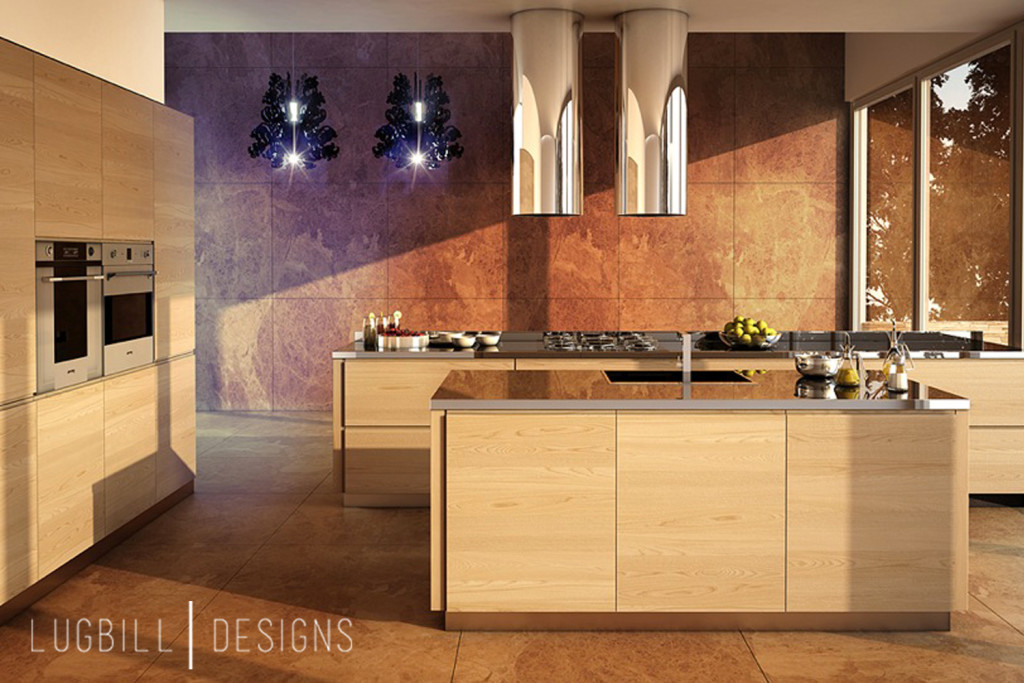 #13. Brighten Up
What's more uplifting than getting a dose of some light? Open a part of your kitchen to allow some natural light to come in. Pretty cool energy-saving hack right there.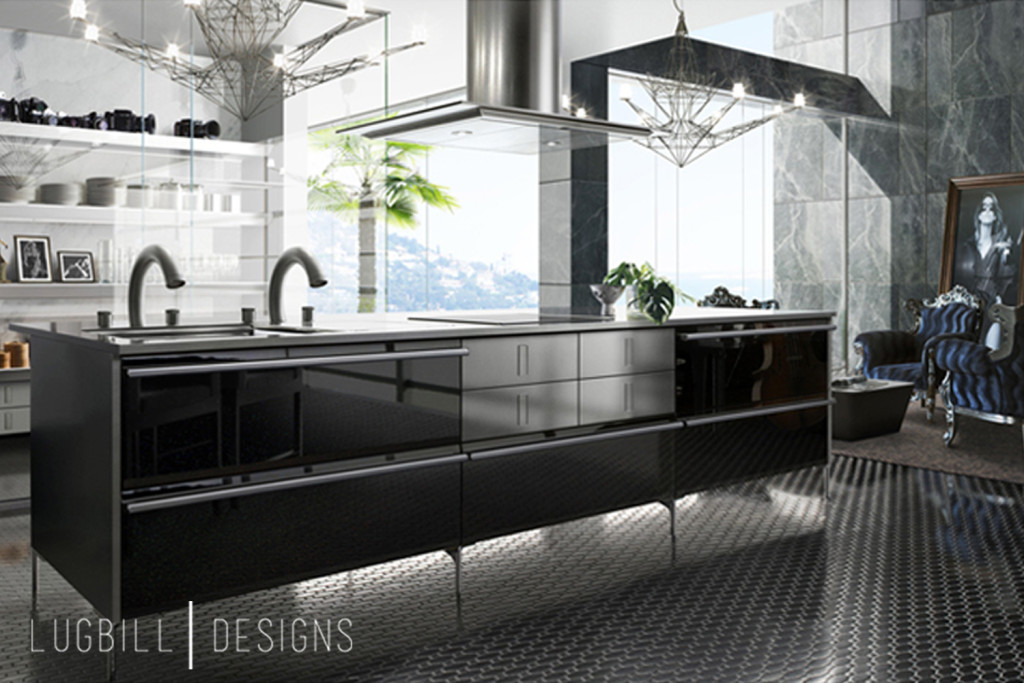 #14. Stainless Elegance
Never take stainless equipment for granted. They're light, durable and would surely give your space a more elegant edge!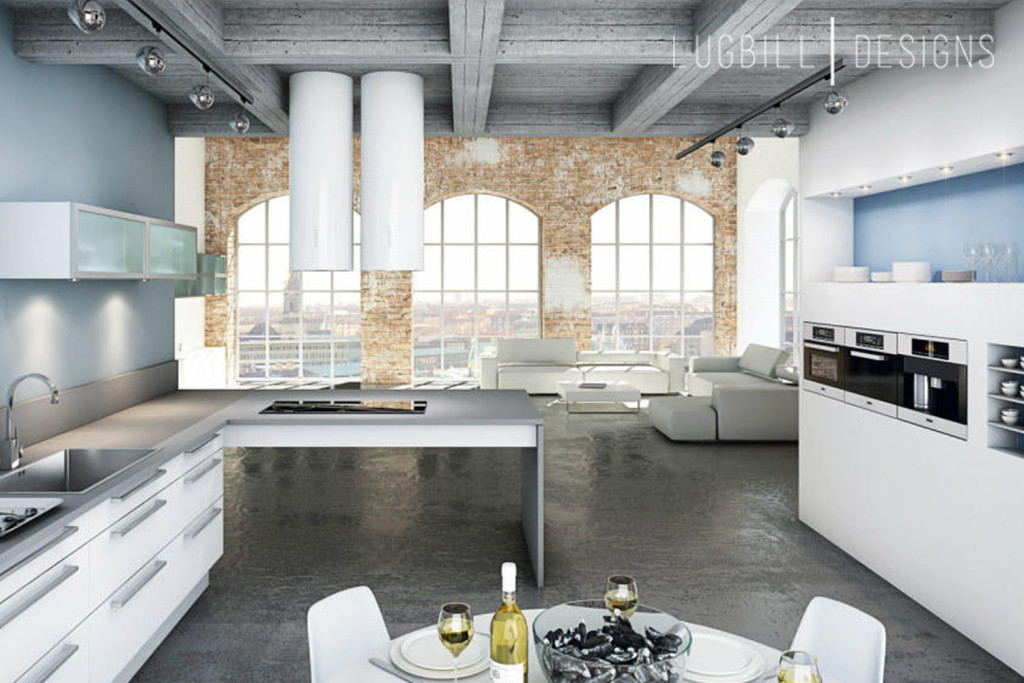 #15. White and Pastel
Color schemes take a huge hold on how pleasing your kitchen design would be on the eyes. Make it light, fun and less straining to look at so the space won't feel too cramped.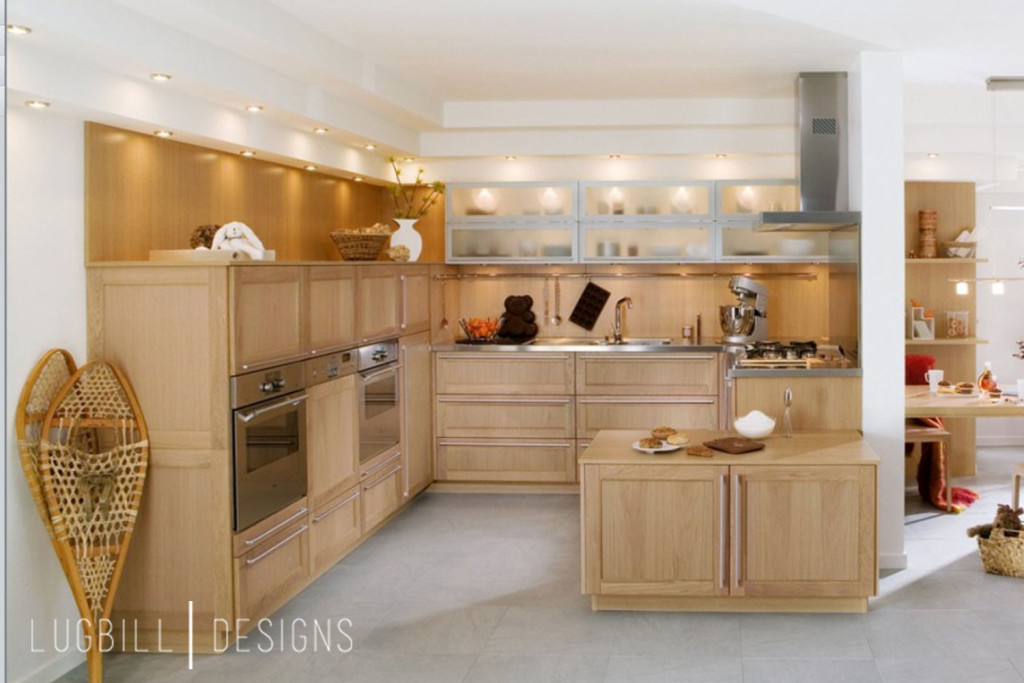 #16. Wood on Wood
Organic products have invaded the market and kitchen designs have adjusted as well. Consider making use of organic furnitures and equipment so you'll feel closer to nature.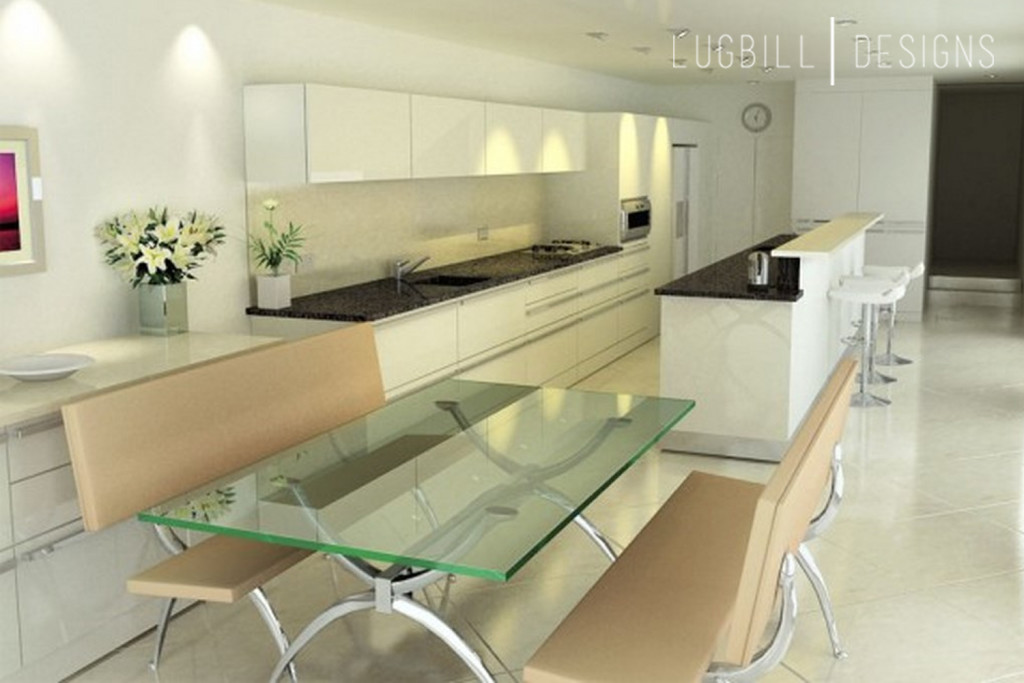 #17. One-sided
Proper positioning is the key to making your kitchen as efficient as possible. Don't scatter things of the same use. That way, you'll get an extra free space to do your kitchen magic!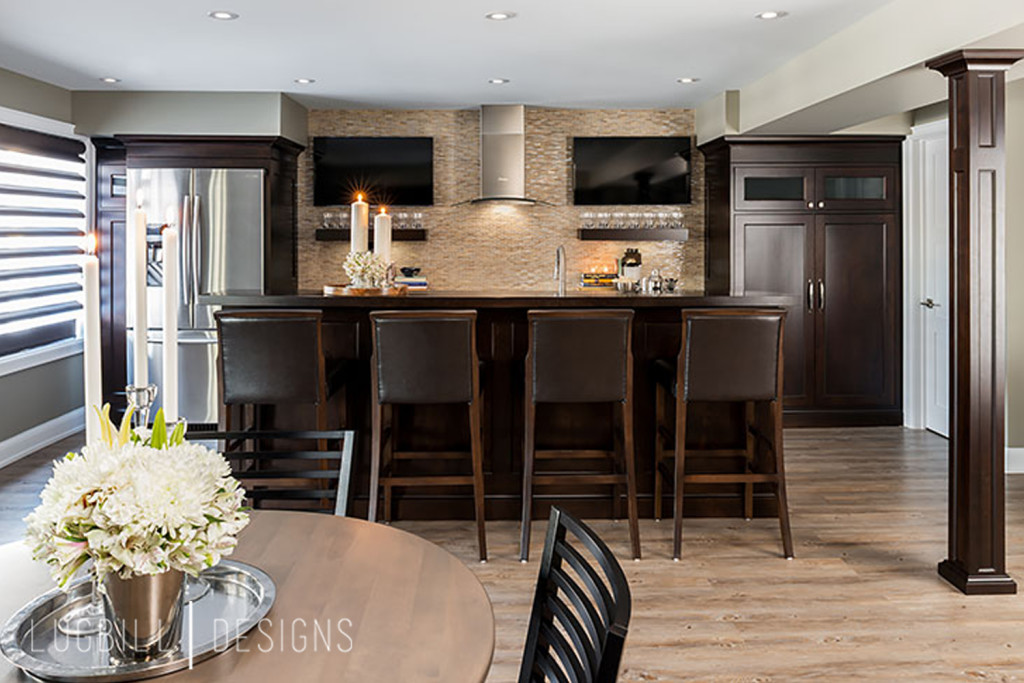 #18. Classic + Modern
Classic elements aren't classic for no reason. They will surely give your kitchen a timeless appeal but don't forget to add in some modern twist to make it even more appealing.
#19. Amplify the Space with Reflective Glasses
Reflective glasses aren't used for bedrooms alone. They're used to make a particular space look more spacious as well. Position them well and make sure it fits your general design idea. You'll see your kitchen bigger than it actually is.
#20. Effortless Sophistication
Focus is always an integral part of a good design layout. Balance out your kitchen space and place something grand for your centerpiece. Perhaps an elegant chandelier?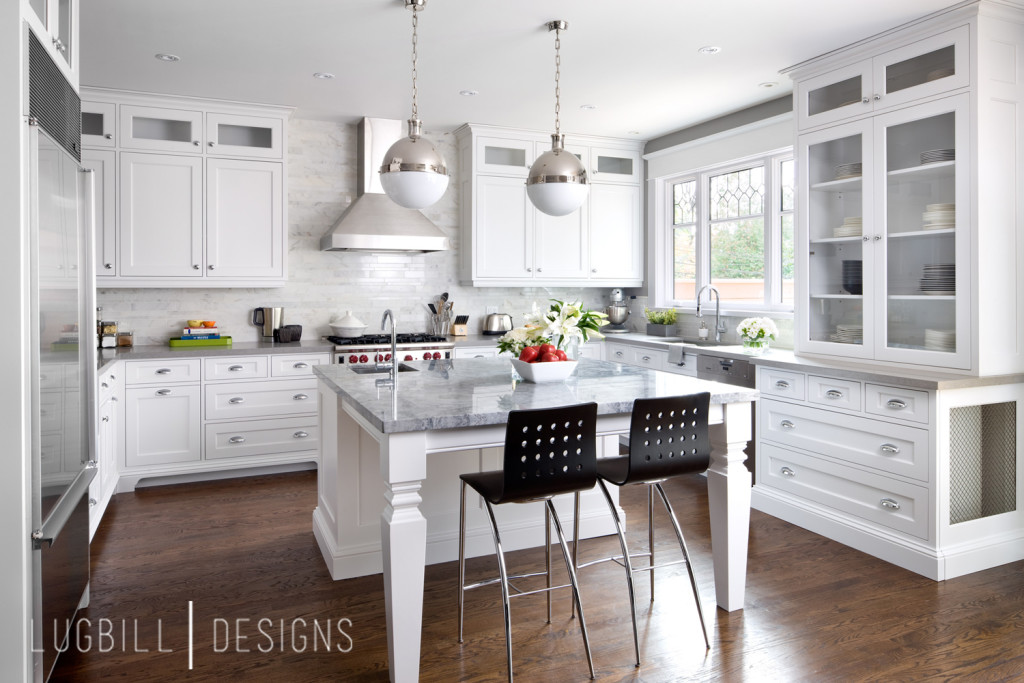 #21. Clean and Polished
Mixing different colors schemes and integrating various art styles will surely make your kitchen look interesting. But nothing beats a clean and well-polished kitchen space.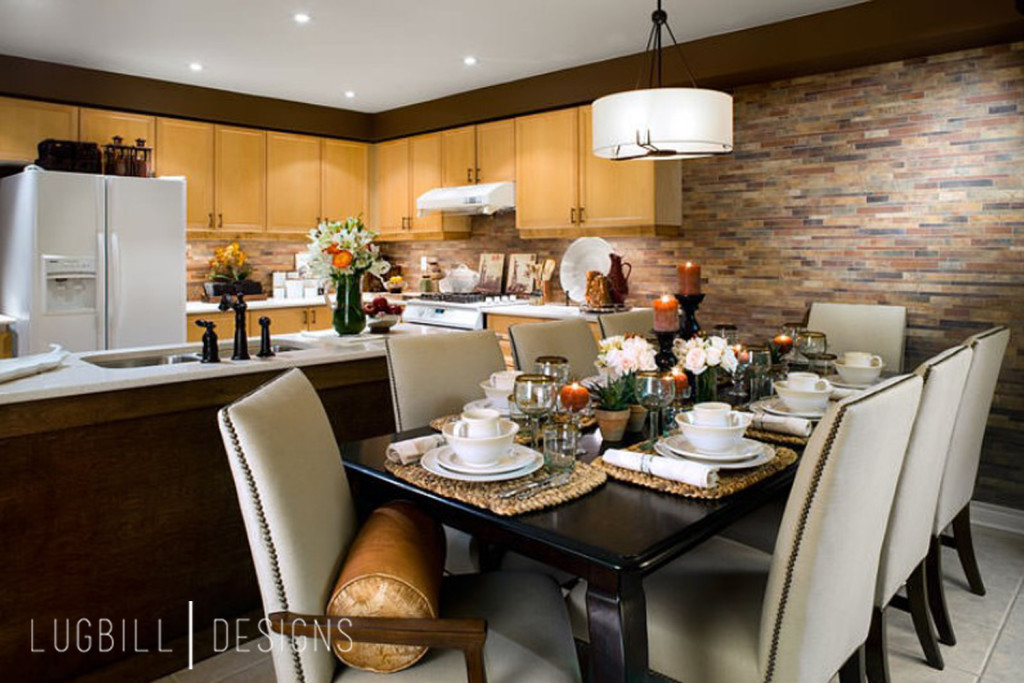 #22. Classic Kitchen
You can never go wrong with choosing to use classic elements. Not only is it perennial but they also go well with a lot of different design profiles.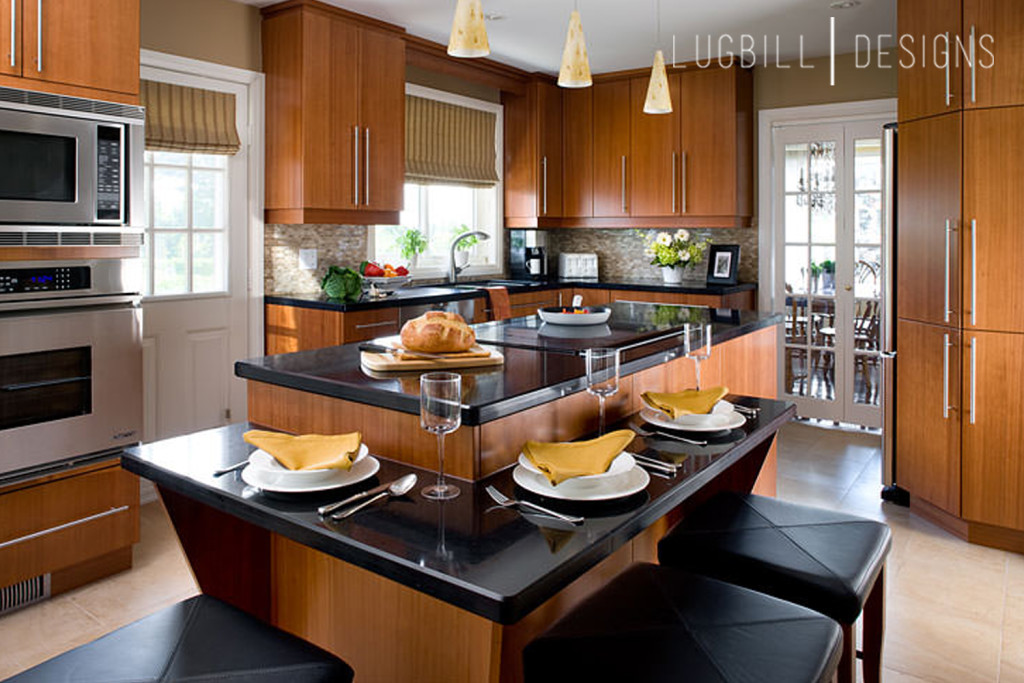 #23. Two in One.  Kitchen + Dining
Kitchen and dining serve the same purpose so why not put them together in one area? Integrate your dining experience with your cooking routines!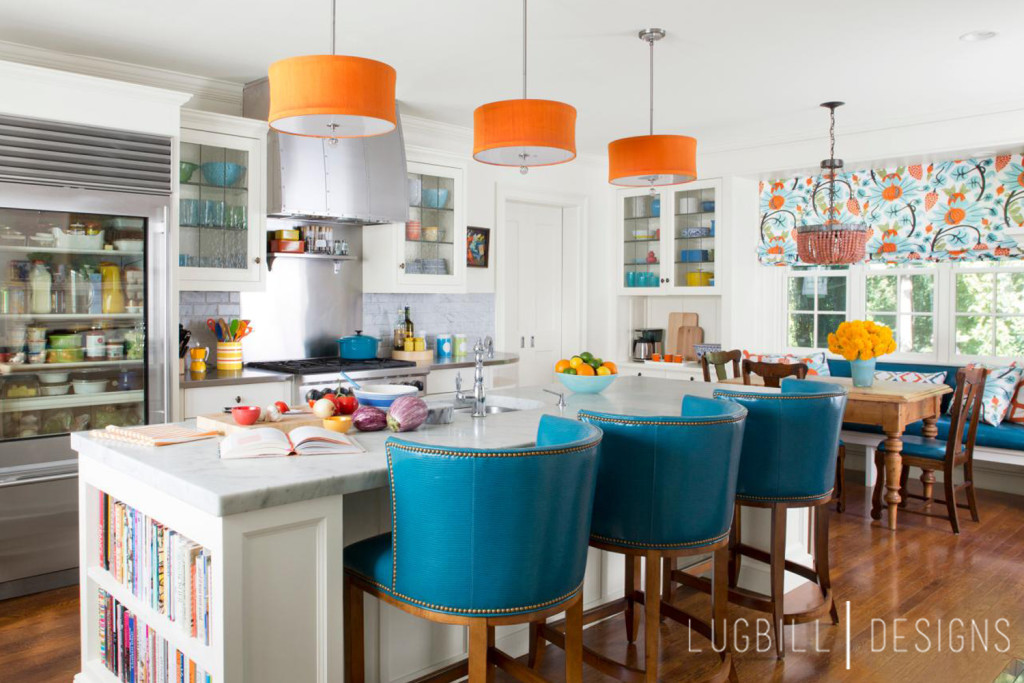 #24. Pop Some Color
Cooking is fun as it is but why not make it more enjoyable by adding colors and graphic designs on your kitchen? This will surely lift your spirits up!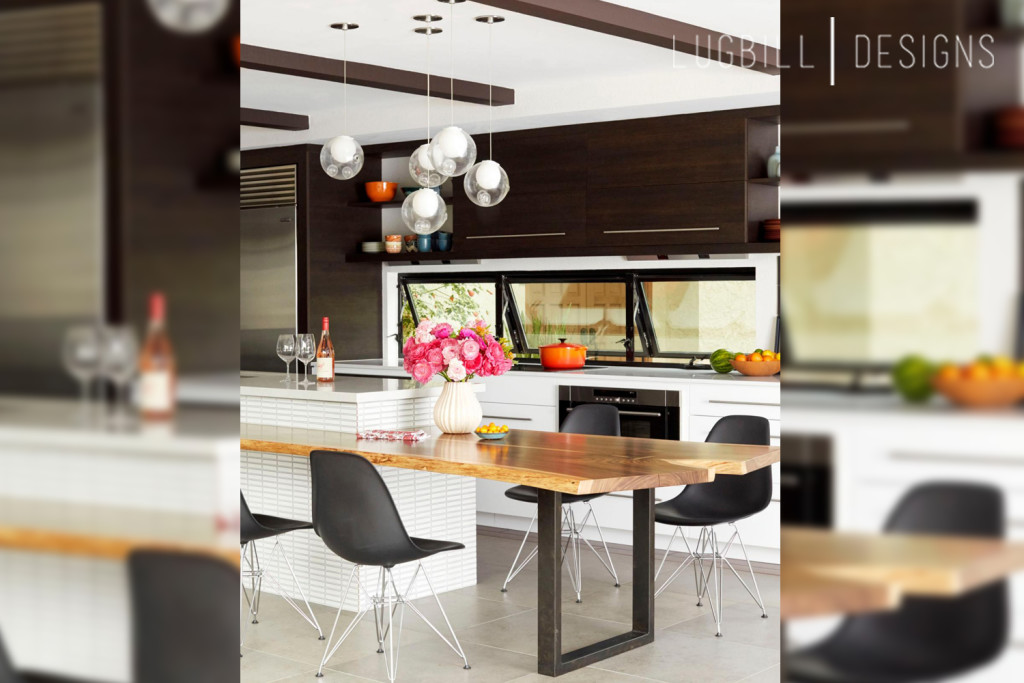 #25. 50 Shades of Wood
Wood gives your kitchen a stronger and sturdier image. Don't be afraid to mix different kinds and shades of wood. Look at different options and choose which fits best.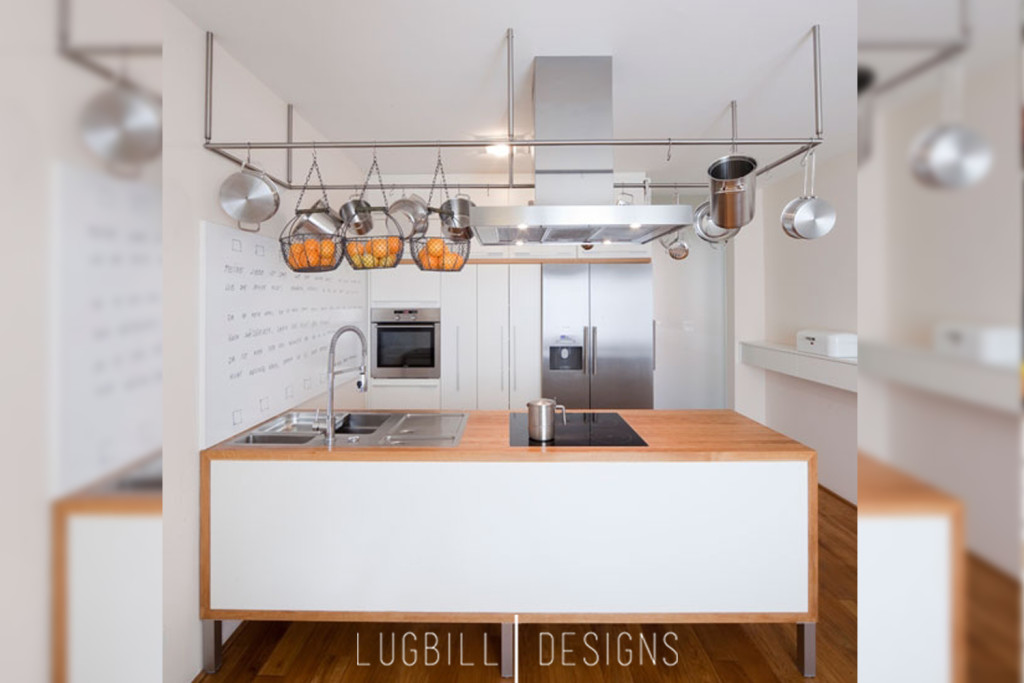 #26. Cabinets aren't the only Storage Available
Maximizing your kitchen will allow you to move freely while working. Challenge your storage by using your overhead space  and utilize it as much you can.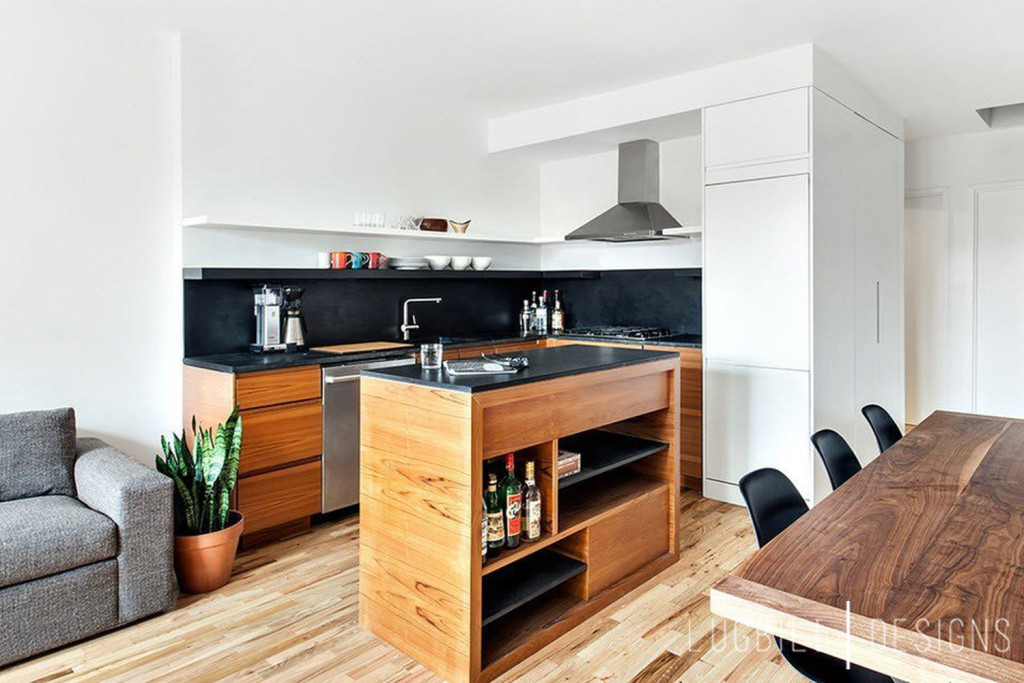 #27. Stylish Corner Kitchen
Living in a smaller area should not compromise your kitchen design. Use compact equipment  with more functions!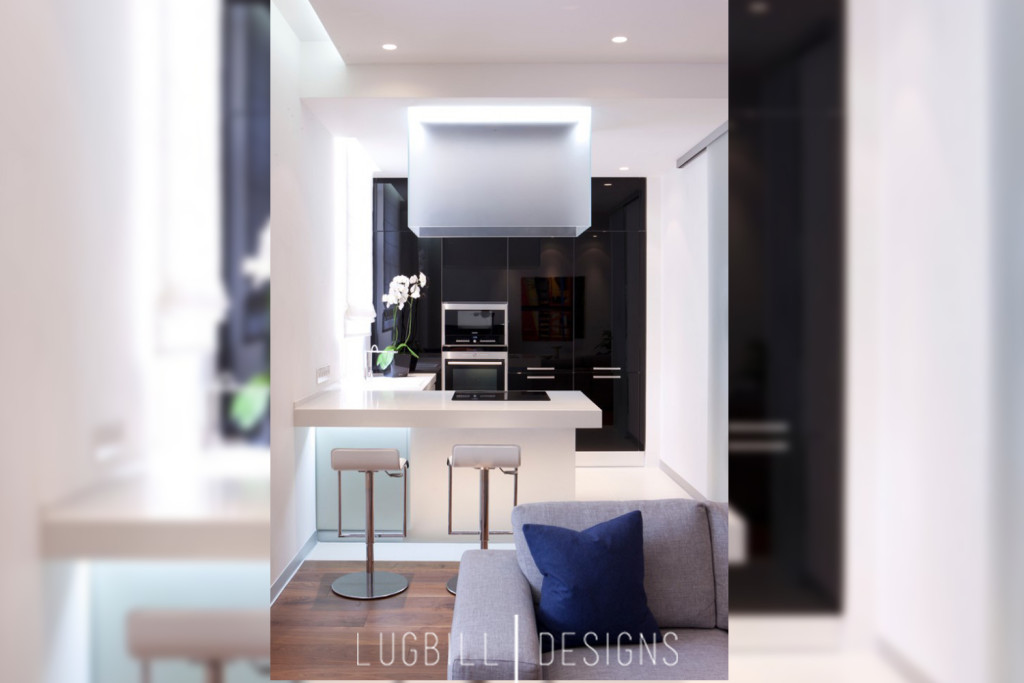 #28. Futuristic
It always helps to be one step ahead. Experiment on futuristic elements that would bring your kitchen space to a different dimension.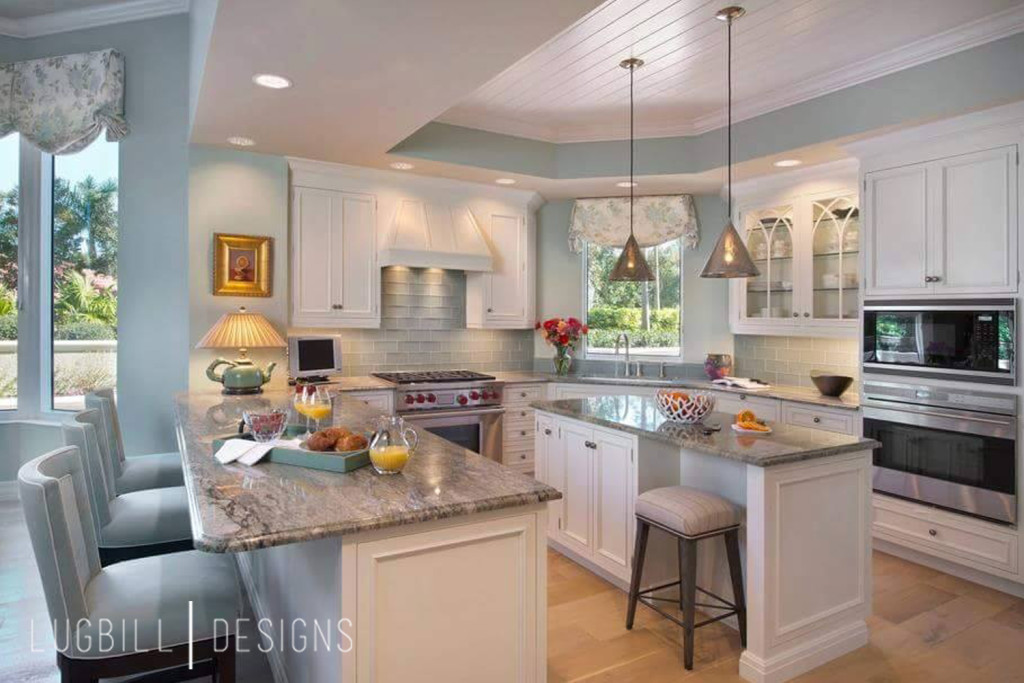 #29. Cozy Palettes
Calmer colors mean a calmer spirit. Who does not need some relaxing space to work on? Using pale palettes like cream, beige, and lighter shades of blue makes other colors and elements of the kitchen really pop.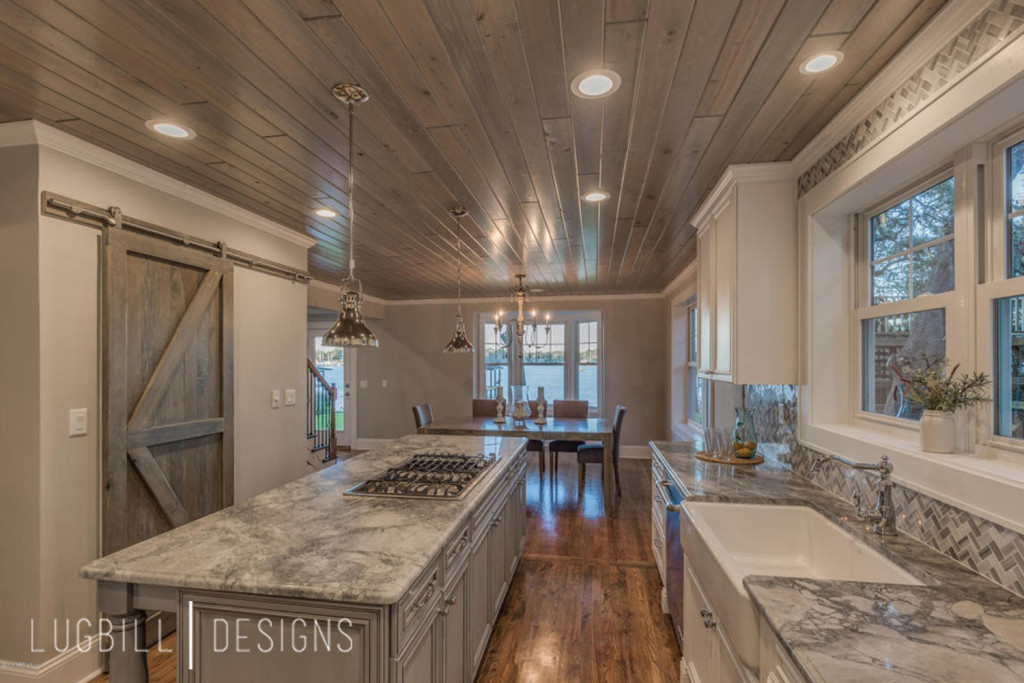 #30. Country Meets Modern
Barn wood exemplifies classic country but you can always mix it up with other elements like a carrara-marble wood and patterned fixture that coordinates with the same pattern and texture of the barn wood.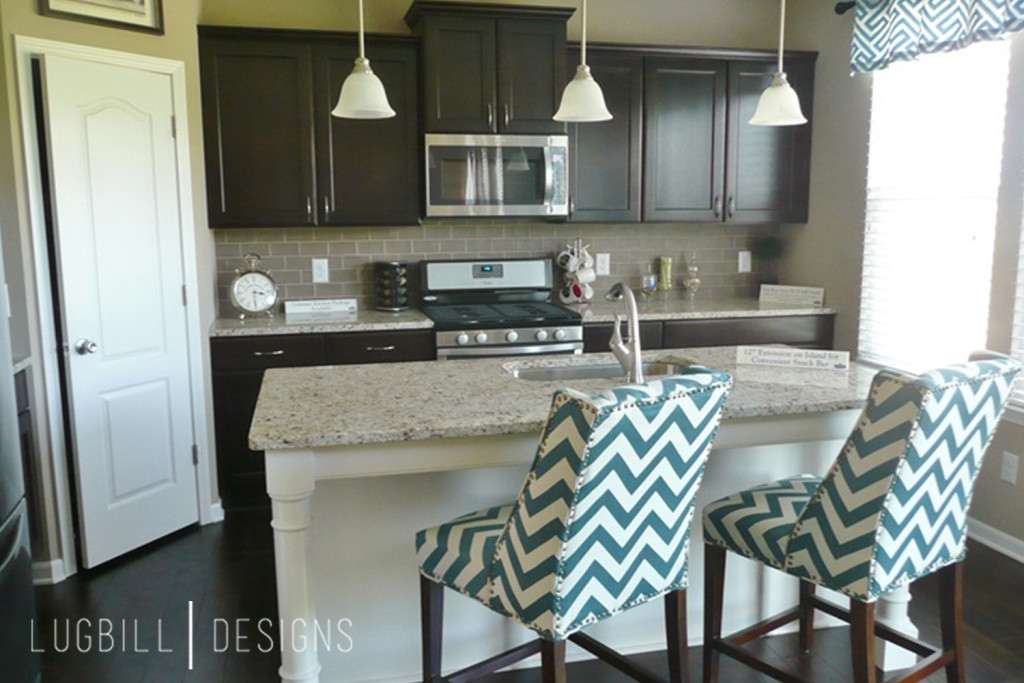 #31. Play With Patterns
Patterns will  give your kitchen design a more playful appeal. This, in return, would give you a more spirited demeanor while mixing up dishes and perfecting your very own specialty.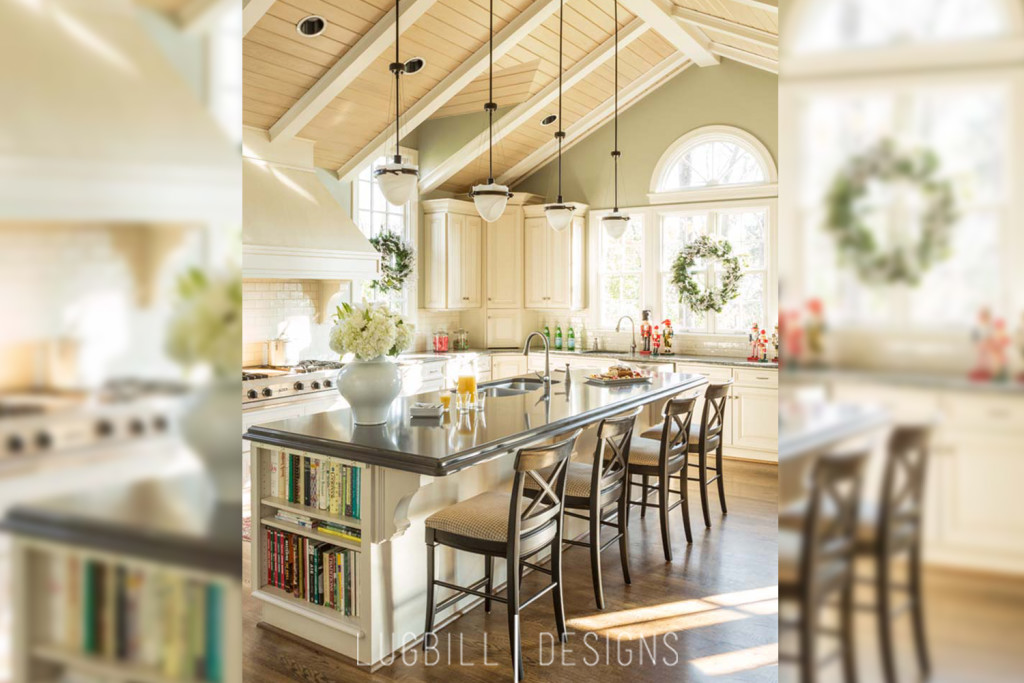 #32. Summertime Romance
Turn the space into an intimate setting by using fresh flowers to ornate the kitchen. And who wouldn't want a kitchen with a perfect view? Welcome the sun through big, open windows instead of hanging upper cabinets for a more romantic feel.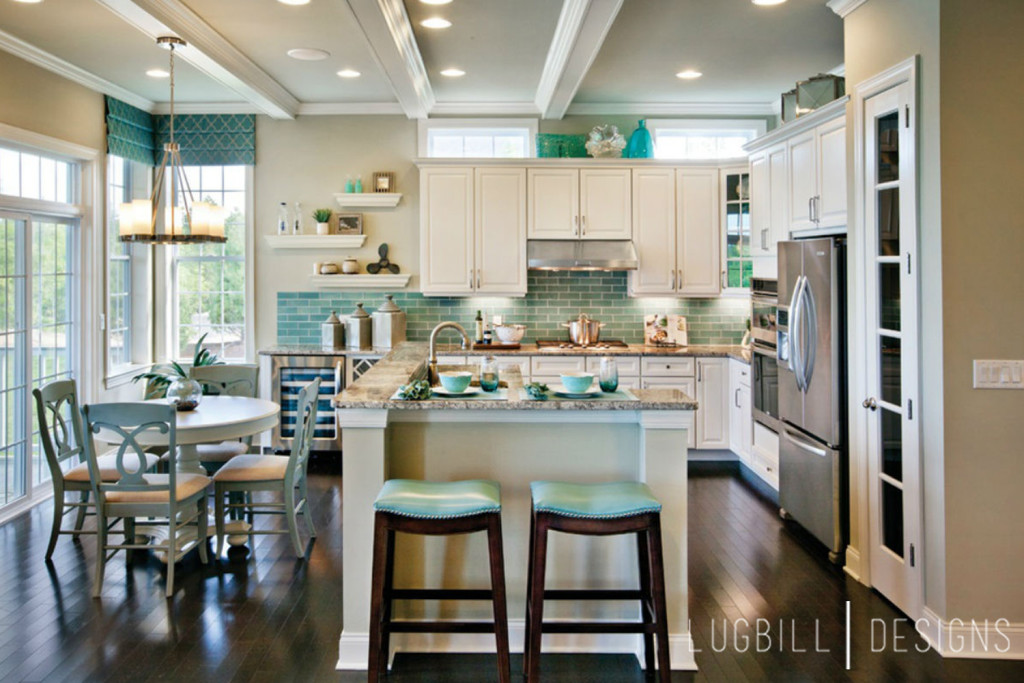 #33. Bluer than Blue
The myriad hues of blue is the perfect mix of simplicity and splendor. It also help create a classic, timeless space by using the perfect variation of the color.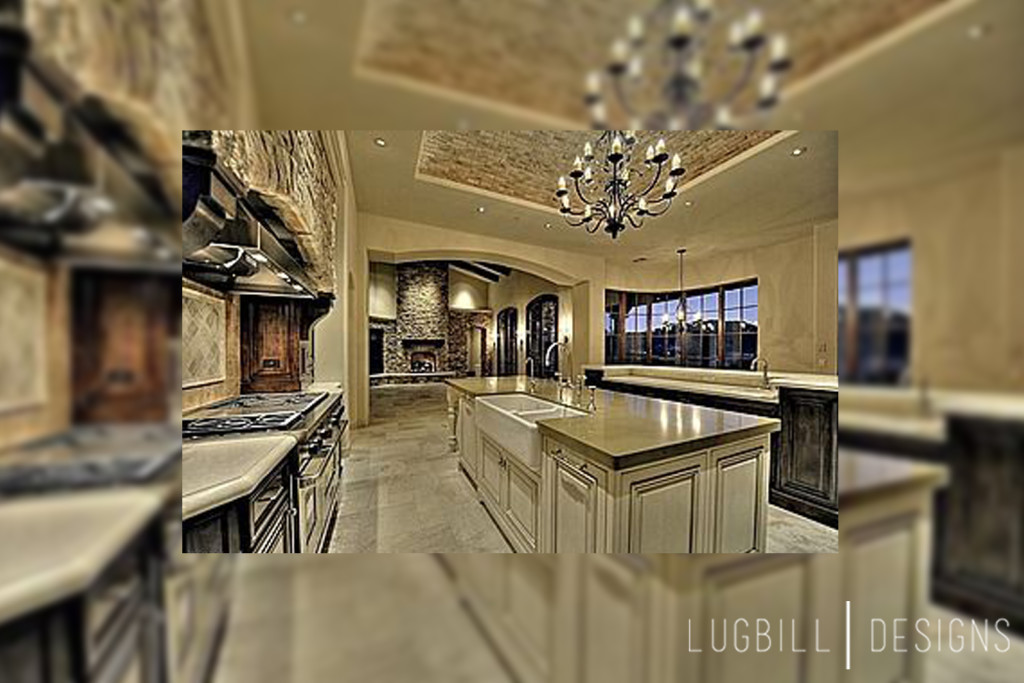 #34. Subdued Victorian
Nothing speaks elegance than a Victorian-style kitchen. But you don't have to stick with traditional design to get the same vibe. Mix it up with modern elements while keeping a piece of the era. The chandelier itself juxtaposes to the contemporary allure of the fixtures and furnishings.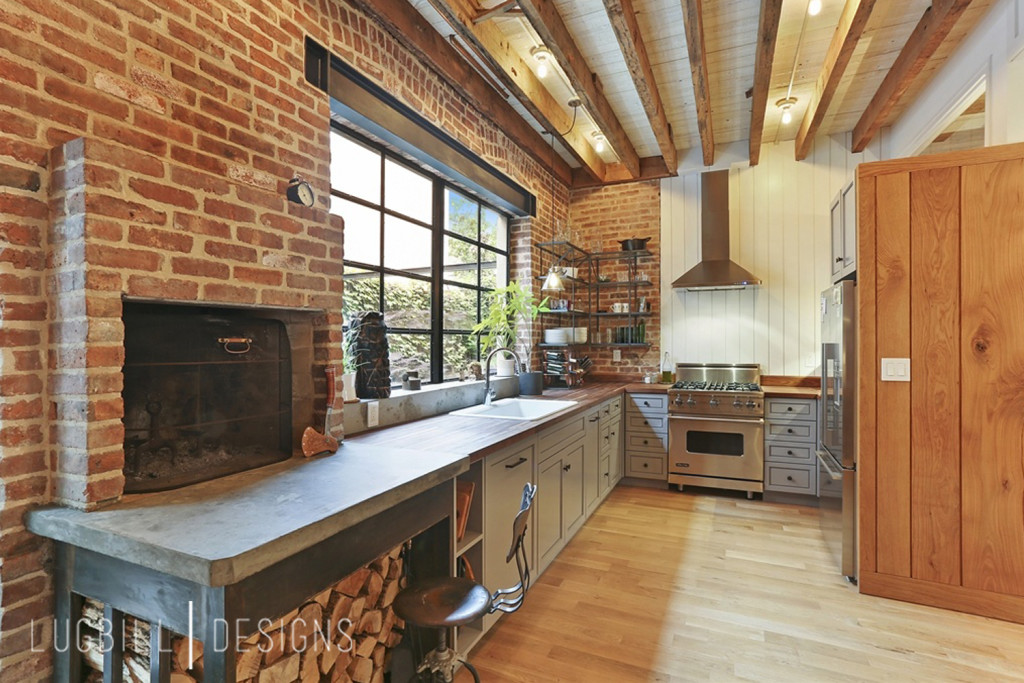 #35. Brick Chic
Exposed bricks as the main fixture of the kitchen may be rustic, but it also emanate an open, charming vibe. It gives a kitchen an authentic touch especially with a brick oven and a chunk of wood underneath.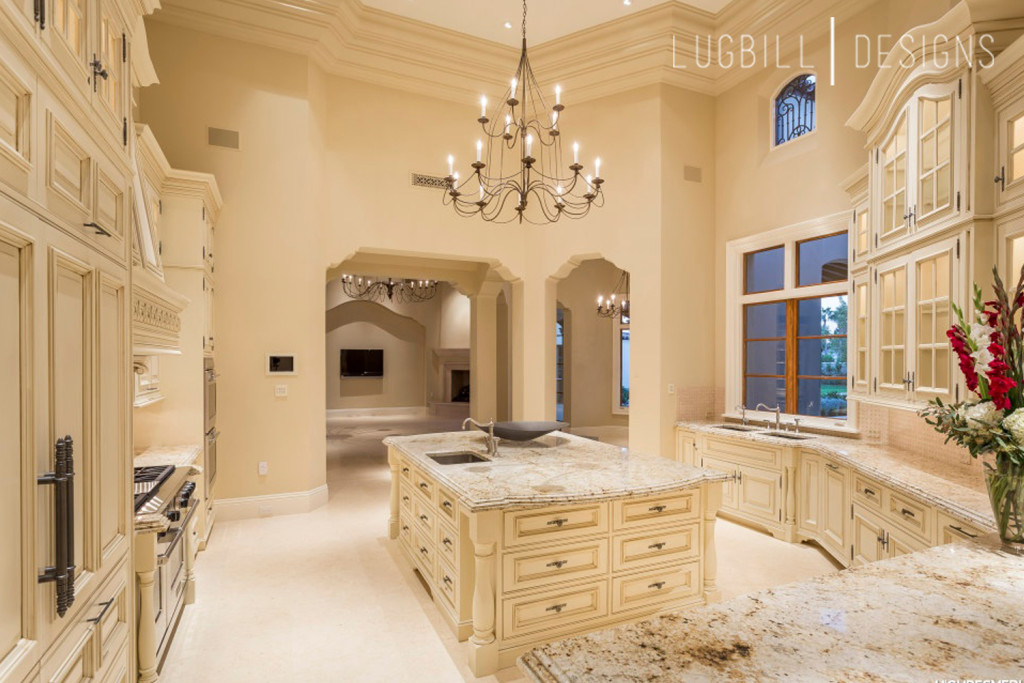 #36. Fit For A Queen
Marble countertops, islands, and backsplashes has been a growing trend in modern kitchen design. Cream-colored marble tops helps a kitchen appear more polished and exquisite especially if the texture of the marble is aligned with the color of the wall.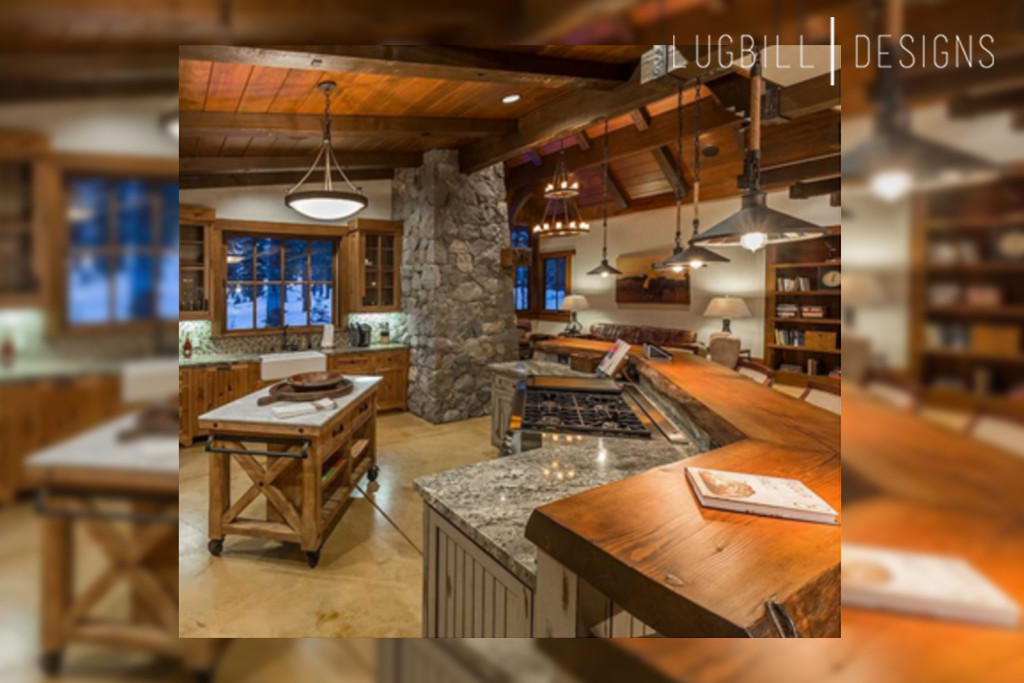 #37. Into the Woods
Why travel miles away from home just to enjoy a chalet in Aspen when you can have your own? Turn your kitchen into a cabin by using oak or mahogany wood as the main element of the space and stone or adobe as the foundation.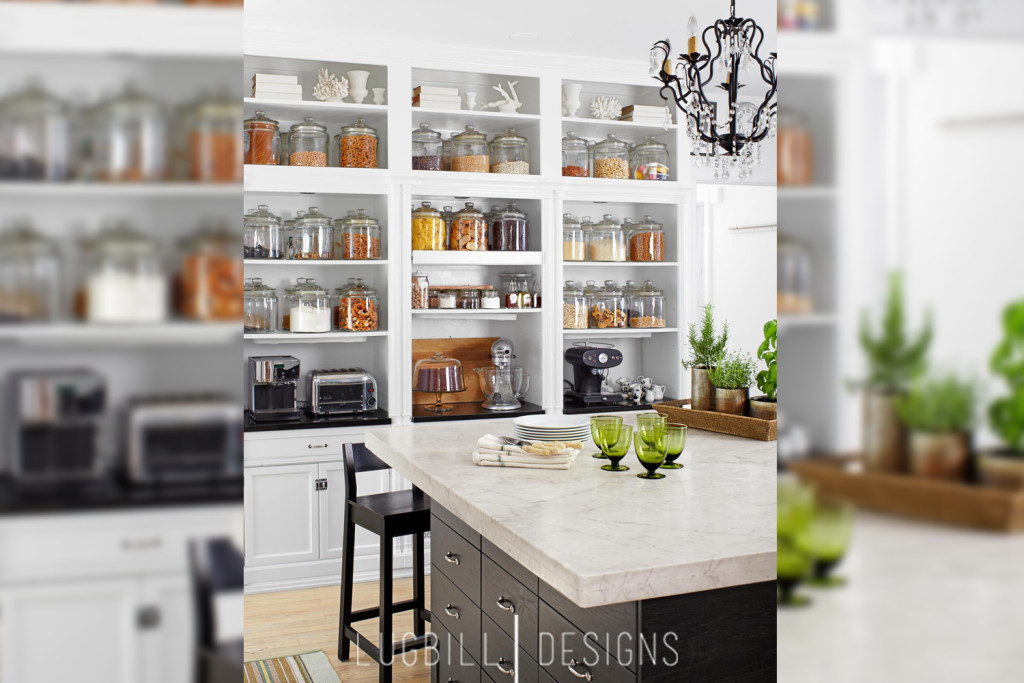 #38. Display the Goods
Create a fun and quirky atmosphere by displaying all your ingredients and essentials in a mason jar. No need to splurge on expensive accents and furnitures to get an amazing looking kitchen.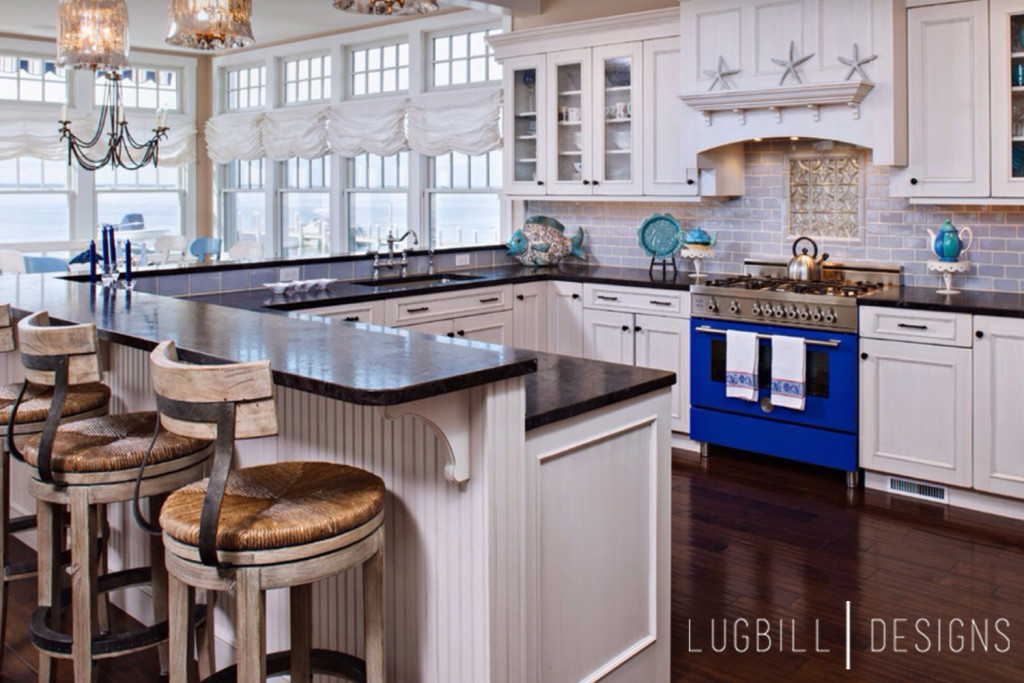 #39. Cottage Charmer
Whether you're serving champagne by the bar or fresh salad over the counter, you can never go wrong with a Hamptons-inspired kitchen mixed with a little bit of a stowaway bar. Take it down a notch by using wooden bar stool and dark colored counter tops while maintaining the flawless components of a Hamptons kitchen through the white cabinetry and sea-colored accents.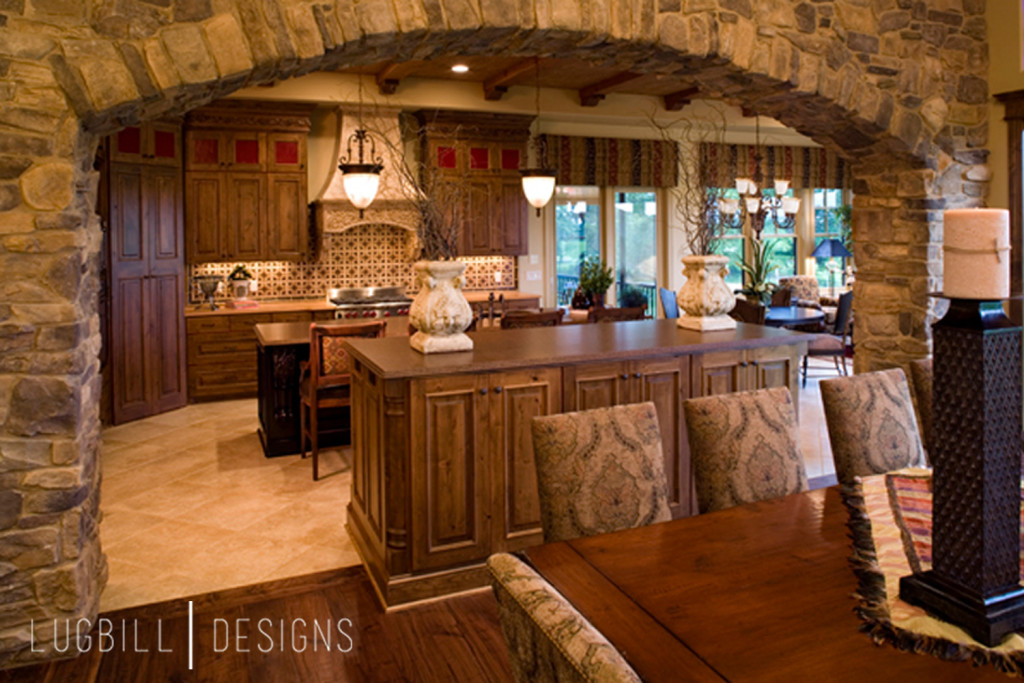 #40. Vintage Charmer
The refinement of old-world style gives any kitchen the perfect touch of exquisiteness and distinction. From the classic lampposts, 18th-century wood island to high-end fixtures and embellishments, one can always make antique chic.
#41. Streamlined Sophistication
Grandeur does not solely depend on majestic patterns and colorful schemes. Even the simplest and most basic colors can give your kitchen space the sophistication it deserves.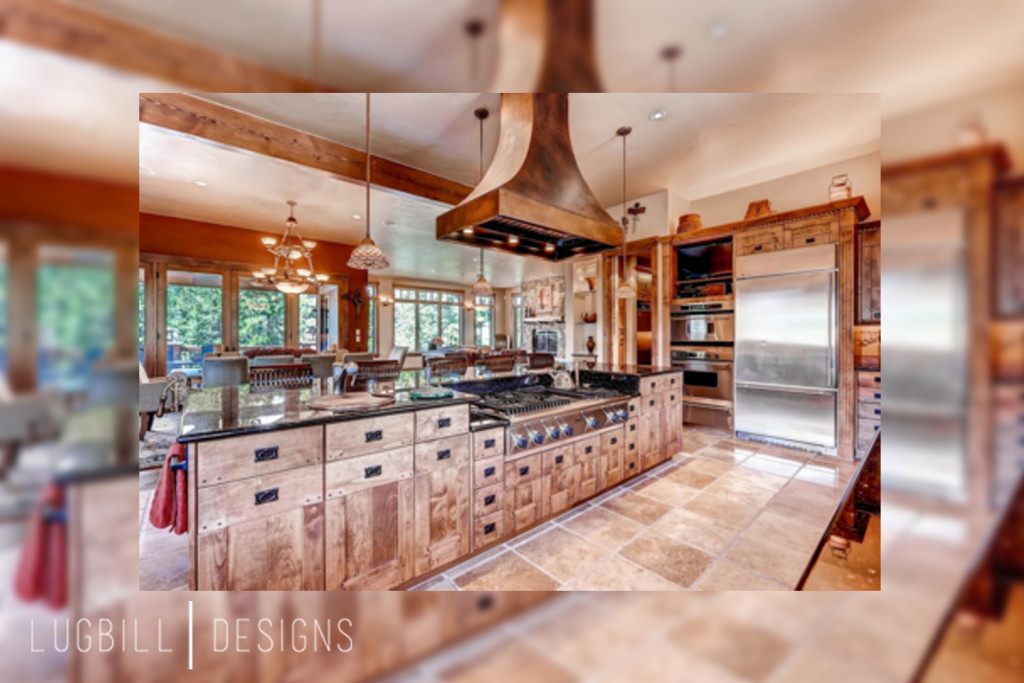 #42. Class With Brass
Aluminum finishes maybe the more prominent kitchen design material but brass shouldn't be taken out of the options. Its metallic nature makes kitchens look sophisticatedly charm.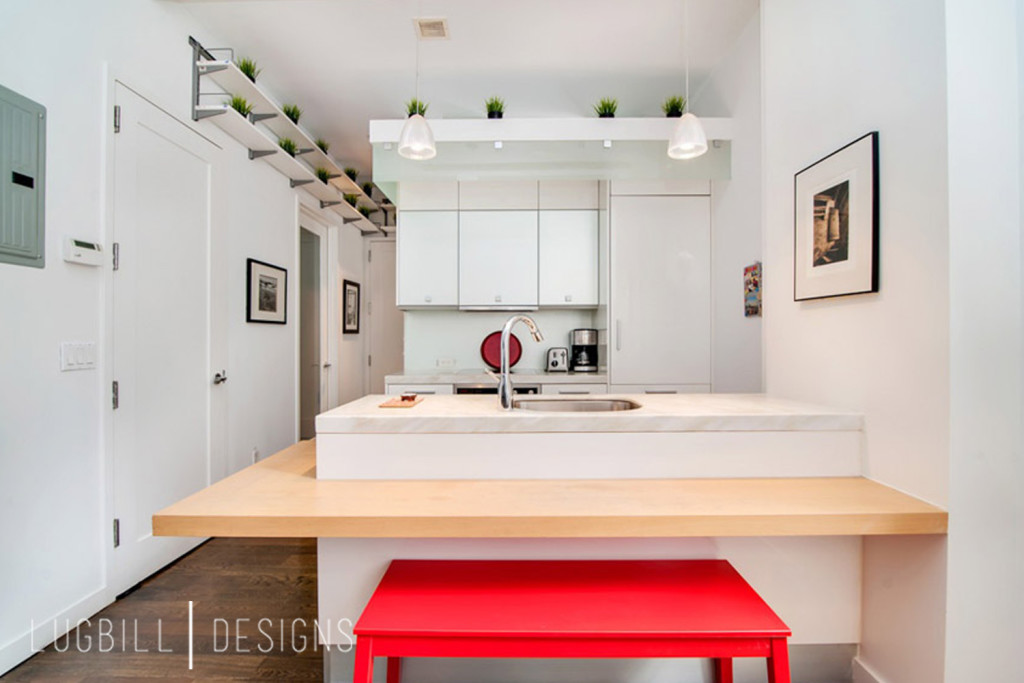 #43. Keep It Clean
Having a small space doesn't require compensating it with multiple embellishment. Have a little less over-the-top kitchen by having the right amount of accents. Fresh plants and framed photographs will help you do the trick. After all, it  always feel easy to work on spaces that are clean and clutter-free.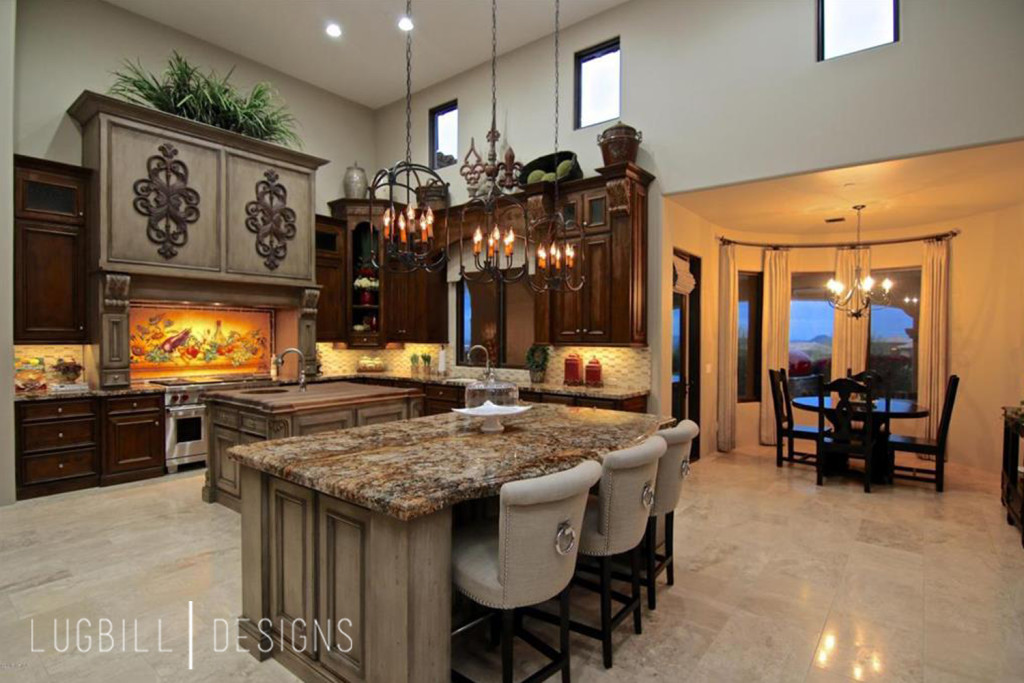 #44. A Piece of Tuscany
Pizza and pasta may be the focal point of Italy, but the country is also known for its illustrious kitchen designs. You can never go wrong with brown palettes, granite countertops, and baroque style cabinetry. Top it off with an intricately designed chandelier as your kitchen's centerpiece.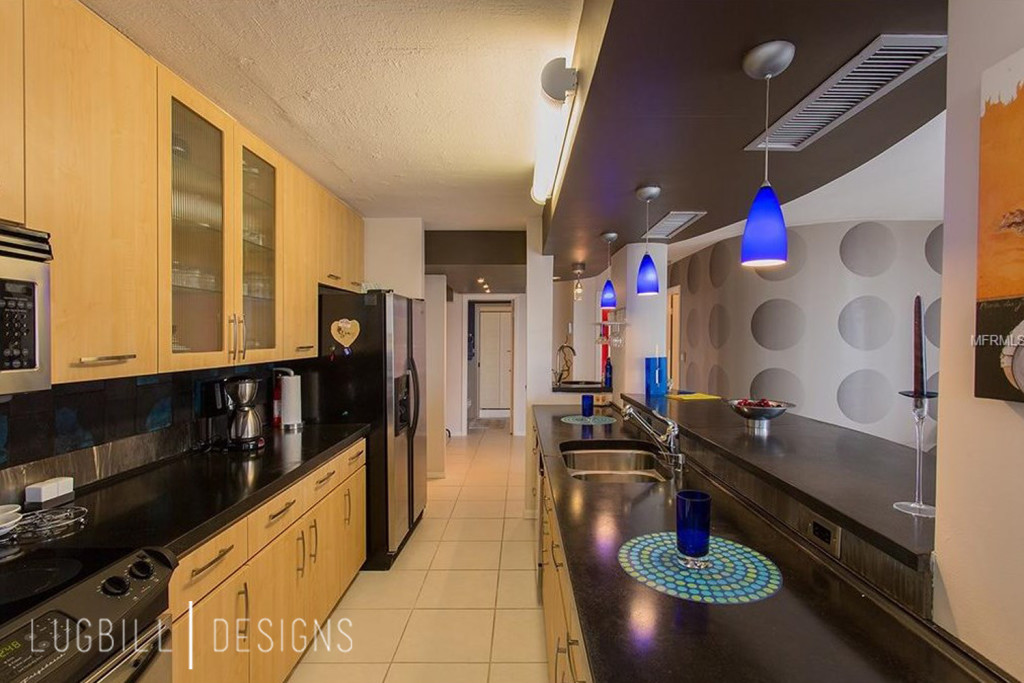 #45. Family Style
It is always best to spend some moments with our loved ones especially when it's on a good hearty meal so why not design your kitchen to fit your family's character?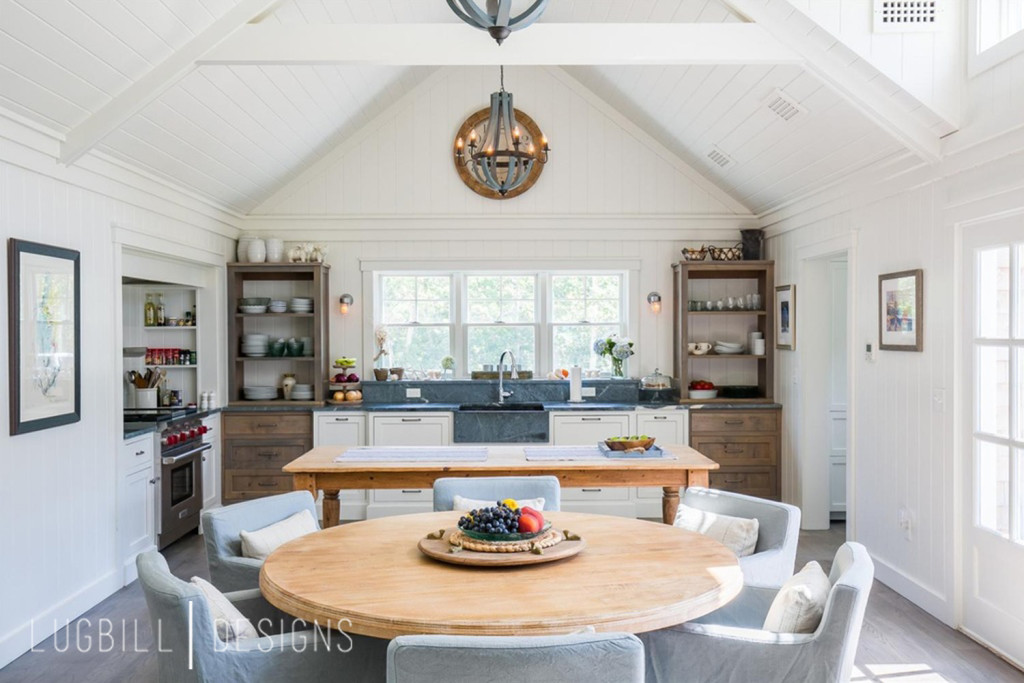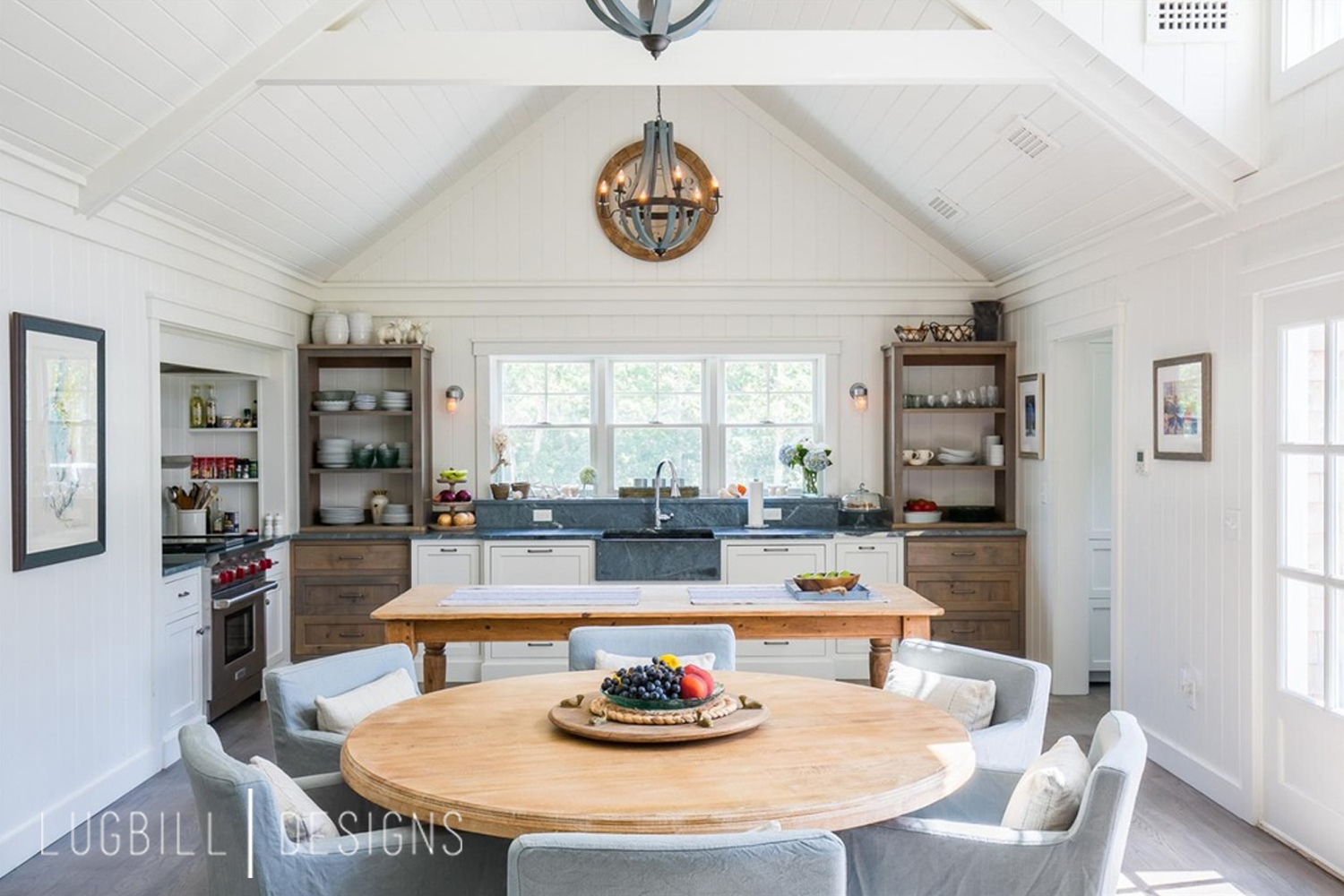 #46. Redefined Cottage Kitchen
Cottages are made to enjoy the relaxing view that is within the vicinity. It is also a great inspiration for creating a subtle character for your kitchen space!
#47. Cabin Life
This simple themed kitchen design gives out a very rustic appeal that suits your work-filled kitchen space.
#48. Store Some More
Shelves provide an edgy finish to kitchen designs but more than that, it gives the kitchen more storage, freeing up the kitchen area even more.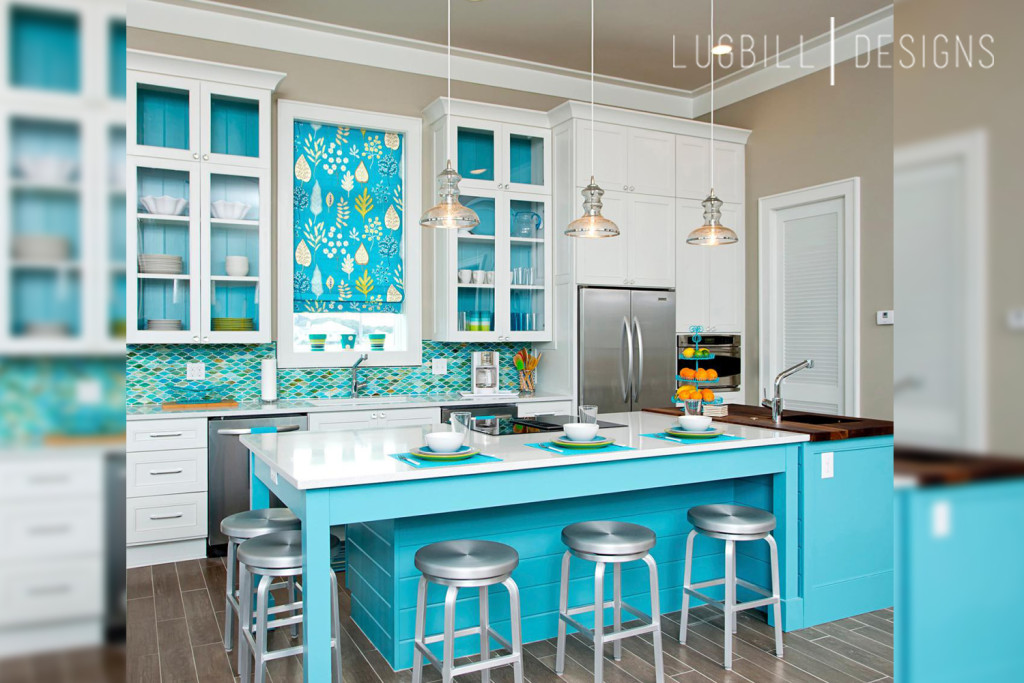 #49. Coastal Dining
Who wouldn't a piece of the beach in their home? Paint your kitchen with the colors of a crystal-clear beach like aqua, turquoise or other shades of blue and design it with sea-inspired trinkets and decors.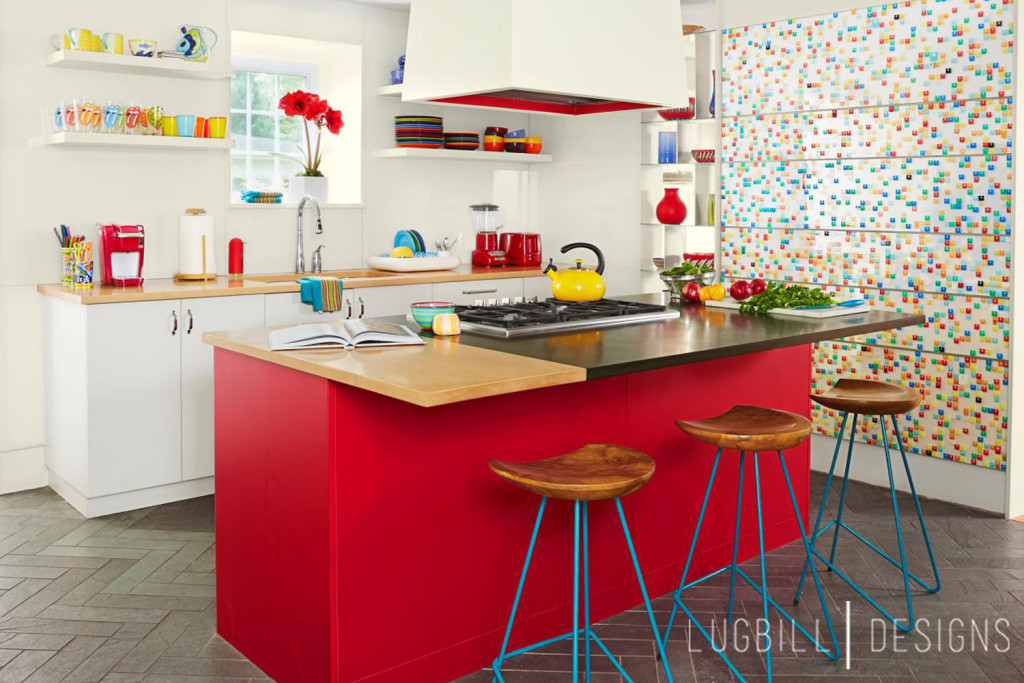 #50. Funk It Up
The soft cream colored walls are the perfect backdrop to inject a little color in your kitchen. From mugs to kitchenware and even furniture, turn your kitchen into a candy store.
Do you have more kitchen design ideas in mind? What other trends do you want to incorporate in your kitchen? Leave us your thoughts below!
Disclaimer:
The images contained in this article serve as design inspirations and are for general information purposes only. Please
contact Erica Lugbill
if you want to view our interior design works.
http://blog.lugbilldesigns.com/wp-content/uploads/2016/05/20160411-TOP-50-KITCHEN-DESIGNS.jpg
1000
1500
Justin
http://blog.lugbilldesigns.com/wp-content/uploads/2018/08/logo.png
Justin
2016-05-17 04:13:41
2017-07-11 02:52:57
Redesigning Your Kitchen: Top 50 Trends to Follow