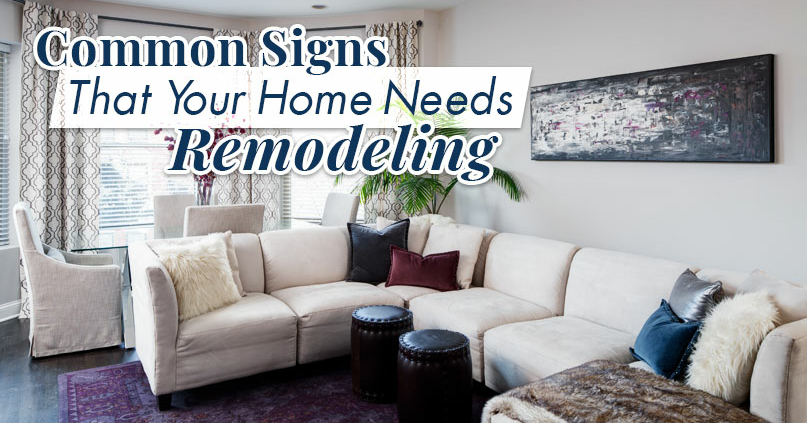 No matter the care you take, your home will most likely deteriorate and feel outdated as time passes by. Part of the homeowners' job is to maintain their living space through renovations every five years at least. Remodeling your house not only improves its beauty but keeps it in good condition as well. 
Your home may not be able to speak to tell you when it badly needs its tender-loving care routine but there sure are signs that you can spot. To know what they are, here are the 6 common indications that it's due time for a home remodeling. 
6 Sure Signs That You Need to Remodel Your Home
1. Damaged Flooring
You know you're flooring needs replacement when the tiles start to detach and the floor grout is already wearing off. This can be caused by years of friction due to door traffic and furniture pieces dragged on the floor. Improper adhesive, such as cement, can also be a top culprit for the damage. 
If your floor is covered by a carpet, note that it must be changed every 10 years, especially if the floor covering is placed in areas where traffic is high. 
Usually, bathrooms and kitchens are the first sections in your home that will need new flooring. 
2. Roof Leakage
Caused by either improper installation or old age, the occurrence of roof leakage clearly suggests that your home needs remodeling. Whenever you spot water stains and drips on the ceiling or walls, you should address the issue immediately. Roof leakage may lead to other problems such as mold growth, corrosion, pest invasion, wood rot and damage to frames and ceiling. It can also damage drywall and plaster, resulting in the emergence of bubbles on the dry paint surface.  
After the repair, you'll most likely need to remodel the walls and light fixtures, shelving, and other damaged areas as well. 
3. Chipping Paint 
If the external and internal paint looks drab and starts wearing down, it definitely calls for a house repaint. Dirt and chemicals cause the paint to be dirty and ultimately damages it. Another factor that leads to paint chipping is the poor application where the wall is not cleaned before painting. Applying a fresh coating to your walls, kitchens, baseboards, and rooms can revive its color. This can make your living space appear newer and more appealing. 
Tip: Before repainting, use steel wool to remove existing layers of paint. Afterward, clean the wall and insert putty on uneven surfaces (such as holes). 
4. Termite Infestation
The presence of pests and unwanted insects inside your home explicitly tells you that it should be renovated as soon as possible. Materials with poor quality are one of the reasons behind termite infestation. Start checking the wooden parts of your home as termites start destroying these spots. Look out for messy and unpleasant areas as well, insects and pests are attracted to them. To avoid termites from breeding, spray solignum consistently, advisably every four to six months. Don't forget to have regular cleaning as well. 
5. Limited Space
Does your home feel too crowded? Especially if your family starts growing, the house might end up looking unorganized and congested with items. Clearly, this suggests that you need to rearrange, add space, or both. You can make another room such as a bedroom, storage, small office, and playroom or nursery. Other renovations can include the demolition of walls to provide a bigger area. Remodeling your existing property will allow you to steer away from the expense of moving into a new home. 
Tip: Plan carefully with your design-build contractor to make sure that the additional sections suit the home structure and design.  
6. Outdated Look of the House 
Unless you're aiming for a vintage appeal of your home, a renovation might be in order if you see lots of golden accents, gold door handles or shiny gold finish. The designs popular in the '90s are no longer a trend and can, therefore, make your home look outdated. 
Typically, homeowners take notice of old-looking bathrooms and kitchens. These are two of the most important areas that can make your home look old-fashioned when not updated. After all, a beautiful bathroom reflects the hygienic practices of a family and a well-refined kitchen keeps the living space running smoothly. 
Modernizing your home can be a quick and simple project that you can even do on your own. You can purchase and install house accessories such as new door handles, curtains, upholstery, fans, and fixtures. 
However, if you want to do a full bathroom and kitchen remodel, you will have to work with a contractor for the interior design and addition of new sinks, flooring, bathtubs, shower walls, faucets, toilets, etc. It might slash on your finances but updating these sections in your house will not only enhance its design but will make it more appealing if ever you decide to sell it. 
Your home is an essential space that shelters you and your loved ones, this is why it needs to be maintained regularly. The process of home remodeling might demand time and money investment but the benefits come immensely as well. Apart from the aesthetic enhancements, it also makes your home feel more secure and comfortable. Consequently, this creates a beautiful home where happiness and order foster within the family. 
Do you need an interior design contractor for your home remodeling? We can lend you a hand! Contact Lugbill Designs today.
http://blog.lugbilldesigns.com/wp-content/uploads/2020/01/Common-Signs-That-Your-Home-Needs-Remodeling-Featured-Image-1.jpg
544
807
Justin
http://blog.lugbilldesigns.com/wp-content/uploads/2018/08/logo.png
Justin
2020-01-13 02:53:57
2020-01-15 06:31:34
Common Signs That Your Home Needs Remodeling