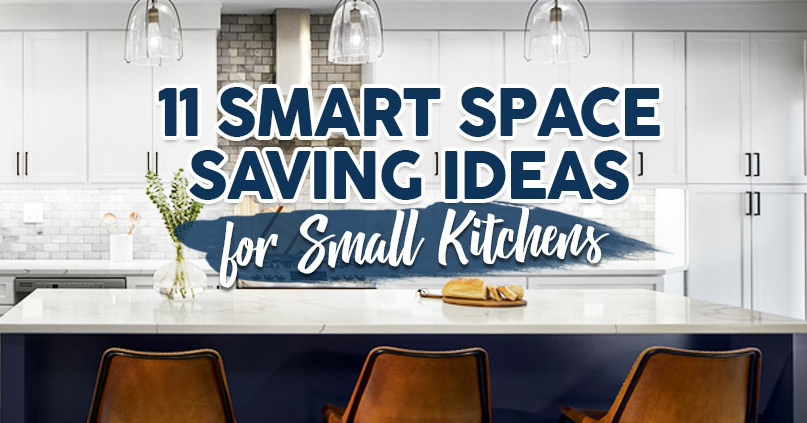 For many people, a small kitchen often equates to bigger issues. It means less space, not much room to move around, and you're restricted from buying all the essentials due to insufficient storage. With such a limited area, meal preparation doesn't seem exciting at all, does it? 
But here's one thing you should remember: yes, having limited space in the kitchen is not easy. But neither should it be a burden. If you know some smart tricks and ways to utilize every inch of space available, then you're on your way to enjoying a small yet practical kitchen where every corner has found its purpose. To help you out, here are must-try space-saving ideas in order to squeeze more storage out of a tiny kitchen.
11 Space Saving Ideas to Maximize a Small Kitchen
1. Opt for a Bright Color Scheme
Any bright hue elicits a clean and well-lit ambiance. This is exactly what you should aim for if the space in your kitchen is limited. You may not be able to literally add space, but you can do something to make it look and feel larger. However, if you think white looks too bland, then you can break the monochromatic scheme with accents of pastels. Better yet, you can add touches of wood, eluding a rustic appeal to your kitchen. 
2. Fit a Skylight 
If you want to create an impression of a tall kitchen in such a small space, vaulted ceilings with skylight windows make a brilliant idea. This idea will perfectly complement glass or white-themed kitchens since they can better reflect the light around the room. 
3. Install a Single-Bowl Sink 
Want to save extra foot or more of counter space? Opt for a large single-bowl sink instead of having a standard-size double-bowl! But you can also go for small-scale ones since they have a variety of styles that you can choose from. Having only one bowl for the sink will allocate more space for chopping and meal preparations and you will be encouraged to wash the dishes straight after eating. 
4. Put Up Shelves
If you're out on kitchen space, shelves can be your best friend. Having plenty of compartments is the perfect solution to disorganized storage so add a shelf whenever you find it convenient – in the risers of your cabinets, under the island countertop, inside the pantry doors, and more. There are a plethora of shelf types that you can purchase, whether it be a free-standing or hanging shelf. You can even install them all the way to the ceiling to make use of every space available in your small kitchen. 
5. Use a Wall-Mounted Storage 
Store your cooking essentials and tools (pots, pans, canisters, utensils) the smart way by letting them hang on a board or hook mounted on a blank wall. Not only do they cut on space, but they also pave the way for easy access. One example is a pegboard, which has a greater capacity than shelves and can easily be moved and adjusted whenever you want them to. For your kitchen tools, use nail hooks or S-hooks. Aside from walls, you can also insert them under the cabinets or beside the cupboards. 
Tip: Breathe style and depth to your kitchen wall by arranging various metallic stones at different rail levels. If patterned perfectly, the simple pots and pans can create a vintage personality, all the while maintaining an eclectic vibe. 
6. Take Advantage of the Space Above Your Fridge
When it comes to tiny kitchens, every unused spot is a potential storage location! The space above the refrigerator is definitely included in the list. Give it some tools to hold by putting the house pots, pans, and even dividers. Just make sure to avoid placing plastics or materials that easily catch fire since the appliance has a tendency to become heated over time.  
Tip: Aside from the top of the refrigerator, check out the space between the wall and the fridge as well. You can slide in there a foldable table or tool! 
7. Buy Collapsible Kitchen Tools
Every little space counts when you have a small kitchen space. Props to collapsible tools such as tea kettles, funnels, and strainers, you can now save more space in your cupboards. These essentials can easily be collapsed down and expanded whenever you desire. Talk about convenience at its finest. 
8. Choose Space-Saving Furniture Designs 
Downsizing your furniture is one of the ways to make your breakfast table look and feel small. But aside from the size, the design also plays a significant role. For instance, a half-moon table is undoubtedly a space-saving option rather than a full rounded one. You can easily position the straight side against the wall to free up some space.   
9. Remove a Wall or Door
In order to open up a wider kitchen and have much room to roam around, it might be better to have the door or a few inches of walls removed. Beyond its stylish appeal, this space-saving idea is beneficial during occasions where more than one person usually cooks in the kitchen. Not only will you save them from bumping into each other, but they also get to entertain guests without having them underfoot while working. 
10. Minimize Clutter
Making a room appear larger is no difficult trick. By simply keeping clutter out of view and showing only the small kitchen tools and appliances, you get to bring in a spacious atmosphere.
Tip: Hide some of the items in boxes or baskets with designs and store them on top of cupboards. 
11. Stay Organized
The key to maximizing space in your kitchen is keeping the essentials organized and tidy at all times. This gives you the upper hand and ensures that you make the most of every space that you have. You need to ditch the habit of blindly tucking everything in the drawer until they bulge with bits and bots. 
A small kitchen shouldn't be a struggle in itself with these smart space-saving ideas. It may require you to invest money in a few shelves or devote your time to some kitchen remodeling routine, but the benefits are above lasting. For best advice and results, you might want to seek the expertise of kitchen interior designers since they are fully capable of the right furnishing and technology to bring to life a tiny yet practical kitchen.
Looking for interior designers to ensure every space in your kitchen won't go wasted? Contact Lugbill Designs and we'll help you figure things out.
http://blog.lugbilldesigns.com/wp-content/uploads/2020/01/11-Smart-Space-Saving-Ideas-for-Small-Kitchens-Title.jpg
544
807
Justin
http://blog.lugbilldesigns.com/wp-content/uploads/2018/08/logo.png
Justin
2020-01-22 08:26:59
2020-01-22 08:26:59
11 Smart Space Saving Ideas for Small Kitchens