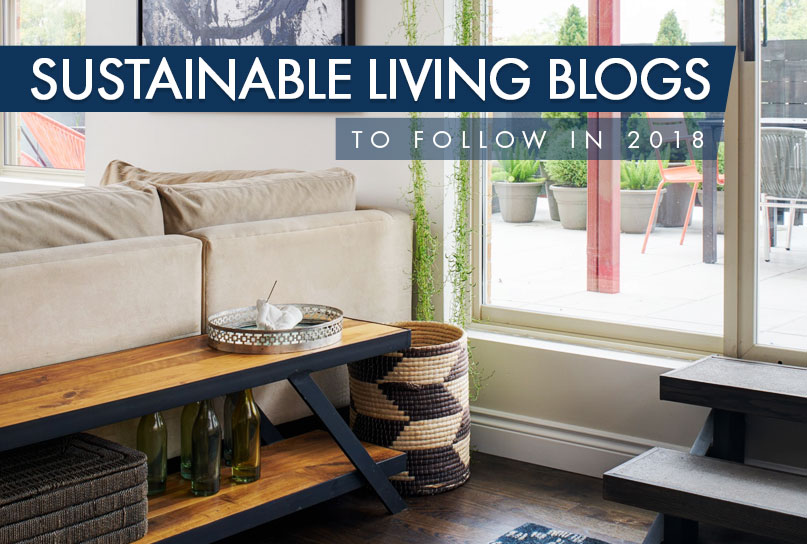 It's fair to say that humans are responsible for the climate change to a great extent. But, while significant damage has already been done to the environment, it's never too late to prevent further destruction – and one way to do that is to modify our behaviors and adopt sustainable living practices.
Sustainable living is a lifestyle choice that leans toward limiting your carbon footprint. Some do it by switching to products that promise to be organic and eco-friendly while others take it further to the degree of creating their own natural products – cleaning, beauty and more – and even going zero-waste to make their homes as green as possible.
No matter the way you choose to go green, these actions contribute to the efforts of reducing the adverse impacts we have on the environment.
If you're looking for advice on how to switch into an eco-friendly lifestyle, these blogs offer tips on how to make sustainable living practical, stylish and inspiring. We have carefully handpicked these blogs as they provide the most informative tips on sustainable living, ethical fashion, organic and healthy recipes, and more.
The Best Blogs that Help Us Live Eco-Consciously
EcoCult has an honest and unapologetic yet beautiful writing style that puts readers right at home. It covers a range of sustainability issues spanning from minimal travel to sustainable apartment renovations. It also keeps tab on the upcoming green-focused events in New York that you can attend. For now, read their recommendations on the 10 eco-friendly kitchen countertop options.
Jennifer Nini redefines what it means to live green. Started in 2010, her blog, Eco Warrior Princess discusses a wide range of topics from fashion, beauty and wellness to social justice and politics in an analytical and unbiased way. She also has podcasts that further inspire you to change the way you see sustainability. Read about her tips on how to build a living wall.
Kathryn Kellogg started Going Zero Waste after a health scare forced her to make the switch to eco-living. She recalls how it started from making her own from-scratch foods, homemade cleaning products and using an all-natural deodorant. Today, the blog has all the information you need to live green. Here's an Ultimate List of Zero Waste Swaps to start you off with.
Mindful Mamma was started out of the belief that anyone can live a healthy and natural lifestyle. It shows readers how to make the green changes work for them by sharing healthy recipes and tips such as how to create your own beauty and cleaning products to name a few. Her article on how to make a non-toxic bedroom proves to be particularly informative.
Moral Fibres is a UK-based blog that breaks down green lifestyle into 5 categories: style, food, home & gardening, family and travel. Each classification offers practical tips and advice on how to live sustainably and make greener choices. It has an article that reveals how to go almost plastic-free in the kitchen – a useful lunch hour read such as this list of the best websites for interior design inspiration.
ALSO READ: Energy Efficient Home Trends of 2016
Selva Beat is an environmental magazine that aims to make environmentalism and conservationism part of the mainstream. Although primarily a print publication, the website offers fresh content about ethical fashion and sustainable food every week. It has an interesting article that clarifies why you should recycle glass even when it's inconvenient.  
Sustainable Daisy is a place for eco-conscious consumers looking to read green product reviews, discover thrift shopping tips and learn new ways to live a practical and sustainable lifestyle. Each entry, such as this gam -changing thrift-shopping tips, inspires women to embrace fashion, beauty and health in the most ecologically-responsible manner.
Sustainable Chic is a treasure trove of tips on sustainable fashion, beauty and lifestyle. Established in 2014, the blog is also where Natalie shares her reviews on the latest eco-friendly products and responsible brands from around the world. Meanwhile, read about her tips on how to keep chemicals away from your cooking space.
Like many other sustainable living blogs, it was created out of Brittany's desire to adopt a clean and green lifestyle for her kids. It wasn't long until she realized that the switch is important for her as well. Her blog keeps records of everything she discovers throughout her journey such as healthy and delicious recipes and this collection of natural cleaning recipes.  
Zero Waste Home is practically the blog extension of Bea Johnson's bestselling book of the same name. In both her book and blog, Bea invalidates the misconceptions about a green lifestyle and proves that anyone can be stylish and healthy without creating waste. Learn what to pack for a zero waste travel on this inspiring blog.
There are a lot more blogs to support your move towards sustainable living. But for now, share these article with your family and friends to inspire them to live a greener lifestyle as well.
Do you have any other website to add to this list? Let us know by commenting below!
http://blog.lugbilldesigns.com/wp-content/uploads/2018/08/Sustainable-Living-Blogs-to-Follow-in-2018-Featured-Image.jpg
544
807
Justin
http://blog.lugbilldesigns.com/wp-content/uploads/2018/08/logo.png
Justin
2018-08-15 06:23:18
2019-03-13 07:26:07
Sustainable Living Blogs to Follow in 2018