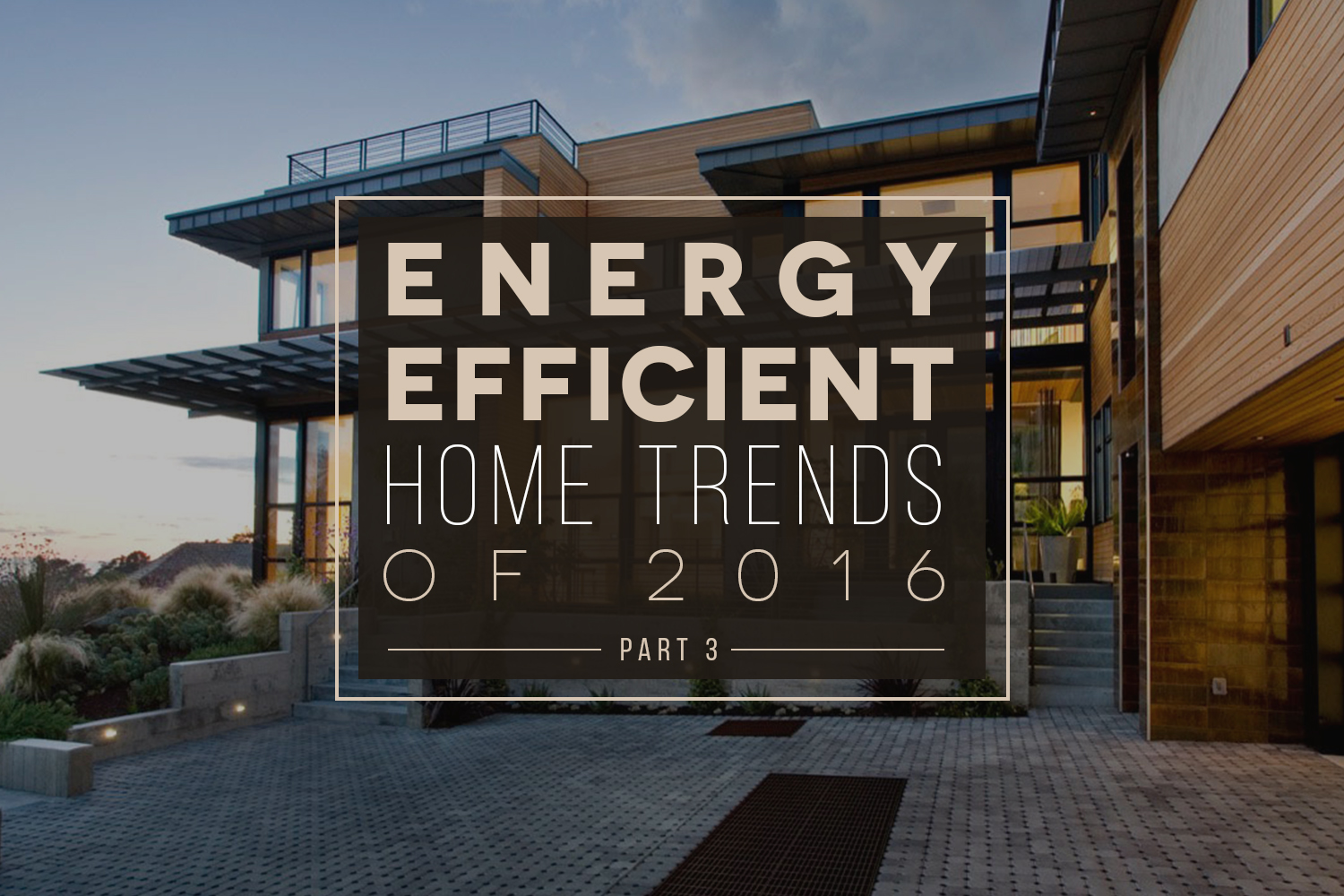 In the previous part of this article series, we discussed the various home design options that you can choose to achieve a complete energy efficient home. Having covered design types from log homes to Efficient-manufactured homes, in this last part of the series we give you the top energy-efficient home devices and appliances of 2016.
1. Connected Homes
Connected homes contributes to conserving energy. This type of home lowers down energy cost due to automated devices or appliances that automatically turn off when not being used. Home owners with learning devices e.g smart heater can save up to 50% of energy cost.
2. Improved Heating Efficiency
Unlike cooling or heating appliances, heat pumps distribute heat instead of generating it. This means you save 25% of heating or cooling operating cost by using heat pumps. To further illustrate, you can save between $1,000 and $2,000 annually in energy cost. Next time you look for heat pumps, look for these features:
Two-speed compressors —  reduces compressor wear and minimizes electric consumption

Variable-speed or dual-speed motors — maximizes energy saving

Desuperheater — recovers waste heat for water heater

Scroll compressor — long lasting and way quieter to operate
3. Magnetic Refrigerators
The use of magnetic field is revolutionary. Instead of using refrigerant gas, it uses water-based coolant that changes temperature as the magnetic field changes.
Magnetic refrigerator is environment friendly, requires half the usual electricity requirement and requires very low level of maintenance.
4. Window Technology
There are emerging technologies that incorporates sensors and microprocessors inside the windows. Automated shutters and shade are helpful in keeping the outside air from slipping indoor, and controlling the intensity daylight.
To maximize energy efficiency, a popular material of choice is fiberglass. It is stronger than vinyl and can last a lifetime without shrinking or wearing out like wood or aluminum.
5. Insulation Advancements
A good and complete insulation has always been the most practical way to conserve energy. Air-sealing the attic floors, pipes, wiring, chimney, and light fixtures is important to save heating and cooling cost. A well-insulated house can save up to 40% in energy cost.
6. Reflective Roofing Materials
As the roof catches all the sun's rays, its temperature surface can rise to over 100°F. With reflective roof material or paint, it can reduce the amount of heat absorbed and thus, helps cool your house. Also, fitting your roof with reflective materials also enhances its durability.
7. LED and other Energy Efficient Light bulbs
Energy efficient lightbulbs e.g LED, compact Fluorescent CFL and halogen incandescents only consumes 25%-80% less energy while emitting same or even superior amount of light with your traditional ones. It also lasts up to 25 times longer and altogether saves you $75 each year/5 lightbulbs. If you're going to purchase one, look for the ENERGY STAR seal, to ensure high standards and safety.
8. Environment-Friendly Construction
According to the Passive House Institute, Passive house can save you up to 90% on energy consumption. Passive homes are a brainchild of superior ingenuity as it leverages the environment to provide comfort to your home. With proper room orientation, layout and design, passive home can leverage natural energy sources like the sun and wind for cooling, heating, ventilating and lighting the interior.
Having a passive house is a holistic approach to conserving energy and saving  money. Good to know, refashioning your building or home into "passive" one costs only a little or none.
9. Solar Power
Having your home powered by solar panels is a multi-thousand dollar savings. According to Cost of Solar: The average 20-year savings for Americans who went solar in 2011 were projected to be a little over $20,000." The amount could climb up to $65,000 savings.  Solar power is a reliable source of energy that you can be sure this world will never run out of. And didn't we mention, that  the installing a qualified solar energy panel can write off your income tax?!
This list of energy efficient appliances and materials concludes our Energy Efficient Home Trends of 2016 series. If you want to learn more how you can conserve energy and save money while enhancing the beauty of your interiors, contact us at Lugbill Designs.
For more home and interior design tips, follow our blog.
http://blog.lugbilldesigns.com/wp-content/uploads/2018/08/logo.png
0
0
Justin
http://blog.lugbilldesigns.com/wp-content/uploads/2018/08/logo.png
Justin
2017-02-13 10:36:02
2017-05-25 05:10:13
Energy Efficient Home Trends of 2016