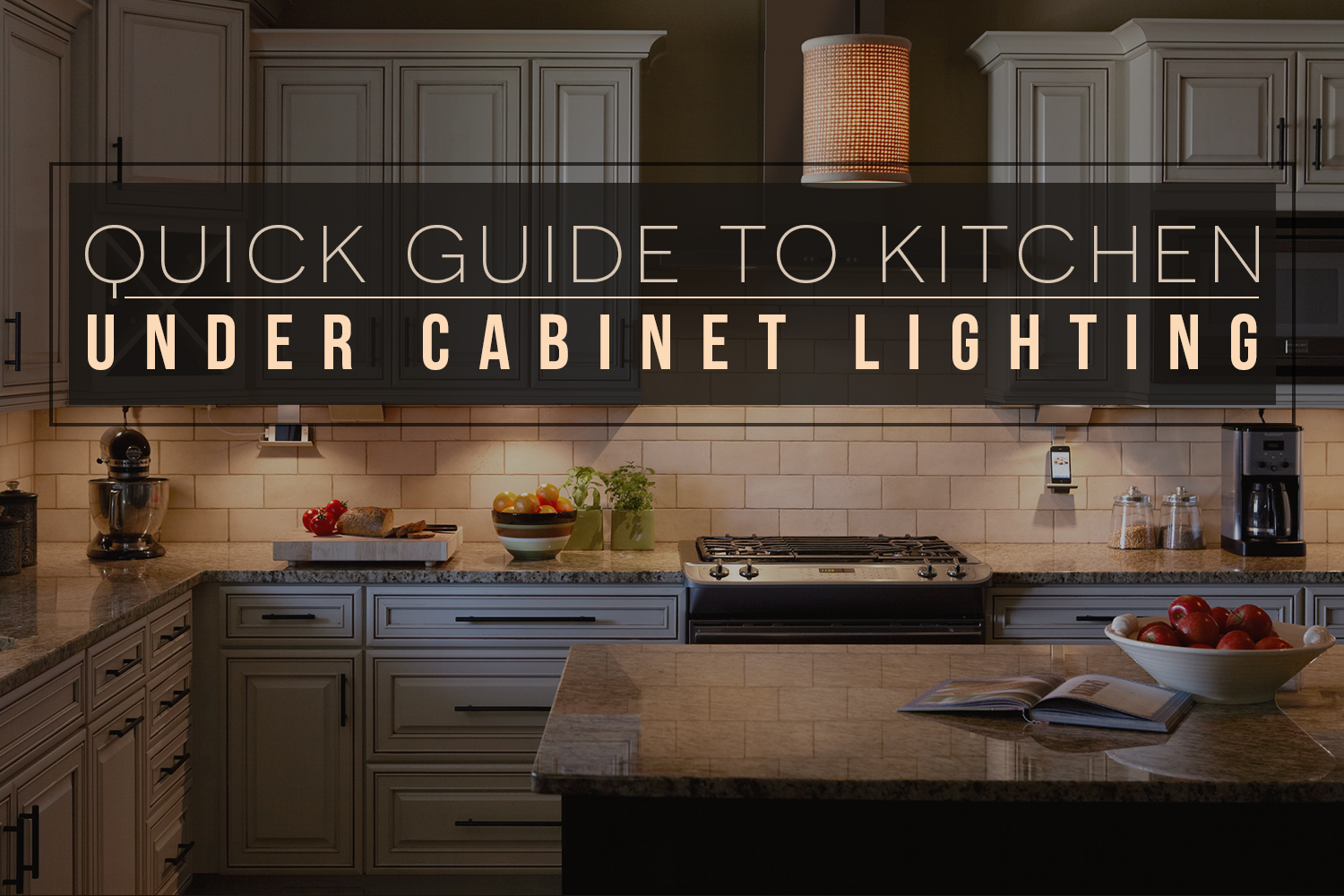 Under Cabinet Lighting is the most suitable choice for your kitchen countertops. Not only does it illuminate the backsplash on your wall, but it is also ideal for food preparation and cooking. A lot of lighting designers are talking about under cabinet lighting as it creates "layers of light" for your kitchen.
However, there a lot of available options in the market. How will you know which style of under cabinet lighting is perfect for your kitchen?
We hope this Quick Guide to Kitchen Under Cabinet Lighting helps.
Types of Under Cabinet Lighting Fixtures
1. Puck Lights
Puck lights are by far the most popular type of under cabinet lights. They are circular lights that deliver focused lighting to the space below it. Aside from serving as a good task lighting, it can also be used for accent lighting by orienting it toward the backsplash to get an ambient glow.
Puck lights are easy to install and affordable, hence they are user and budget friendly.
On the other hand, the space that is lighted by puck lights is limited to the space they are pointed at. Thus you have to buy several units and install them with regular spacing to achieve best results.
2. Light Strips
Light strips are available in several lengths and can be customized according to your cabinet length and shape. Compared to puck lights, they deliver lighting more evenly. And compared to rope and tape lights [below] they emit more luminous light.
You can buy this in LED or fluorescent options. LED being longer lasting and energy efficient, while fluorescent has less initial cost.
3. Tape Lights
Tape lights are the most space-saving under cabinet light, because its thin strips are flexible and can fit into corners and tight spaces. It is made of LED lights fixed in a strip of flexible peel-and-stick adhesive tape. It delivers functional light to aid your kitchen task while staying low-key and inconspicuous. But note that tape lights are not a good stand alone under cabinet lighting. It only works well when matched with more functional lights.
However, it can be complicated to install this fixture if you want to hide the wirings. It is best to hire a professional if you want to properly install tape lights.
4. Rope Lights
Rope lights are a type of linear lighting fixture alongside tape and light strips. It is made of LED lights strung inside a tube, thus it is a bit thicker than tape lights. The two, however, shares almost the same advantages. It is also a space saver and is more affordable.
Like tape light, it doesn't give off much light. So, it is best matched with good task lighting. It is also less flexible than other linear lighting.
Things to Consider when Buying Under Cabinet Lighting
Now that you know the type of under cabinet lights you need, here are the details that you have to consider when you buy one.
Amount of Light
Under cabinet lights are only an addition to a kitchen that is already well lit. Overhead lighting should primarily deliver the most amount of light. However, if you want to add more illumination you can choose task lights like puck lights as they deliver a bit more light than other under cabinet lights.
Color Temperature
Aside from the amount of light, you should also be concerned with the color temperature. Different kitchen designs, including the color theme and materials used, call for a particular color temperature. Hence, you should be particular with this.
Kitchens with wooden cabinets and tones are best lit with lights in the warmer spectrum.
Modern kitchens, on the other hand, with glass or steel fixtures and cabinets call for cooler lights.
Bulb Type
LED (Light Emitting Diode) –  is the most energy efficient choice is LED. It doesn't emit as much heat as other bulb types and it lasts up to 50,000 hours. It costs more than halogen and xenon lights, but the cost pales in comparison to the amount of light and energy efficiency of this bulb.
Xenon – is the best choice if you want warm lights, as it gives off the warm glow comparable to that of incandescent lights but with less heat and longer life hours. It can last up to 8,000 hours compared to 2,000 hours lifespan of incandescent bulbs. While it emits less heat than incandescent, it has a higher heat emission level than LED and Halogen bulbs.
Halogen – is much like the incandescent bulb, but it emits brighter illumination and it lasts longer. It can last up to 4,000 hours. Compared to LED, it is less expensive, but it emits more heat. Accurate fitting and proper placement is important, as it can burn very hot.
Fluorescent – emits cooler light than halogen and xenon lights. Along with LED, it is also energy efficient and emits functional, bright illumination. On the other hand, its initial cost is hefty, and it must be properly handled because it contains mercury vapor that can risk your health.
Power Source
Here are three main power source options you have for your under cabinet lights:
Battery-powered is easy to install and convenient but can be unreliable especially when you drain the battery charge. You may need to replace the batteries too often when you're busy at the kitchen
Plug-in requires an accessible outlet, and as such the wirings can be too obvious. If you use many kitchen appliances, this may not be your best option. On a lighter note, it only requires simple installation.
Hard-wired lighting fixtures are directly connected to the power source. It is a good permanent solution for a seamless under cabinet lighting fixtures. However, its installation is the hardest, requiring professional service.
With all these important information under your belt, you can now plan the remodeling you want for your kitchen. Not confident enough? Call a professional interior designer.
Do you find this article helpful? For more interior design guides and tips, stay tuned in our blog.
http://blog.lugbilldesigns.com/wp-content/uploads/2018/08/logo.png
0
0
Justin
http://blog.lugbilldesigns.com/wp-content/uploads/2018/08/logo.png
Justin
2017-08-24 06:57:15
2017-11-16 01:23:52
Quick Guide to Kitchen Under Cabinet Lighting