Energy efficient homes offer a smart way to reduce excessive consumption of energy and greenhouse gas emissions. These homes provide a healthy and livable environment for your family while also allowing you to get a few tax breaks and save a significant amount of money.
Reasons Why You Should Consider an Energy Efficient Home
Doing more with less energy is one way to take your part in preserving nature. But there are other reasons to make the investment in an energy-efficient home.
Energy efficiency saves you money.
The average American household spends thousands of dollars per year on electricity bills.
Many families can take simple steps to reduce their energy bill, while making their homes more comfortable. One way is to buy Energy Star-rated appliances which can help you save up to 30% on your electricity bills, as compared to regular home appliances.
1. Energy efficiency boosts economic growth.
While being energy efficient can help you improve your lifestyle, it can also help in a macro scale. Energy efficiency can boost the economic growth and competency of a country. It can help the state to save on its overall costs, saving billions of dollars per year.
Also, energy efficient projects and innovations have opened numerous doors for employment opportunities. These projects have provided 830,000 jobs nationwide.
2. Energy efficiency benefits the environment.
Energy efficiency helps conserve natural resources, as it limits the need to produce and import oil, coal, and natural gas Investing in energy efficient methods is an effective way to abate tons of greenhouse gas emission every year.
One good example is the differences between incandescent light bulbs and LED light bulbs. In addition to saving ample energy while producing the same light, the manufacturing process of LEDs is much cleaner (i.e. no mercury)

The Home Energy Score
U.S. Department of Energy has developed a rating system to determine the level of energy efficiency in a home. This rating system is called the Home Energy Score. It helps homeowners and home buyers to obtain information about the home's energy use and possible financial savings if any upgrade will be made.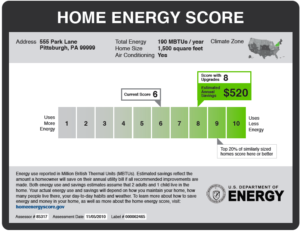 The scoring system uses a scale of 1 to 10, wherein 10 serves as the highest score as an energy efficient home. It was designed to be simple for every household to feel encouraged on improving their score, and outperforming other homes. Furthermore, the Home Energy Score can provide useful recommendations on how to improve the home's capability of being energy efficient.
Single-family homes, townhouses, and duplexes are the types of home eligible of getting the Home Energy Score. These homes will be estimated using different attributes such as furnaces, insulation levels, windows, and others. And because the Home Energy Score is widely used across the U.S.,it is possible to compare scores on a local or national scale.
A home with a score of 5 reflects a decent amount of energy use among homes in the country. If a home scored a perfect 10, it ranks among the 10% of expected homes to consume the least amount of energy.

Factors That Determine an Energy Efficient Home
There are several factors that determine the energy efficiency of a residential property.
1. Insulation
Hidden cracks in attics and crawlspaces can cause excessive air flow. Thus, the heating and cooling system will work twice as hard, causing your bills to increase substantially. That's why having proper insulation and protection against air leaks is considered as an energy efficient home.
2. Heating and Cooling
A good deal of excess energy consumption in your home is caused by impractical use of heating and cooling systems.
To smartly utilize your heating and cooling systems, be sure to use a programmable thermostat or even better, a learning thermostat that knows when you are home and when you aren't. (i.e. Nest, or Ecobee). You also have to regularly change filters and inspect further damage of ducts. Thereby, you can lower your expenses while increasing your utility's efficiency.
3. Energy Star
The U.S. Environmental Protection Agency and U.S. Department of Energy developed a program that helps consumers opt for the most energy efficient products. If you plan to upgrade your appliances, look for products with Energy Star rating.
4. New Home Planning
If you're planning on building a new home, there are a lot of things you can do to improve energy efficiency. For instance, installing solar panels on your roof, and coupling it with a Tesla Powerpack, is a great way to save money by only needing to purchase energy during non-peak times. Glazed windows, cool roofs, and energy-saving insulation.
For more information about Energy Efficient Home Trends of 2016, watch out for the 2nd part of this article series in the coming weeks. Regularly check out our  interior design blog for useful updates and information.
http://blog.lugbilldesigns.com/wp-content/uploads/2018/08/logo.png
0
0
Justin
http://blog.lugbilldesigns.com/wp-content/uploads/2018/08/logo.png
Justin
2016-10-24 10:19:41
2017-07-11 03:30:42
[PART 1] Energy Efficient Home Trends of 2016