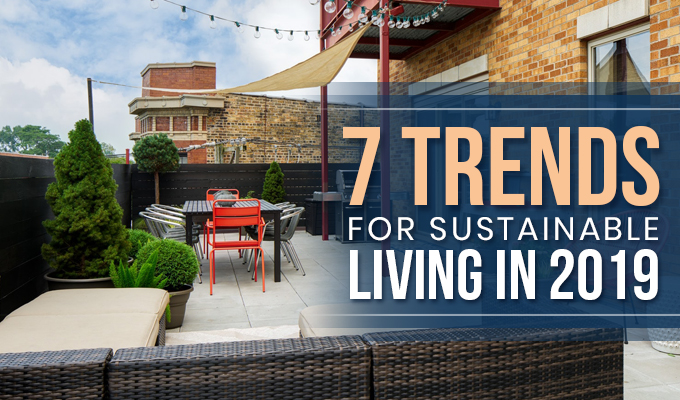 With more homeowners learning about carbon footprints and trying out all-natural DIY cleaners, sustainable living will continue to trend in 2019. You might also be thinking of shifting toward a more eco-friendly lifestyle. Whether you choose to make step-by-step changes or go for an all-out renovation to welcome 2019, you'll want to take note of the 7 sustainable living trends listed below.
7 Sustainable Living Trends for 2019
1. Eco-Friendly Lights
Shopping for new lamps or light bulbs? Go for fixtures fitted with LEDs, which use up 85% less energy than their incandescent or halogen counterparts. Another option is to go for natural lighting wherever you can.
2. Water-Saving Fixtures and Appliances
If you want to adapt an eco-friendly lifestyle in 2019, you'll need to mind your water usage. Consider installing grey water systems, which can collect rainwater from roofs and gutters and repurpose them for indoor plumbing and garden irrigation. You can also invest in timed sprinklers that only run as long as needed, low-flow toilets, and showerheads and faucets designed to save water.
3. The 3 R's
Yes, "Reduce, Reuse, Recycle" is still very relevant for sustainable living in 2019. Instead of spending on brand-new versions of the same product, try upcycling what you already have. Old items such as clothing and containers can easily be given a second life. Worn-out furniture in particular can lend a vintage feel to your living room or your backyard.
4. Sustainable Materials
Wood, bamboo, and cotton are all more eco-friendly than synthetic materials, which sometimes even leach harmful chemicals into the environment. Glass and metal are welcome choices of material, too. Get ready to see more organic textiles and rugs, earth-friendly tiles, and bamboo floors and cabinets in 2019. Not only are these better for the environment, but they also look great!
You should especially consider getting eco-friendly area rugs. Synthetic rugs often emit harmful chemicals, which can manifest as odd smells that refuse to go away for a while. Carpets made of more eco-friendly materials such as jute or sisal won't give off the same chemicals and odors.
Thinking of repainting a room or two at the start of the year? Use paint that contains minimal volatile organic compounds (VOCs), which seep out and contribute to air pollution. Sure, VOCs are responsible for the familiar smell of a newly-painted room, but that's easy to let go of once you learn about how many VOCs are classified as carcinogenic.
You'll also want to keep an eye out for VOCs in the scented candles you burn or the furniture you buy. One indicator of a sustainable purchase is the Rainforest Alliance's little green frog, found only on certified eco-friendly products.
6. Green Spaces
Urban vegetation and green spaces are certainly eco-friendly, but they're good for your physical and mental health, too. There are many ways to create your own green space at home. Bring a few low-maintenance plants indoors to freshen up the air, or lay out your interior so that you can easily access your backyard. Also, try installing retractable roofs and awnings over windows that open into the house. This way, you can harness shade to regulate temperature minus the heating or cooling bills.
7. Working With Nature
Have some extra room in your yard? Set up your own garden. Most common vegetables and edible herbs are surprisingly easy to grow. A raised garden bed of homegrown crops can give personality to outdoor spaces. Berries and other fruits can also add a splash of color as they ripen. Top off your garden with a bird feeder to welcome the natural fauna!
Greet the new year by updating your home with these 7 sustainable living trends. They're not just stylish and eco-conscious, but they're good for you and your family, too. Here's to an eco-friendly 2019!Found this post informative? Visit our blog regularly for more tips on sustainable living and interior design.
http://blog.lugbilldesigns.com/wp-content/uploads/2019/03/Trends-for-Sustainable-Living-in-2019-Featured-Image.jpg
400
680
Justin
http://blog.lugbilldesigns.com/wp-content/uploads/2018/08/logo.png
Justin
2019-03-28 00:57:23
2019-03-28 00:57:23
7 Trends for Sustainable Living in 2019