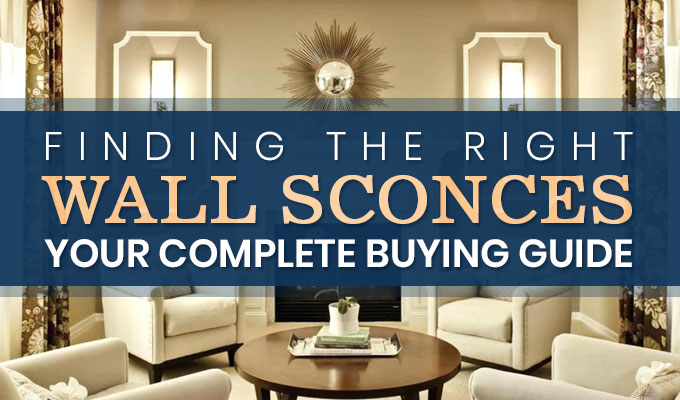 Have you just given your home a makeover with the help of a renowned interior designer? You might be looking for a finishing touch that provides light at the same time. A set of lovely wall sconces may be just what you need!

In essence, a wall sconce consists of a light source affixed to a wall. However, there is a huge variety of wall sconces to match your desired aesthetic. If you want to find the sconces that can complete your home, you'll need a guide to help you weigh your options.
Here's an infographic that will surely come in handy. This complete buying guide lists down your options for types, designs, power sources, and lighting configurations for wall sconces. You can have a clearer idea of what kind of wall sconce you'll be looking for!

Your Complete Buying Guide for Wall Sconces
From Hard-Wired to Solar: 5 Power Sources for Your Wall Sconces
Where do you plan to place your sconces? Your answer will directly affect your choice of power source. This also works in reverse–the power source can affect the location of your sconces. Read up about the available power sources to prevent any inconvenience down the line!
1. Hard-Wired
These sconces are connected to your home's internal electrical wiring. They can simply be turned on and off with a light switch. 
Since their wires are hidden inside the wall, hard-wired sconces have a clean look to them. However, this also limits where you can place them.
2. Plug-In
As their name implies, plug-in sconces are powered through outlets instead of being connected directly to internal wiring. This gives them a wider range of possible locations, although you still need to place them near power outlets. They may also look slightly less clean because of their visible wires.
3. Battery Operated
Because they run on batteries, these sconces can be placed virtually anywhere! All you have to do is replace the batteries every now and then. 
Battery operated sconces tend to be cheaper than their hard-wired and plug-in counterparts.
4. Candle
Sconces which use real candles can be placed wherever you want. You just need to switch out the candles whenever they run low. In return, you'll get a welcoming ambiance for your home.
Some homeowners opt for battery-operated candles, which don't have to be replaced as much.
5. Solar-Powered
Some outdoor sconces are solar-powered. Aside from adding flexibility to your sconces' placement, solar power also serves as a renewable source of energy.
Up or Down? 3 Essential Lighting Configurations of Wall Sconces
Wall sconces will direct light in a given direction to achieve a certain effect. Because of this, they can be grouped into three different lighting configurations.
    1. Up-Light
Directs light upwards

Can help make a small room look more spacious

Suitable for entryways, living rooms, and hallways
    2. Down-Light
Directs light downwards

Adds coziness and warmth to expansive spaces

Great for bedrooms and large living rooms
    3. All-Around Light
Directs light both upwards and downwards

Creates a feeling of balance

Generally provides more light
8 Basic Types of Wall Sconces for Your Home
There are so many ways that home décor brands can interpret "a light affixed to a wall." This has resulted in different types of sconces, which build off the basic concept for a variety of interesting structures!
1. Armed Sconce
In an armed sconce, the light is attached to an arm which extends from a plate on the wall. Some of these sconces are fixed, while others are foldable and adjustable. Armed sconces are great for offices, bedrooms, and reading nooks.
2. Spotlight Sconce
This specific type of armed sconce directs its light to highlight an object or area. Spotlight sconces often have down-light configurations. There are further subtypes of spotlight sconces, including:
Picture Lights.

With a long, slender light source, this sconce is specifically used to illuminate artwork on display in your home. 

Sign Lights.

These armed sconces light up wider areas, like signs or murals. 
3. Flush Mount Sconce
This sconce is directly mounted flush with the wall, seemingly washing it with light. Flush mount sconces have a compact, low-profile look to them. They are ideal for accent lighting.
4. Half-Moon Sconce
This specific kind of flush mount sconce features a light source surrounded by a half-bowl. Look hard enough and you'll find half-moon sconces that are as minimalist or as ornate as you wish.
5. Wallchiere
A blend of the "wall lamp" and "torchiere," the wallchiere is tall and slender with unique decorative elements. They direct light upward like torchieres while conserving floor spaces. Wallchieres are a prime choice for opulent displays.
6. Recessed Sconce
These sconces seem to radiate light from within the wall! All recessed sconces are hard-wired, which means homeowners may need to be creative about their placement.
7. Corner Wall Sconces
Corner wall sconces are designed to fit into the corners of a room. Aside from that, they can cross over with any of the previous types.
8. Candle Sconce
These sconces can either be wall-mounted candle holders or electric/battery-powered light sources that look like candle holders. The bulbs of imitation candles may take more time to replace, but they're still relatively easy to find at hardware stores near you.
Candle sconces have been around for centuries, way before gas lamps and electric lighting were invented. 
TIP: The location of your wall sconces should also influence the type of sconce you choose. For example, a spotlight sconce may cast undesirable shadows if installed beside a vanity mirror. Flush mount or recessed sconces are more suitable in this case.
5 Types of Outdoor Wall Sconces to Light Up Your Yard
Think your porch, garden, or backyard could use some decorative lighting as well? It's a good thing there are wall sconces designed specifically for the outdoors! Here are 5 common types for you to choose from.
1. Lantern-Style Sconce
Welcome your visitors with a pair of these sconces mounted beside your front door! You'll usually find them in traditional or rustic designs.
2. Barn Light Sconce
These are a bit more casual than lantern-style sconces. You can find green, white, and even bright red barn light sconces for a pop of color.
3. Floodlight-Style Sconce
Thanks to their broad and focused beams, floodlights are great for providing ample outdoor lighting. In addition, many of them use long-lasting, eco-friendly, and energy-efficient LED light bulbs.
4. Bulkhead Sconce
The durable geometric design of bulkhead sconces builds more on function than form. However, these lights can still add some nautical charm to your home!
5. Motion Sensor Sconce
These sconces only light up when they sense someone nearby, which can help you save on energy. They're often built in floodlight-style designs for ample lighting. Motion sensor sconces can also offer security by alerting you to movement in a particular area of your property. 
5 Different Kinds of Wall Sconce Designs for Any Aesthetic
If you look hard enough, you can find wall sconces that perfectly match the look and feel of your home. It still helps to know the general design that you're looking for, however! Here are the 5 common designs you'll encounter while browsing or window shopping for wall sconces.
    1. Contemporary
Showcases a sleek, contemporary look

Mostly flush mounted or armed, though you can definitely find other types of sconces with a contemporary design as well

Usually features silver tones and may even be made of stainless steel
    2. Traditional
More ornate and formal with more ornamental details

Can add a touch of luxury to your home

Great for houses that have a traditional or antique feel
    3. Transitional
Sits comfortably between contemporary and traditional

Combines minimalist details with contemporary shapes

Can match almost any other type of décor
    4. Cottage Style
Features homey design elements

Often come in light neutral or pastel hues

Great for homes with a warm country look
    5. Rustic
Dark colors and animal motifs

Perfect for a log cabin aesthetic

Can add character to any home
The right wall sconces are a surefire way to provide perfect lighting and extra flair. Bookmark this buying guide, and you can have an easier time finding the best wall sconces for your home!
Think you'll find this buying guide helpful? Visit our blog for even more useful tips on interior design.
http://blog.lugbilldesigns.com/wp-content/uploads/2019/07/Finding-the-Right-Wall-Sconces-Your-Complete-Buying-Guide-Featured-Image.jpg
400
680
Justin
http://blog.lugbilldesigns.com/wp-content/uploads/2018/08/logo.png
Justin
2019-07-15 01:15:14
2019-09-26 00:55:37
Finding the Right Wall Sconces: Your Complete Buying Guide